This is another of my "salads for salad dodgers" recipes.
Don't worry, if you're already a virtuous, salad sort of person, you'll love it!
But for those who shudder at the very mention of green juice, low cal and positively run from anything proclaiming to be 'detox'… this is a total dreamboat.
All of the good stuff from your standard Mexican night in, but lighter, crunchier, healthier and potentially even tastier! Hell, I'm going to just throw this out there; it's better than chicken fajitas.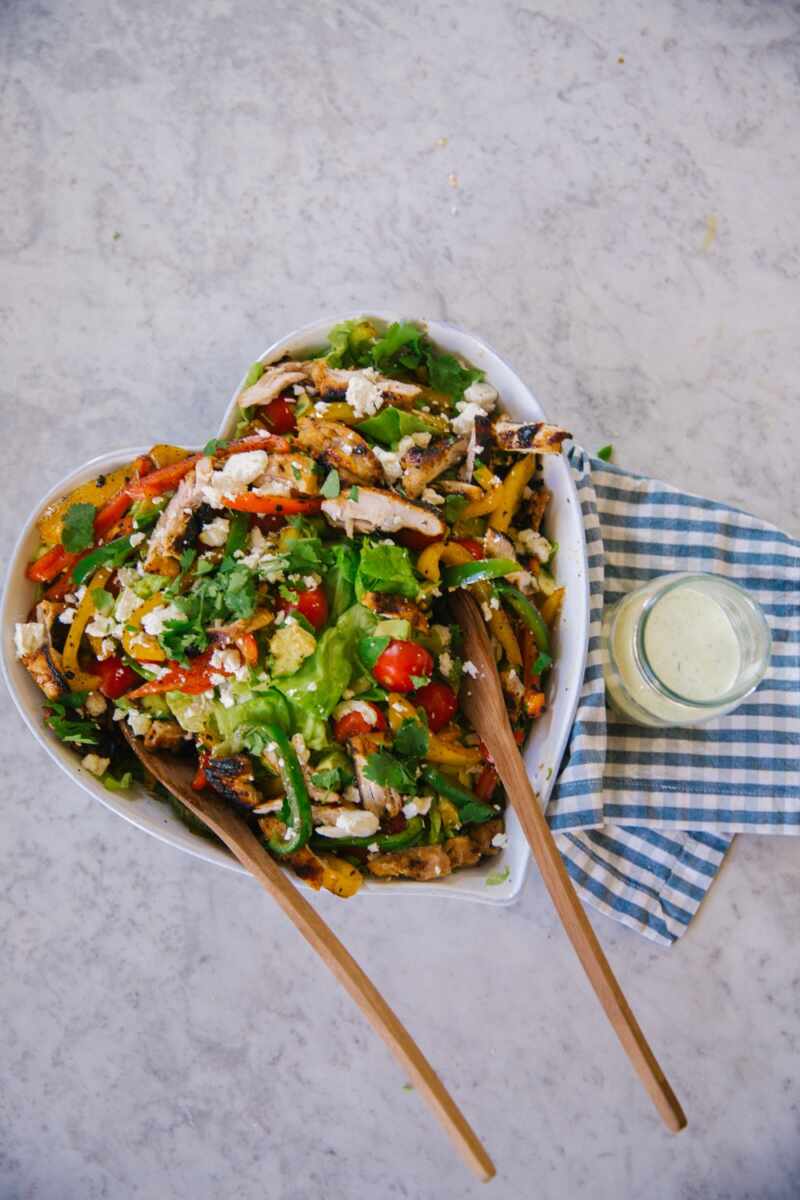 Crisp, crunchy seared peppers.
Plump cherry tomatoes.
Spicy fired chicken.
Creamy avocado.
All tossed in the zingiest, creamy dressing.
Easy to turn into a packed lunch, too.
To make enough for 2 people (or one with left overs) you'll need:
Marinade:
6 boneless free range chicken thighs (if you're in the US don't buy free range; buy pastured/grass fed)
Juice of 1 lemon
Juice of 1 lime
2 cloves crushed garlic
1tsp chilli flakes
1tsp runny honey
Pinch of rock salt
3tbsp olive oil
Salad:
3 Peppers (One yellow, one green, one red)
1 Avocado, chopped.
Handful of crumbled feta cheese
One big head of lettuce (or two if smaller)
Couple handfuls of cherry toms
Handful of coriander (cilantro US)
Dressing:
Small pot of Greek yogurt (skinny if you prefer)
Handful of coriander
A few pickled jalapeño slices (like these)
Juice of 1 lemon
Juice of 1 lime
1tsp honey
2tbsp olive oil
Pinch of salt
Ideally you want to marinade your chicken over night. Pop your chicken thighs into a sealable container with the rest of the marinade ingredients.
Close it up, give it a good shake and leave in the fridge to get all delicious over night.
You can make your dressing ahead of time too, if you like.
Blend together the coriander, jalapeños, honey, oil & salt. Once nicely combined, blend with the yogurt and citrus juices. Taste it, see if it needs a little more sweetness or citrus and adjust accordingly. If the dressing doesn't seem runny enough, you can loosen it up with a splash of water, and blend again.
Remember; it really needs a good blitz to come together properly.
Pop into a jar and keep cool until you're ready.
Get a griddle pan nice and hot.
Shake your marinade box about, get the chicken nice and coated before adding to the pan.
Try not to crowd the chicken too much, you can always do it in batches. Otherwise it won't get all crisped up!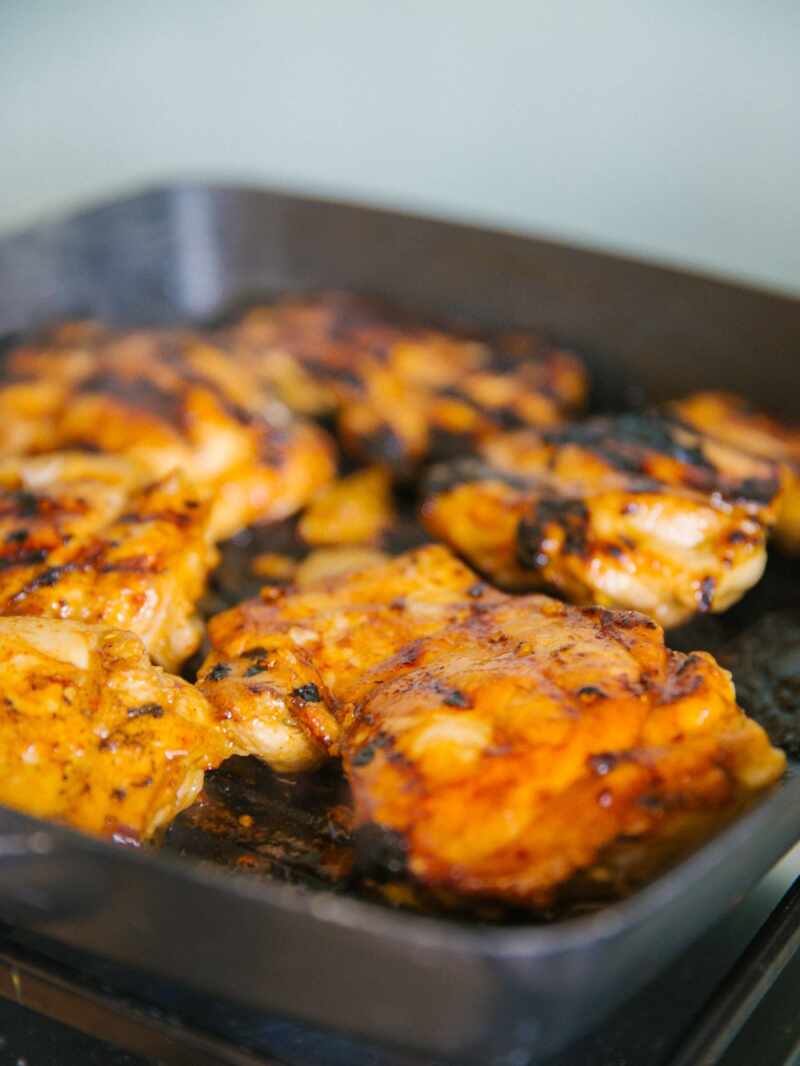 While it's frying, chop up your peppers.
Cook the chicken until it's golden all over, hopefully a little charred and white right through the middle.
Leave on one side to rest, while you fry your peppers in the same pan.
Toss them about a bit and they'll pick up a whole lotta flavour from the pan, while softening and sweetening in the heat.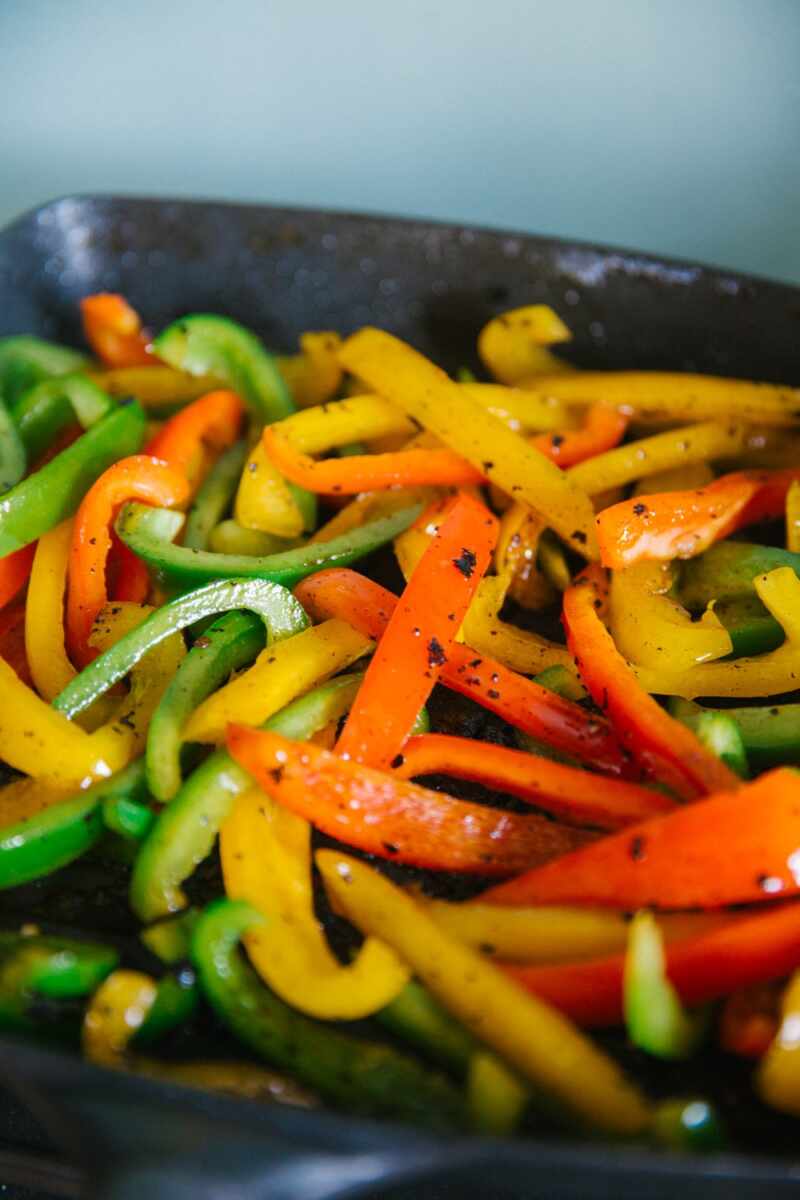 While they're sizzling away, tear up your lettuce.
Chop up your tommies.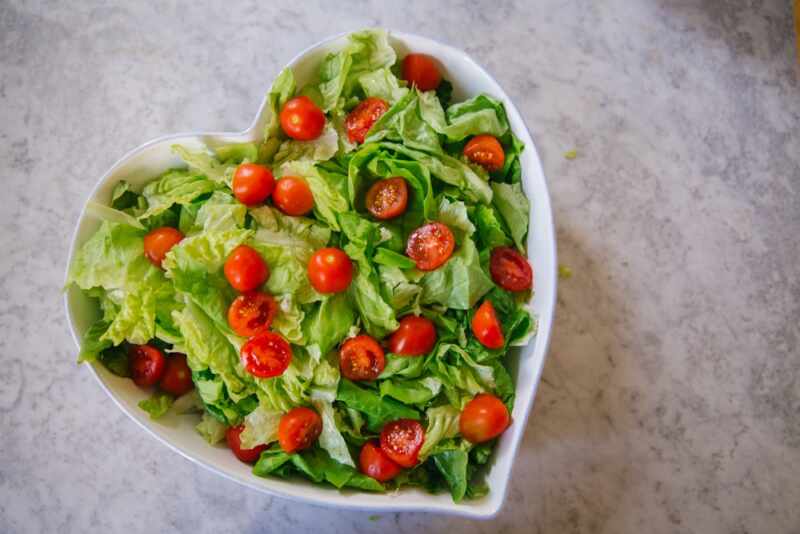 Throw on your peppers while they've still got a bit of crunch.
Followed by your avocado (halved, scooped and chopped).
Using a pair of sharp scissors, chop your chicken up over the top.
Snow with a dusting of sharp, salty feta.
Add a little chopped, fresh coriander.
And you're ready to roll!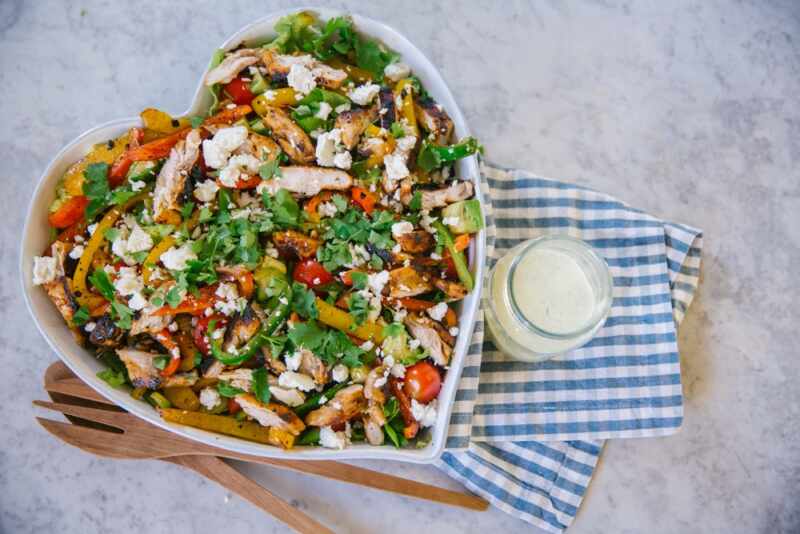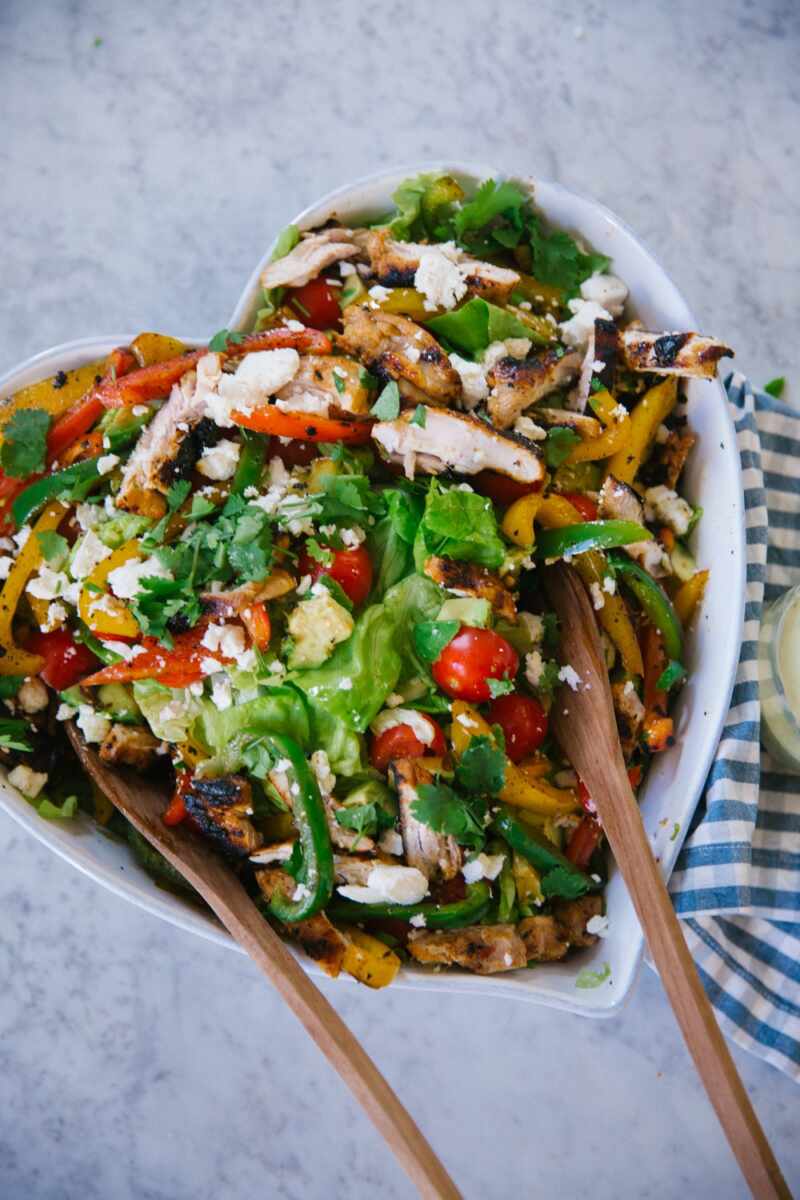 So much colourful goodness, all disguised by that glorious fajita flavour.
Drizzle/dollop your dressing all over the top.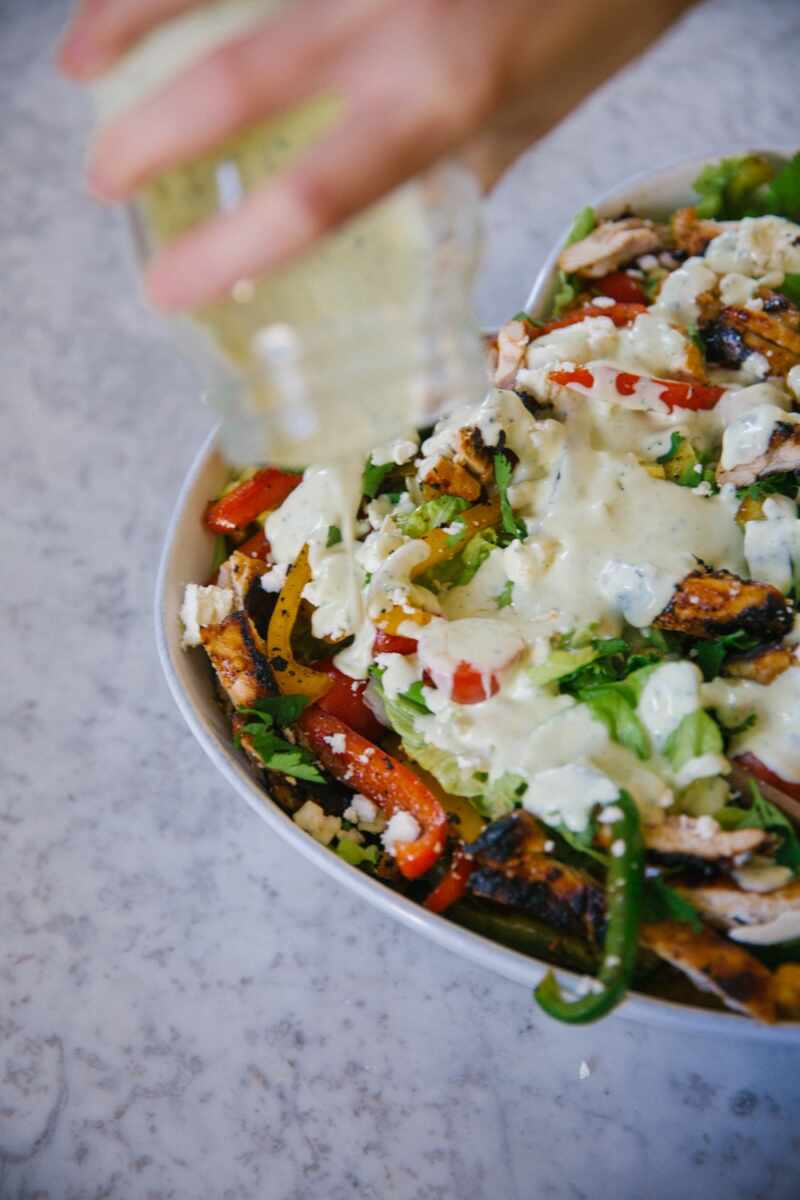 Toss it all together and serve with optional (but highly recommended) sombrero (and margarita).
If you make it, send me a snap on social!
And incase you get hooked (you will) give some of my other salad dodger salads a go;
 Skinny Crispy Chicken Burrito Bowls // Pad Thai Salad
Pumpkin & Sage Courgetti // Caprese Salad with Pesto Dressing
And remember, strictly no diets allowed. Anti-Diets only this year, please.
Ad - Shop this post