I'm just gunna throw this out there…
… I think burrito bowls are better than burritos.
There. I said it and I'm not taking it back.
Shoving a load of stuff into a wrap the size of a toddler's blanket & then hoovering it up all in one go isn't exactly good for you either.
You're much better off laying it all out, taking your time, building the perfect bowl of deliciousness and taking the time to enjoy it with a nice glass of something cold.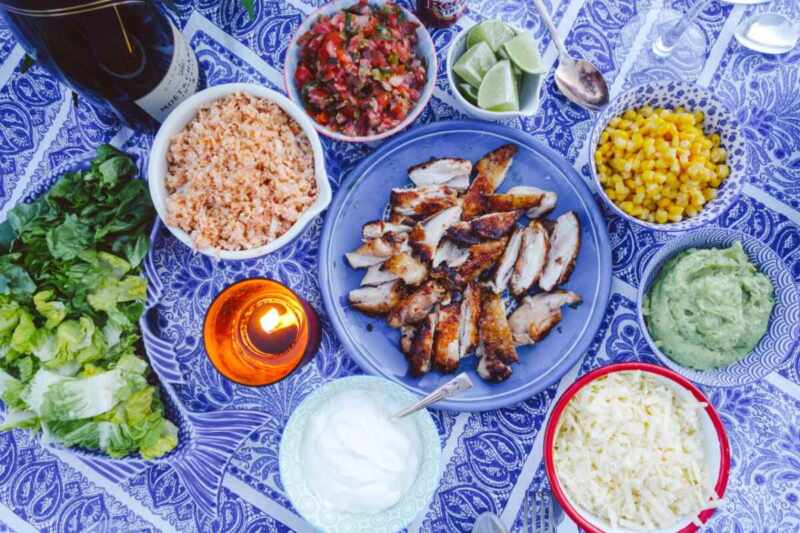 For my skinny bowls I've replaced rice with spicy cauliflower rice, the chicken is perfectly crispy but cooked without any added oils, the sour cream is greek yogurt & there aren't any white flour wraps in sight!
In terms of flavour, I think they spank any burrito bowl you've had before.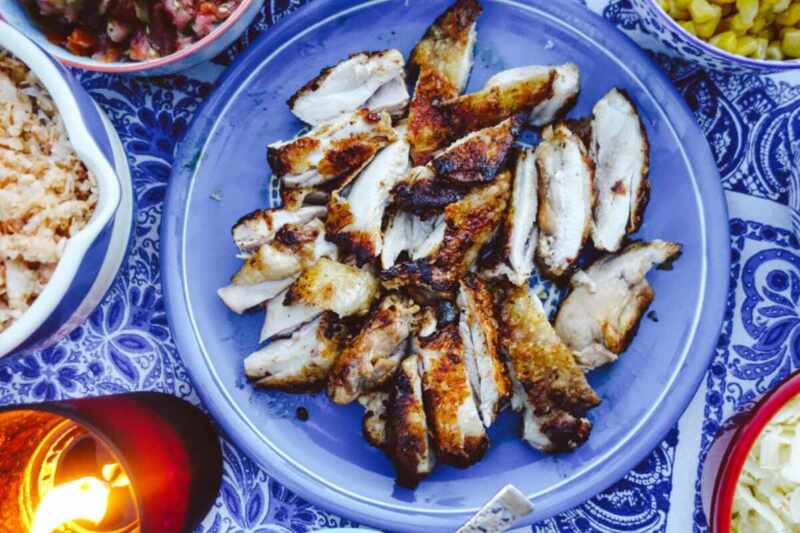 Look at all that crunchy, succulent chicken…
Creamy guac goes better in burrito bowls than the chunky stuff I usually make, but don't worry it doesn't need much more work.
Rushed photo of jalapeño & cherry tomato salsa!
The "rice".
Right! To make your own burrito bowl table for 2-3 people you'll need:
4 free range chicken thighs (bones in, skin on)
1 large cauliflower
2 ripe avocados
2 handfuls of cherry tomatoes
Handful of chives
Jar of sliced jalapeño peppers
2 heads of baby gem lettuce
Coriander (cilantro)
Greek yogurt
Sweetcorn
Grated cheddar
4 limes
2 lemons
Hot sauce
Red chillies
Salt + pepper
Paprika
Cayenne pepper
If possible start prepping the chicken at least an hour before you want to cook it. This'll give it time to get all delicious in it's marinade.
Use a pair of sharp scissors to carefully cut the bone away from the meat. Leave the skin on but trim off any dangly bits. When you're done you should have one flat piece of ugly chicken.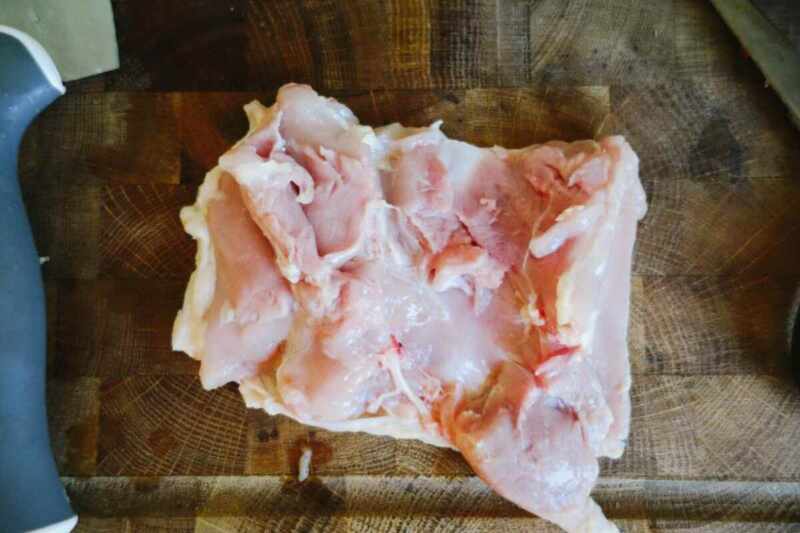 Do this to all of the pieces.
In a large, flat bottomed dish squeeze the juice of 1 lemon & 1 lime. Add a finely chopped red chilli, with the seeds. Place the chicken pieces meat-side down into the spicy juice, taking care not to splash it onto the skin-side. Leave these to marinade for at least an hour, if not a couple.
While you're waiting, prep your "rice".
Grate your cauliflower.
Pop the grated stuff onto a clean, dry tea towel.
Wring out the moisture over the sink, then spread it all out to dry a little. Then it can just relax & take it easy for about half an hour until you cook your chicken.
You, on the other hand, need to chop your lettuce & put it into a nice bowl on the table.
For the salsa: Finely chop 2 handfuls of cherry tomatoes, add finely snipped chives, handful of diced jalapeños. Mix with lime juice and a sprinkling of flaked salt. (Or just do it all in a food processor.) Put it into a little bowl on the table.
For the guacamole: Blend up two ripe avos with a big handful of coriander, lime juice and salt. Put it into a serving bowl and put one of the avocado pits in the middle to keep it from going brown.
Drain a can of corn & put it into a bowl.
Fill a bowl with greek yogurt.
Fill a bowl with sliced limes.
Grate some good strong cheddar (this bit isn't very skinny, but the stronger the cheese the less you'll need) and put that on the table too.
By now your chicken should be good 'n' juicy! Get a dry frying pan hot until it just starts to smoke. Place your chicken pieces skin-side down in the pan and relish the sizzle! Turn the heat down a little to medium. Cook for about 5mins, until the skin is golden brown (a bit longer if you like black bits like us). Flip it over & cook the meat-side for about 3-4mins. Once they're cooked through, rest them on a wire rack while you make your rice.
Pop your cauliflower into a dry saucepan on a medium heat. Sprinkle with salt, smoked paprika and a little cayenne pepper. Just keep heating it and stirring around until it's warmed through. Should only take a couple of moments.
Put your chicken onto a chopping board.
Slice it into strips (try really hard not to lick your fingers until you've done all of them, cheeky).
Pop it on the table, light a candle & you're ready to rock 'n' roll!
Now everyone can just get stuck in and build their own burrito bowl.
A mindblowing combo of flavours & textures that are sharp, spicy, salty and creamy, all at the same time!
It'll all disappear alarmingly quickly.
[iframe frameborder="0″ height="120px" scrolling="no" src="http://currentlyobsessed.me/api/v1/get_widget?wid=29&blog=The%2BLondoner&product_ids=n_8309158,n_8309162,n_8309174,n_8309174,n_8060770,45bd4e4857fa6fa3ec924a81ad5165c2,n_8309154,n_5067513&rows=1&cols=5&brand=1&price=0&hover=1″ width="600px"]
The recipe might look a bit long and time consuming, but it's all very easy. Once you've whipped it all up once, you'll be able to do it with your eyes closed!
I Mexi-can see this becoming your go-to supper in no time.