I know you love a good spiralizer recipe!
How could you not?
Swapping out a heavy, bloating dish for a lighter option that feels equally indulgent, just as comforting and packs more oomph in the flavour department?
It's a no brainer.
This may just be my favourite one yet!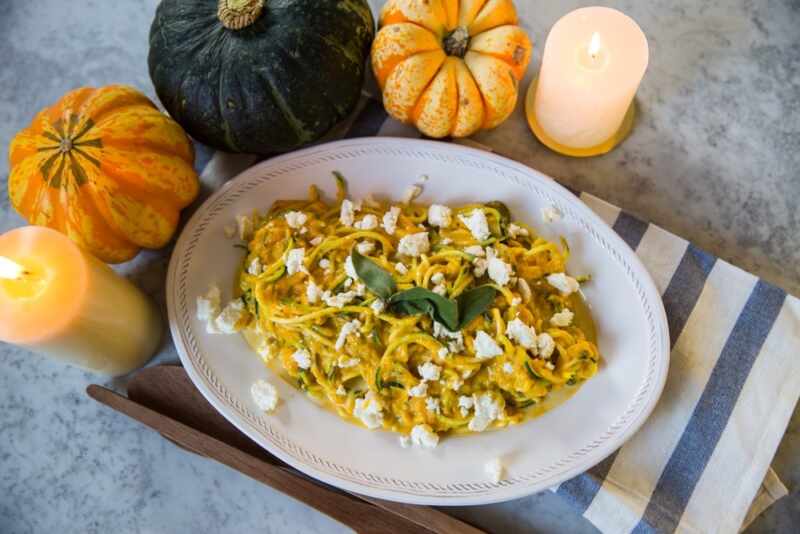 Unlike lots of courgetti recipes, this is served hot.
The rich, creamy, sweet, salty sauce is like an Autumnal hug in a bowl and the crumbled goat's cheese will just send you over the edge into utter bliss.
Pumpkins and squashes are just coming into their glorious season, so you'll have lots of opportunities to whip this up!
Who can possibly resist a grocer's wall filled with these babies?
To serve two you'll need:
1 smallish pumpkin/squash
4 large garlic cloves
Handful of sage
Olive oil
Salt + pepper
2tbsp cream
1/2 cup of veg stock
4 large courgettes
Chunk of soft goat's cheese
Equipment: Baking tray, spiralizer (I like this one)
Pre-heat your oven to 180C/350F. Slice open your pumpkin, scoop out the guts, slice up the flesh and lay into a baking tray.
Add your garlic (unpeeled), sage leaves, drizzle with olive oil and dust with salt 'n' pepper.
Roast on the middle shelf for an hour.
Remove and leave to cool down a little. While it's cooling, spiralize your courgettes.
When you can, carefully peel away the pumpkin skins. Feel free to nibble on the caramelised bits, chef's treat!
Using the back of a spoon, squeeze the roasted garlic from its shell.
Get rid of the garlic and pumpkin skins.
Now you need to pureé what's left. Use a blender, a processor, a kitchen aid or just beat the hell out of it with a wooden spoon! Stir in your cream and veg stock and put back into your baking tray.
Pop this onto the hob on a low heat to warm up.
Keep stirring until it's piping hot.
Add your courgetti/coodles/zoodles.
Stir them into the sauce and keep it all moving around until it's hot throughout.
It shouldn't take more than 5mins, you want to keep a little bite in the "pasta".
Pile onto a plate and crumble a little goat's cheese over the top.
Light some candles, cosy up and serve with a glass of something special.
Pumpkins still have a few carbs in there, but unlike pasta they're packed with a load of good stuff too. All of the comforting joy of a bowl of creamy pasta, with none of the groaning regret!
If you're new to the spiralizing club, try some of my other recipes and make sure you send me a pic update of how you get on.
Trust me, you have goat to try this one!