I'm sure this will sound very silly to you…
But nevertheless, I must confess. For the longest time I have dreamt of going to Mexico, stretching out on a white, sandy beach and eating my own body weight in guacamole.
To dive into a bowl of sun-ripened, rich, Mexican avocado and wash it all down with a salty rimmed margarita was one of my key ambitions in life.
Silly, I know! It's just something I've always wanted to do!
One way or the other things have always gotten in the way and until very recently indeed, I had never been to Mexico.
As part of a little pact with myself to go and experience as much of life as humanly possible, to race out and do everything I've always wanted to do… I booked a last minute trip to Tulum, one drizzly January afternoon.
I called my very best friend in the entire world, and told her to pack her bikini.
We were off on an avocado expedition!
Straw hat // Tacos & Tequila t-shirt // Sunnies
We jumped on a flight at sunrise, waved goodbye to the rain and landed in Cancun late afternoon.
Stepping off the plane was like coming up from murky depths and gulping down that first gasp of air.
A warm breeze, thick with moisture, whipped around us bringing the smell of palm trees, flowers and far off sea salt with it. The perfume of the tropics.
We raced through the airport as fast as our legs would carry us, leapt into a cab and hurtled down the highway towards Tulum.
Stopping off a little over half way there, at our first hotel of the trip; Esencia.
We tore off shoes, discarded jumpers and suitcases, and made a beeline for the beach.
Birds danced over our heads, the crickets began to sing as dusk started to settle.
We emerged onto velvet sands just as the sky and the waves turned pink.
Laughing and hugging we dipped our feet in the warm sea and wallowed in the fragrant air of this new world.
Pulling ourselves together, we skipped the short distance to the bar to tick a little something off my bucket list…
Frozen margaritas, guacamole(!) and scallop ceviche.
Eaten on the beach, watching the waves roll in and the pelicans scoop up their supper.
One more round later and we were ready to hit the hay, and check out our new home properly.
I've always had great faith in i-escape when it comes to their choice of hotels (they only choose lovely little independent places and give you their honest opinions) but this time they'd really outdone themselves.
I would never have even heard of this place if they hadn't recommended it so heartily!
Our perfect room led onto a perfect little bathroom, and a perfect little jungle jacuzzi.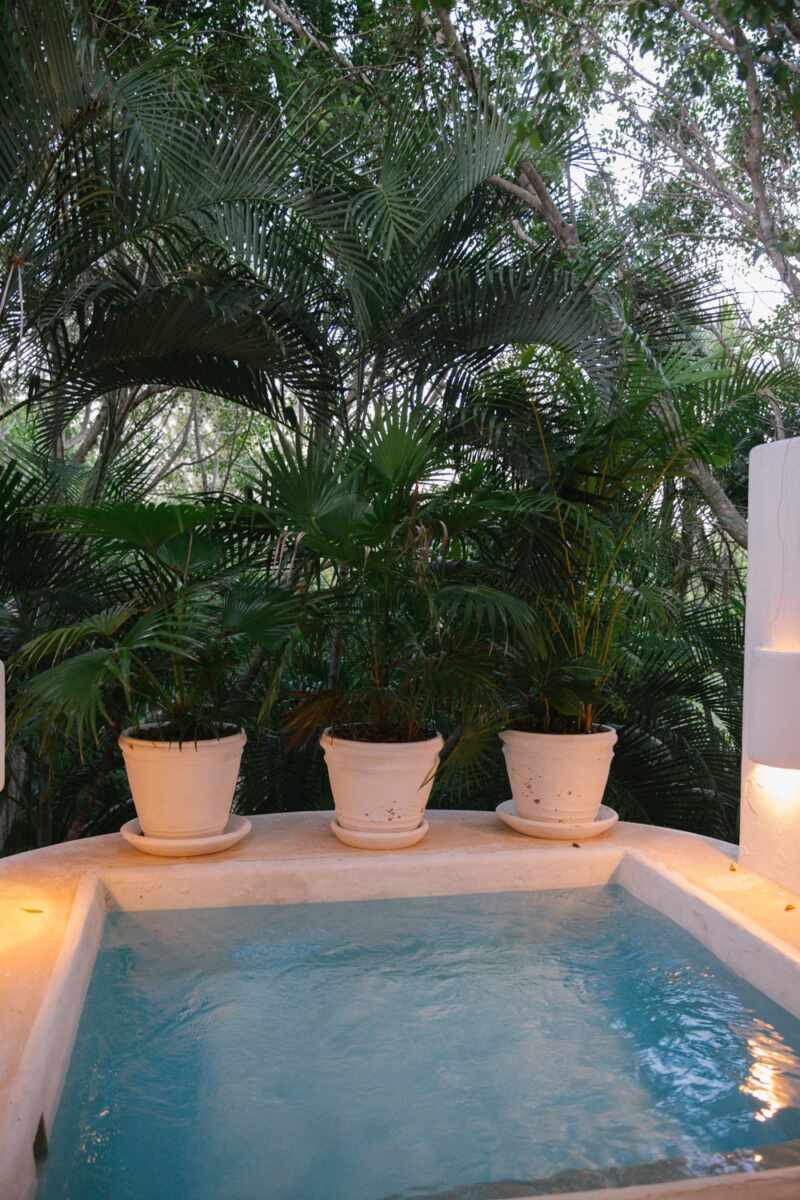 After lounging in the hot, bubbling water and listening to the palms rustle overhead, we collapsed into bed, pressed one button beside our pillows and black-out shutters descended from above, plunging us into peaceful, blissful darkness.
We awoke with whispers of "you 'wake?" just before sunrise, and went down to the sea to enjoy the show.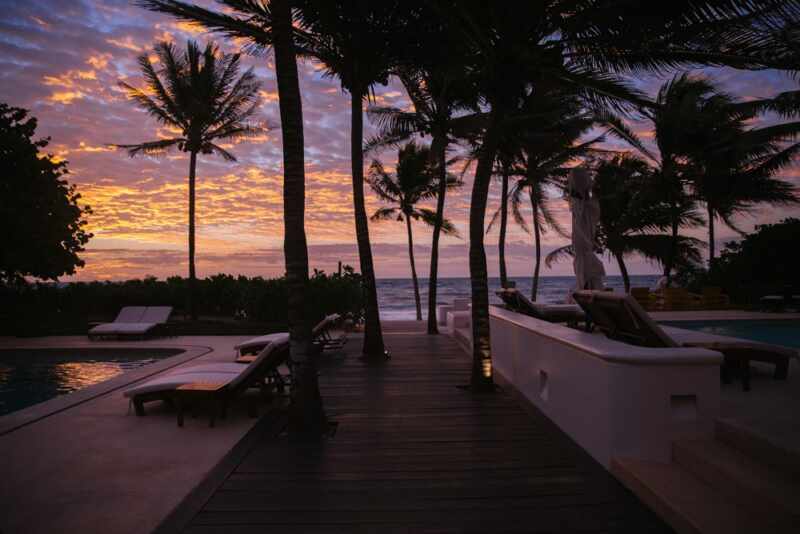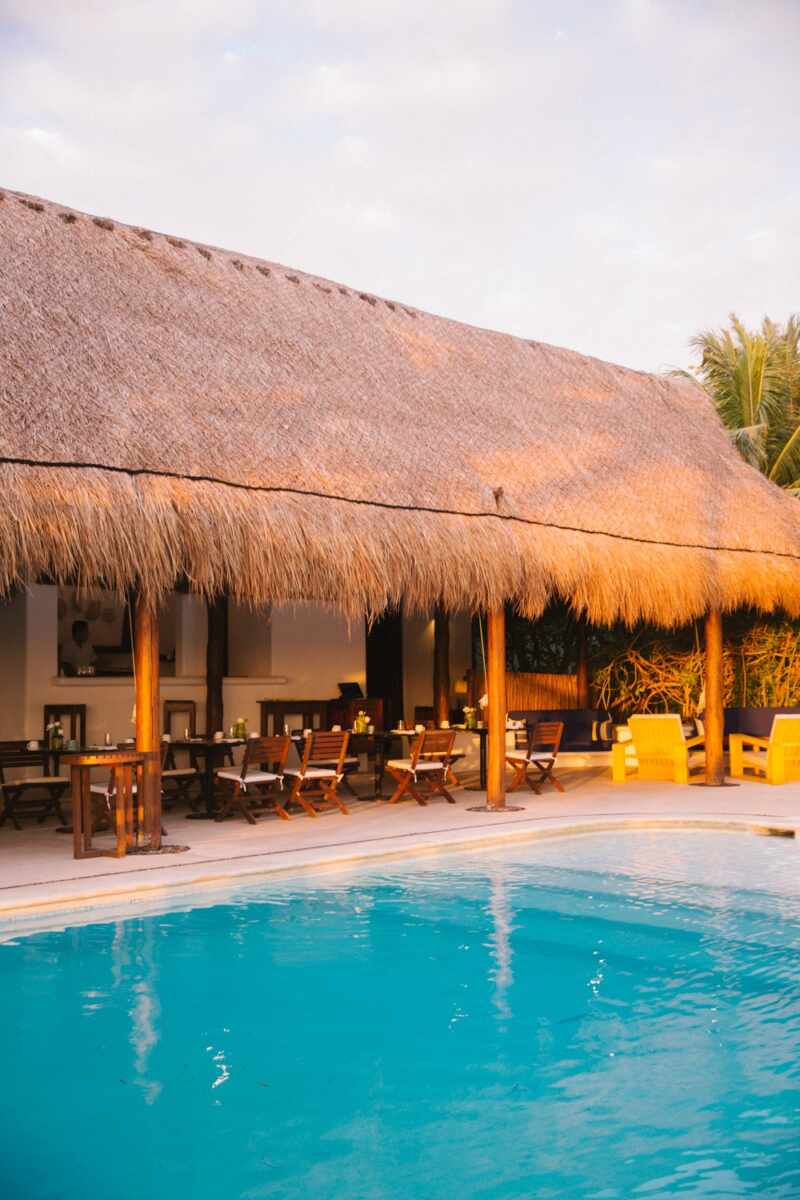 Watching the sun slowly rise over the ocean from our little tiled breakfast table.
Coffees in hand and utterly mesmerised.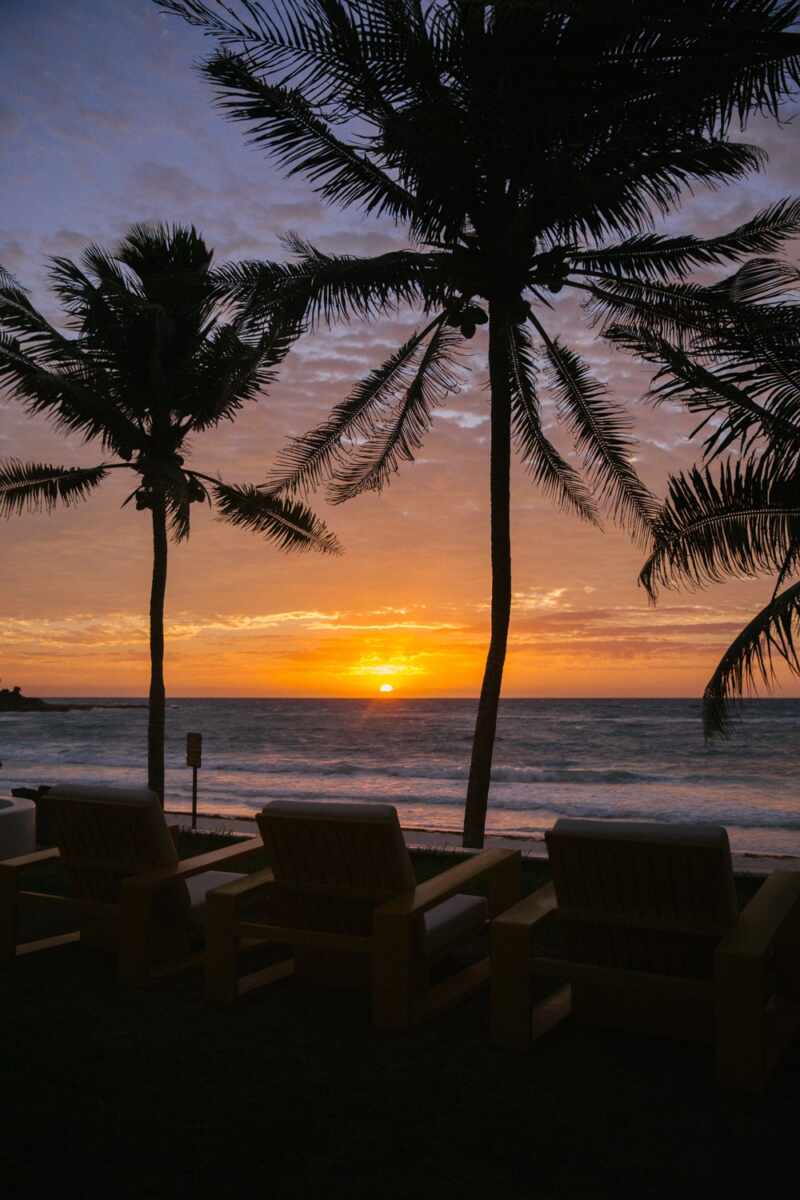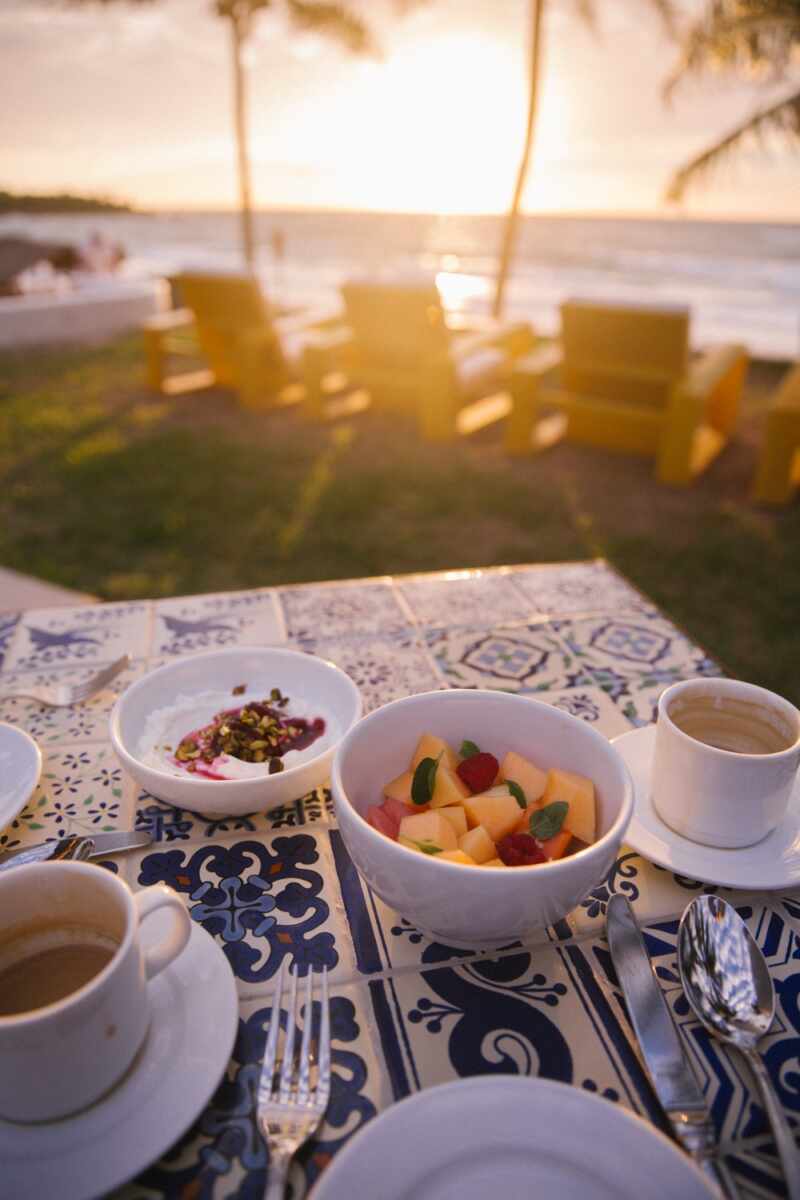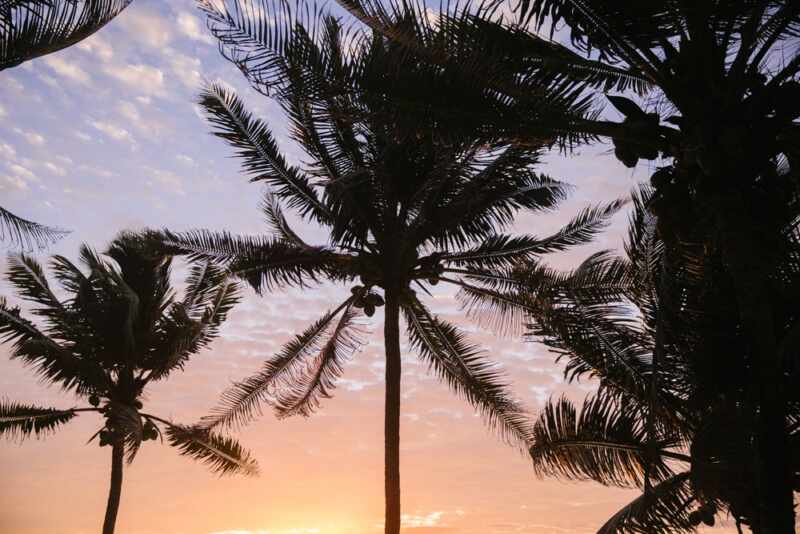 After an exceptionally lazy breakfast we pulled on our explorer hats and set off to see some of the jungle.
Hunting the Cenotes we'd heard so much about.
A quick climb along a winding, well trodden path led us to Cenote Azul.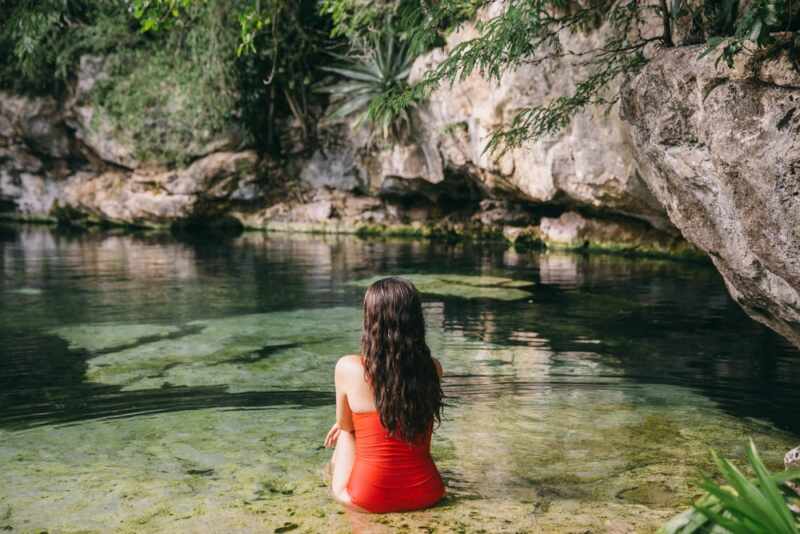 A limestone pool of the clearest, cleanest, fresh water you'll ever come across.
A surreal oasis and a godsend with the humidity reaching 100%.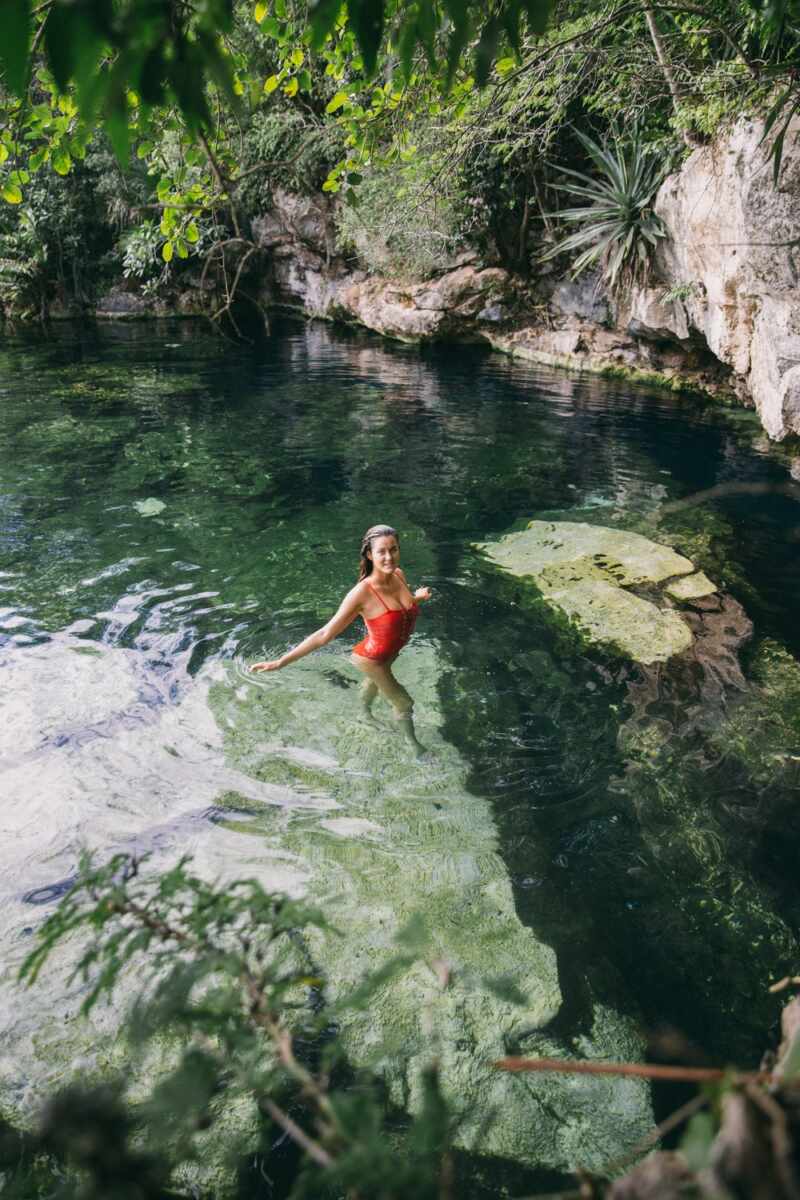 Mum and I swam through the pools, stretched out on rocks like fat lizards and marvelled at the magic of the place.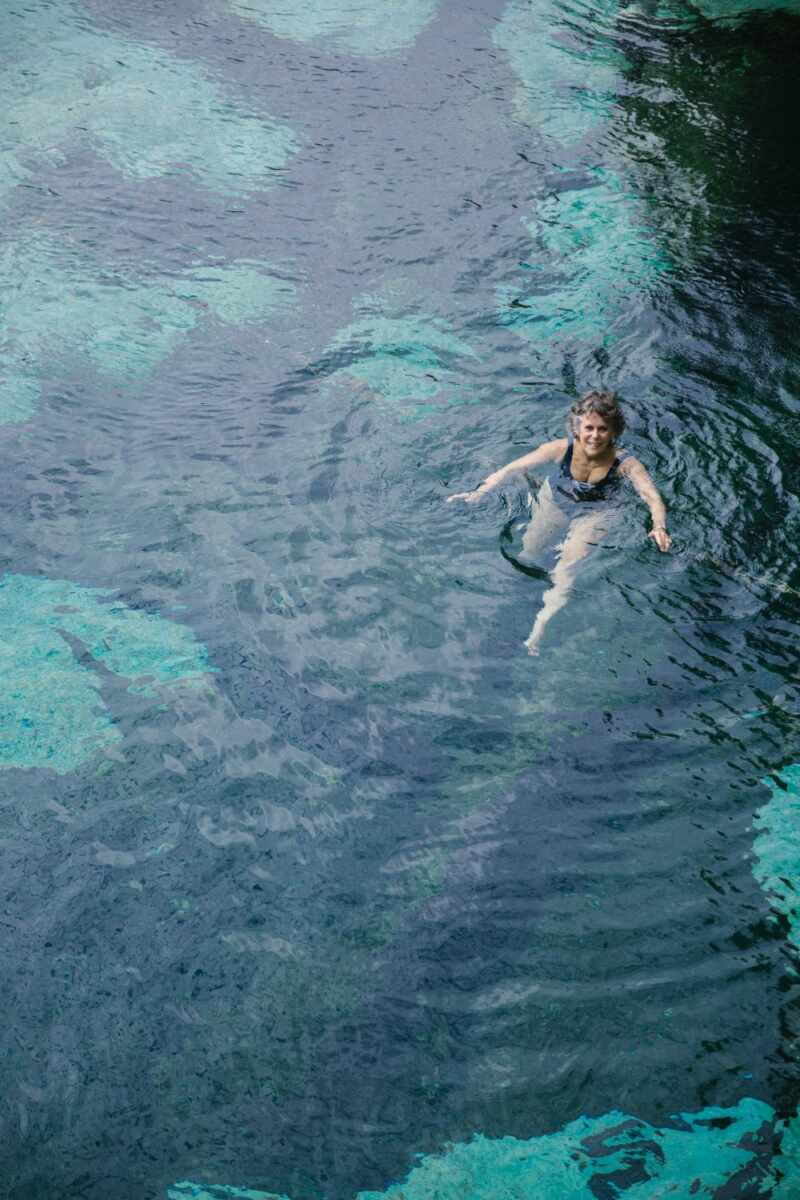 I'd always thought cenotes looked nice… but I was totally unprepared for how unique and special they really are.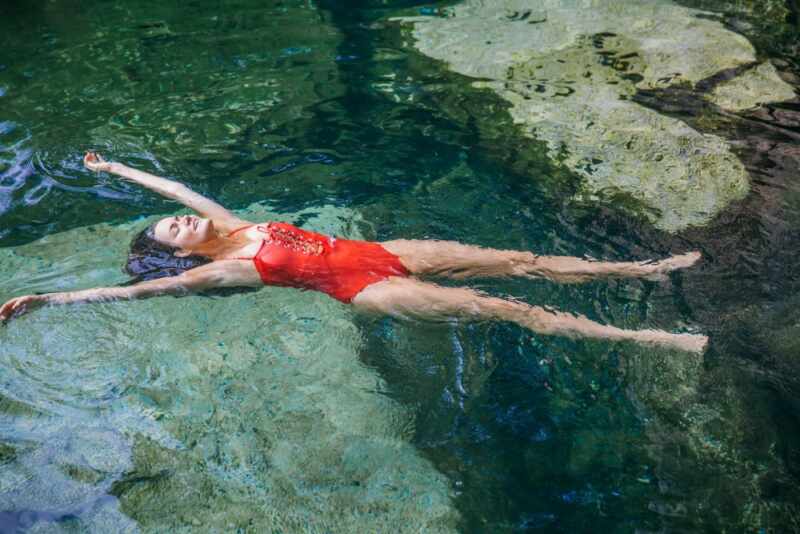 I've never felt so safe just floating, so small, so at peace.
Though things really transform below the surface, as it's only then you can grasp the sheer scale of the place.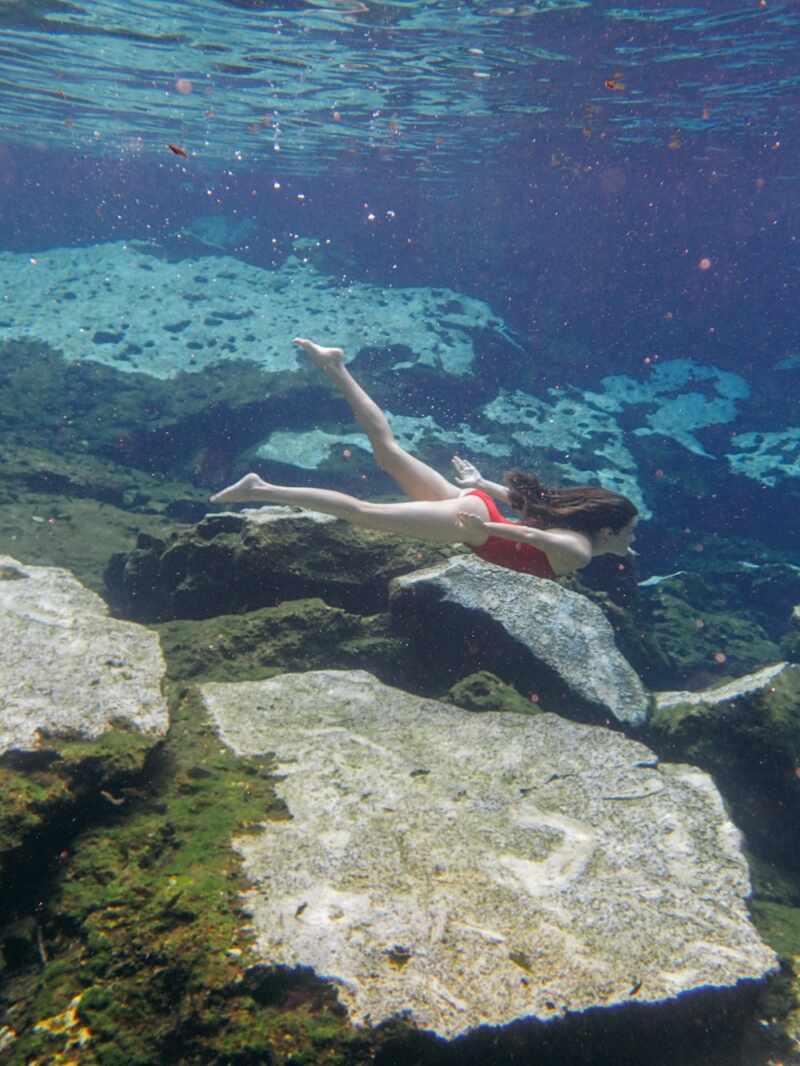 The water's so clear you don't need goggles, there's no salt or chlorine to get in your eyes.
But a snorkel certainly helps if you'd like to stare a little longer!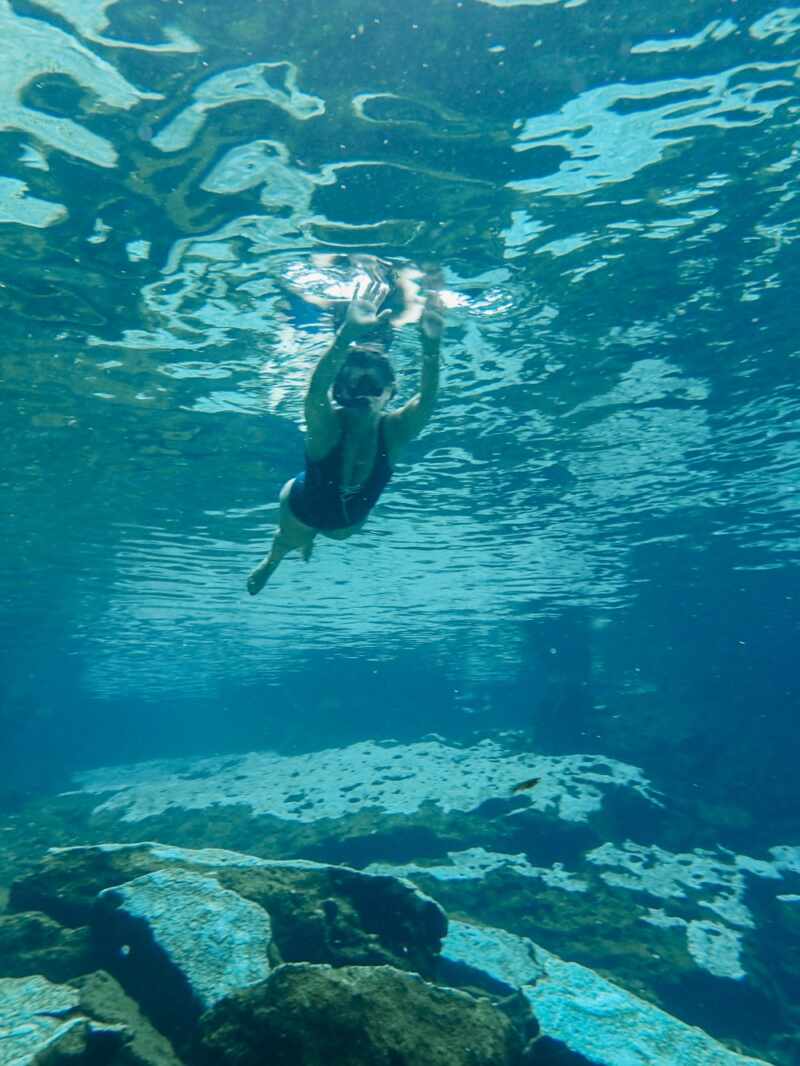 We were there early, so only shared the place with a handful of other travellers and a fair few iguanas.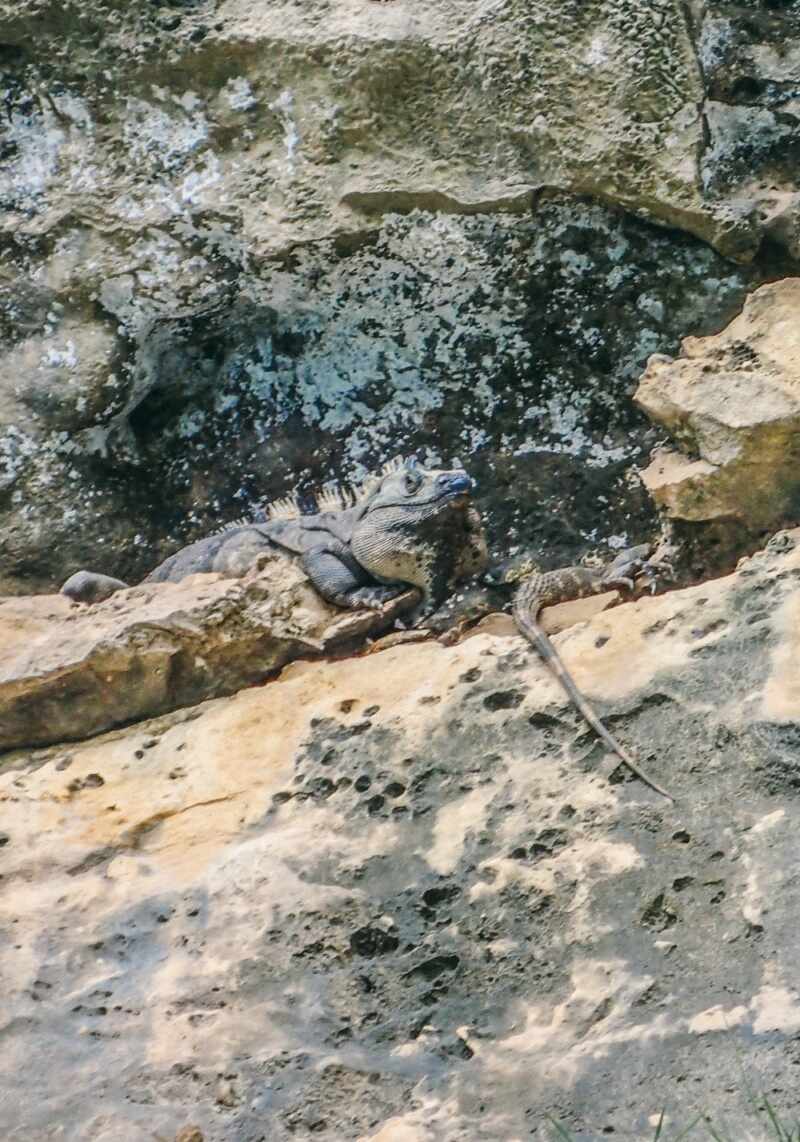 And of course the hungry fish, happy to give you a tickly pedicure if you stand still for even a moment!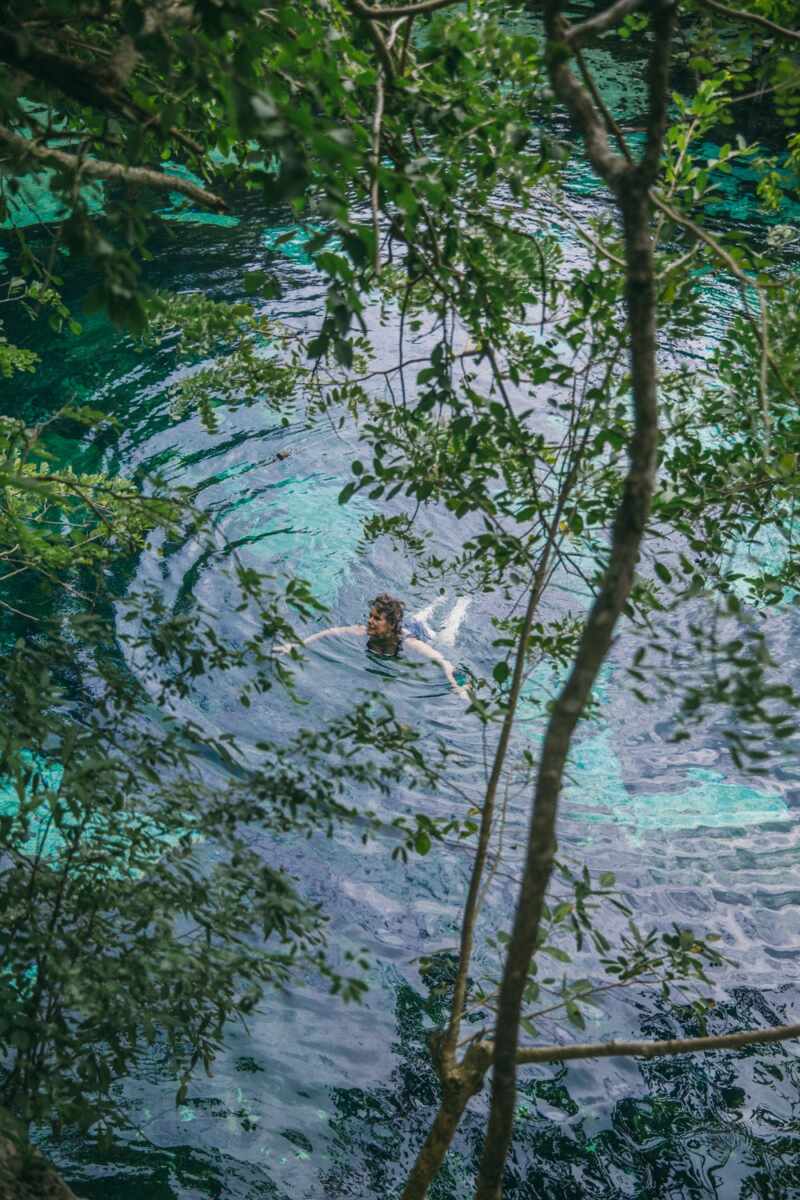 There's a deck to catch your breath on, rocks for jumping off and endless pools to peer into.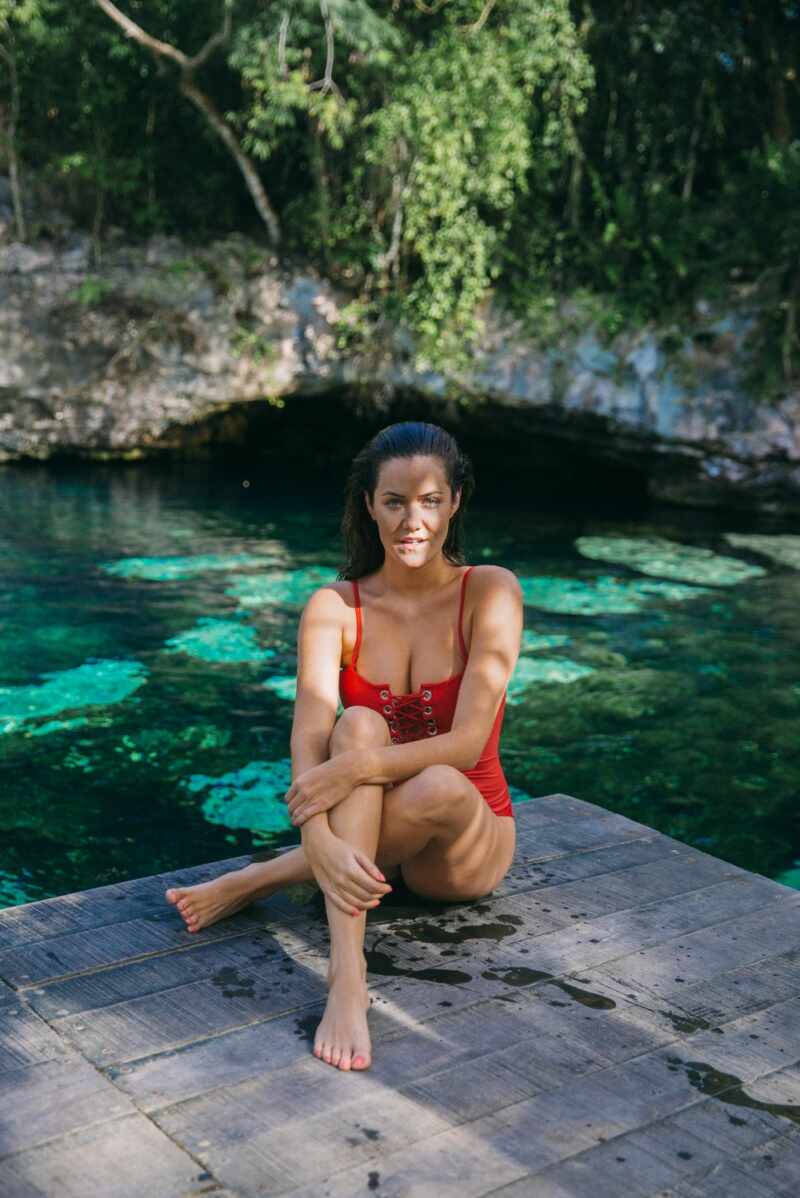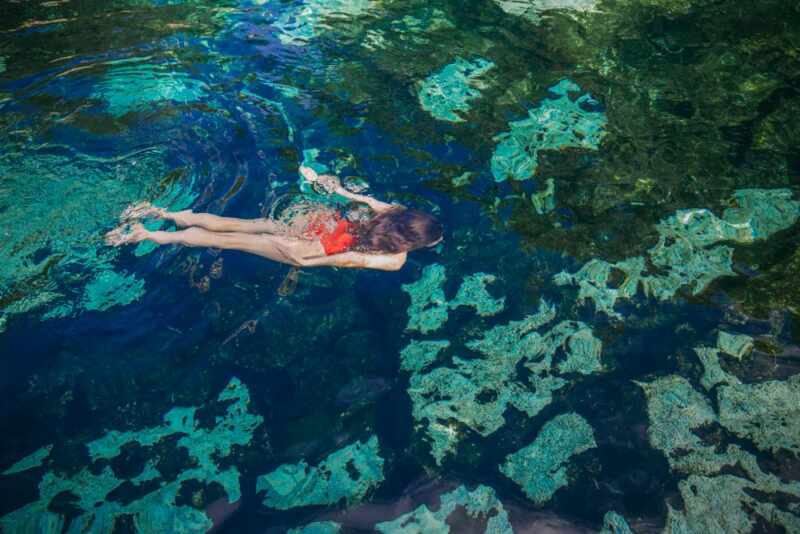 Blue lace up swimmer (55% off!) // Red lace up swimmer (also in black)
Ad - Shop this post