Every night this week, I have dreamt I was on a beach.Â
White sands, clear blue water, frozen margaritas and the ultimate holiday luxury… fish tacos.Â
There is honestly nothing better than sitting down to a vast table of salty, crunchy, gooey, citrusy fish tacos. Before retiring for a long snooze in the sun.I first discovered them on a trip to Harbour Island earlier this year and have been hooked ever since.Â
Now, seeing we can't all go to the beach, I thought I'd bring the beach to us!Â
This recipe may sound like it takes a lot of work, but honestly it really doesn't and if you're cooking this for someone special, you are defiantly getting lucky tonight!Â
Shopping list-Â
4 small filets white fish
coriander (cilantro)
garlic
2 limes
Rock salt
1 avocado
1 red onion
pea shoots/watercress
cherry tomatoes
tortilla wraps (nice small ones)
This recipe serves 2, but you can easily multiply it to feed friends & family too.Â
You can use any sort of white fish you like; cod, seabass, grouper, I used Tilapia because it happened to be on offer at Waitrose.Â
If you're not sure what to buy, ask the fishmonger for a meaty, firm white fish.Â
He'll know what to give you.Â
For the fish-
4 small filets of white fish, cut into inch wide strips.
1 handful of coriander (cilantro)
2 cloves garlicÂ
1 lime (juiced)Â
6 tbsp Olive oilÂ
1 large pinch of rock saltÂ
For the guacamole-
1 avocado
1/4 red onionÂ
1/2 lime (juiced)Â
1 handful of coriander (cilantro)
6 cherry tomatoes
1 big pinch of rock saltÂ
For the sauce-Â
2 tbsp mayonaise
3 tbsp creme freche (This is effectively the same as sour cream with half the calories. Every little helps!)
4 tbsp hot sauce (I like my sauce pretty spicy, so if you want a cooler sauce… use less hot sauce.)
Start with your fish marinade.Â
Use a pestle & mortar to crush up your coriander (cilantro), garlic, lime and salt. The reason for using rock salt is that it helps break apart the other ingredients. Keep crushing until everything is combined & smells fantastic. Add your olive oil, stir and pour over your fish.Â
Flip them around in their salty bath and leave them to stand for a moment.Â
Now move on to your guacamole.Â
Use a fork to loosely mash your avocado, you don't want a fine paste, just a nice chunky moosh (this is a technical term which you can feel free to wow your friends with).Â
Finely chop your red onion, coriander (cilantro) & cherry tomatoes, & mix it all together with the lime & the salt.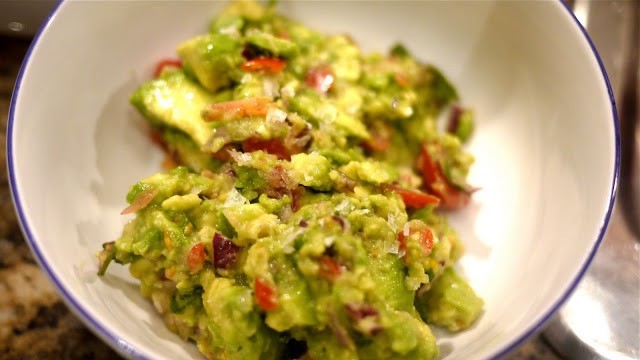 Leave this on the side and start heating your frying pan (use a griddle pan if you have one).Â
When it starts to smoke, turn it down to a medium heat & add your fish. Don't add oil, the fish is already covered in it.
Leave it cooking away for a few minutes & make your taco sauce.Â
Simply mix together your ingredients until you have an even coloured sauce. Done!
After a couple minutes, flip your fish and cook for the same amount of time on this side.Â
When your done, take the fish out of the pan and scrape down all the bits left behind, these are full of flavour & a real shame to waste!Â
You may want to just lay the table with all the goodies & let your guest(s) build their own wraps.Â
It's less work for you & makes dinner a bit more fun for everyone else!Â
Personally I like to start with a tortilla wrap, then add the pea shoots, then the fish, then the guac & then the sauce.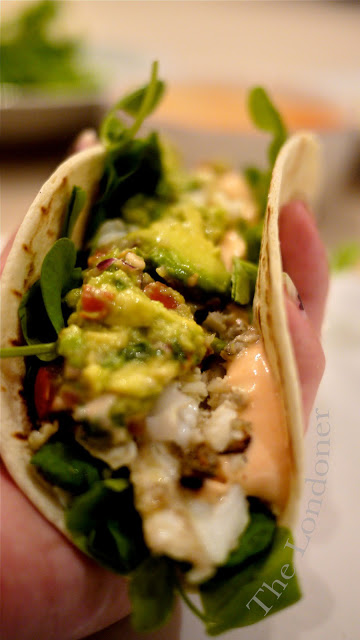 I call these "Epic Fish Tacos" because my when my boyfriend tried them, he looked at me, rolled his eyes and groaned "Epic Win!"
My best review yet!Â
.