Almost a decade ago I lost myself. I had escaped an abusive relationship and felt as though all that remained was a shell of my former self. I felt small and weak and frightened. I was convinced I would never find love again but worst of all, that I would never find myself again.
I embarked on a Yes Year, where I challenged myself to say Yes to every opportunity that came my way, even if I didn't feel like it… especially if I didn't feel like it!
Long story short, it was the best thing I ever did and before the year was through I didn't even recognise the girl I was a few months before. And when it came to finding love again? Well, you can read that particular tale over here.
Not long after I found myself and was beginning to feel comfortable, my world was turned upside down again when I became a mother.
The journey to motherhood is not an easy one, we're surrounded with stories of women who "bounce back" and slip into their pre-baby lives (and jeans) within weeks, a laptop in one arm, a baby in the other, a whirring pump firmly attached to each nipple as she takes the boardroom by storm and grabs a nutritionally balanced supper on her way home. I felt this pressure keenly and tried so hard to please everyone, I wore heels and went to parties, my boobs bursting every time anyone asked me about The Baby. I survived on takeout and very little sleep, I worked and mothered and wondered if everyone else felt the same constant panic I did. When the baby slept I was convinced she would die and when she didn't sleep I wished I would.
When I shared my woes online I was inundated with messages telling me I should be grateful, to stop complaining, didn't I know how much better I had it than others? People wrote to me telling me they'd contacted child protective services, that a depressed mother is a dangerous one and my daughter would be better off with another. Of course there were many, many more messages of support and love, but in the darkness all you can hear are the ones telling you that you're right, you are failing.
If you're a new mum reading this and any of it feels familiar, don't wait to seek help. I waited longer than I should have before finally seeing a doctor who put me on a regime of supplements and told me to stop trying so hard. I spent more time outside, less time worrying about getting back to whoever I was before, found a sport I loved and a new therapist (a mother who got it) and things got so much easier as Lily got older. Oh, and for the record, you are the best mother for your baby. Don't forget that.
I realise now that who I was before motherhood is not someone I need to get back to. We go through so many iterations of ourselves, that going back (with or without babies) would be foolish. Whoever she was is who I was supposed to be for that period of my life. She had the friends she needed then. She looked the way she was supposed to, then. But I am no longer her and I have let go of the need or want to be her.
Now as I discover this new version of myself, what she likes, what she wants, I'm looking way way back to the earliest version. I'm working on loving and reparenting my inner child. It's funny how the things I want now are the things she loved most. Country walks, playing in the waves, rescue dogs, caves, land rovers and lots and lots of ice cream.
As part of finding her, instead of a Yes Year, this time I'm "going with the flow" and seeing where the synchronicities lead me. I see signs everywhere and whenever I follow them they lead me somewhere magical. I've been reading a collection of stories called Women Who Run With The Wolves and loving them, I stumbled upon a place called Meadowsweet Retreat and when I opened the website I was greeted with an excerpt from the book –
"Run away to the woods or your life will never begin."
The retreat was due to start the following week, and I was sure they'd be fully booked. I emailed and Anya quickly pinged back saying that they'd just had a cancellation and I could have a generous discount. I longed to go but couldn't leave Lily. Within an hour my husband texted to say that his mother would be coming to stay over that week. Knowing Lily would be in safe hands, I booked the retreat immediately and when I looked up the journey time it was 3hrs 33mins. (One the signs I've been following is the number 3!)
I can't tell you how nervous I felt heading down to Tuscany. I had no idea what to expect, I had never done a retreat before, I had no idea what "connecting with the divine feminine" meant but I knew I had to go. All the way there I listened to Women Who Run With The Wolves and felt as though I was going back to boarding school (where I had no friends and have never felt more alone!)
I couldn't have been more wrong.
Stepping through the door felt like coming home.
What followed was the most incredible week, in the most spectacular place, with beautiful, wise, wild women of all ages, all finding themselves and healing together.
I took a film camera in an effort to disconnect and just got my film back from the printers.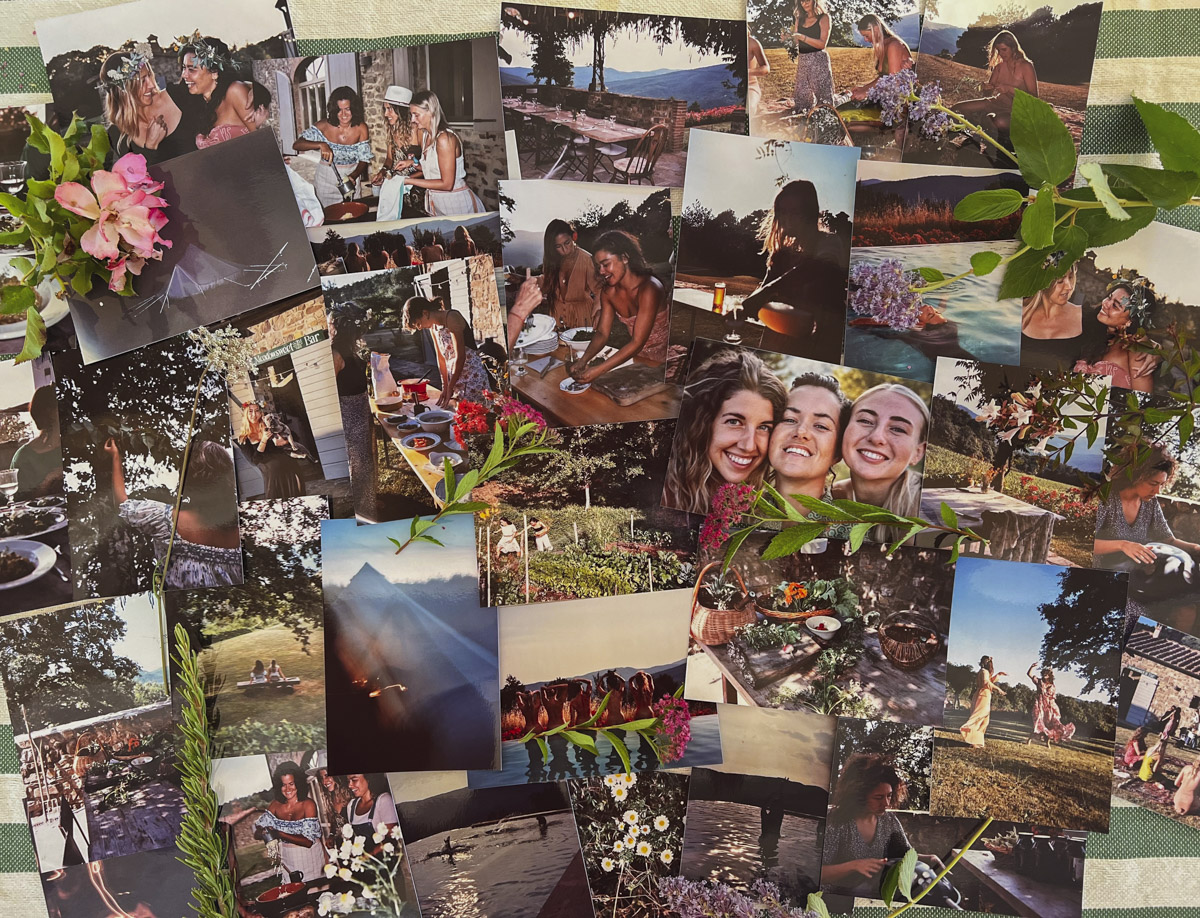 I'm a little bit in love with the fact that the pictures look exactly like the ones from my childhood, and now that that I think about it I realised I used the same camera I had as a kid!
I slept in the Rose Bedroom (another delightful synchronicity).
With a big squidgy marshmallow bed and a view into the 2000 acre estate, beyond the roses.
We were looked after by a small team of goddesses who cooked up the most spectacular plant based meals for breakfast lunch and dinner.
Which we ate beneath the vines, surrounded by singing frogs and crickets.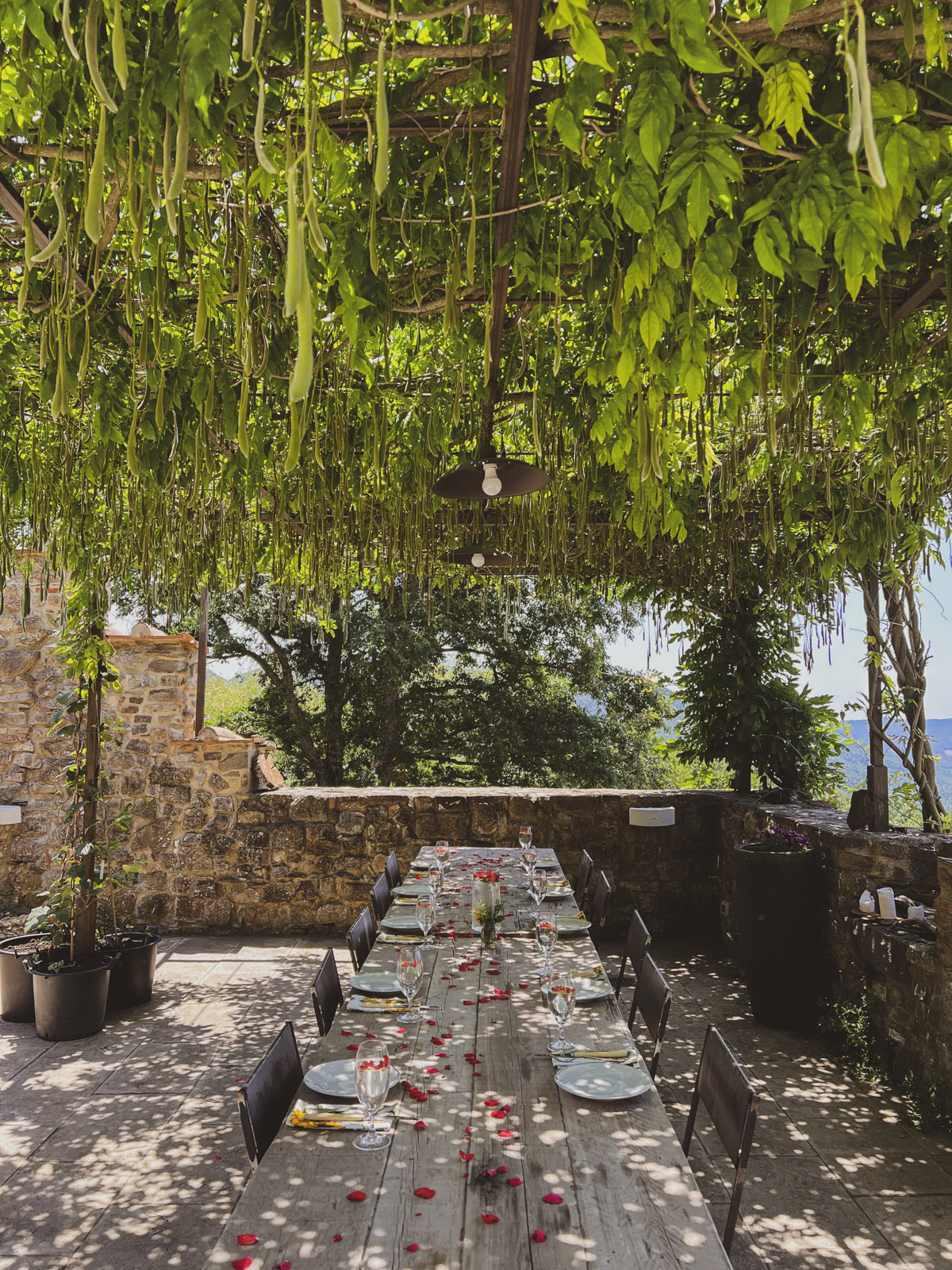 We would dip warm focaccia fresh from the oven into rich bowls of creamy sauces.
Pile our plates high with summer truffles, lest they go to waste.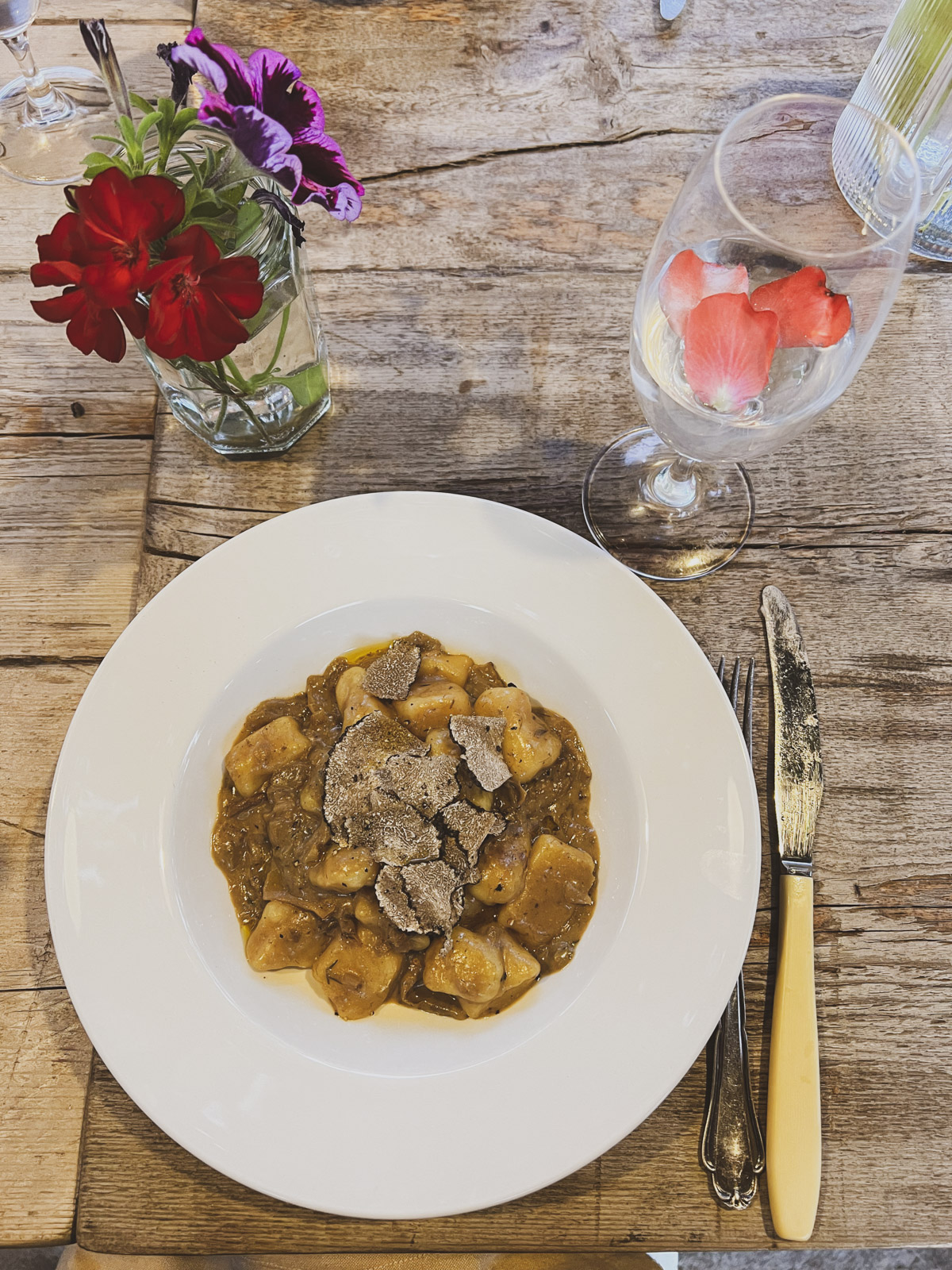 Share salads picked from the garden and dressed with herbs foraged from the hedgerows.
Everything drenched in sunshine and local olive oil.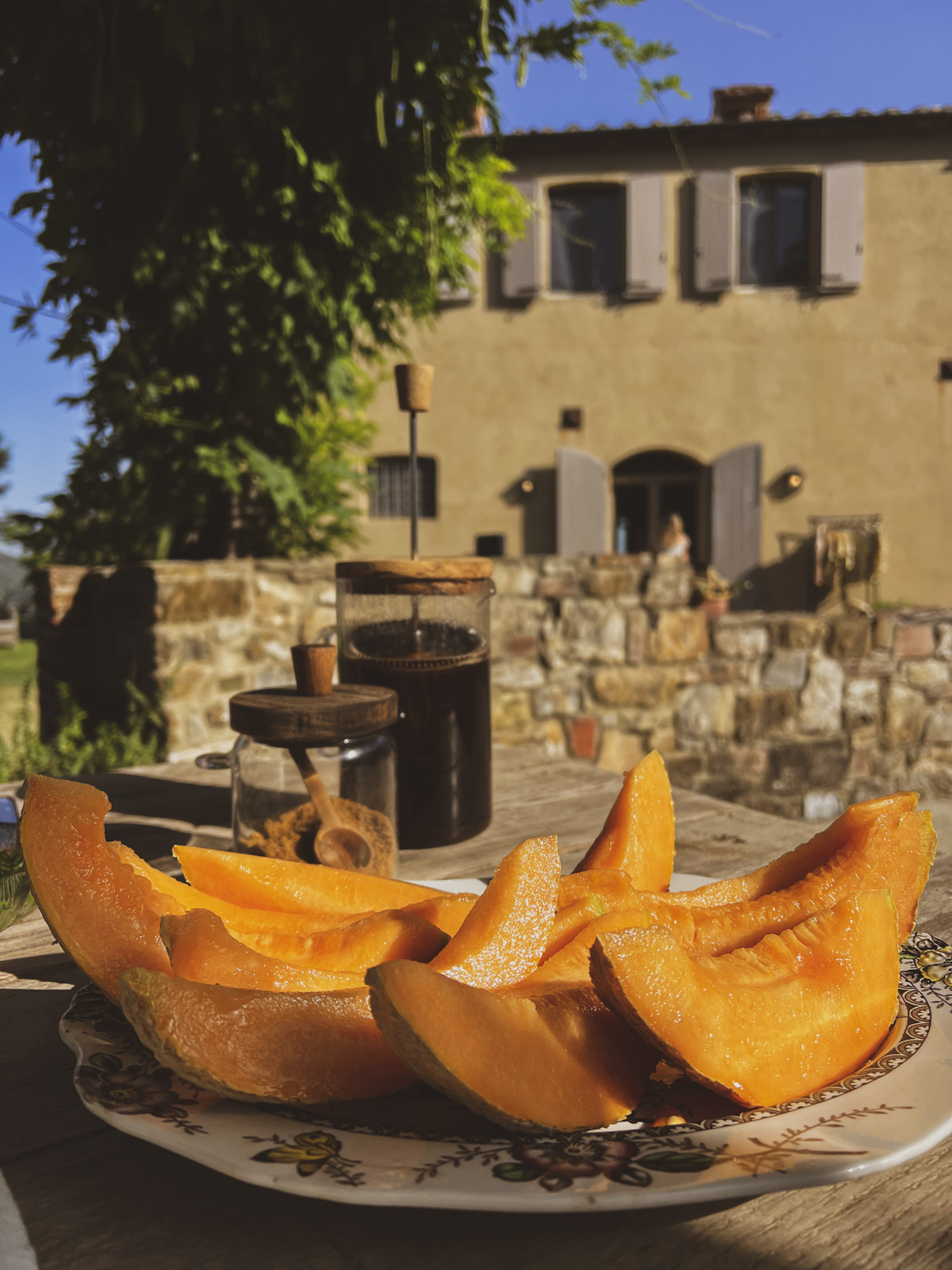 I met Emma, an American photographer with the most mesmerising southern accent and an eye for all thing beautiful and wild.
Caitlin, an old soul from the north of England who's a healer and life coach helping women remember their inherent magic.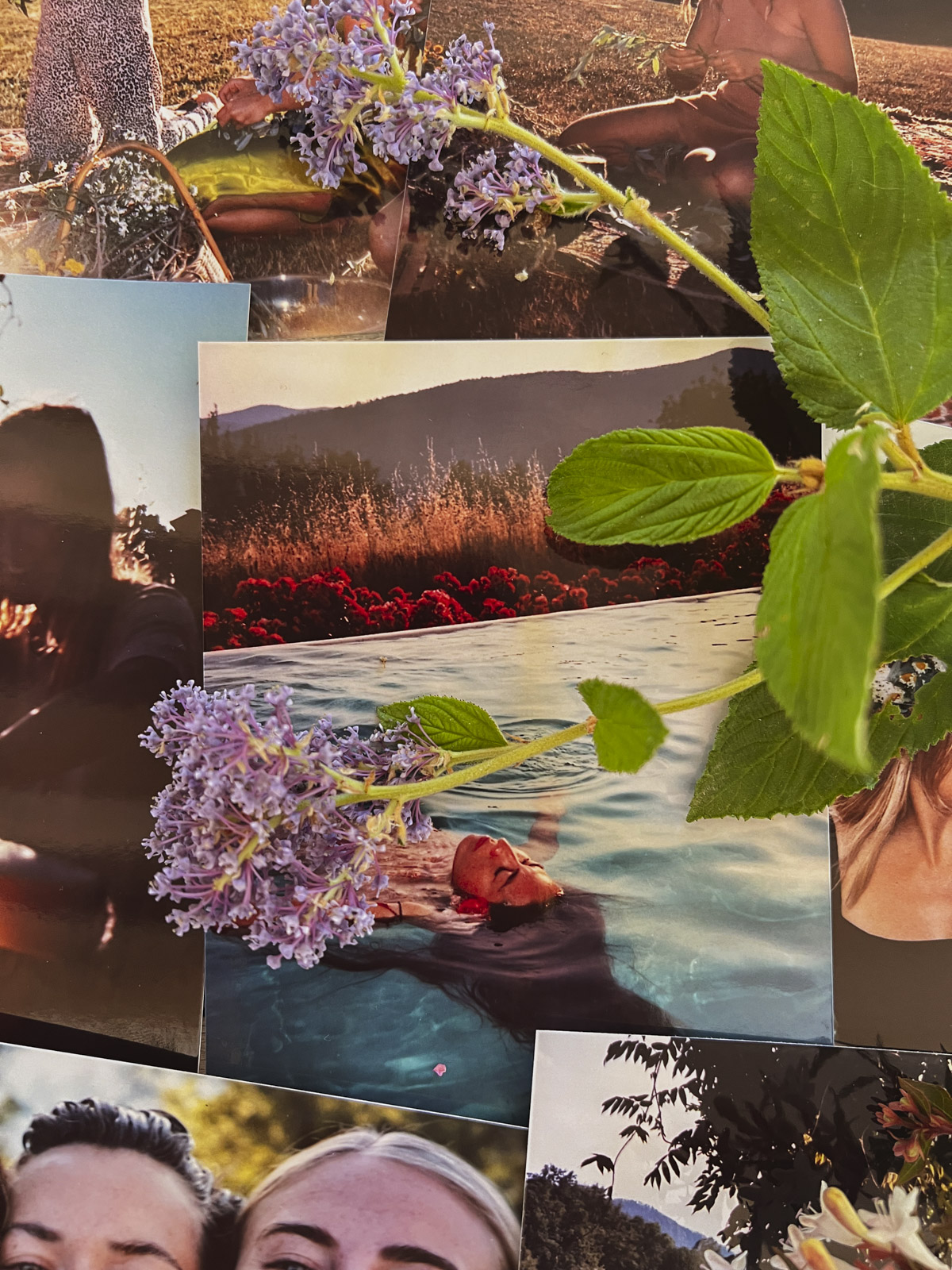 Maddison, a goddess from Bali who's going to change the world and helped me embrace my wild side.
We spent much of our time in the water, singing, dancing and floating.
Then of course there was Anya.
Our hostess with the mostess. She led us on foraging walks, explained the magic of every plant we met and knows each and every tree by heart.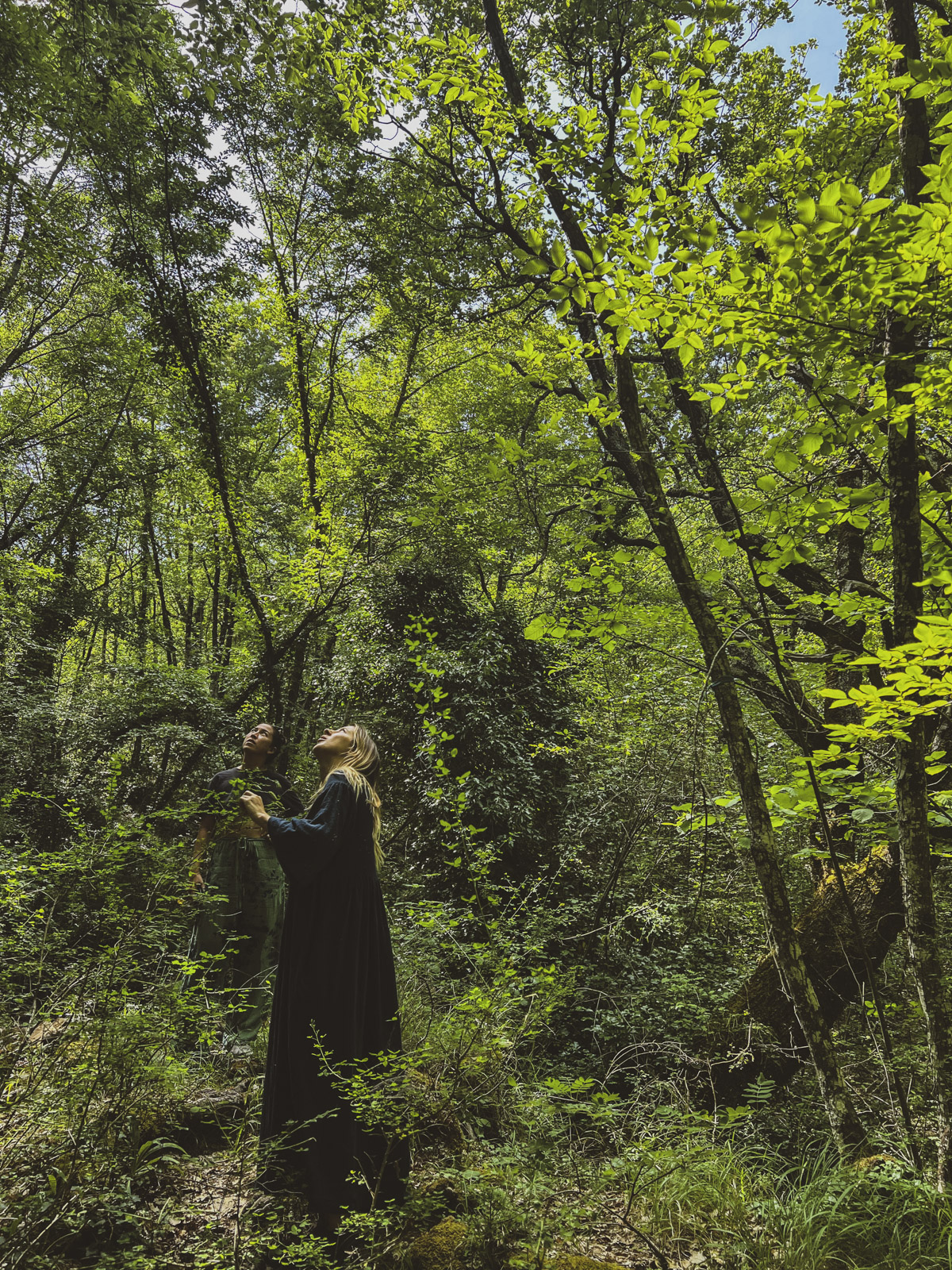 She taught us to create potions, teas,
and smudge bundles.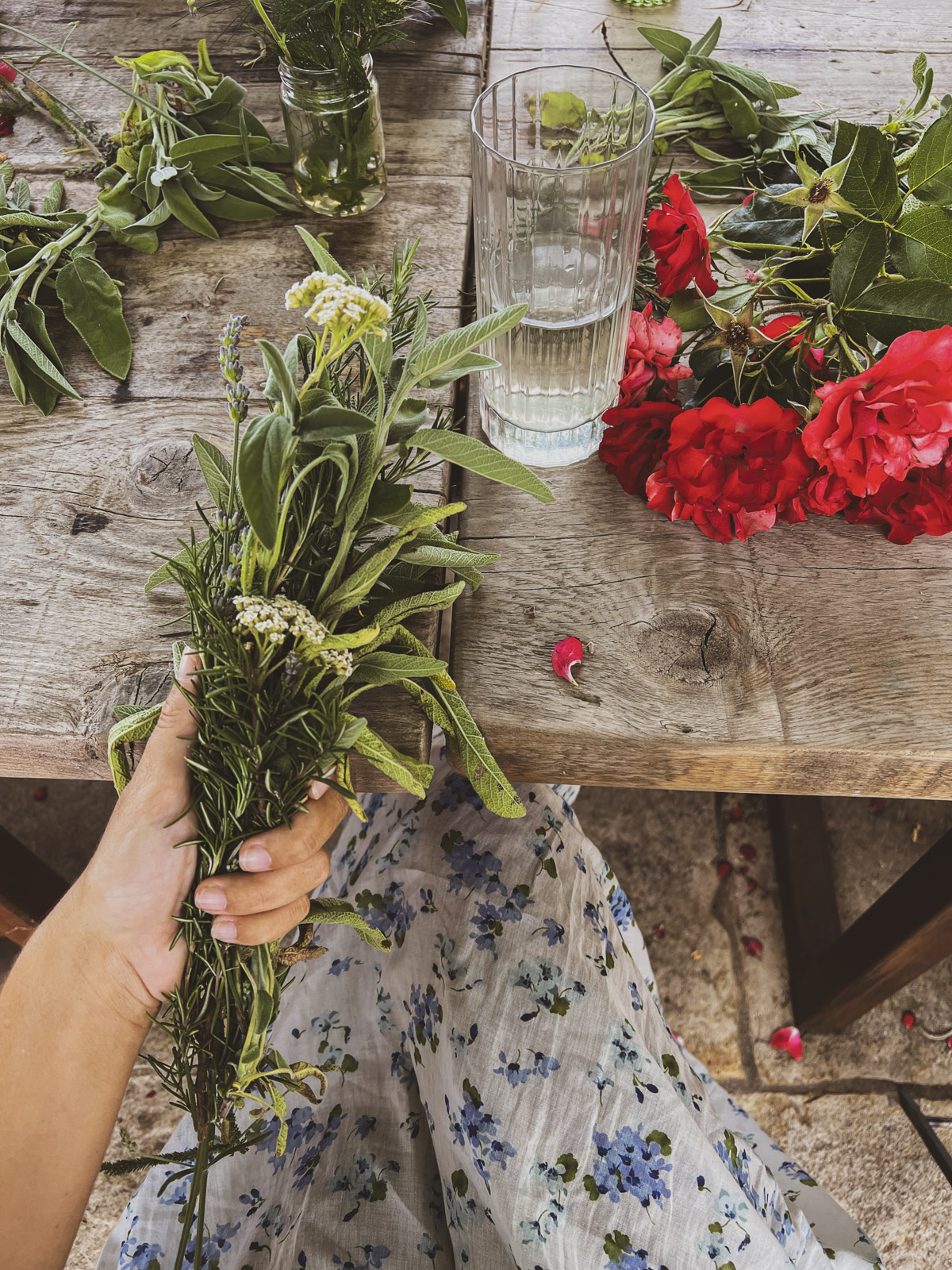 I filled mine with the wisdom of rose, rosemary, sage and yarrow.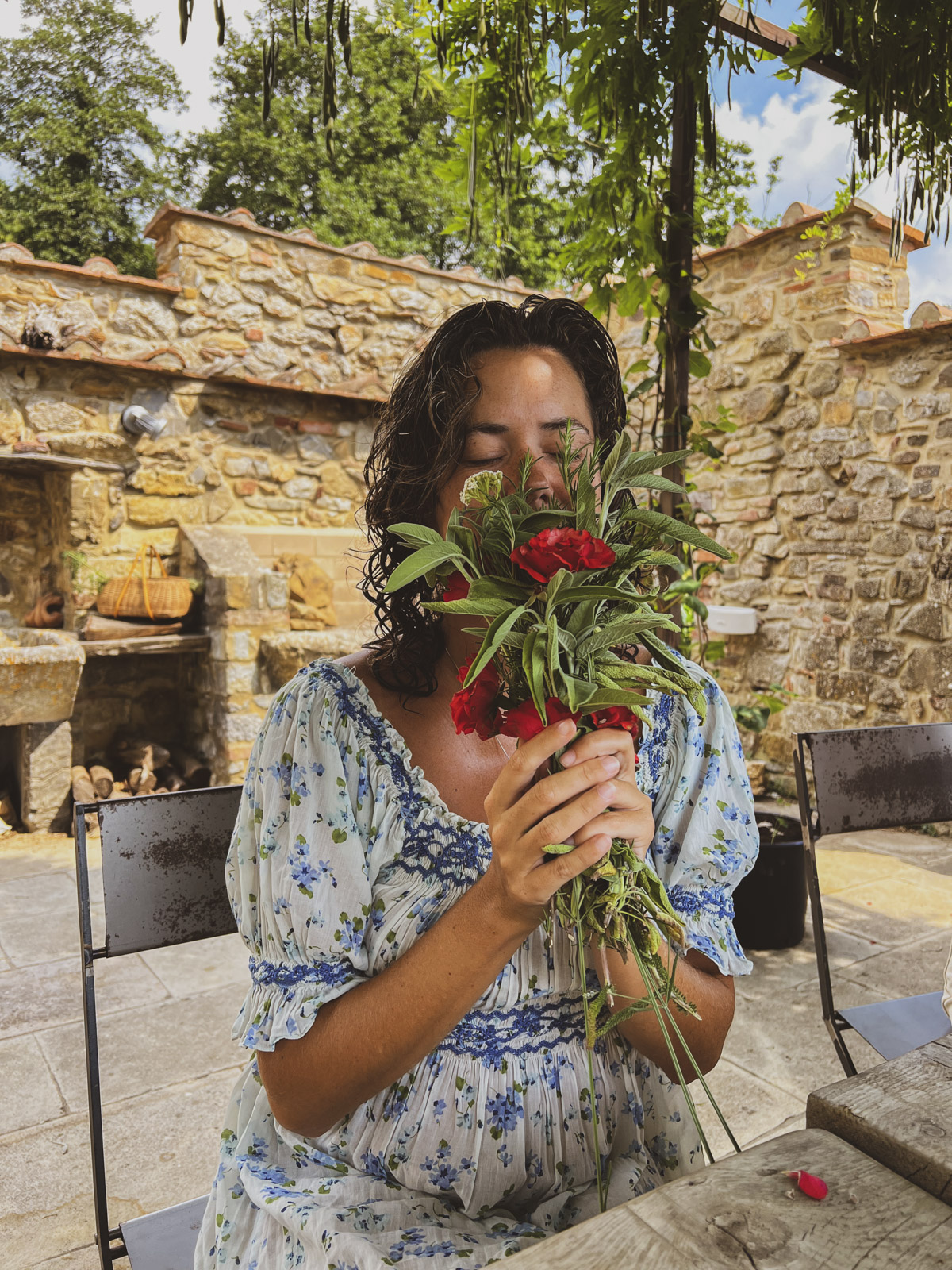 All powerful plant allies and the perfect souvenir of our time in the woods.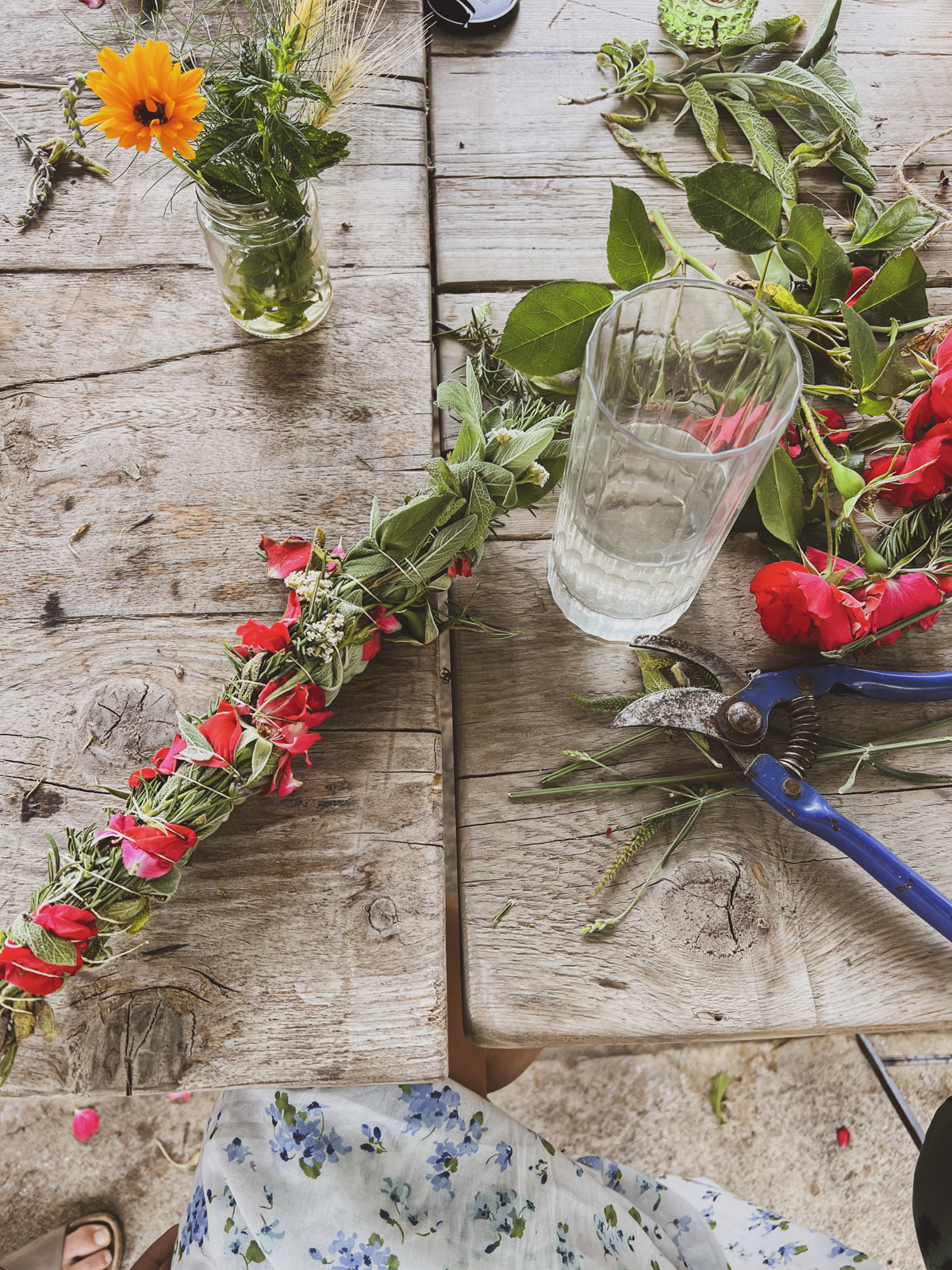 By day Tatjana guided us through self-love meditations and helped us reconnect with our divine feminine energy, by night Phoebe led us into the woods for ceremonies among the fireflies as she sang and played her drum to the beat of the earth.
In the in-between moments Suzi would tell us of her nomadic life spent in Indonesia, her adventures as an entrepreneur, mother and now a new grandma.
Alice and her mother Iris inspired us all with their wisdom, bravery and love for each other.
Chef Chiana taught us to make gnocchi from fluffy baked potatoes. We singed our finger tips and giggled throughout, sneaking nibbles of the crispy skins and burning our tongues in the process.
Babs patiently taught us to hand dye silks, using whatever we could find in the garden.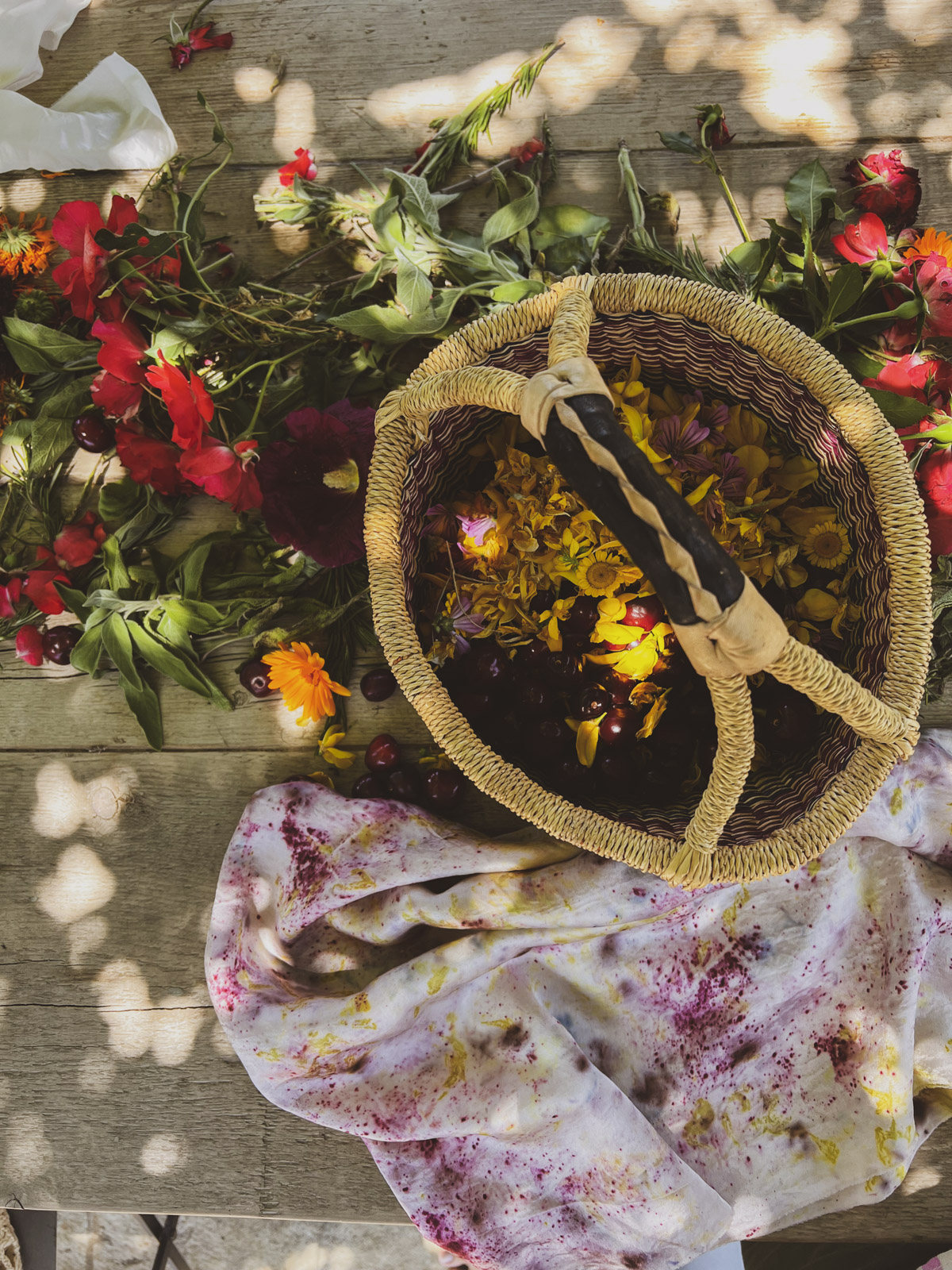 We pressed flowers, rolled leaved and hammered cherries – delighting in their deep blood like splatter.
Breakfast was simple and mostly solitary.
I would eat my toast alone and reflect on the day before, preparing for another day of learning.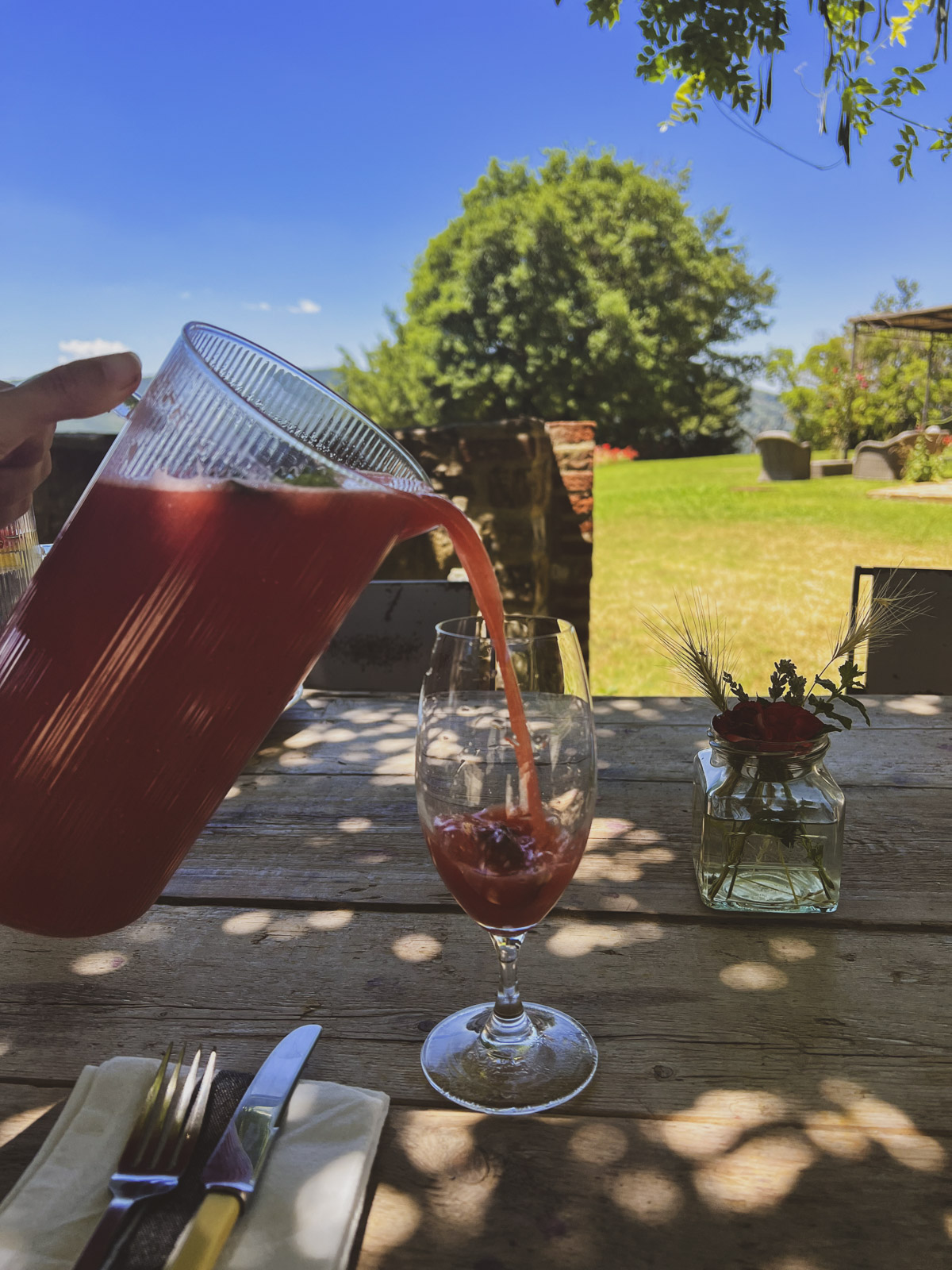 On the final night we celebrated all we'd learned with a pizza party, where we made flower crowns and danced by the light of the moon.
I learned a lot about myself.
I learned that I'm not as socially awkward as I've always thought I was, people even described me as "magnetic" which is something I'm still working on accepting, as flattering as it feels.
That my weirdness is part of my charm.
That I don't need makeup or even a hairbrush to be beautiful!
That everything I loved as a child and thought I should probably grow out of is actually what I really want as an adult.
But mostly that I want a community. I want to live somewhere surrounded by women, with dogs and babies and chickens, a wood to forage in and a river for swimming.
And that's ok.
It's ok to go after what I want.
Now I just have to find it!
If running away to Tuscany sounds like something you want, there's one more retreat left this year and lots more next. You'll find their website here.
If Tuscany feels a little out of reach right now, find some local woods and go wild! Dig your fingers into the earth, smell the flowers, hug a tree, howl at the moon.
See what you find out about yourself… you might like it!