A very long time ago I blogged about my favourite American burger joint, Five Guys.
Every time I went to New York, without fail I would pop in at least once for a juicy burger and big ol' bag of cajun fries.
This time however, I wanted to spread my little cheeseburger wings and try out somewhere new.
I'd heard whispers about Shake Shack but never actually spoken to anyone who'd been and could tell me what it was like.
While Five Guys has over 1000 restaurants, Shake Shack only has 14.
They started with a little hotdog cart in Madison Square Park, to support a local art project and grew from there.
Blah blah blah, what about the burgers?
Well, take a look…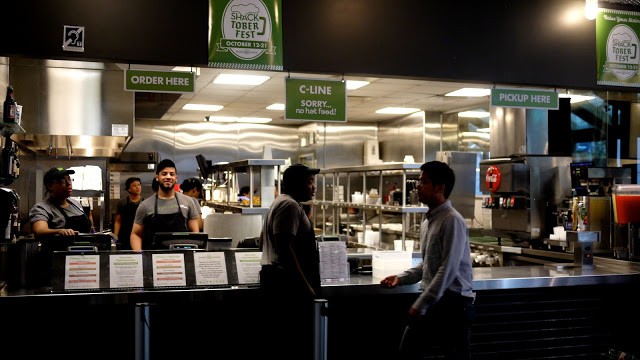 The menu is short, sweet & cheap.
I had a double smoke stack and cheese fries.
Just look at it.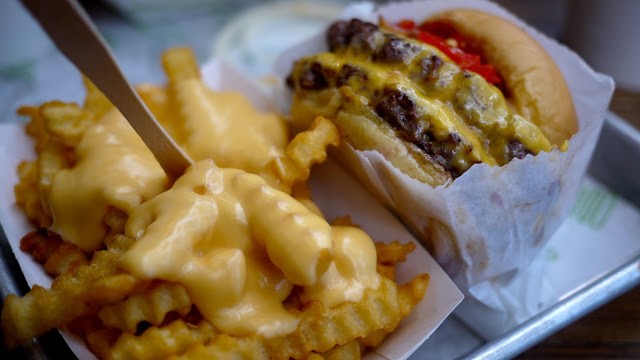 Close up…
The taste test…
Two hander, always good.
First bite.
Sweet baby cheesus that's a good burger!
They also serve slightly healthier girly burgers, like this one which my date ordered. Whatever floats your boat! You can find SS's dotted across the US and there are even a couple in The Middle East. None in the UK… yet. Website here , Tweet @ShakeShack . Follow the rest of my burger escapades @rosielondoner on Insta-ma-gram .