Now I know that as a blogger, my job is to show you beautiful food, places, fashions & trends. To distract you from your day at work and inspire you to try exciting new places & recipes.
This post is about somewhere that isn't new, beautiful or fancy… in fact, it's down right
dirty
.
In the best possible way!
This is my favourite burger joint in the entire world.
Unfortunately it hasn't hit the UK yet, but I know you're a jet setting lot. Next time you're in America, sniff one of these places out, you won't be sorry.
5 Guys has somewhat of a cult status amongst its fans, but so many people walk right past.
Don't be too hard on them, they just don't know what they're missing.
All the chips are cooked fresh to order, in peanut oil (which is much better for you).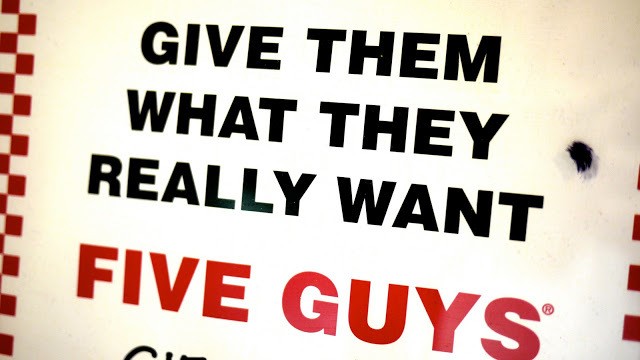 Free barrels of peanuts to crack & nibble as you wait.
You can choose any toppings you want, onions, salad, tomato, cheese, relish… there are 15 to choose from.Â
As far as I'm concerned salad just gets in the way of a good burger, so I go for double cheese, pickles and A1 sauce.Â
A clear winner.Â
As I said, they haven't hit Europe yet, but bookmark the page for your next trip across the pond.Â
You'll love me forever.Â
.