This weekend sees the party of the decade hit London town.We're celebrating our gracious Queen's Diamond Jubilee (Americans, that means she's been on the throne for 60 years).Cities, towns & villages all over the UK will be taking to the streets to show their appreciation.Street parties, picnics, Pimm's & dancing.London will be the party epicentre. So seeing as I'm 'The Londoner' I should probably give you a heads up as to what's going down!Unfortunately I wont be in the city (I planned a little trip away without looking at the calendar, rookie error) but here's a list of what I would have gotten up to.
Ok, most importantly you're going to want to check out the flotilla.
On Sunday The Queen will travel along The Thames with a fleet of ships, boats, yachts & canoes that will span 7miles.
It will run from Putney Bridge to Tower Bridge and over a million Londoners are expected to line the banks in hopes of catching a glimpse of Her Royal Majesty.
If the sun shines it will be a glorious day! Everyone will be laughing and friendly, girls will be in little dresses and people will be gorging themselves on Pimm's & icecream.
If it rains… I would probably skip it, but maybe that's because I'm just a fair weather patriot.
If you're planning on taking littluns along with you, I recommend Battersea Park as they're having a little Jubilee festival.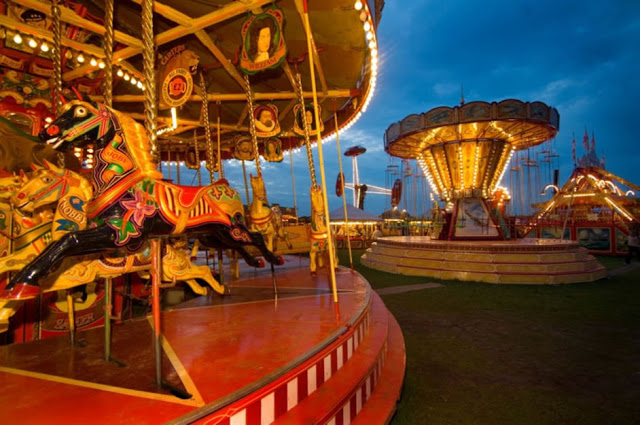 Turn up at 12pm for fair ground rides, cakes, outdoor cinemas and dancing.
Alternatively, join London's biggest ever street party.
Trestle tables will run from Piccadilly Circus to St James. Bring your own lunch & pull up a chair, or buy something delicious from one of the stalls along the way.
If you fancy being a little bit fancy pants, The Ritz, Fortnum & Mason & The Wolseley are even getting in on the action.
Book your place at the table here.
You might remember that that Bompas & Parr took over the roof of Selfridges last year and turned it into a vividly green lake that visitors could boat around?
Well for the Jubilee, they've turned it into a crazy golf maze & will be offering visitors a spot of afternoon tea.
Tickets have sold out online but they're keeping more on the door. It starts tomorrow, so get your royal little behind down there sharpish.
If festivals are more your thing, you'll want to check out Field Day.
An East London event which describes itself as "A celebration of all that is bold, daring, innovative and imaginative in the world of alternative music." It's their 5th anniversary and I've only heard great things about this in the past. Well worth looking into. On Saturday and tickets are £45, you can buy them here . Personally the event I'm most sorry to be missing is God Save The Clam. The foodie popup people behind The English Laundrette & Rock Lobster have teamed up with Pitt Cue for a "Punk style clam bake and banshee cocktail bar on a rooftop in London fields."
I have been looking forward to this for months. 1st course: Pitt Cue links, burnt lettuce, smoked anchovy salad cream, dry rub fried toast The clam bake: Clams, cockles, mussels, devilled crayfish & crab claws, sea beets & samphire – steamed over seaweed & charcoal, sides of Cornish Early Potatoes in Smoked Dripping, House Sausage, BBQ leeks, BBQ Corn & Grilled Sour Dough Dessert: Glyns Screwball Sundae Bar – Find out what the Fat Elvis or Strawberry Shortcake Sundaes are. Buy your tickets here and make sure you tweet me a picture of every course so I can live through you! Of course, even if you're not in London or the UK, I hope you'll all be making my Queenies to take to your picnics & garden teas?
I'm leaving this as a bit of an open ended blog post. If you have a fab event or party that you think people should know about, let me know in the comments and I'll add it to the list. A sort of Londoner guide to London, by Londoners! Sound fair? ,