I'm going to keep this one short & sweet. Or short & smokey, as the case may be. Yesterday, a shiny new restaurant in the heart of Soho opened its doors. A tiny little place, in a tiny little street hosts what is in my opinion, the best barbecue kitchen in London. Pitt Cue is the well loved street food wagon, grown up.
The love child of Jamie Berger, Tom Adams & one of the chaps behind Hawksmore & The Albion, this place has some seriously good breeding.
Of course, there are no reservations so you start upstairs in the bar.
Stick your name on the list for a table & get the cocktails in.
Hard Lemonade is my drink of choice, while my date went for the New York Sour. Whatever you choose, get a Pickle Back! A shot of bourbon chased with a shot of pickle juice… wrong in all the right ways.
The menu is what it should be, short, simple & meaty. Choose between pork ribs, beef ribs, pulled pork, brisket & whack a few sides on. (Sides include really sticky, spicy chicken wings so trust me, you're not going hungry.)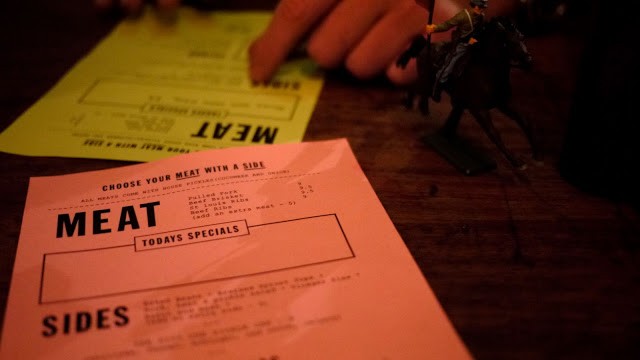 We tried everything.
For me, the stand out winners were the beef ribs. Un-believable. Seriously meaty, chewy, flakey, juicy, sticky, sweet & salty. Combined with pickled beets with chunks of ham hock, creamy mash & smoked baked beans. Pitt Cue is the mothership for all salad dodgers.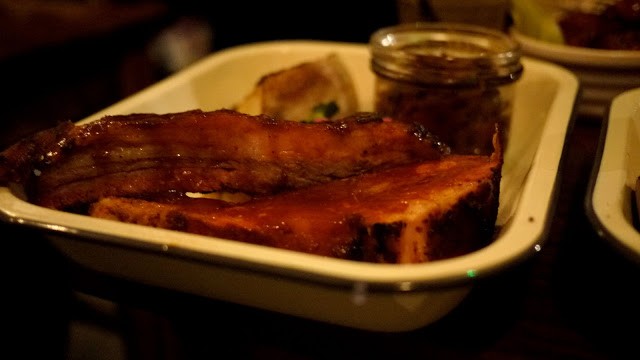 I apologize for the picture quality, I literally snapped them, threw my camera to the side and got stuck in. From then on my fingers were too sticky to even contemplate touching it again!
The restaurant itself only has room for 30, it's a bit like sitting in someone's kitchen at home. Part of it's charm is having to scootch up to people you don't know & making friends with bbq smiles & hot-sauce fingers. *No handshaking.
My advice? Go with a date, rather than a group. Pitch up in the bar & the time will fly by.
This isn't like queueing in the cold, there's a list, it's civilised. I was less so. In fact, I even ended up with bbq sauce in my eyebrows. Southern dining, at its finest. Pitt Cue, 1 Newburgh St, Soho W1F 7RB (Near Carnaby Street). Opening times Twitter