This weekend was utterly glorious.
The sun didn't let up for a second. Thankfully Dickie is a member of a fancy pants members club in West London, so we could escape the haze & catch a few rays!
Yes, I spent the whole day singing "she wore aaannn itsy bitsy teeny weeny…" It's from Accessorize (who knew they had an amazing bikini selection?!) and you have to buy it as separates.Top here . Bottoms here. *Sizing wise I got bottoms in 10 & top in 12.
Dickie wore short-shorts.
Look at that dreadful posture! My mother's going to kill me.
After a few hours of snoozing on the grass while Dickie read me excerpts from his delightful book, American Psycho, we decided it was time for drinks.
We wondered up through the grounds to the bar, making eyes at the well dressed tennis players on the way.
We bumped into the lovely Charlie S.
After a few glasses of Pimms, we headed home to change into our pyjamas.
We had heard a rumour that Ping Pong were offering all you can eat dimsum to anyone in a onesie… for free.
Surely this couldn't be true?
I attempted to verify it on Twitter but it was all a little unclear.
Having decided that free dimsum was a worthy trade for our dignity, we decided to risk it and jumped in the car.
I drove, the boys took photos…
When we arrived we were thrilled to discover a bustling restaurant filled with people in their finest onesies! Even the littleuns had gotten in on the action.
Oh boy, did we go to town with our ordering. We started with a fairly modest order of 14 dishes between three.
And then moved on to round 2…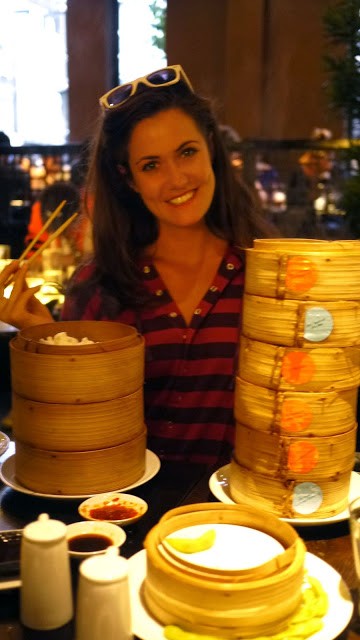 The food was delicious, the staff went above & beyond to be helpful & friendly. We left seriously impressed! Sadly it was their last "OnePiece Sumday" but I've asked them to let me know about all their future events, so I'll be sure to tweet if anything good comes up.
By the end of the day we left tanned, stuffed, exhausted and very happy.
You know the best part?
We were already in our pyjamas.
Ready. For. Bed.