In case you missed Part One of our Moroccan camping experience, you'll want to check that out first.
If you're all up to speed, get comfortable and let's begin!
When I left you we were playing cards and drinking sweet mint tea in the shade.
Looking out onto this…
And that's where we stayed until we couldn't bear it any longer.
Temperatures soared into the 40s (100s if you work in fahrenheit), the tents became stifling and we were forced to change into something cooler and retreat to a breezier spot.
We really weren't prepared for the heat.
It sounds silly, I know! It's the desert.
We just hadn't anticipated not being able to escape it.
A quick change into loose white shirt dresses soon helped.
Accepting that it was just too hot to move was also something of a revelation. Just having to sit quietly and wait for the inevitable breeze was a valuable lesson in patience.
Vastly improved with a cold bottle of rosé, of course.
Along with a nibbly lunch spread to rival anything at Ottolenghi's, back home!
We ate slowly and lazily, reaching and passing things to one and other.
Exclaiming about how good things were, mouth's full of "ohh try this one" and the occasional complaint about the heat.
These complaints lessoned throughout the meal, coming to a halt just about the same time we finished the bottle of wine, funnily enough!
At which point we were treated to cool melon and more mint tea.
I'm sure you're dying to see more of the camp, so allow me to show you around the bits I missed yesterday.
This is the communal area, connecting the scattering of bedroom tents – of which there are only about 4 or 5.
There are tables and chairs for eating at, reading at, playing at.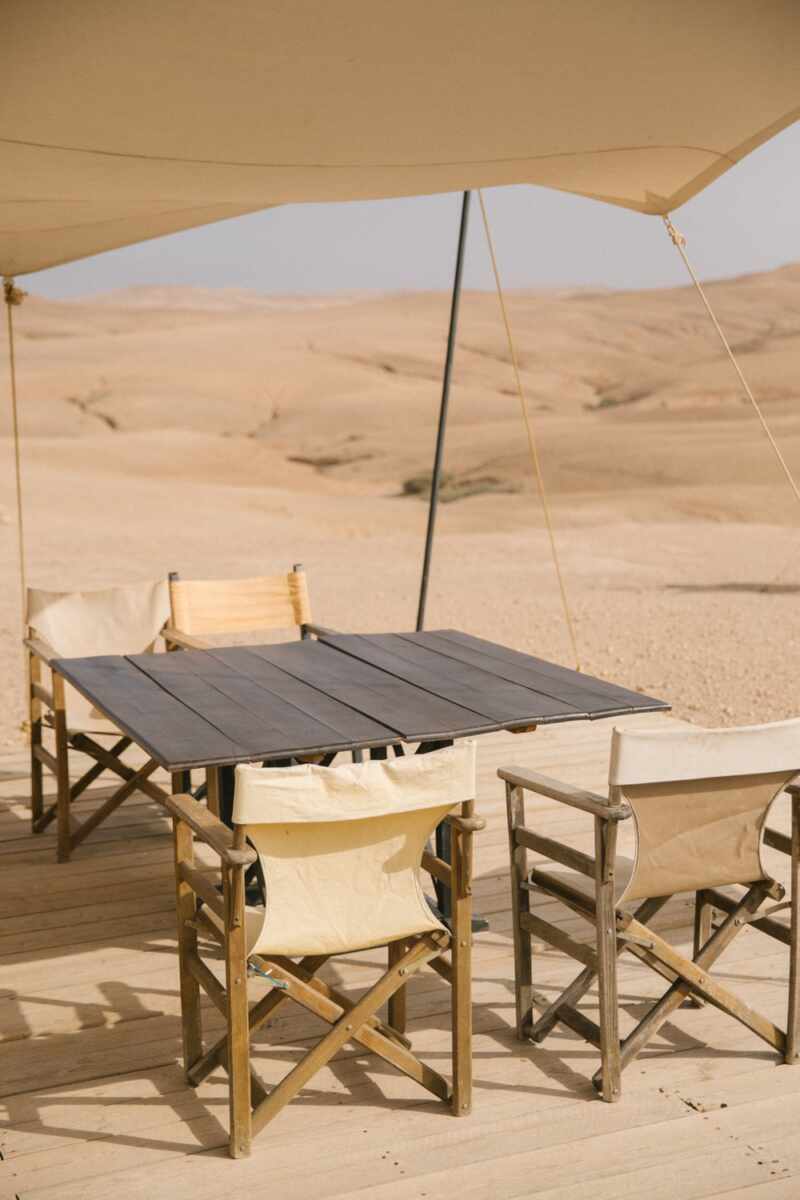 And lots of breezy spots for lounging.
You'll find board games and stacks of books, plenty of diversions to help you forget the world outside of the desert.
The world you can't reach anyway, without signal.
It's a funny place that forces even the most antsy of people to relax.
Forces you to stop and be.
Past the mid-day heat, life becomes more bearable again.
You can move around, go for a walk, hike through the dunes or even just stretch out in your tent.
The wind picks up as the day goes on, and by sundown you'll need to wrap up a little more.
White shirt // World's comfiest trousers (not kidding.)
From camp you can watch the uninterrupted sky turn from a delicate peach into fiery amber.
Men weave through the camp lighting candles and oil lamps, leaving a trail of twinkling fireflies in their wake.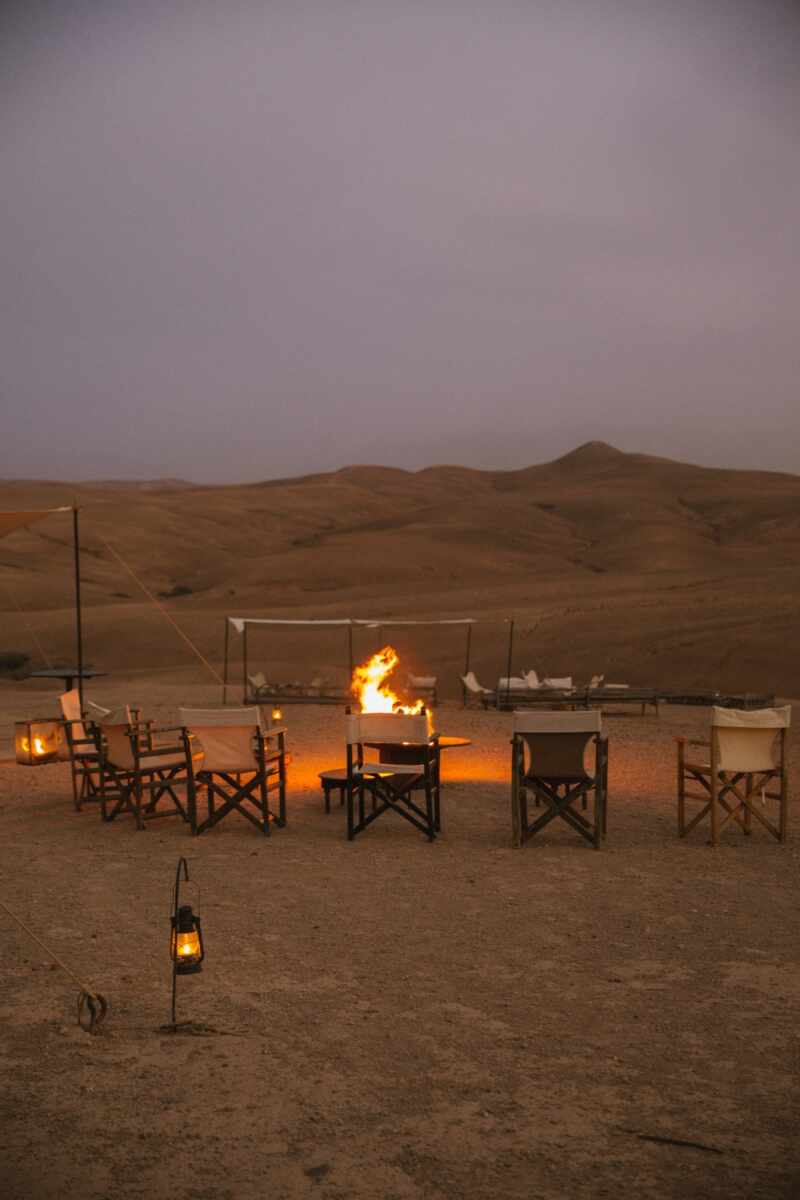 They'll light a fire for you, bring you a glass of iced wine and a few bowls of nibbles.
Here you can sit in utter luxury, lean back and watch the stars come out to join the moon.
With no light pollution or clouds to block your view, you get a front row seat to the galaxy.
Later, you'll be called to a candle-lit supper.
Where you'll try local Berber delicacies.
And be treated to the finest tagines Morocco has to offer.
Cooked by a local village woman and served by the sweetest of staff.
It's worth noting that you don't have to be staying at the camp to join them for supper.
If you're staying in Marrakech you can pop over for the afternoon and enjoy an evening of live music and star gazing before heading home again. Drop them an email if you're keen.
But of course, there's nothing quite like climbing down to your own bed, blowing out the candles and falling into a deep, soundless sleep.
Waking to see the tent glow in the sunrise and welcome a new day in the desert.
Scarabeo Camp certainly deserves a spot on your bucket list. I would go anytime from October until June. Early September was just mind blowingly hot and that's coming from someone who lives for sunshine!
Take books and expect to be cut off from the world for your stay. One or two nights is enough, unless you need a proper digital detox.
Morocco is like another world and with a few direct flights every day, it's incredibly easy to get to. I thoroughly recommend you go and experience it for yourself.