Waking up under canvas in the middle of the Moroccan desert is an incredible feeling.
In fact you could say it's in-tents.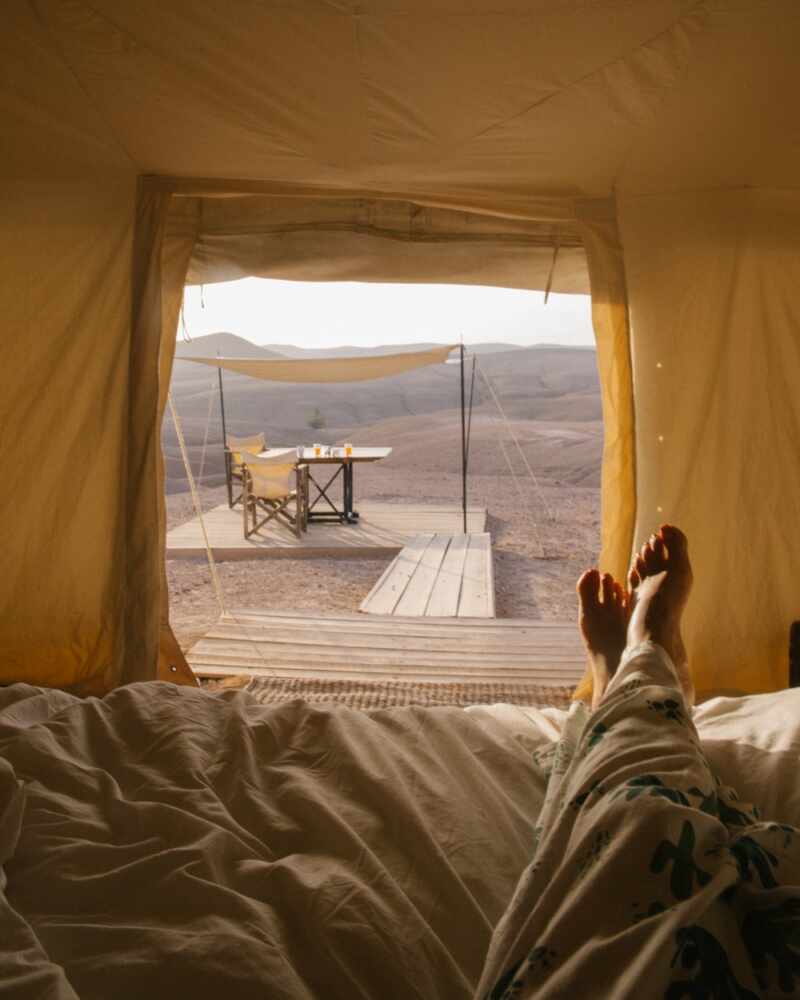 There's no sound whatsoever.
No dawn chorus, no rustling trees, no gulls screeching into life to tell you it's a new day.
The desert is perfectly silent and exceptionally still, which is why you slept so well.
Like a log, in fact.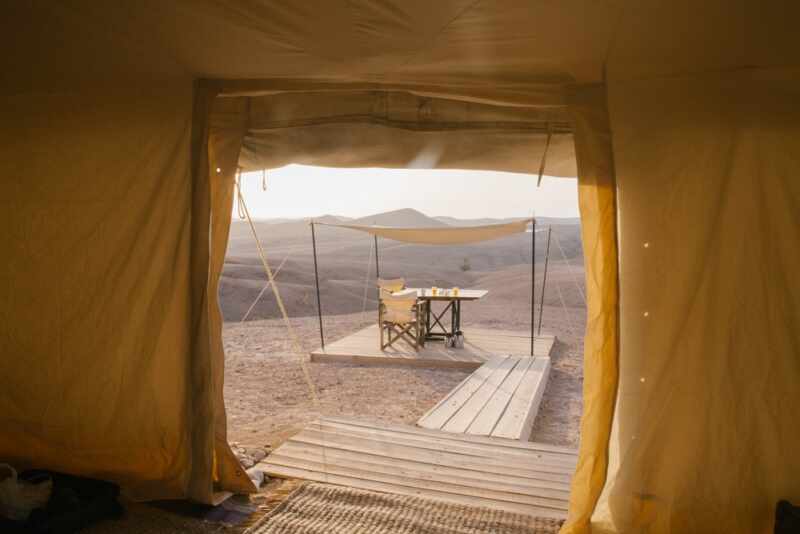 The only thing to gently alert you to the change of hour, is your tent glowing in the morning light.
A mellow, golden light slowly caressing you awake.
Welcome to Scarebeo Camp.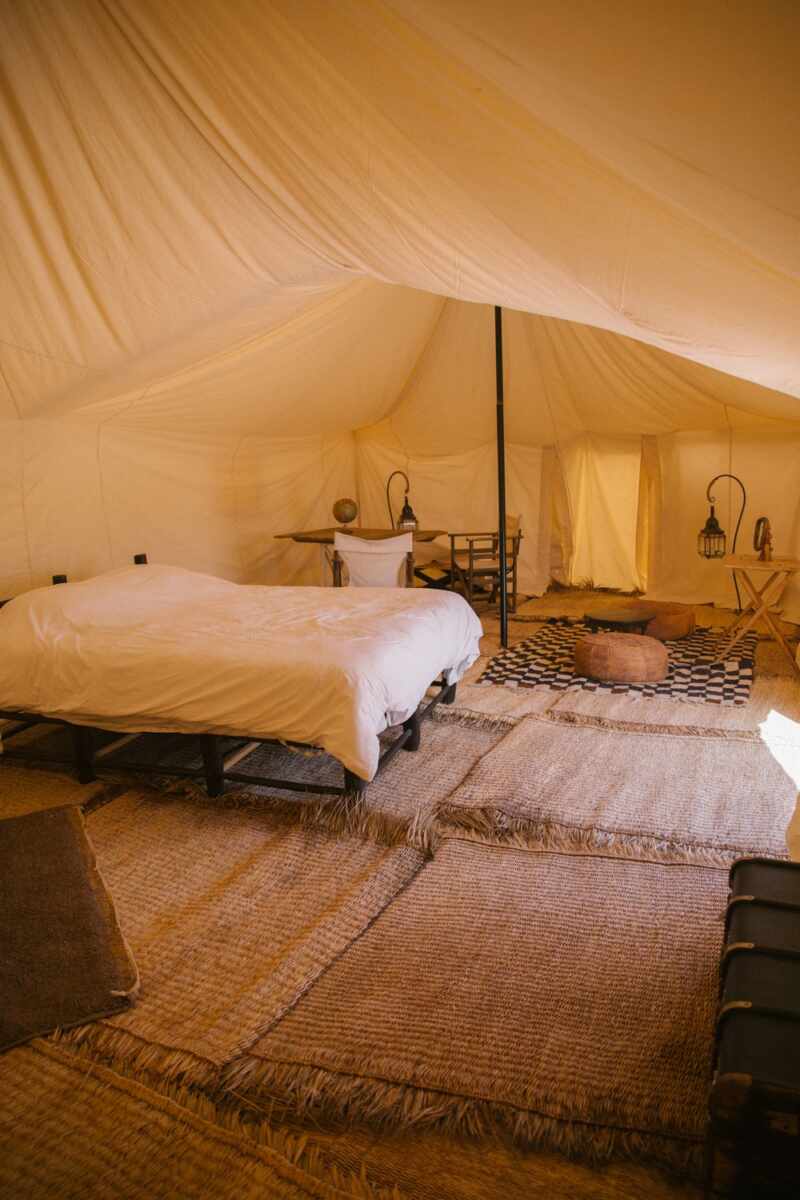 A collection of canvas tents, scattered in the desert just outside of Marrakech.
Each individually furnished and lovingly set up in its own unique style.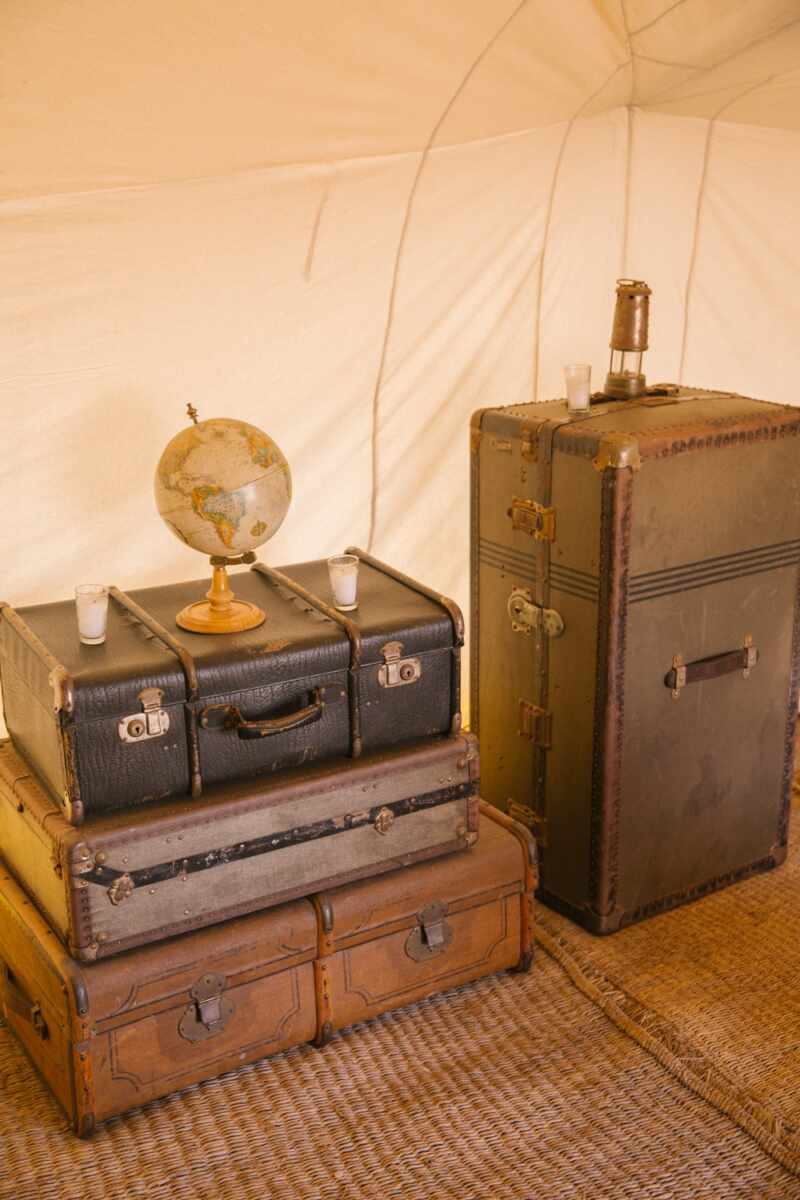 Moroccan influences come together to blend with colonial antiques and foraged nicknacks.
And on this occasion, embossed tin tables sit piled high with Moroccan inspired luxuries…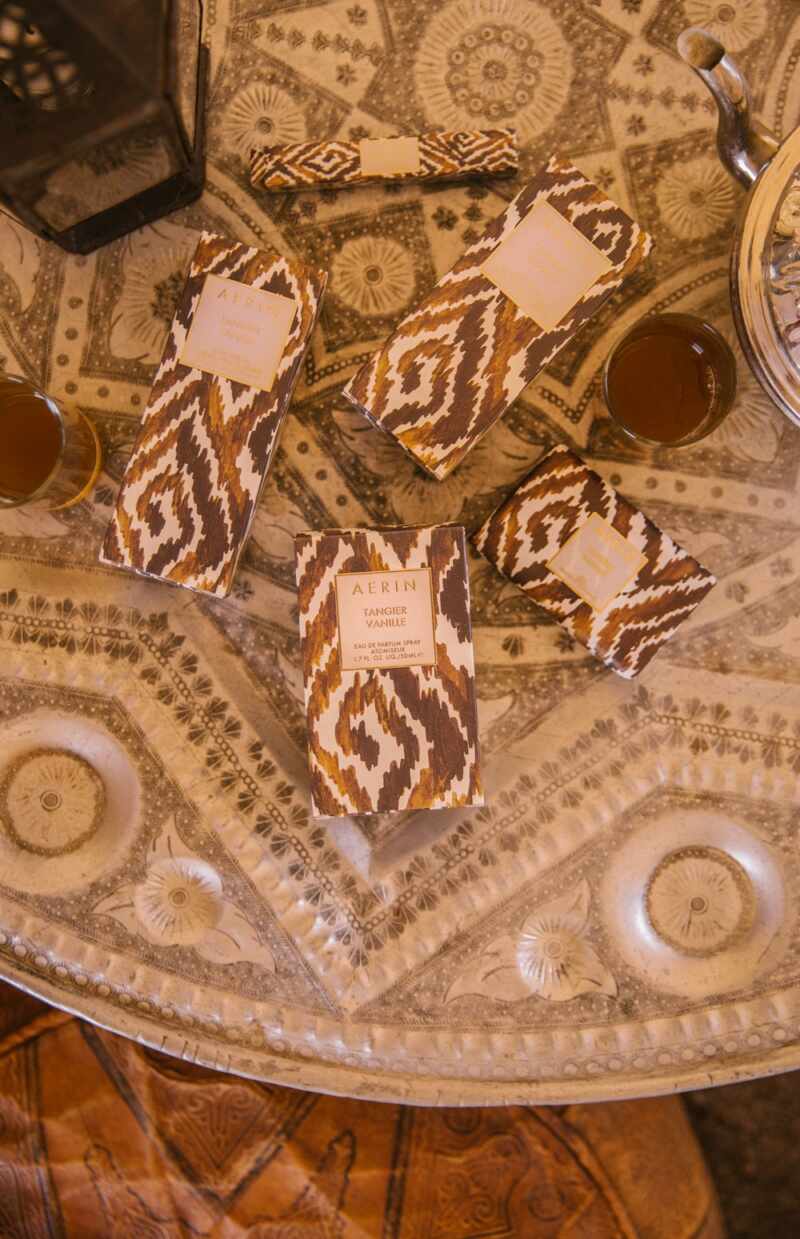 Aerin's new Tangier Vanille Collection, just begging to be torn into.
But first?
Coffee.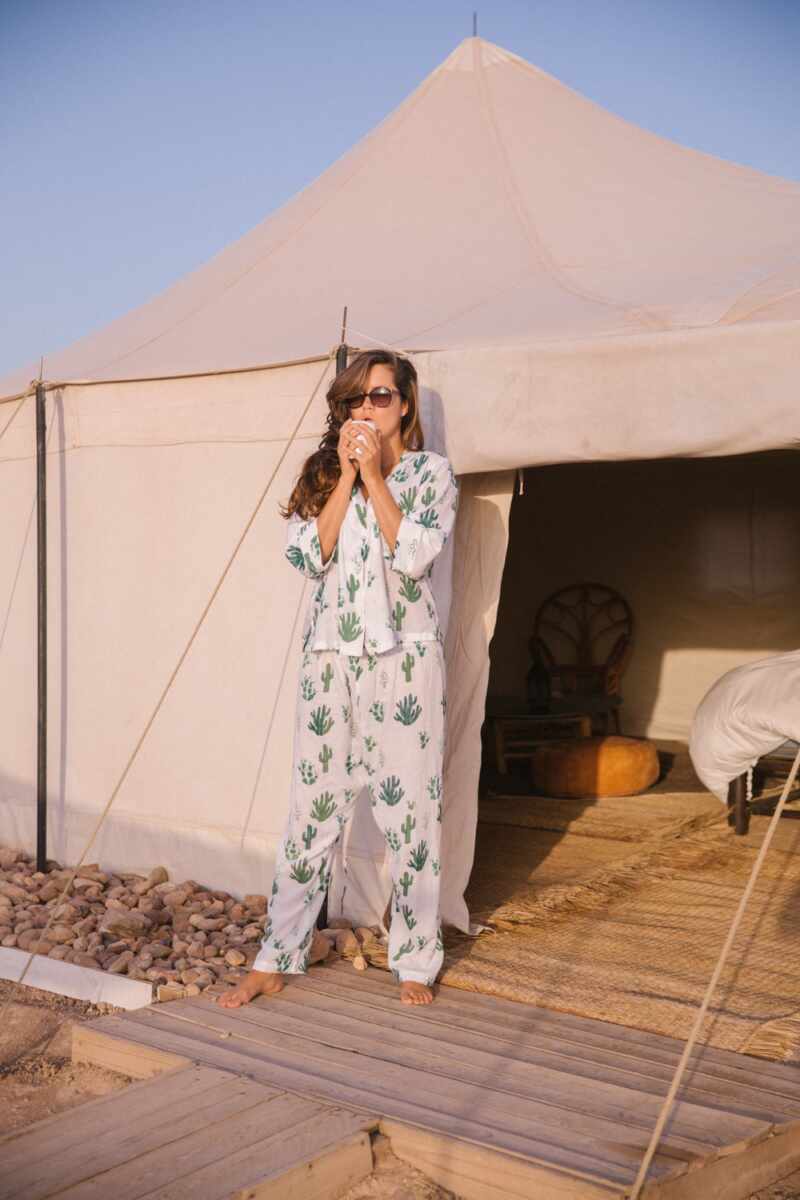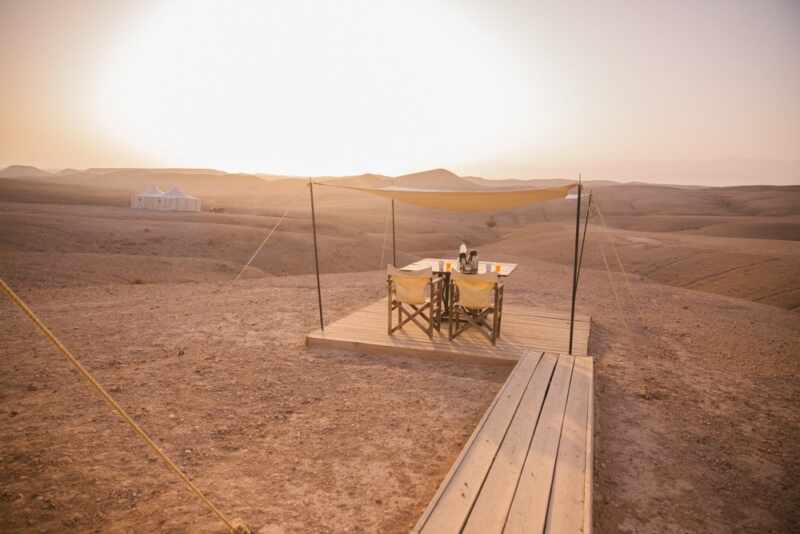 Served on your private deck, watching the sun climb into the haze above the sand.
If you're lucky, you'll be joined by locals from the neighbouring Berber villages.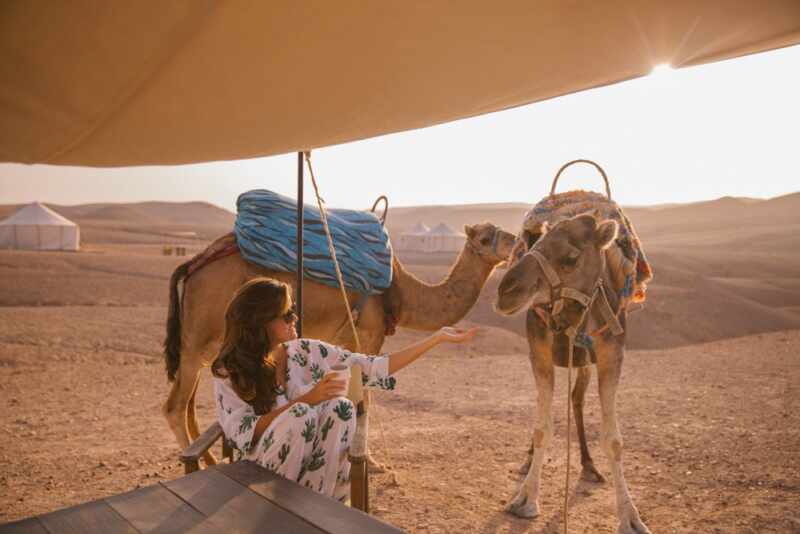 If you're not so lucky, well…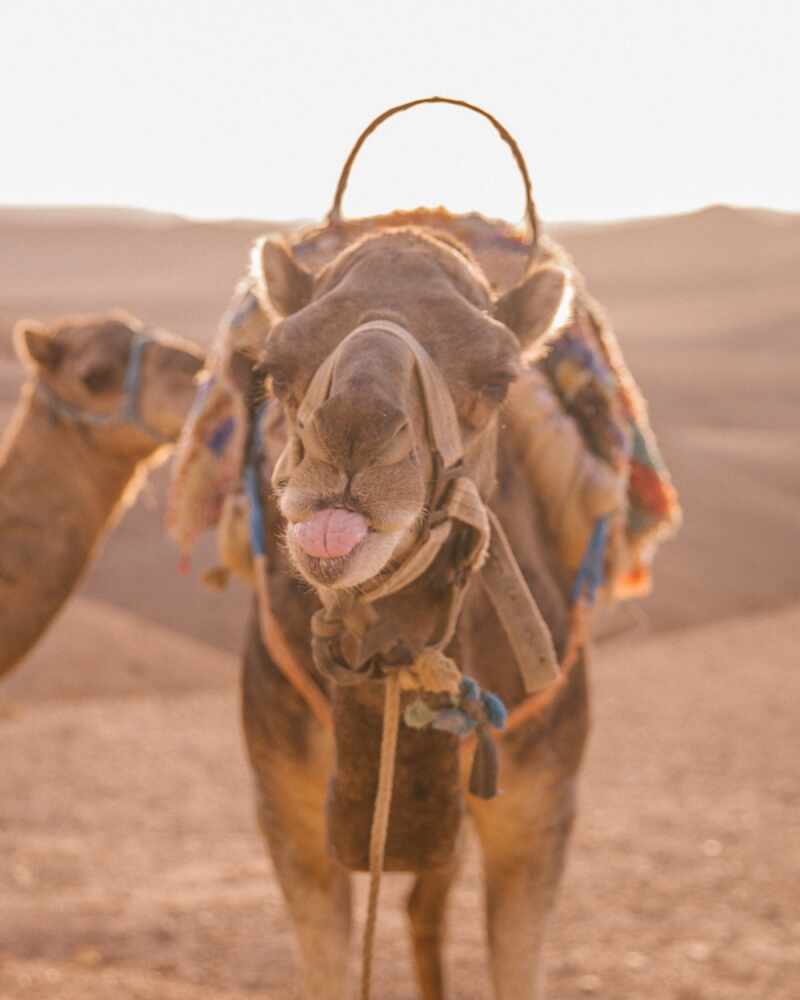 They'll ask if you fancy delving deeper into the dunes, and how could you resist?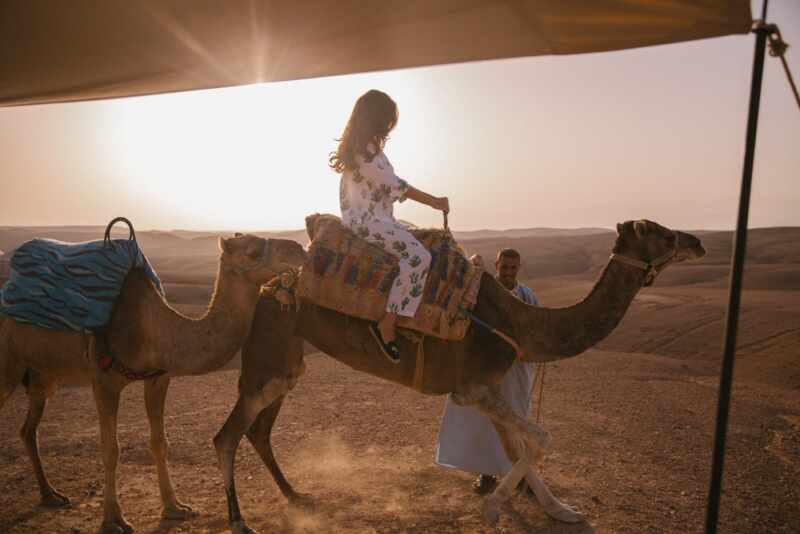 Just a tickle behind the ears is enough to get things moving!
And off you travel into the sunrise.
The gentle rolling of the camel as it strolls along the sand, coupled with the soft saddle and worn rag rug between your knees sends you into a sort of trance.
A mesmerised sense of relaxation, like a baby falling asleep in a bouncer on the washing machine.
Just remember to hold on or you'll nod off!
After passing the second furthest dune on the horizon, it's time to head back to camp.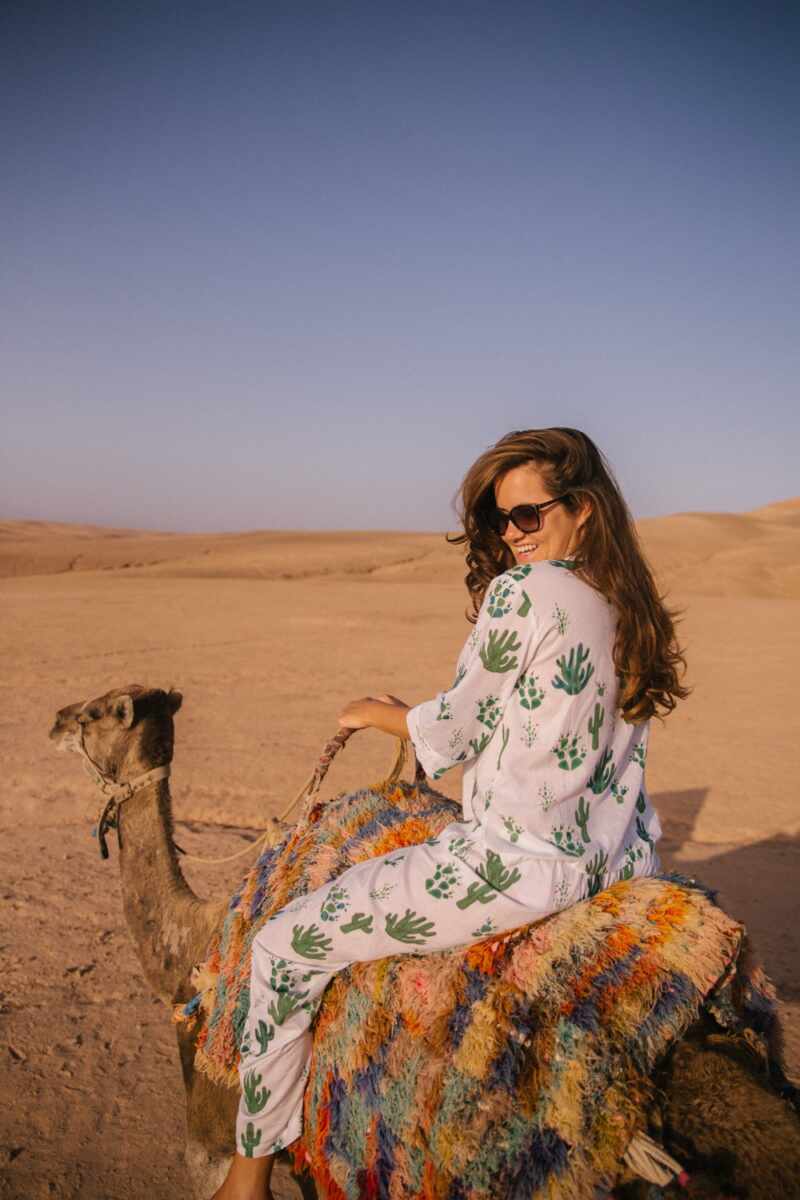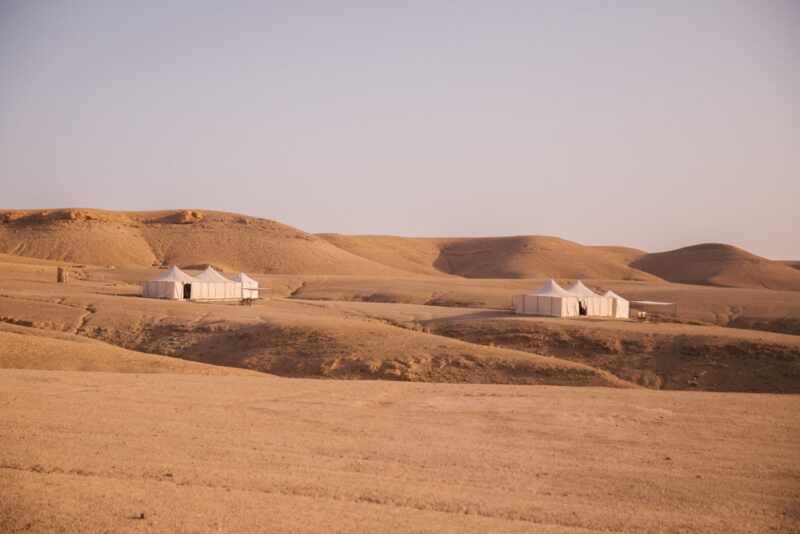 Wave a goodby to Humphrey and duck back into your tent.
Where, in your own private en-suite you can get cleaned up before breakfast.
You'll find fluffy white towels, a shower stall and a traditional Berber wash bowl and jug.
It may not sound like much, but with a few little luxuries, it's nothing short of heavenly!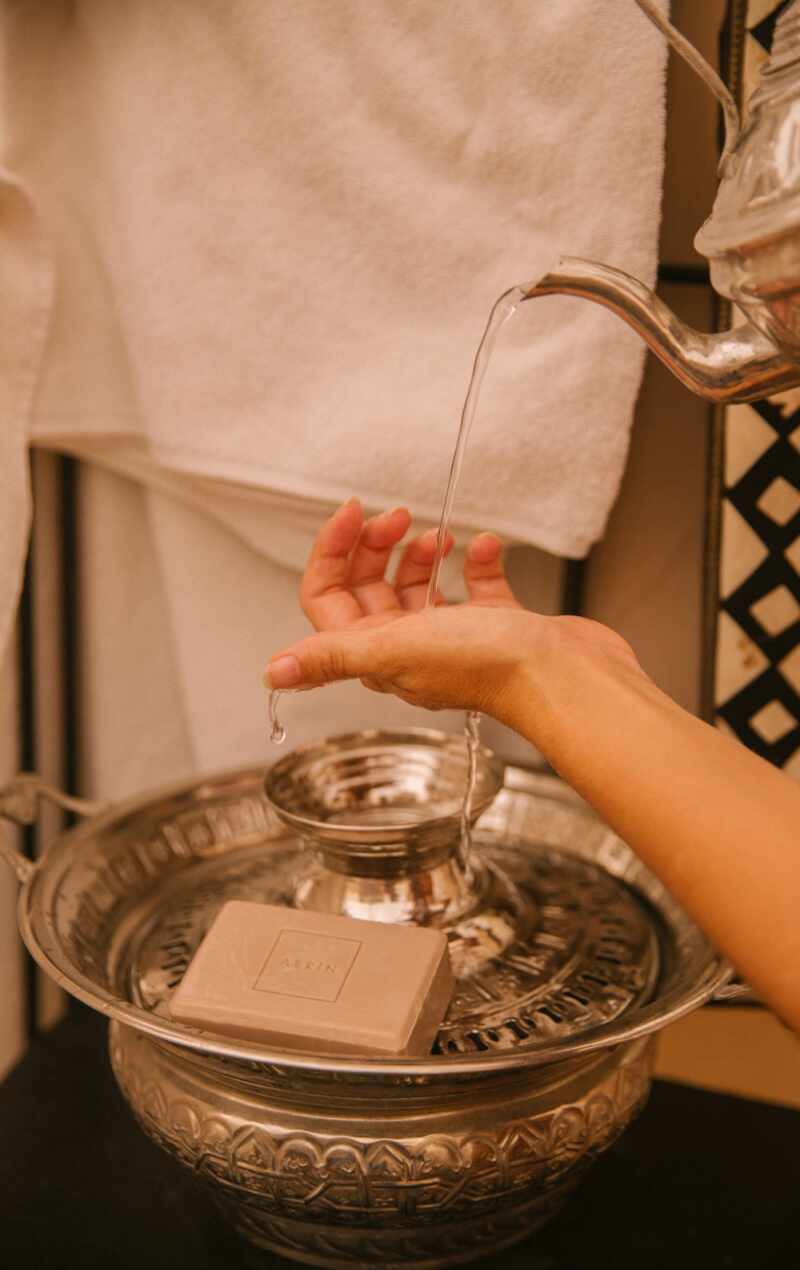 I'm a brand ambassador for Aerin, but you have to trust me when I say that you'll never find anything quite like Tangier Vanille.
A world away from the vanilla stuff you knew as a teen, this is different.
Madagascan vanilla blends with aromatic, rich amber and heady rose. The effect is spicy, warm and intoxicating.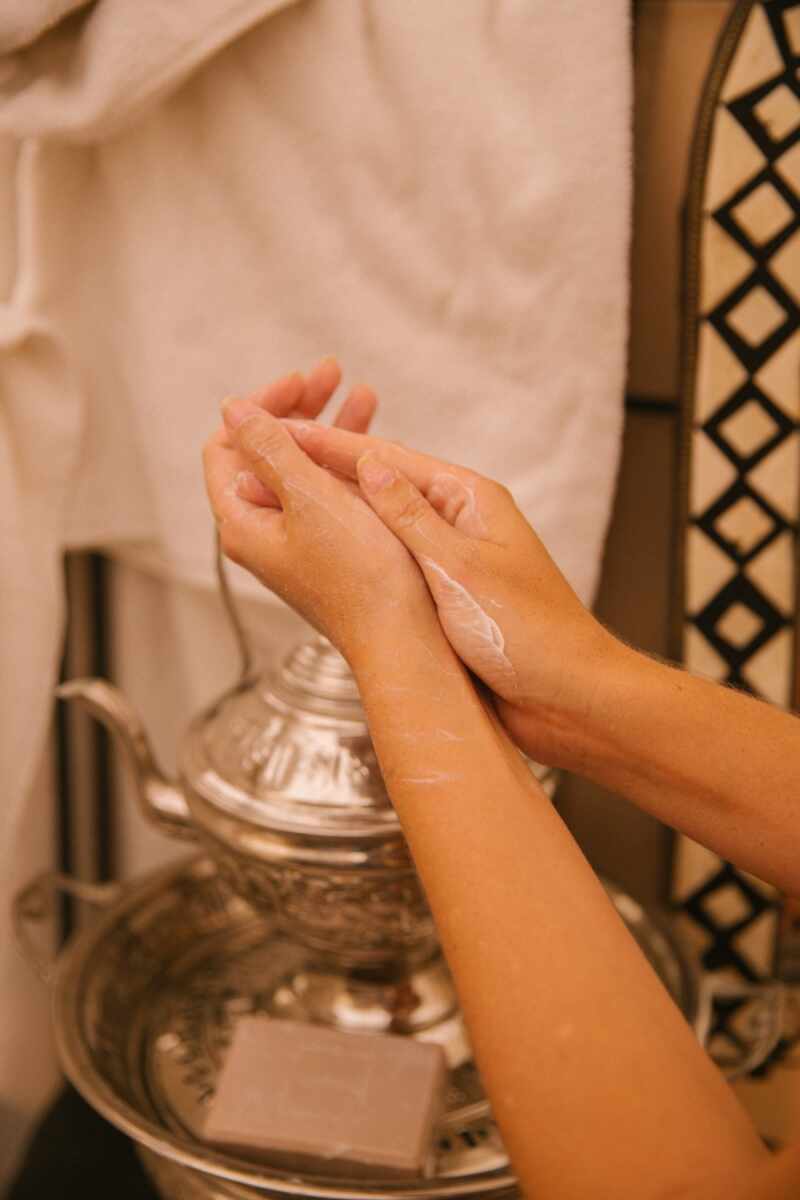 Use the collection to layer the scent.
Get clean with the body wash and soap for the most delicate of scents that clings to your skin. Only you and those you touch will be able to distinguish it.
Add a coating of softness and a deeper scent with the body lotion.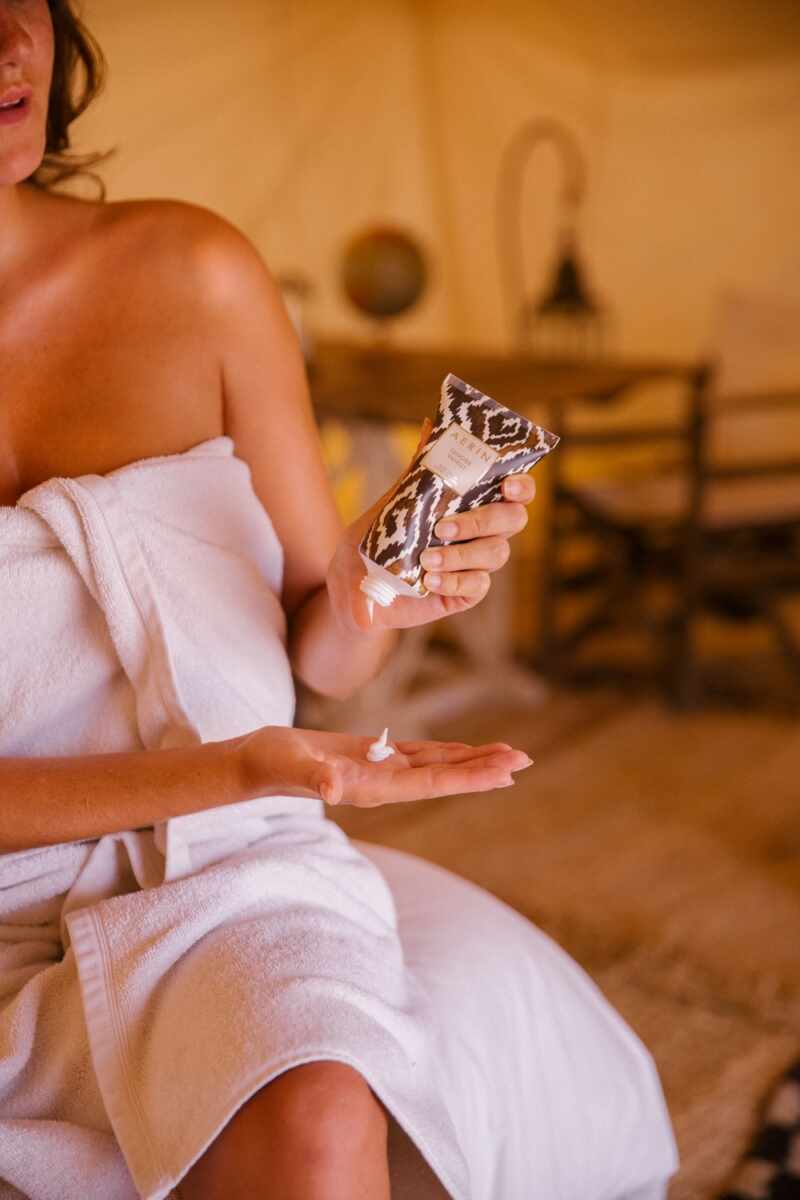 Soaking quickly into skin and leaving you with a heathy glow.
Perfect for school or the office, where you want just a hint of scent. A warmth, a whisper.
Save the perfume for later.
While you get cleaned up breakfast will appear on the table outside.
Pancakes, flatbreads, yogurts, eggs, jams and orange juice so fresh you'll have to watch for the occasional pip!
Sit back, relax and enjoy.
With no phone signal, electricity or distractions, the desert offers the ultimate digital detox.
Time to come back down to earth, centre and find yourself again.
Just having a conversation without the temptation for anyone to reach for their phones is a real novelty! A sign that we all need to take time to unplug now and again.
After a leisurely breakfast perhaps you'll crack a book, or dress and head off to explore camp.
Knowing of course, that you're never fully dressed without your signature scent.
Take the time to explore camp before it gets too hot.
Go for a walk, see what you can see, reconnoitre.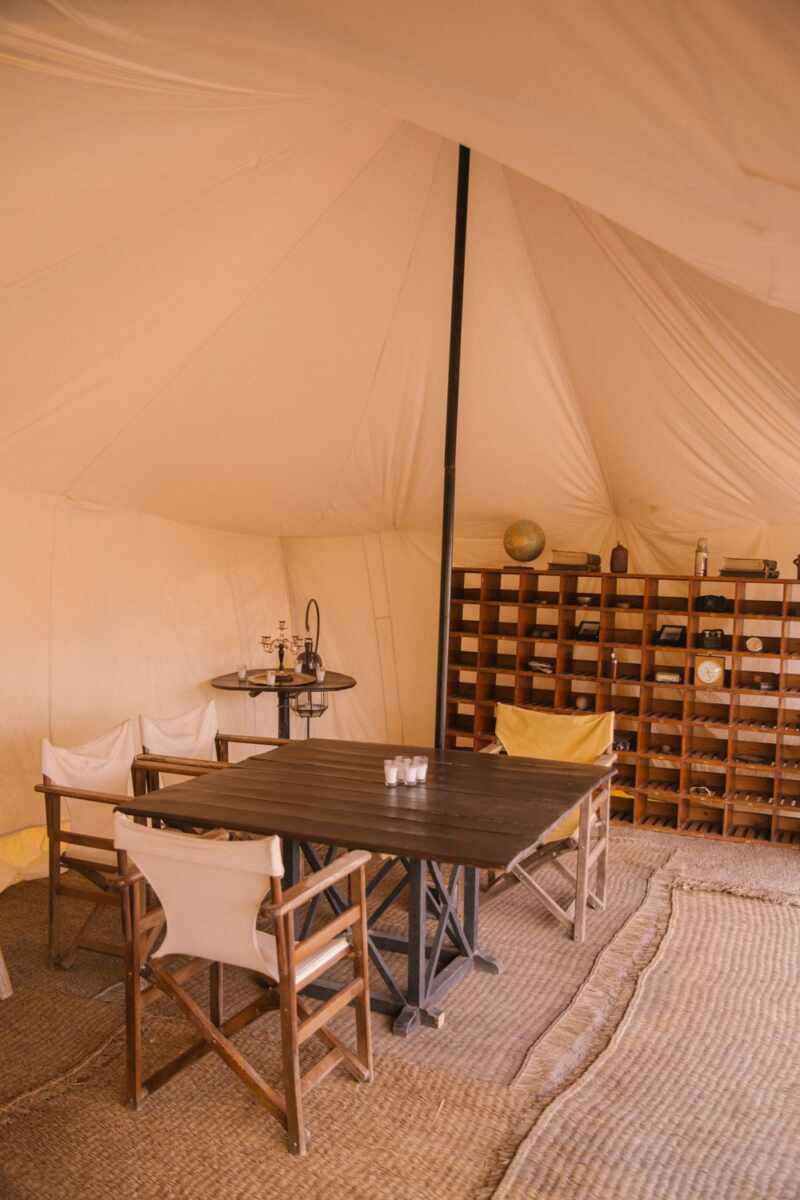 Leaf through books and play explorers.
Silver May choker (new!)
Or just settle in with a pot of tea and a game of cards.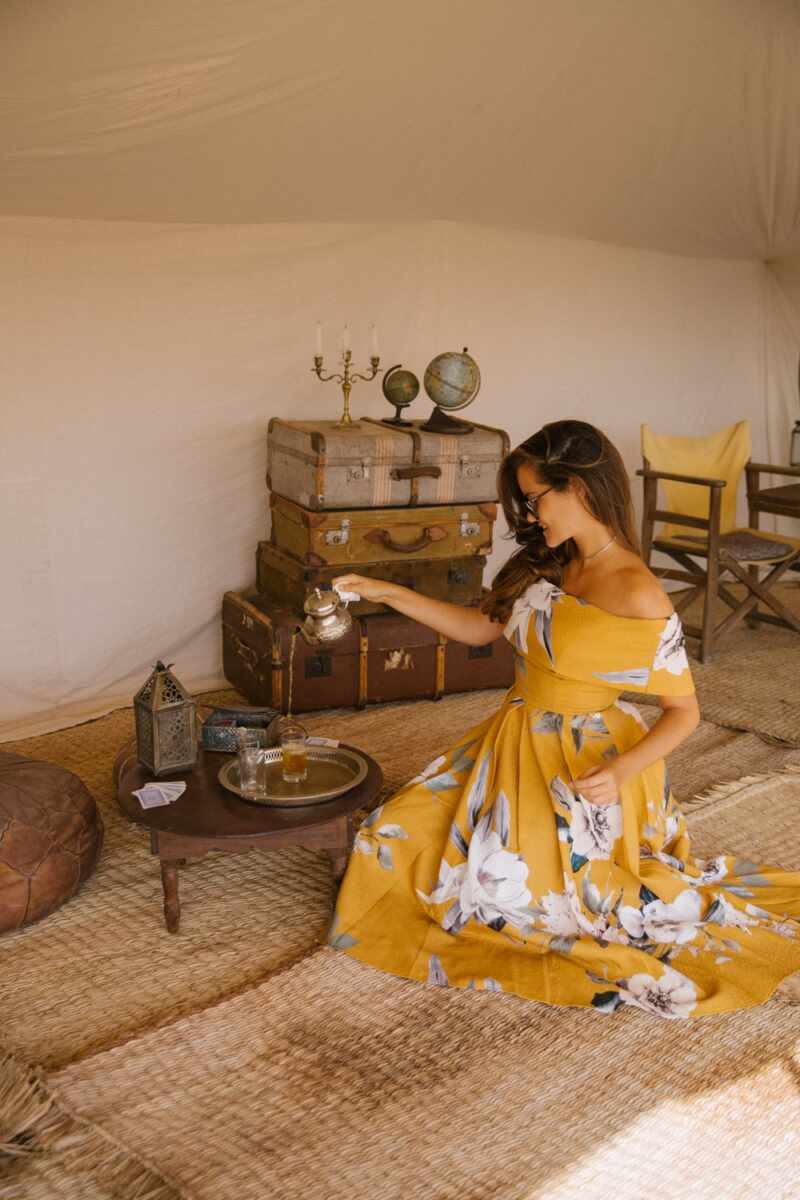 Mint tea is as integral to life in Morocco as air.
A huge part of culture and history focuses around the drink and it's terribly bad form to refuse a cup.
A mixture of green tea leaves, mint and sugar, the tea is poured from on high. The sweeter the tea and the higher the pour, the more important the guest.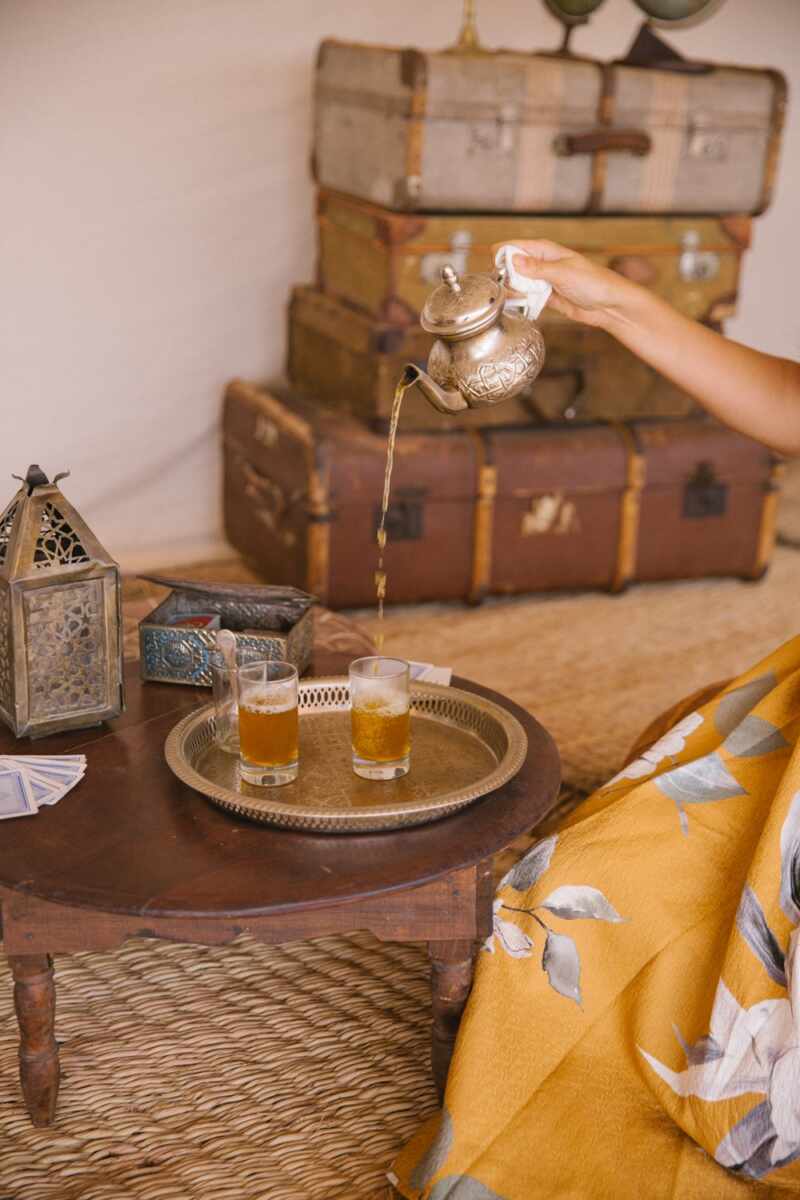 These rituals aerate the tea and make each cup taste slightly different to the last.
Sweet, fragrant and refreshing despite its heat.
Just the fuel you need for an adventure in the desert.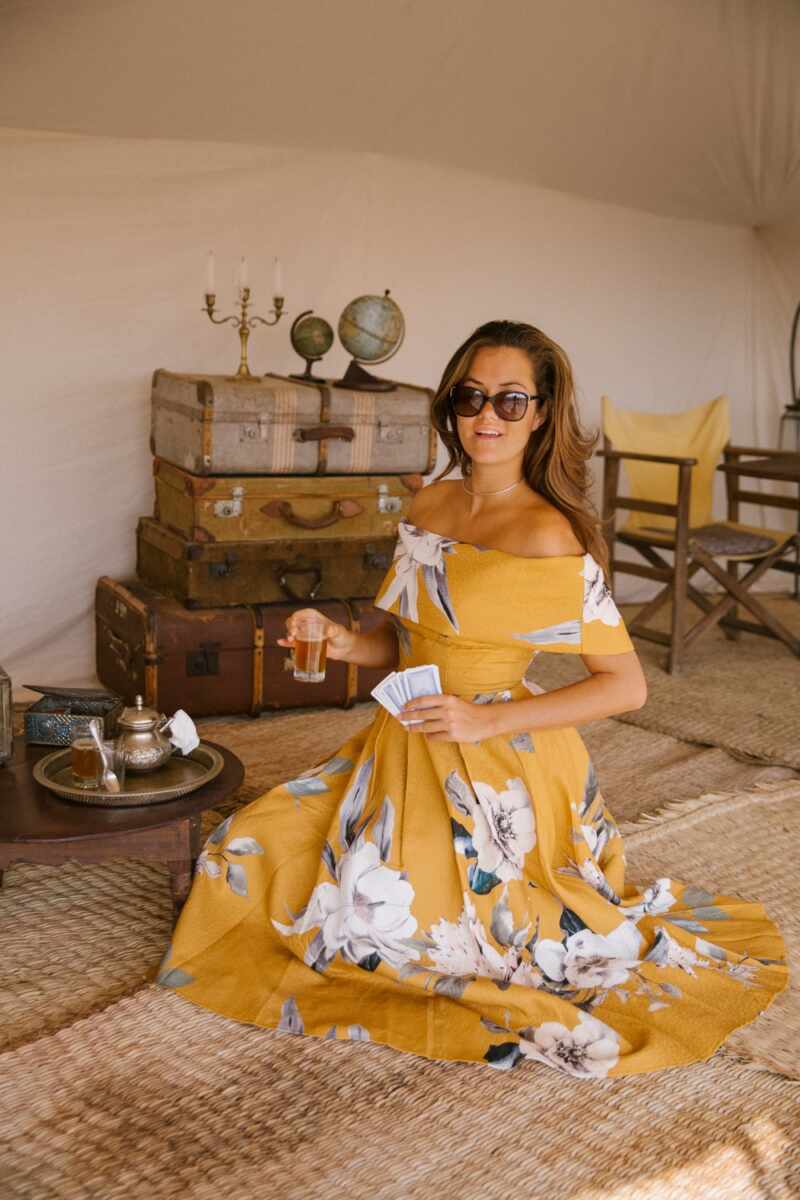 More tomorrow.
I promise, I won't desert you!