Ok, so I've had a couple days to get over my holiday blues. It's been a tough battle of Custard cuddles, bacon sandwiches, naps and late night emails with Yacht Week buddies from all over the world. The one thing we all have in common? A solemn promise to go back next year.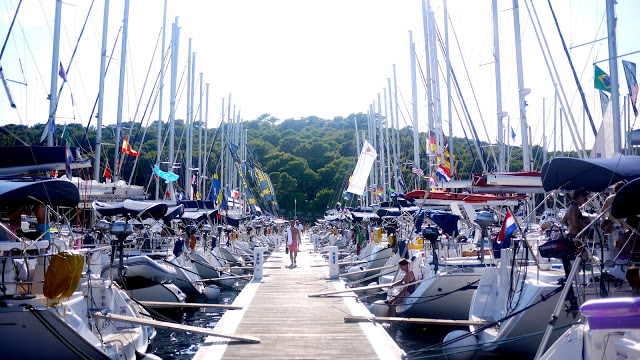 "It's nothing like the real world" may be something of a Yacht Week cliché, but that doesn't mean it's not true. Here are my tips if you want to sail away to Planet YW.
– Decide if it's right for you. You have to be at least 20 to go on Yacht Week, but the average age is about 25. People fly in from all over the world. It doesn't matter what language you speak, there will always be someone for you to make friends with. There's no room for divas on YW. Everyone's expected to muck in with the sailing, the cooking & the cleaning. If Skipper wants you to wind that winch, you wind it! Obviously 90% of your time will be spent sunbathing, swimming, dancing and playing… but if you expect to be waited on hand & foot, you're going to be disappointed. However, if you're outdoorsey, fun and a bit of a party animal, Yacht Week is heaven on earth.
– Get a great group of friends together. You need to choose your crew carefully. These are people you'll be spending 24 hours a day with, in very close quarters. You'll share beds and very small bathrooms. If your friends are being boring and you can't seem to fill a boat, reach out to people! Valentina & I were on a press boat with people we'd never met before and still had the most incredible week. If you're thinking of going but can't find a crew, leave a comment below and someone else is bound to be in the same… boat.
– What boat to choose The more money you spend on a boat, the more luxurious it will be & the more comfortable you'll be. Obviously this will depend on your budget, but personally I'd rather spend less on flights and more on the boat I'm living on. If you're flying from London, try Wizzair , it's one of the cheapest and if you're coming from further afield, check out Hipmunk.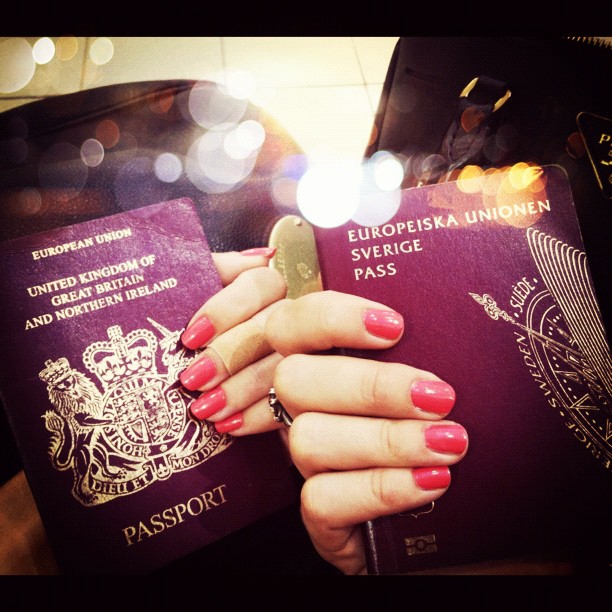 – Book a skipper. Book one. Even if you know how to sail it'll make your life so much easier, trust me.
– What to pack Girls, leave the hair straighteners at home. You'll have little to no electricity for most of the week and if you're not getting sprayed by waves, you'll be being showered in champagne. Don't take fancy clothes or high heels, you wont need them. Pack bikinis, shorts, sundresses and flip flops. Boys, you need trunks, sandals and shirts. Yacht Week is a mishmash of nationalities and as such people love to fly their flags. Pack as many patriotic items of clothing as you can find! Bring one jumper & team fancy dress for the regatta.
– Money You're going to need money for food and booze. The best idea is to make a boat bank. Everyone puts in a certain amount of money at the beginning of the week and you use that for all your shopping needs. Food and drink was outrageously cheap in Croatia, and will be on most of the other routes. You'll want lots of pasta, eggs, bacon etc. and lots of vodka, wine, beer and juice.
– Friendships A few people have commented saying that they think they'd be too shy to go on Yacht Week and they're not sure how they'd make friends. This is crazy. Yacht Week is essentially one big, happy, boozy, incestuous family. Everyone is there to have a good time, everyone wants to make friends. Walk along the dock with a bottle of something delicious and share! It'll be just like freshers week at uni… but naked-er.
– Couples Yacht Week isn't a giant orgy. Believe it or not people actually go, have fun and get to know each other, they make friends and have a blast. There's no reason you shouldn't go as a couple. Some of the best boats had a mix of singles and couples. Why not get your friends together, his/her friends together and join forces? That way you get the the whole raging party scene, and a romantic holiday under the stars, all in one week.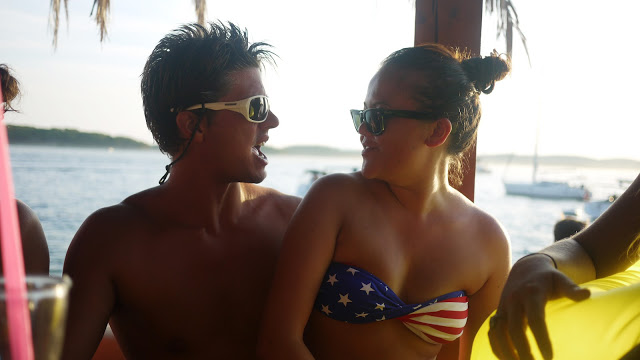 – Music Make a great playlist before you go. You'll be able to plug it in to the yacht's speakers and it'll make all the difference. When you're docked people fight it out to play the best party music, if yours is the best, you have the best party infront of your boat, simple.
Of course you'll always have the Yacht Week parties and club nights. The DJ's are awesome and you'll hear all the big summer tunes every night. Soon they'll worm your way into your brain and you'll be fist pumping in your sleep.
These are some of the biggest tunes from our week, the ones everyone went nuts for:
– Beauty Products
Take sunscreen. Lobster red is never attractive.
I swear by P20. You put it on in the morning and forget about it all day. It's my number one summer beauty product. Buy factor 20 if you're fair or factor 10 if you're already pretty tanned. (It might seem expensive but it's worth its weight in gold.)
Take hair goop. The sun, the sea and the champagne will ruin your locks. I went through a whole bottle of Moroccan Oil and Toni & Guy's curl oil.Razor & shaving foam. If there's one place on earth you need to be smooth from the neck down, it's Yacht Week.
Take really delicious smelling aftersun. You'll feel all smooth, sexy and totally edible.
Waterproof mascara is pretty much the only makeup we wore all week.
Other than that you probably just need deodorant and your favourite summery perfume (Guerlain Aqua Allegoria is my splash of choice.) We skipped the tiny showers on the boat and washed our hair in the sea, like good little mermaids.
– Last little luxury
Take your own big fluffy bath towel and don't share it with anyone.You'll thank me by day three.
I went on Yacht Week as press but you know me by now, I would never recommend anything I didn't love. I love Yacht Week. More than any holiday I've ever been on. I'm already trying to get a boat together for The British Virgin Islands trip at New Year and I will be first in line to book for Croatia again next summer. If you're anything like me you will love it.
All the info on prices, booking etc. can be found on the Yacht Week website . . .