This post has been requested more than any other of late.
So many wonderful women getting in touch to say that their very best friend has just given birth, so what can you give to a new mum that no-one else will think of?
That is of course what best friends are for, to love you like no-one else does, because no-one understands quite like them.
The first few weeks after giving birth can be a bit of a whirlwind of visitors and well wishers, all coming to coo over the new arrival. They arrive with teddies and flowers, rattles and footsie pyjamas. It's an incredibly special time, but it can also be a bit overwhelming. If you're visiting a first time mum, there's a certain etiquette.
Don't expect to be hosted. You make the tea, set the table, throw everything together. Just tell Mummy to sit right there and direct! She can tell you where everything is.
Bring food. Could be cakes, biscuits, a homemade casserole, anything. You can eat it together or leave it when you say goodbye.
Wash your hands as soon as you arrive. Newborns are delicate little things and even if you're the cleanest of the clean, it'll put Mum's mind at ease.
Don't go if you're sick! Even if it's just the sniffles. Stay away, and tell Mum you'll be there as soon as you're all clear.
Unless it's to tell her she looks wonderful, don't comment on Mum's appearance. Yes, she looks tired, you would too! Some things can go unsaid.
Keep it brief. "Sleep when baby sleeps" is a cliché for good reason, it's really good advice. Mum really needs to rest, so encourage her to do so, rather than buzzing around guests. An hour is a good amount of time, you can always come back again.
Tidy up before you leave. It won't take you a minute, but it'll really mean a lot that Mum won't have to do it later.
Don't share pictures of the baby without asking. This should go without saying.
Gifts for baby are preferable to flowers, because you have to find a vase and look after them. (One friend actually sent me flowers in a vase, which was such a lovely thought) this post might help you find something fun for baby.
But if you're really close, best friends, sisters, then you can do something even more special.
Put together a little gift basket, just for mum.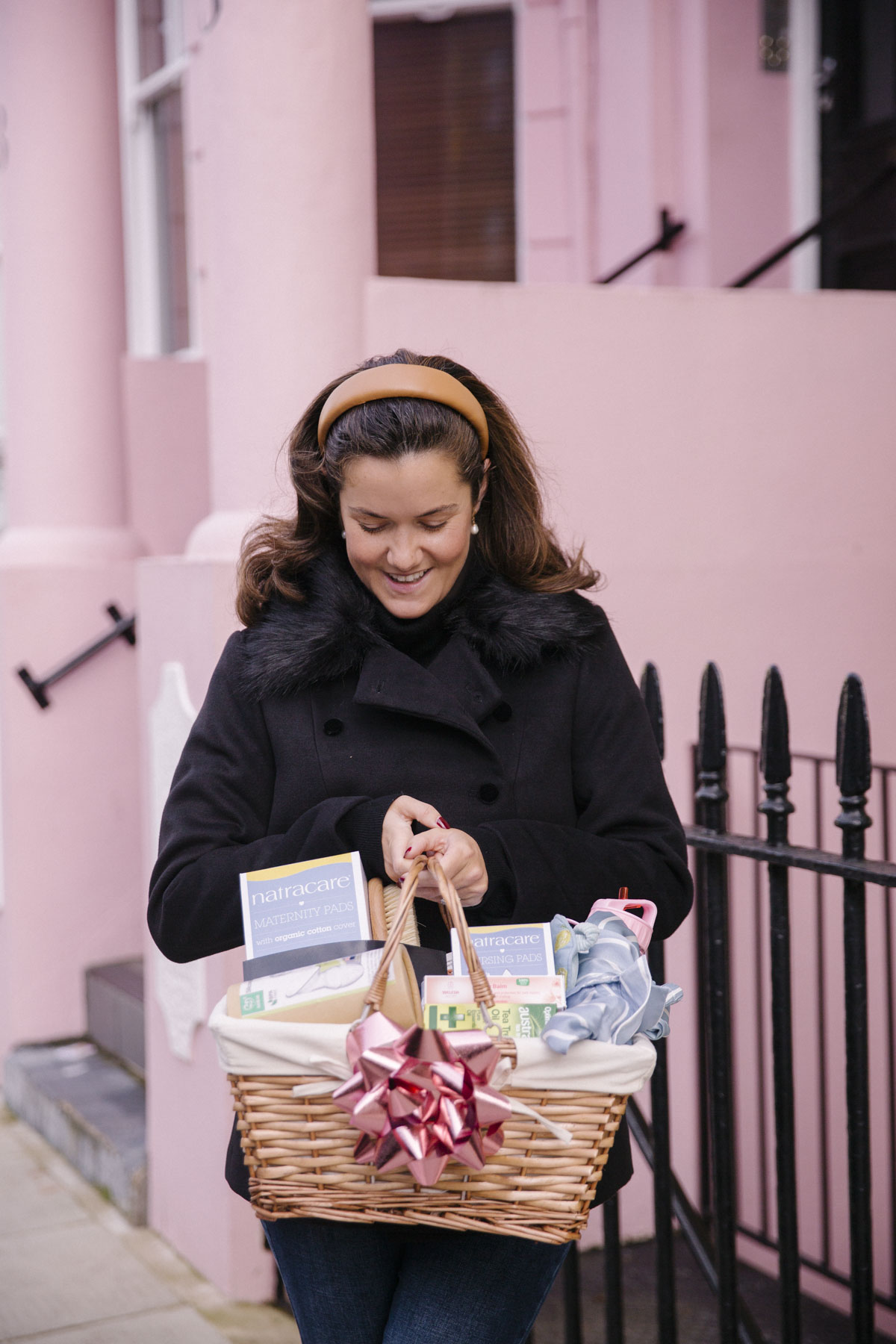 A hamper of goodies to help her feel a bit more like herself.
Natracare maternity pads – organic (natural, chemical free and compostable) supremely comfy maternity pads for the first couple of weeks after birth. My midwives swore by these when I gave birth (dismissing any of the nappy contraptions you see on insta) as they're nice and thick so (without being too graphic) hold everything up and in place. These combined with Expert Midwife Spritz for Bits is going to be the biggest relief of her life.
Dry body brush – great for lymphatic drainage and getting the system all moving again after birth. A big water bottle because the thirst is real in the beginning, particularly if she's breastfeeding.
A comfy pair of pyjamas and an eye mask, for catching 40 winks whenever possible.
The Wonder Weeks is a great book (also an app) for letting her know what to expect every step of the way. Saves a lot of midnight Googling!
DIY coupons, you know your bestie to know what she'd like best. Babysitting, home cooked meals, washing up, footrubs, wine and whine, whatever you're prepared to drop everything and do at a moments notice! Maybe include a note to say that if the whole book isn't used up within 6 months you'll be extremely disappointed.
Lansinoh breast heating pads. These are amazing for the first few weeks of breastfeeding before her milk settles. You just pop them into the microwave and they really help if you're engorged or trying to avoid mastitis. You can also wear them while you pump to increase output!
Weleda natural nipple balm, so soothing on sore nipples. She can put it on after every feed and not worry about having to wipe it off before baby feeds next, as there's nothing nasty in there. Topped with Natracare nursing pads, which are also completely organic, with no nasty chemicals for mum or baby. Biodegradable and compost friendly. (They also make completely organic period products, with no perfumes and most importantly no chlorine, so key for your most sensitive area.)
Hakka breast pump, isn't really a breast pump but just a great little cheat. Mum pops it on the other boob while feeding and it catches the drips. Before you know it, you have a whole bottle ready to pop in the fridge so dad can do a night feed.
Tea tree oil, lavender oil and epsom salts. These three things in a bath are just magic and if mum can find the time to hop in once a day, she'll be back on her feet in no time, particularly good if she's had a tear, but sadly no baths if she's had a c-section or has stitches so keep that in mind.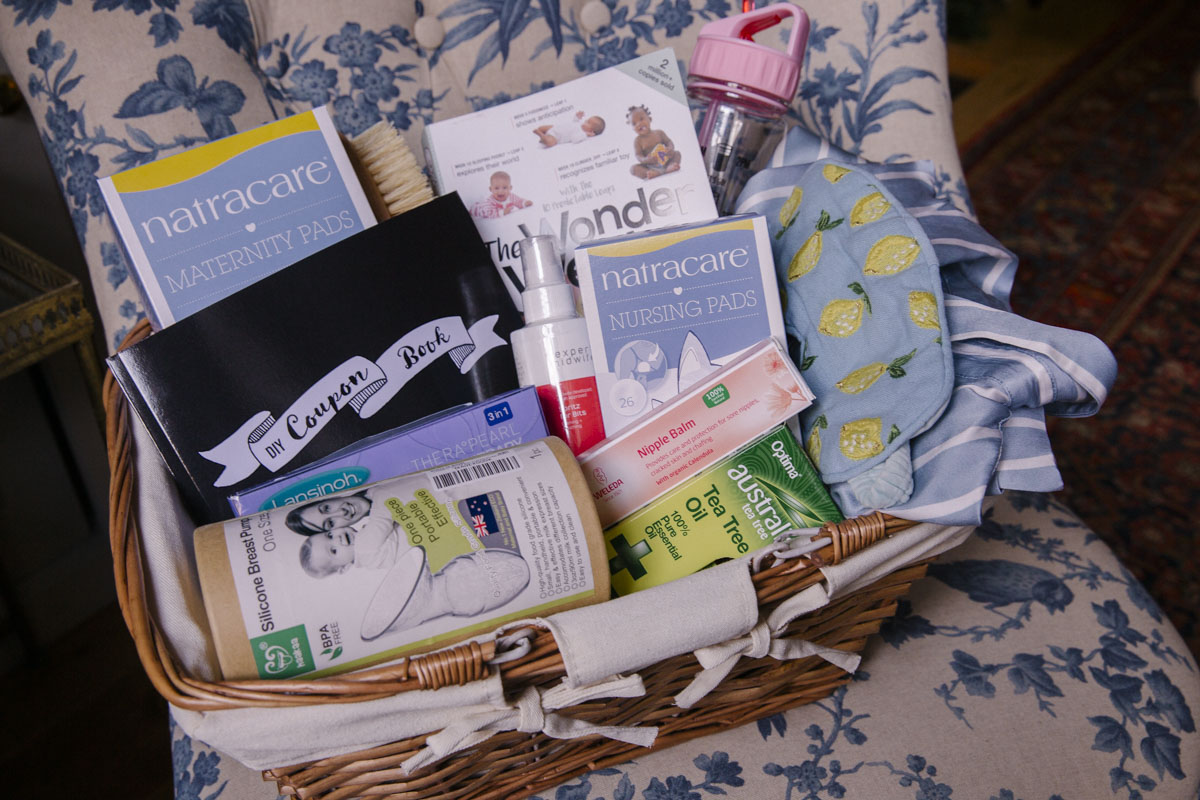 The biggest kindness I remember from those first few days, was taking a bath the morning after I gave birth and mum washed my hair for me. Such a small thing, but such a generous loving act, it really meant the world at the time!
It's often the little things that matter most, just showing you care.
Mums, pop a comment below and let us all know if there's something else you'd want included, or that you loved in those first few days!