You know how I agonised* over our first trip with the baby.
*Dramatic? Moi? 
For months before she was even born I lay awake dreaming up adventures and wondering where we should go. Then she finally arrived and I couldn't imagine us ever being able to leave the house, never mind the country. We tested our resolve in the shallow end, with a trip to my parents house in the country. Evidently we survived and I set my sights on far away lands.
I had dreams of South America, of white sandy beaches, of islands in turquoise waters, a happy family all smiley and slathered in sunscreen splashing in the shallows. Mum listened dutifully (with ever so slightly pursed lips and that "mmmm…" noise that only mums can do when they think you're making a terrible mistake but are really trying to hold it in) before eventually giving in to her urge to help and suggesting that perhaps a newborn on a beach wouldn't be as much fun as it was in my head. "Just think of the sand" she said sagely.
With that in mind I started a fresh, somewhat more sensibly this time. Somewhere without a big time difference that would ruin Lily's brand new sleeping schedule, somewhere a short plane ride away, somewhere warm enough that we wouldn't have to continually pull her in and out of jumpers.
Greece was a valid option, but the weather forecast terrible. I had considered Marrakech a number of times but always put it out of my mind as I didn't want to wake an entire riad if Lily cried in the night… and then we found our oasis in the desert.
Quite literally.
The most beautiful little hideaway, in the desert outside Marrakech.
A short hop away from the airport (thanks to a local driver we didn't even need to hire a car) you'll find a handful of villas, all designed by a particularly enterprising British woman who had the great sense to build them, decorate them and then sell them to wealthy friends, who rent them out when they're not there.
Each comes with a wonderful local cook, maids and a butler, who all seem to vanish until you think you might need something, when they reappear eager to help.
For new parents they soon learned that this meant coffee. Lots of coffee.
The decor is perfectly eclectic, bright and sumptuous.
Over stuffed cushions for sinking into and rugs for wriggling toes made it the perfect escape from the occasional rainstorm and the dreamiest start to the day, as we were up with the birds.
We spent our mornings beside the pool.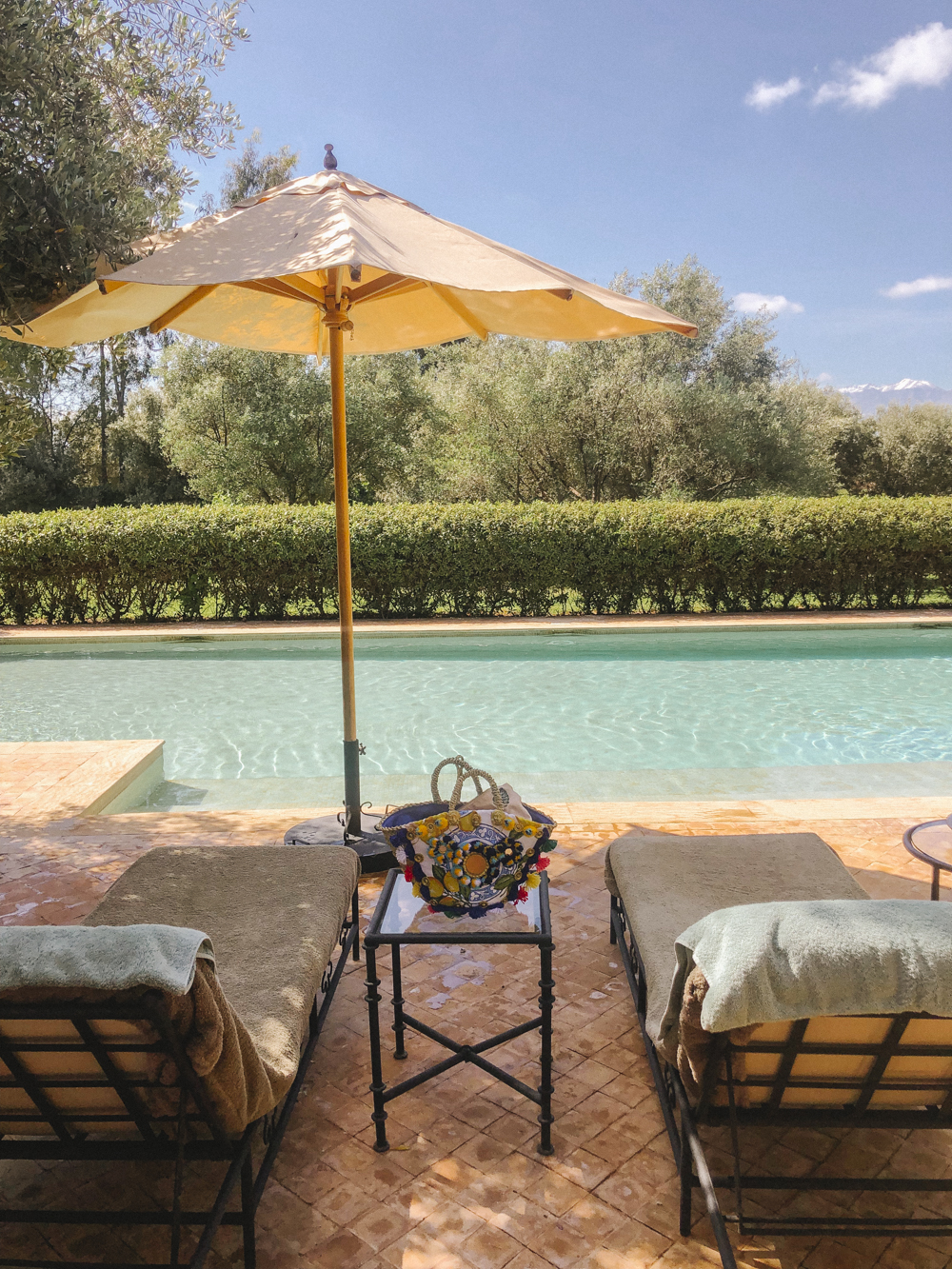 Chatting, relaxing, Lily watching the trees dance in the breeze, occasionally dipping her little toes into the water.
We'd be called to lunch, which was always fresh and bursting with vibrant herby flavours.
It felt like being a child again, having everything taken care of for you.
We didn't have to think about shopping, finding local supermarkets, cooking, washing up.
Just amusing ourselves.
And snoozing.
For supper we had three courses every night, always centred around a spectacular sizzling tagine.
Before retiring to the fireside to play a little longer.
And waking up to do the very same the very next day.
And the day after that.
And the day after that.
A week without worries, a week without responsibilities, a week without makeup…
…and a week so private you could consider a towel a legitimate accessory!
I'm almost loathed to give you the details because I want to go back and I don't want it to get booked up, but I found the villa online here.
I thought the price was pretty reasonable, we paid more because it was Easter, but I think it's usually £2-3000. They say food is charged at a local rate, this is misleading as we spent about £900 on food for the week, which I don't think is bad for a week's holiday but worth bearing in mind if you think it'll be the cost of local groceries.
The house sleeps six-ish and I don't think you'd be on top of each other if you filled it. There's a tennis court (apparently!), Marrakech is half an hour away if you get itchy feet and you can organise excursions into the mountains if you like.
We treated it as a newborn recovery week and didn't leave the property, it was the perfect first holiday together.
Next time I think we may be be a little more adventurous… maybe.