Watermelon salads have become something of a summer staple in my house.
Fresh, sweet, refreshing.
Just what this weather calls for!
This is a sort of beefed up (or ducked up, I suppose) version of this salad and it makes the perfect summer supper*.
*Even for the most hardened of salad dodgers. 
It's a recipe from Tom Kerridge's book, c'mon it's £6 – you need it! With a couple of very small tweaks. To serve two you'll need:
Two duck legs
Half a small watermelon
2 handfuls of pomegranate seeds
Handful of fresh mint
Handful of fresh coriander
1 red chilli
2tbsp soy sauce
2tbsp sesame sauce
1tbsp fish sauce
Juice of 1 lime
Salt
Pre-heat your oven to 160C/350F. Place a wire rack over a baking tray and pop the duck legs on top. Sprinkle with salt and pop into the centre of your pre-heated oven. Roast for an hour and a half.
Once the duck's done, put it to one side to rest on its rack.
Meanwhile you can chop up your melon.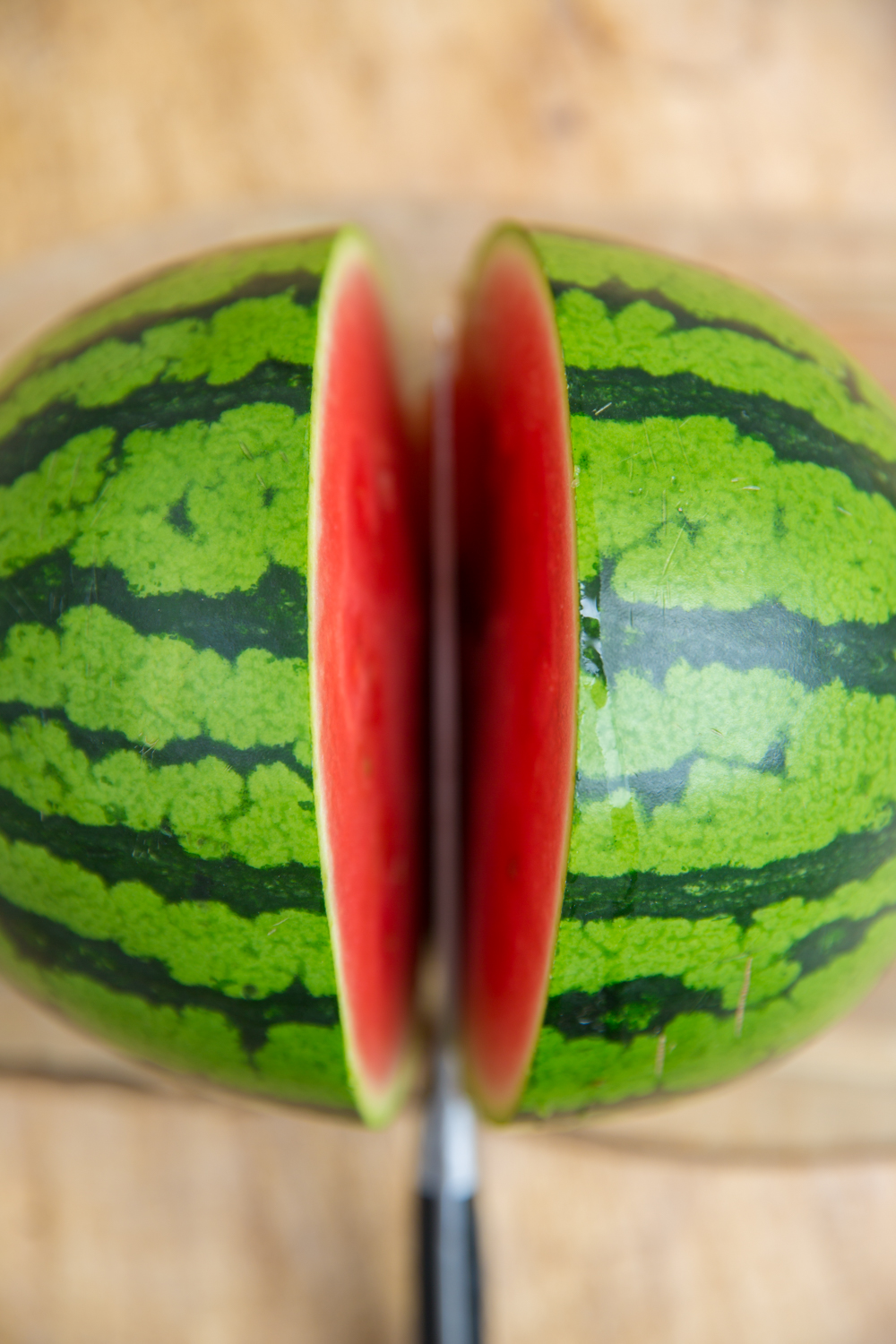 Cut into bite sized chunks and place into a big bowl.
Top with pomegranate seeds (I must admit to buying these in a pack, and I can't be doing with getting them out of the fruit!)
Grab a handful of mint and use some scissors to roughly chop it over the top.
Do the same with your coriander.
Then throw on some sliced chillies.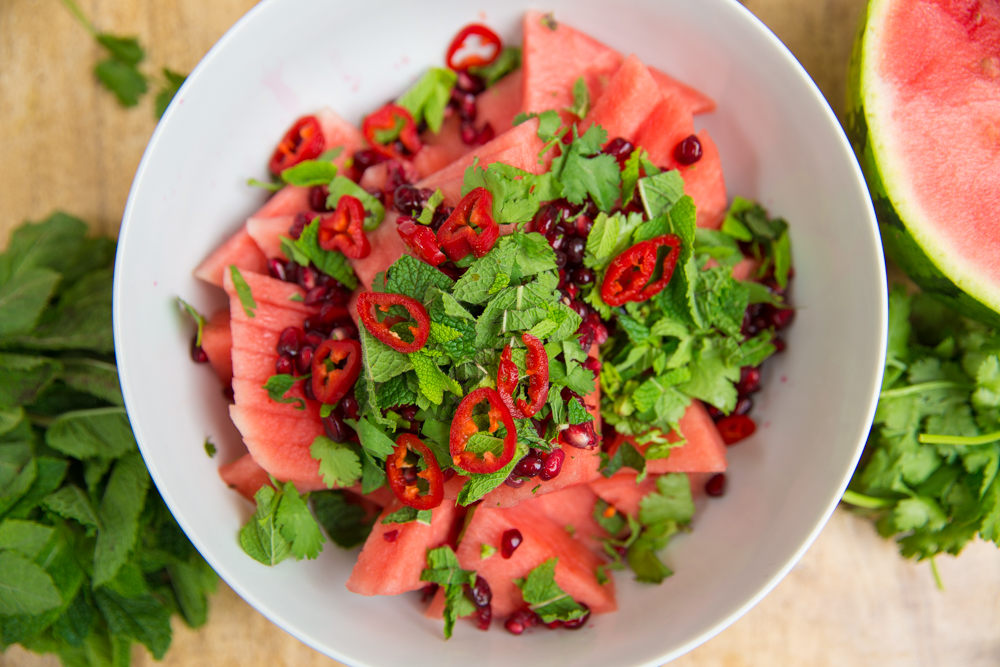 Grab a couple of forks and shred your duck, like you would for a Chinese takeaway.
Throw it all in to the bowl!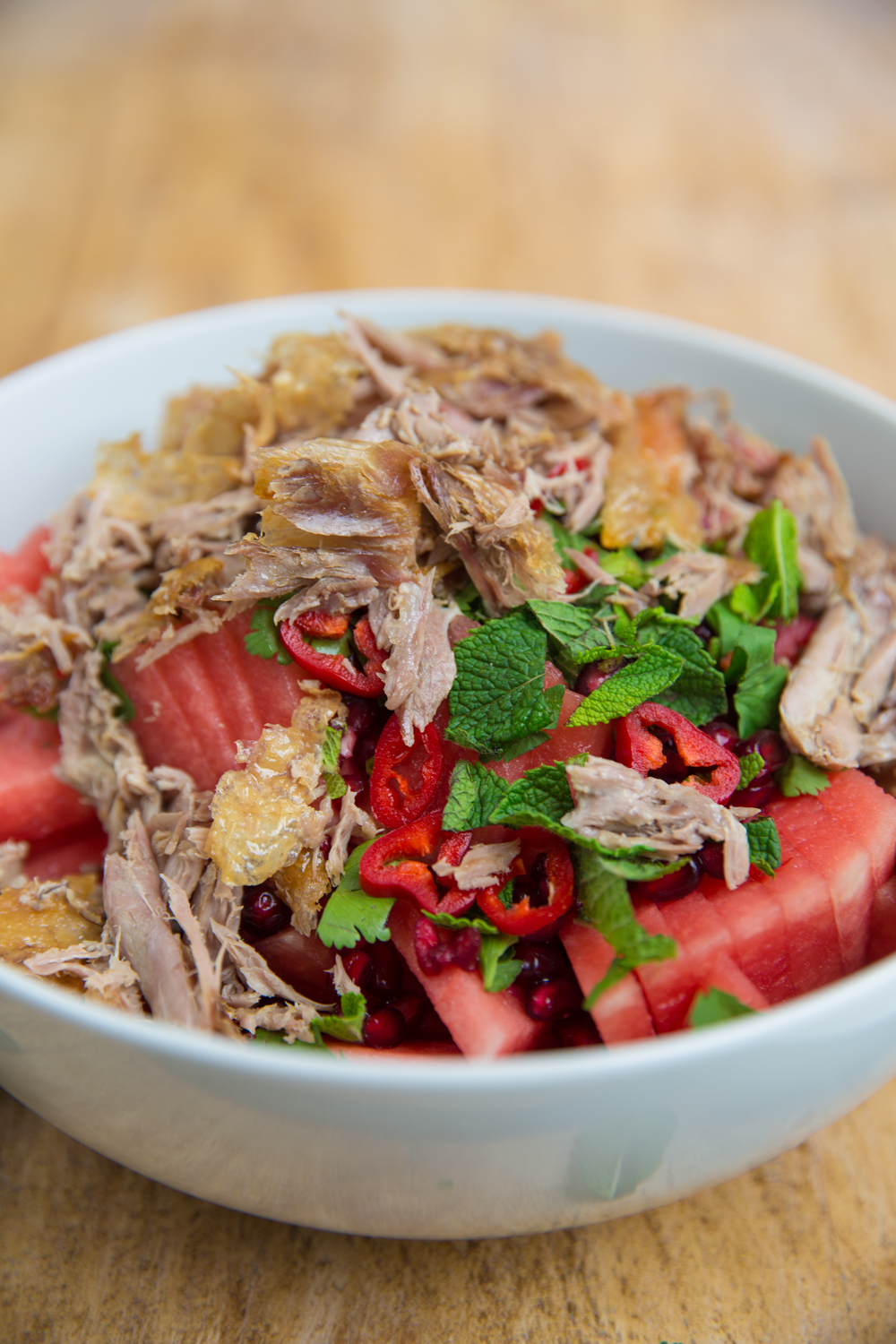 In a jar mix your soy sauce, fish sauce, sesame oil, and lime juice.
Pour over the salad and toss.
Serve with the duck still warm and the melon beautifully chilled.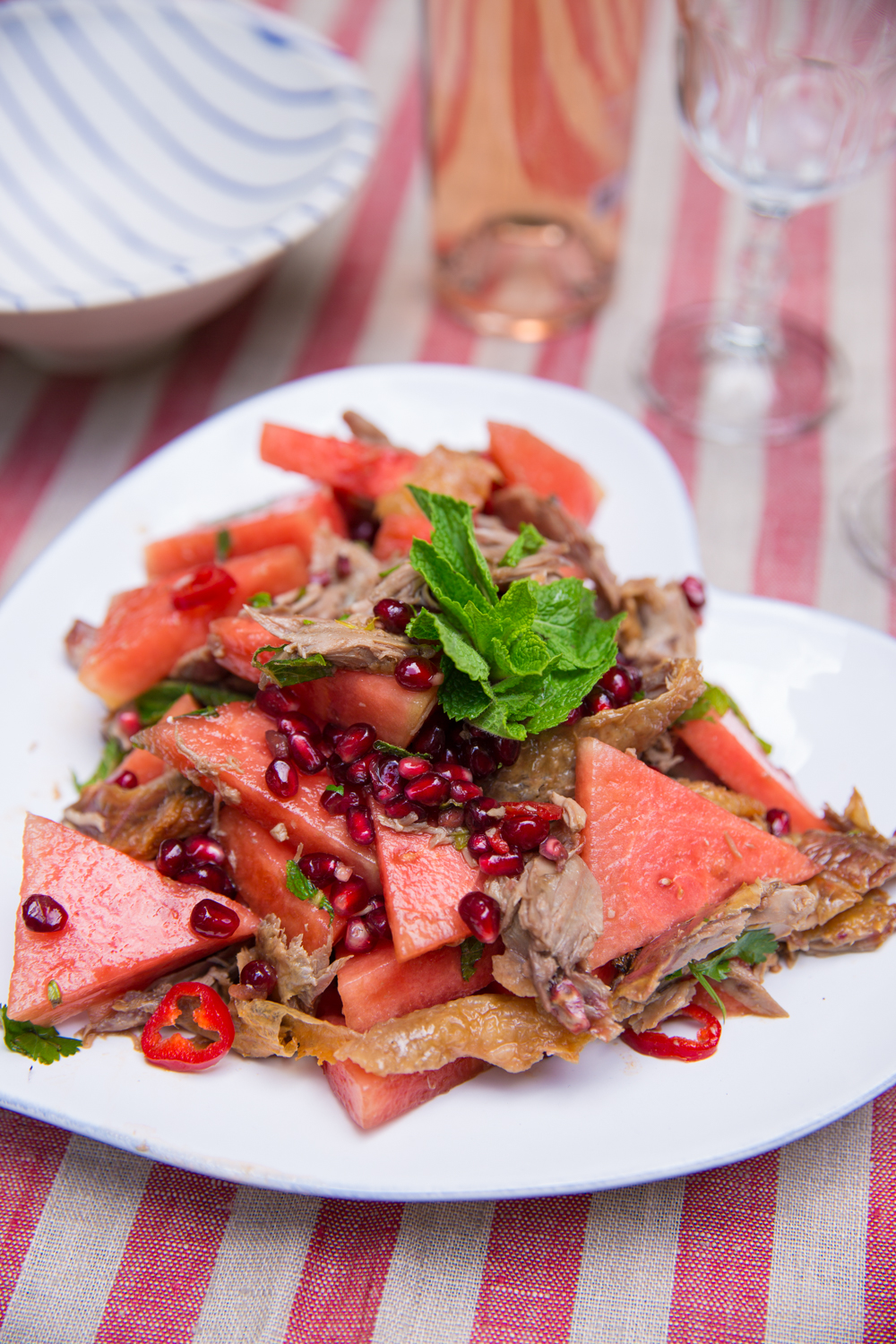 The perfect seasonal combo of sweet and savoury, all in one beautiful dish.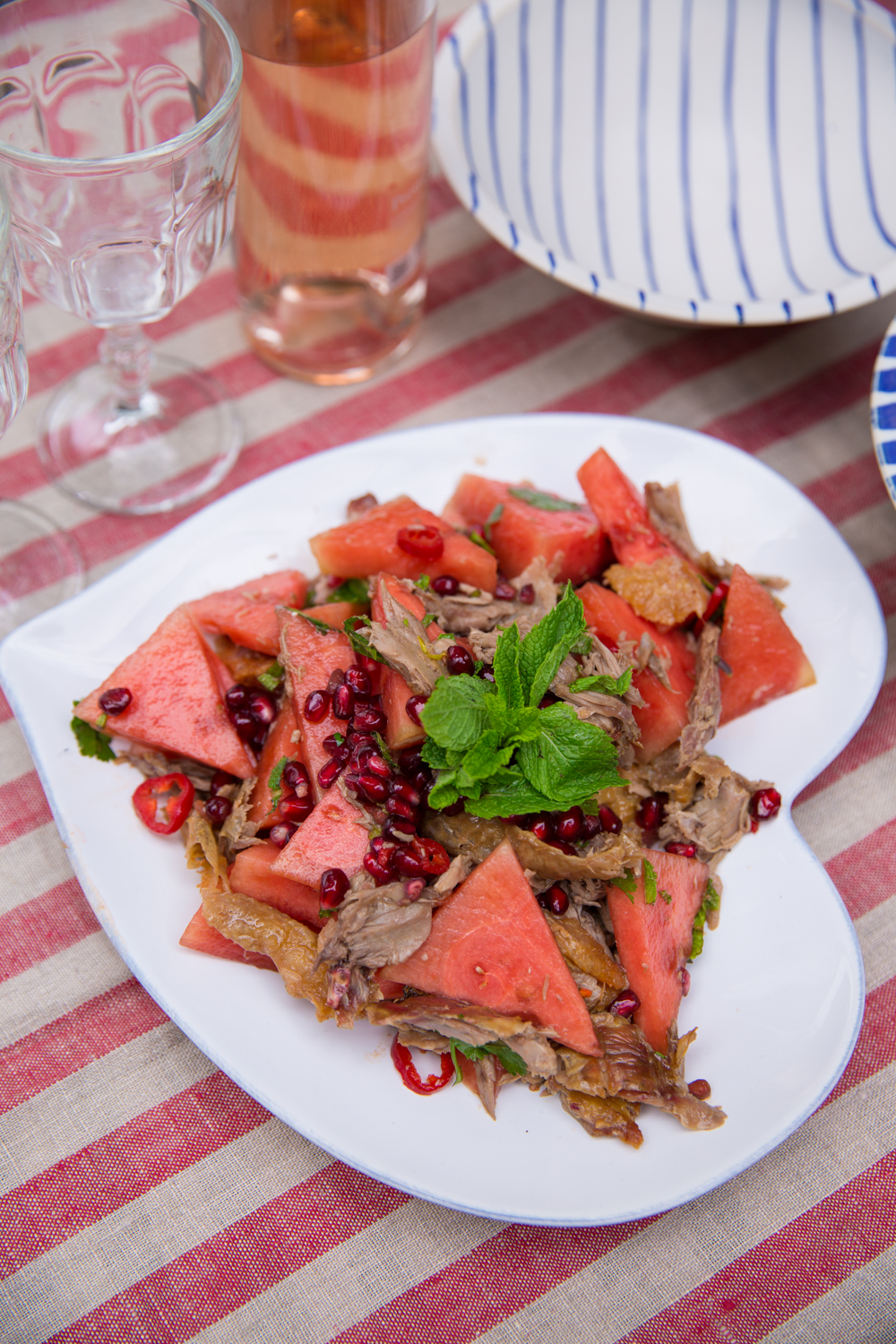 Nibble on some of that crispy skin, balanced with the zingy pomegranate.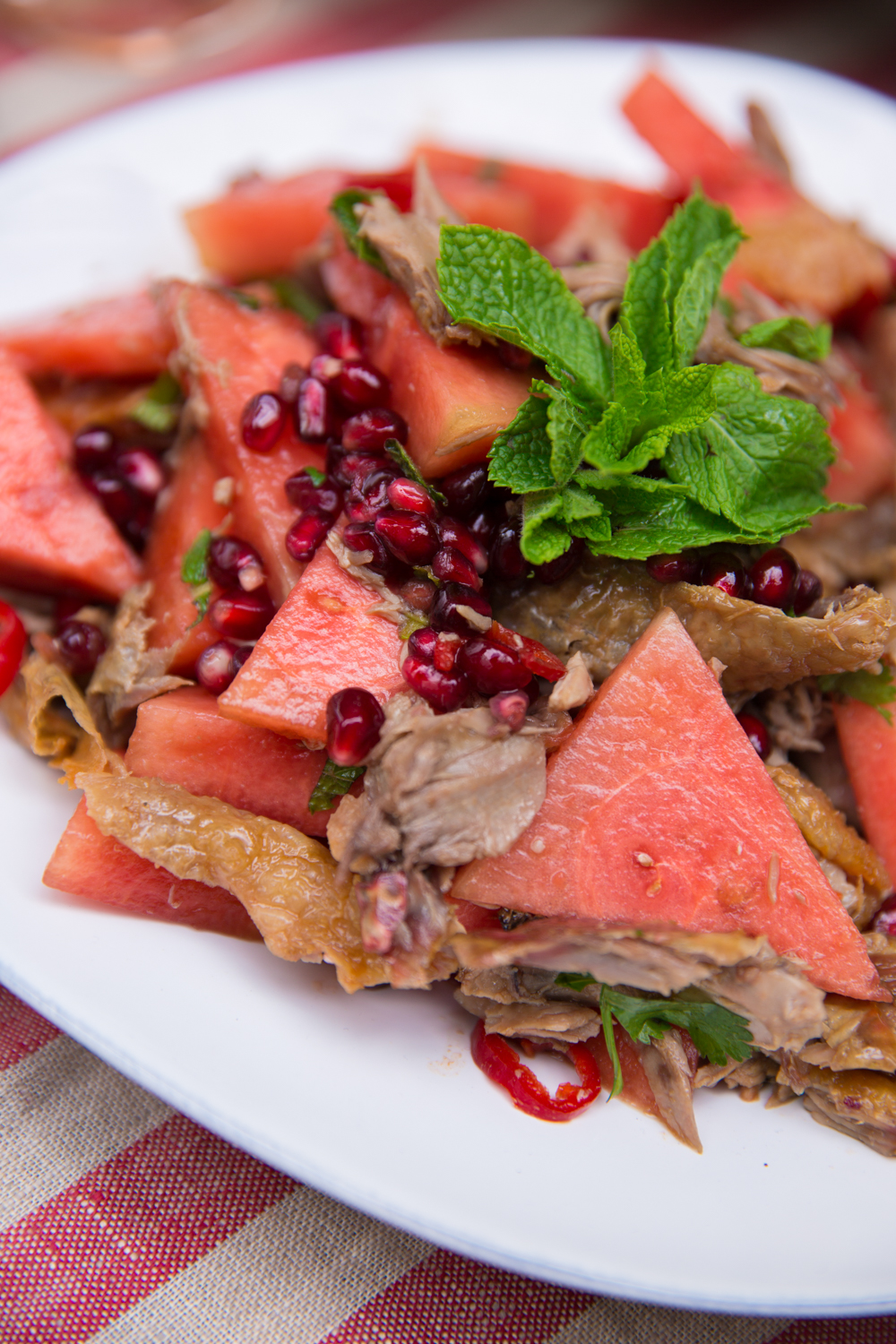 Just remember.
If life gives you melons…
…you might be dyslexic.