Greece boasts some of the most amazing beaches on the planet.
From long golden stretches to hidden pebbled coves, dancing with the clearest of blue waters.
Santorini however is not known for its beaches.
Views?
You got it!
Our little suite had views for days! (We stayed here.)
But as a volcanic island made of black and red rocks, beaches were never going to be the island's strong point.
There are three main choices you're given as a visitor – The red beach, the grey beach or the white beach (don't get excited, only the cliffs are white!).
All of which are starkly different to anything you'll find elsewhere, but none of which are very comfortable to wriggle your toes into or stretch out on. They also take an hour to get to from Oia.
So instead, we put our walking gear on, piled ourselves up with towels and water and set off to carve our own path.
Blue bandana // Black aviators
Rose print runners // Blue beach bag
Black vest // Black shorts // Black trainers
Racing through the town, all the way to Skala restaurant.
Walk just a little further past the orange walls, and head down the first alley to your left.
You'll find yourself on a steep, winding, cobbled path, heading for the sea.
Keep going!
It's a long way down and there's no shame in stopping to "admire the view" when you get out of puff!
Of course it's the way up that's a real killer.
You can always hop on a donkey, but we felt far too sorry for them to put them through an extra climb just for us.
At the bottom you'll find a totally abandoned little bay.
With steps into the clearest water, with only a few boats bobbing around nearby.
The most peaceful, serene and private little oasis you could hope for.
And just the spot to escape the mid-day crowds and while away the day.
You can take shelter from the sun beside the old whitewashed houses, and even bring a picnic for the steps if you can bring yourself to carry it!
Multi-coloured bikini // Green printed bikini
There are rocks for swimming to and jumping off of, fish to snorkel with and crustaceans to be chased.
Perfect in its simplicity and just the place for salty mermaids.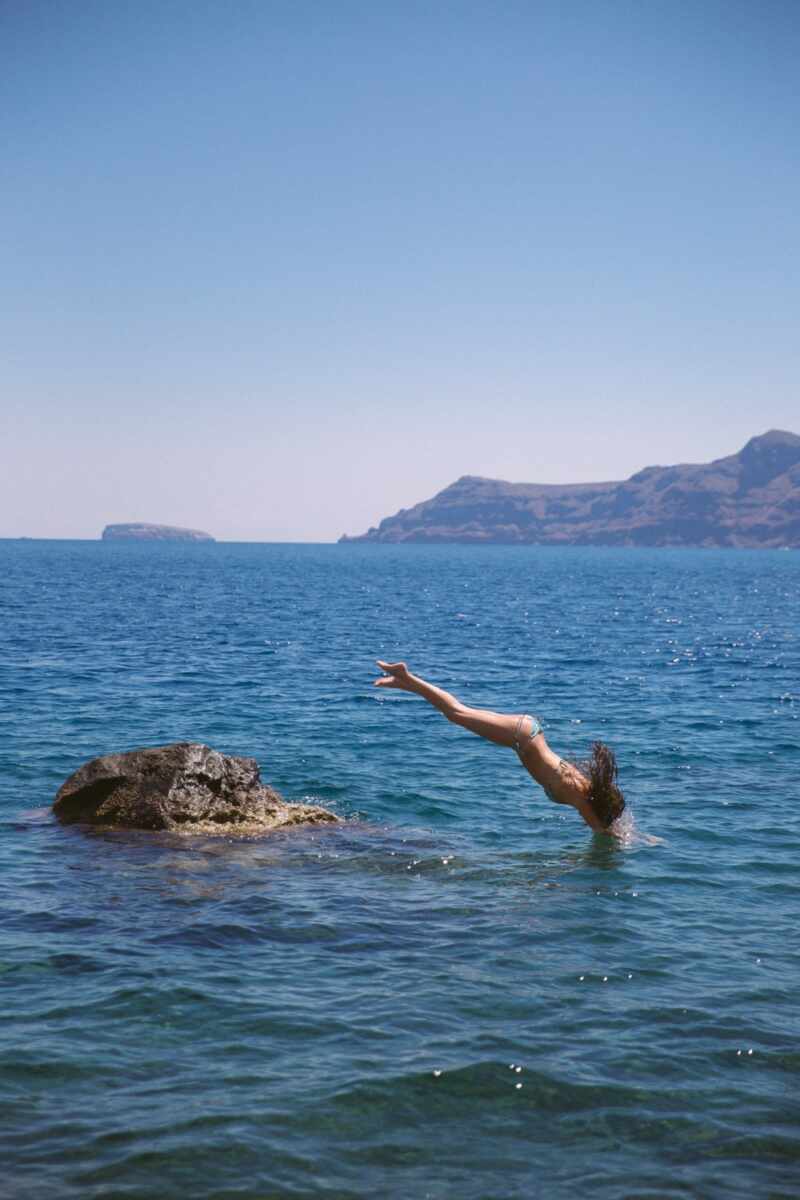 After a day spent in the ocean, three little prunes climbed the hill back to civilization.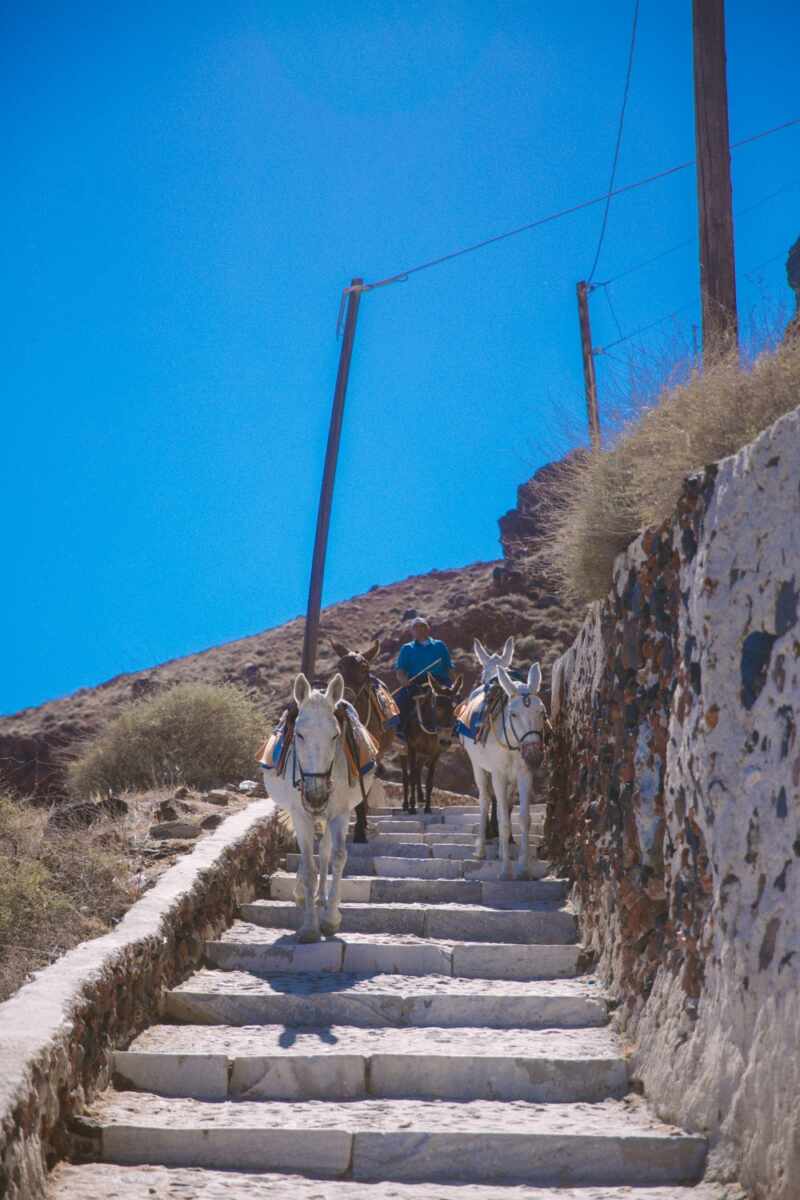 Dodging donkeys along the way.
And stopping every now and then to catch our breath just enough to complain of the hard work.
We returned again later in the week.
This time weighed down with slightly less kit!
Striped off shoulder top // Jean shorts
After a quick dip we made our way over to a tiny, 3 day old restaurant.
I can't recall the name, but you'll find it. There's nothing else in the bay!
We tucked into fresh salads, grilled octopus and rich shrimp saganaki.
Shrimp saganaki is easily my favourite Greek dish. It's terribly easy to make, give the recipe a go this weekend!
Followed by cooling melon for pudding.
Pineapple bikini // Black bikini bottoms – top
And a spot of snorkeling to polish us off.
Do try and clamber down to our little bay if you find yourself in Oia.
I don't know the name, but check it out on Google maps. Just remember to go down the hill beside Skala.
Take water, sunscreen, a towel and all of your energy! You'll need it for the climb home, but goodness me you'll have a nice pert bottom by the end of the trip.