Every summer I go to Greece. Every day that I'm there, I have Shrimp Saganaki.
It's just my absolute favourite. Sitting there by the sea, the gentle knocking of boats rocking in the waves. The smell of warm earth meeting the salty surf… God, it's enough to make your heart ache.
Greeks know good food.
Everything they make is packed full of flavour, fresh, rich, and satisfying.
This dish is the perfect combination of all of the above. It's comforting without being heavy or fattening (unlike most comfort foods).
It is usually something I reserve for enjoying in the summer months… but I'm not sure why! I think it's the perfect, vibrant, spicy dish to perk up a blue January, or any hungry month.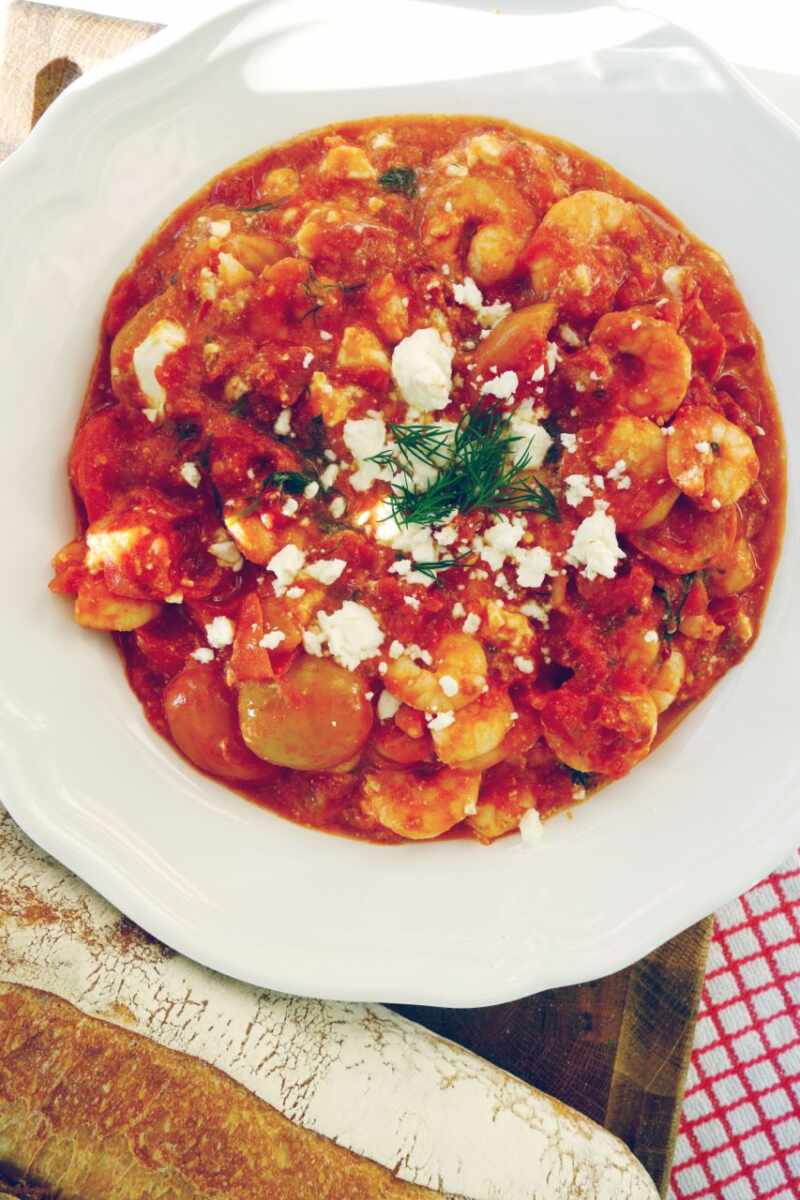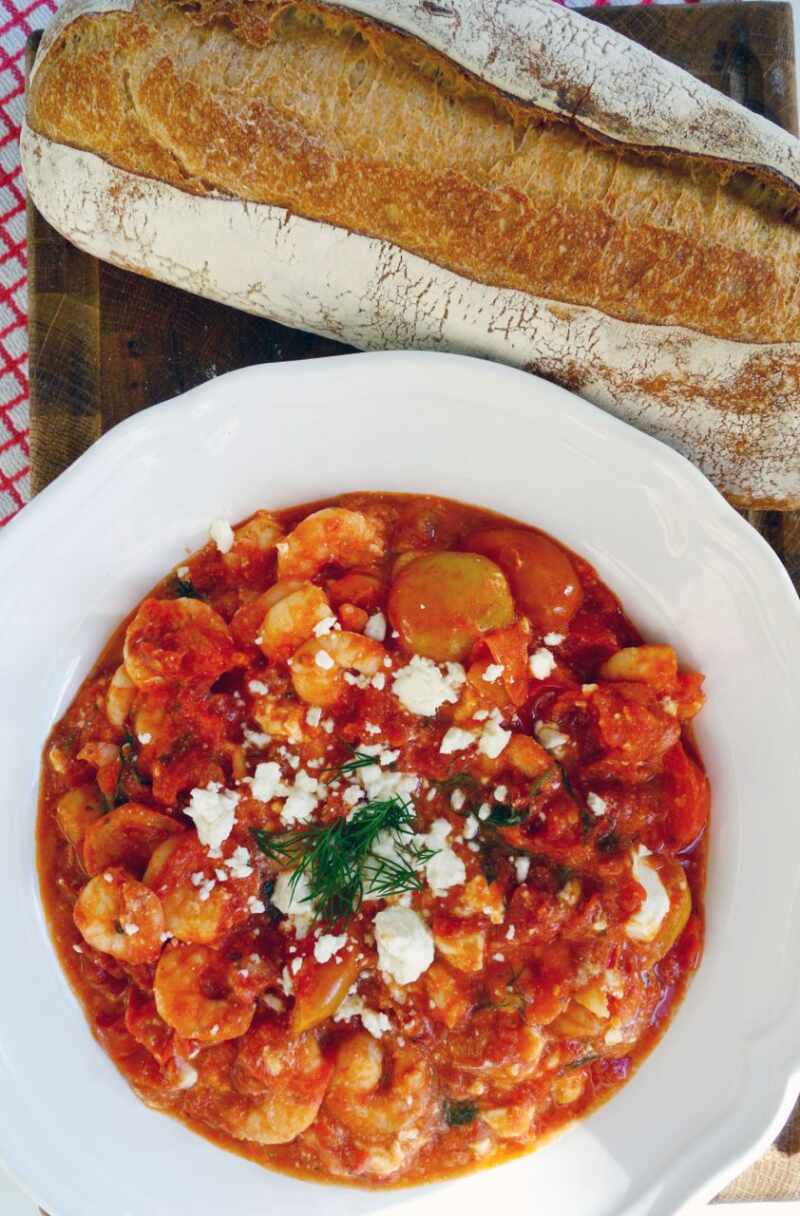 To make a generous amount for two you'll need:
300g raw king prawns (ideally with the heads & tails on if you can find them!)
2 cloves of garlic
400g (1 tin) tinned chopped tomatoes
2 handfuls cherry tomatoes, halved
1 handful fresh dill
2 glasses of nice white wine (1 for you, one for the pot)
1 handful of feta
Chili flakes, dried oregano, salt, pepper, olive oil
Warm a frying pan on a medium heat. Add some oil & when it's hot crush your garlic into the pan. Just as it starts to turn golden, throw your prawns in. Add a good sprinkling of chilli flakes, oregano, salt & pepper. Once the prawns have turned pink and just start to curl, take them out and place to one side. Add a glass of wine to the pan and simmer away… (real Greeks use Ouzo here, but I'm a wimp and I like wine just fine)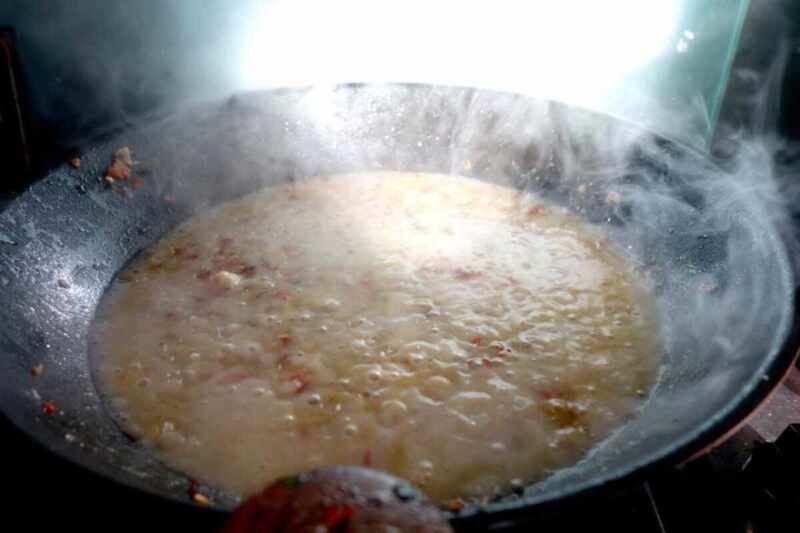 …add your cherry toms.
Leave to reduce for a few mins, then add your tinned tomatoes.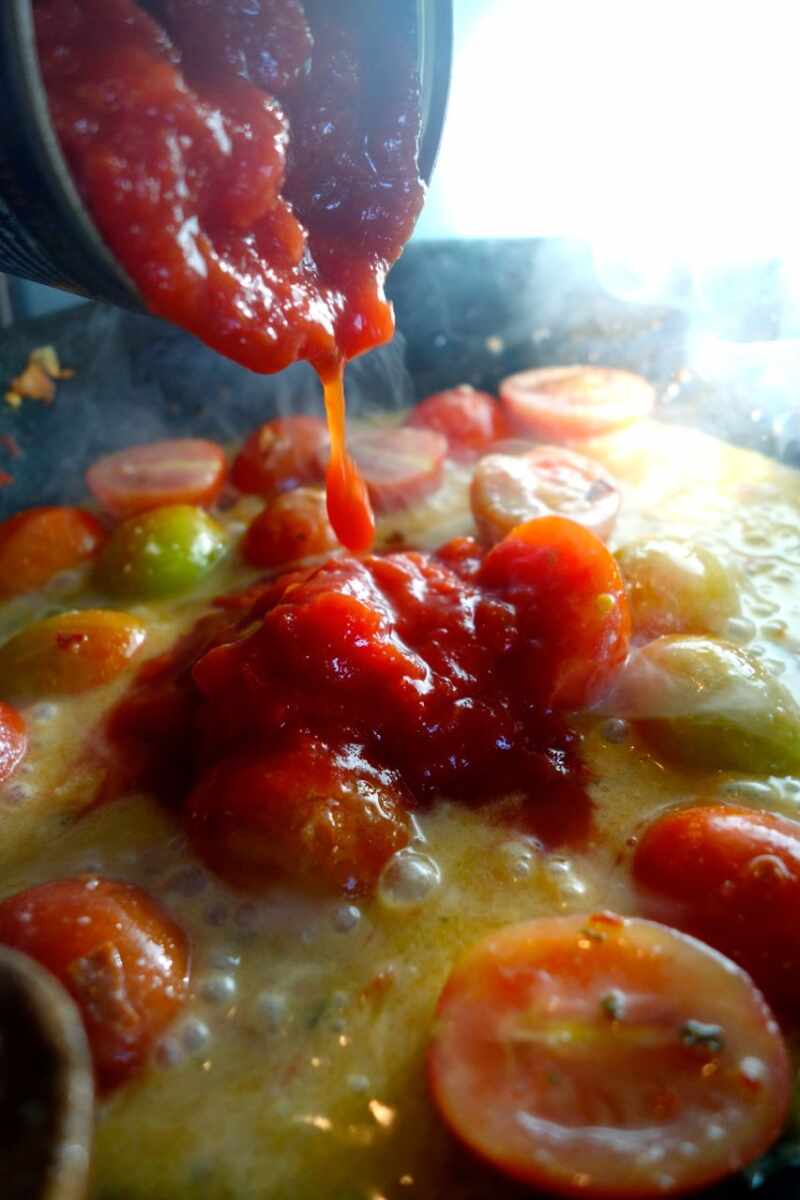 Stir it all around & leave to cook away.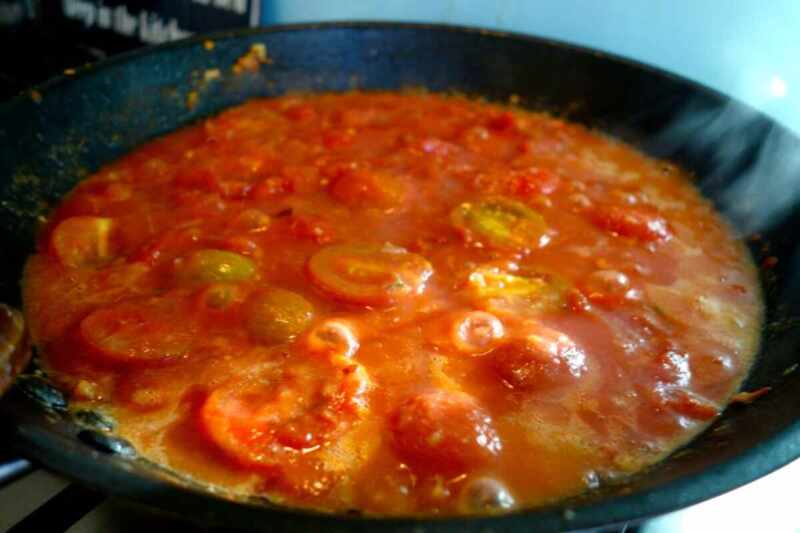 Tear up your dill and add it to the mix.
By the time the cherry toms are soft and cooked, the whole thing should be ready.
Pop your prawns back into the mix and stir around.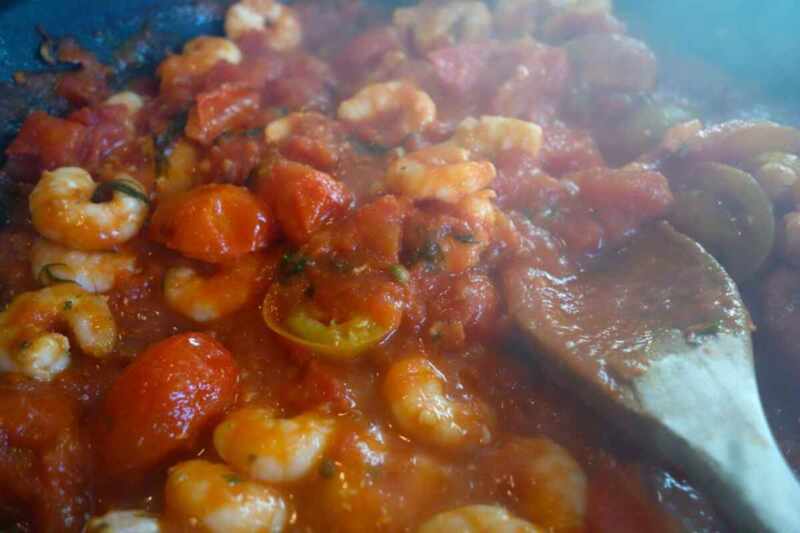 Crumble over a generous fistful of feta & serve.
I'm big into sharing plates so I put mine into a big bowl with some hand-torn sourdough bread, for dippin'.
Pop a little extra feta & dill on top if you're feeling fancy.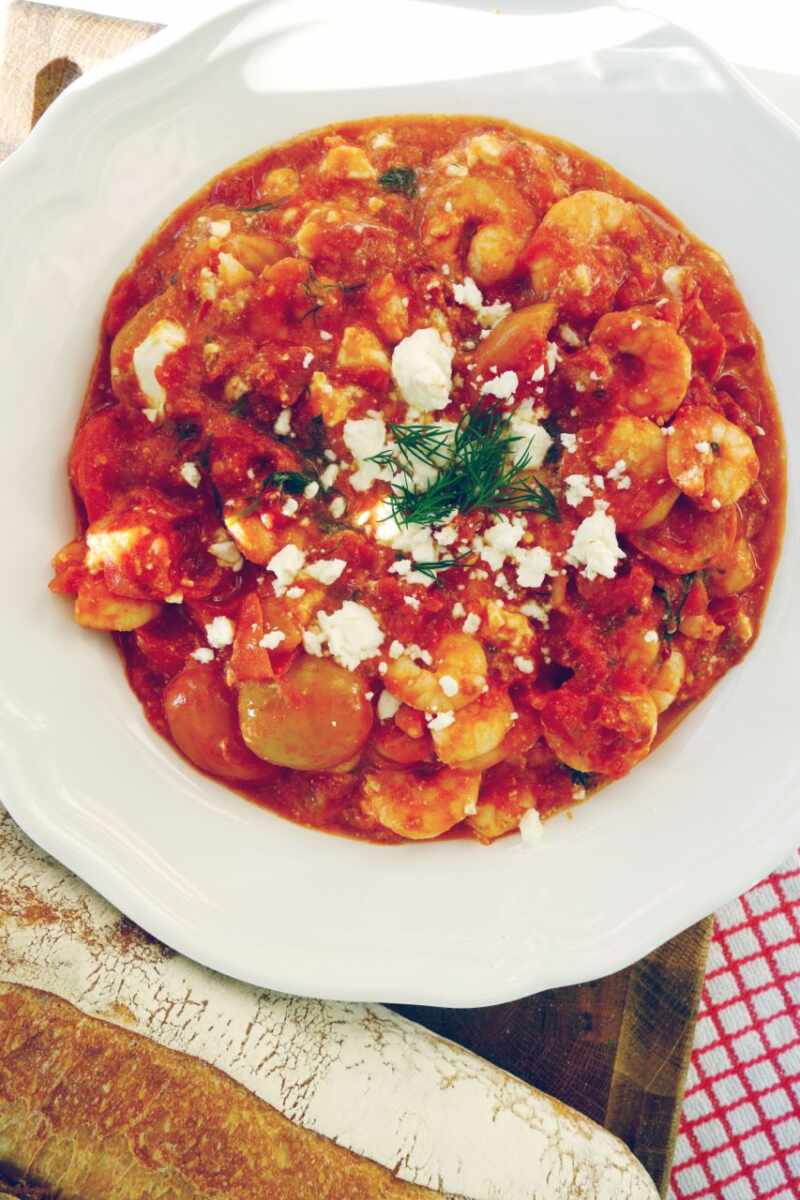 Dig in with a fork & use your bread for mopping, scooping & pinching.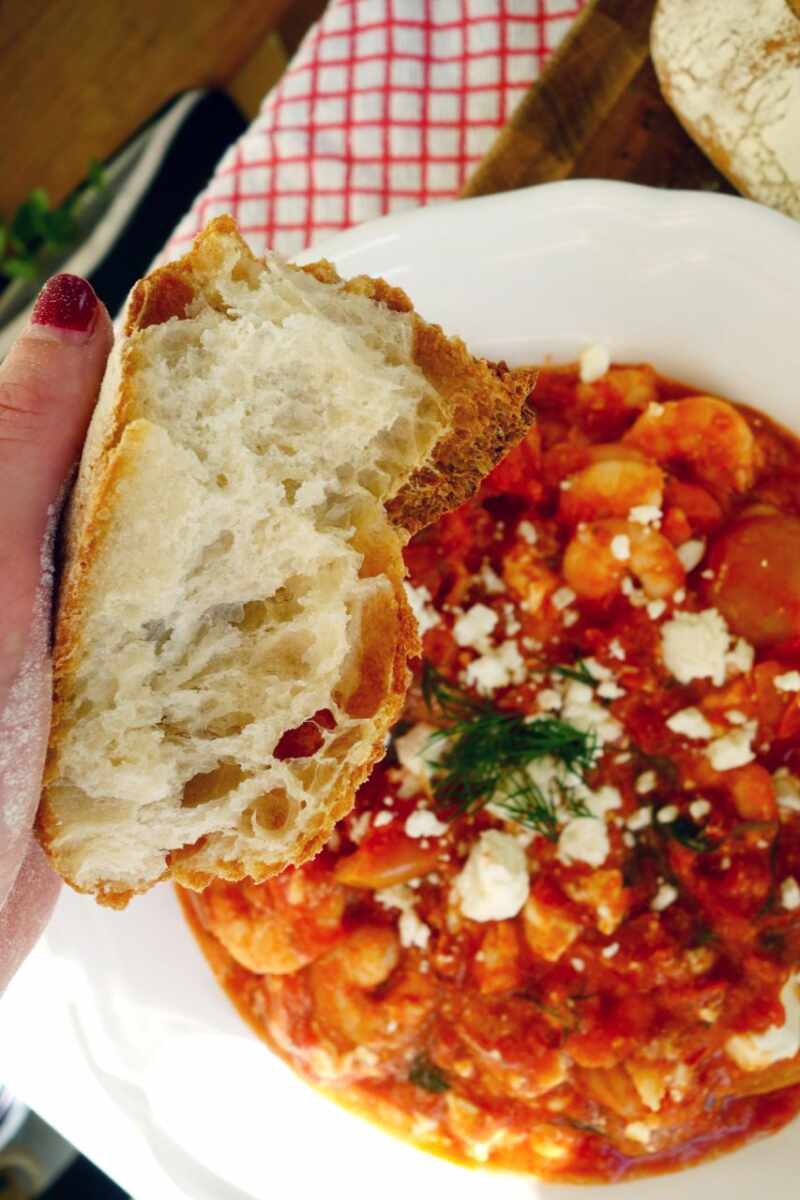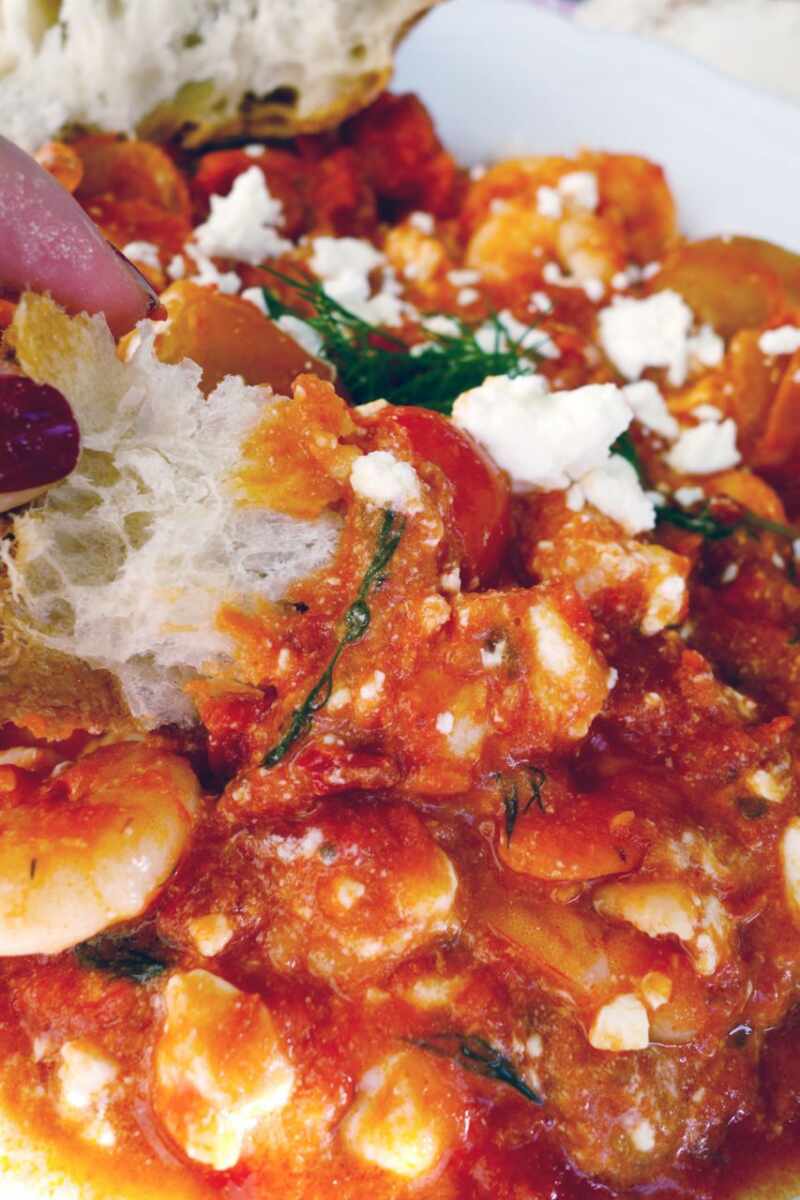 Καλή σας όρεξη!
(Bon apetit!)