I had a horrifyingly early start.
Thankfully I had my very own set of wheels, waiting outside to whisk me into the eye of The Fashion Week storm.
Net A Porter graciously sent me a black cab to use from sun up, to sun down.
They're getting the word out about their speedy delivery service, so I proudly posed for a little Instagram shot on the bridge.
[iframe allowtransparency="true" frameborder="0″ height="710″ scrolling="no" src="//instagram.com/p/s4yTYxPn-U/embed/" width="612″]
And nipped off to a blogger brunch at One Aldwych.
I was one of the first to arrive and was thrilled to find a little illustration as a place holder, along with a goodie box.
Hand drawn by this talented New Yorker.
Wearing my beloved Temperley scarf, no less!
It wasn't long before the other guests started to arrive and foodie platters materialised in front of us.
Little chocolate milkshakes & creme brulees.
Chocolatey caramel pots.
These look familiar!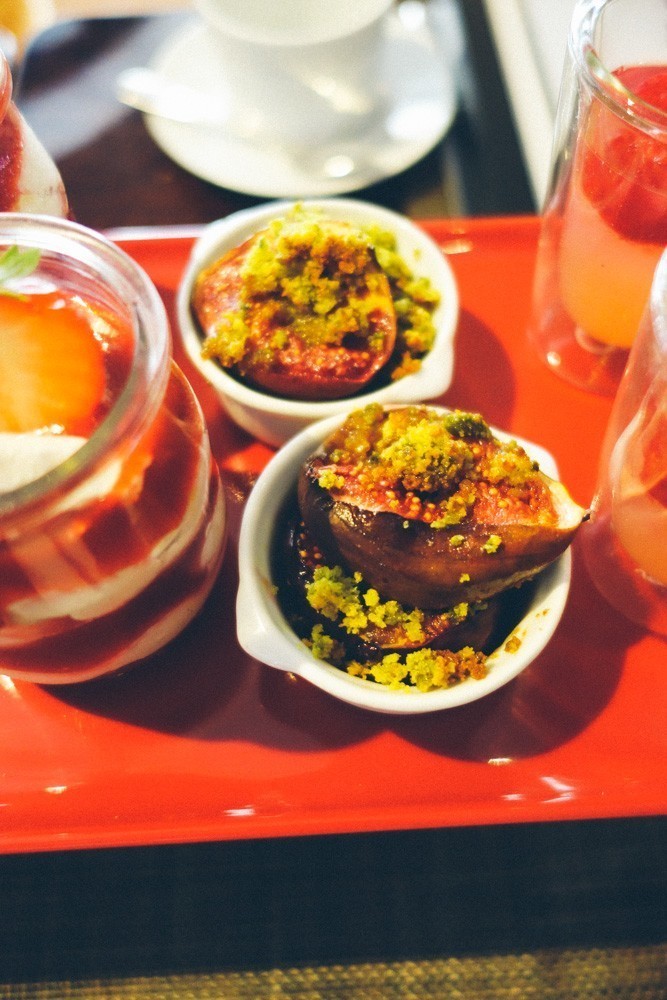 Figgy pots.
Don't worry mum, we didn't (just) eat chocolate for breakfast.
I had eggs Benedict, with two perfectly runny eggs.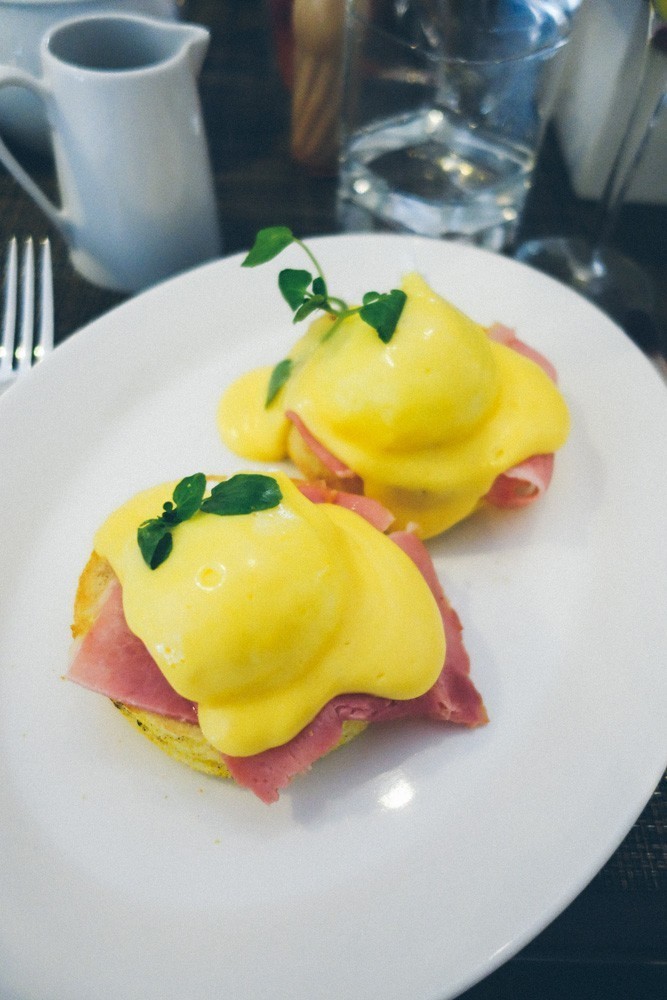 While others drizzled syrup over stacks of blueberry pancakes, tucked into scrambled eggs and sipped on bucks fizz.
We all chattered away about shows, blogging fashion and travels.
Valentino Rockstuds vs Jimmy Choo nudes
Shoe photo, just for the heel of it.
After brunch we all said our thank yous and goodbyes through a hundred kisses and raced off towards somerset house.
Looking a little more business like this time.
Stella sunnies // Burberry coat (best clothing investment I've ever made) // YSL bag
Body Ed shirt // MSGM lace skirt // Choos
[iframe frameborder="0″ height="120px" scrolling="no" src="http://currentlyobsessed.me/api/v1/get_widget?wid=29&blog=The%2BLondoner&product_ids=n_13396650,n_11051918,n_14517458,n_14996126,n_14517462,n_14517466&rows=1&cols=5&brand=0&price=0&hover=0″ width="600px"]
I made a beeline over to meet my friend Marina and peruse her new collection.
She was showing alongside her friends from Moxham (who make wonderful, heavy jewellery pieces) and Blake London (who are the big up 'n' comers on the knitwear scene).
Being the worst friend in the entire world, I hadn't noticed Marina blinking!
Sorry doll. You still look beautiful and you can smack me later!
Alice walked me through the key pieces for next Spring.
Beautiful tennis whites, pale greens and touchable greys.
Madeleine introduced her incredible chokers and cuffs.
All very minimalistic and made with the most intricate attention to detail.
Before Marina let me loose on her Spring/Summer line.
Complete with shift dresses, play suits, tees, shirts and skirts. All woven in the finest silks.
It's a luxurious, wearable collection with clever little details thrown in.
Like this skirt, that unbuttons to reveal shorts underneath. If you find you get too hot, you can just whip off the skirt, dance around in your silk shorts during lunch, and button it back on for work in the afternoon!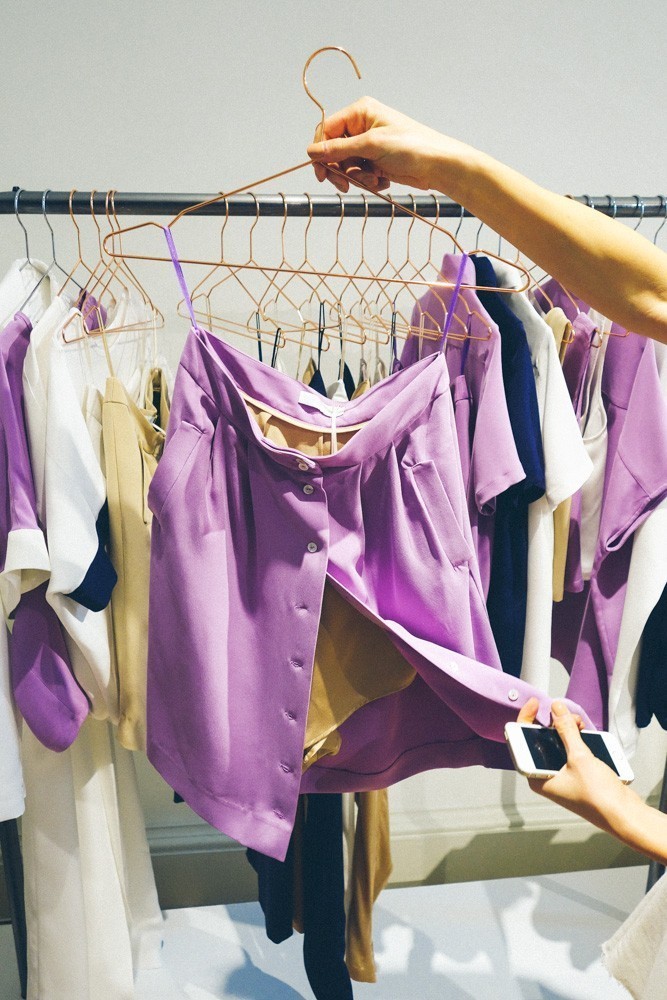 Brilliant!
Back outside the show space I indulged in a little more style snapping, with the rest of the ravenous roaming photographers.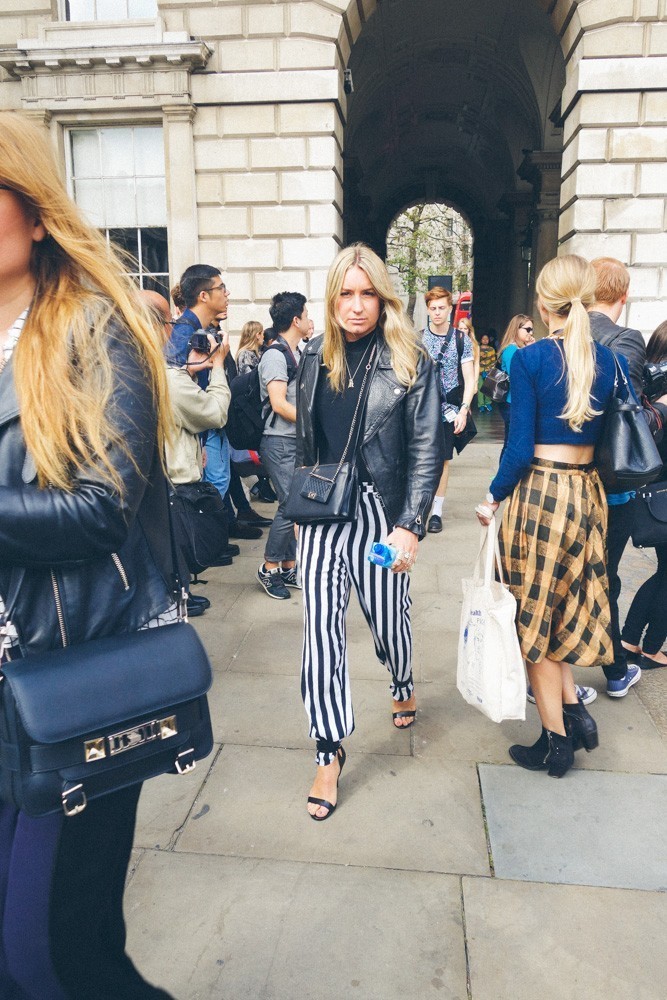 Stayed still long enough for a quick snap…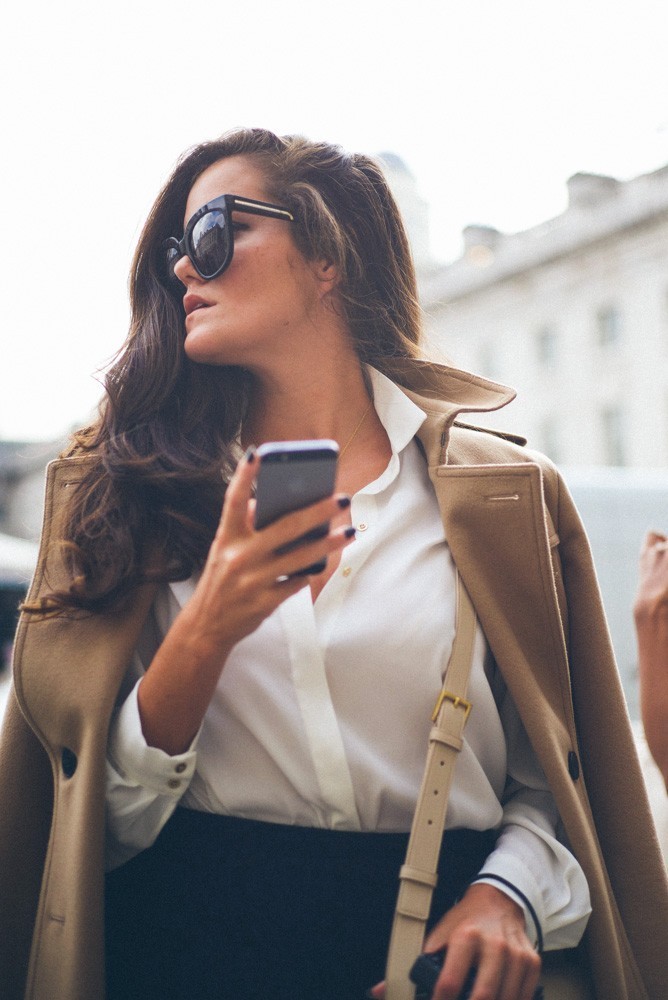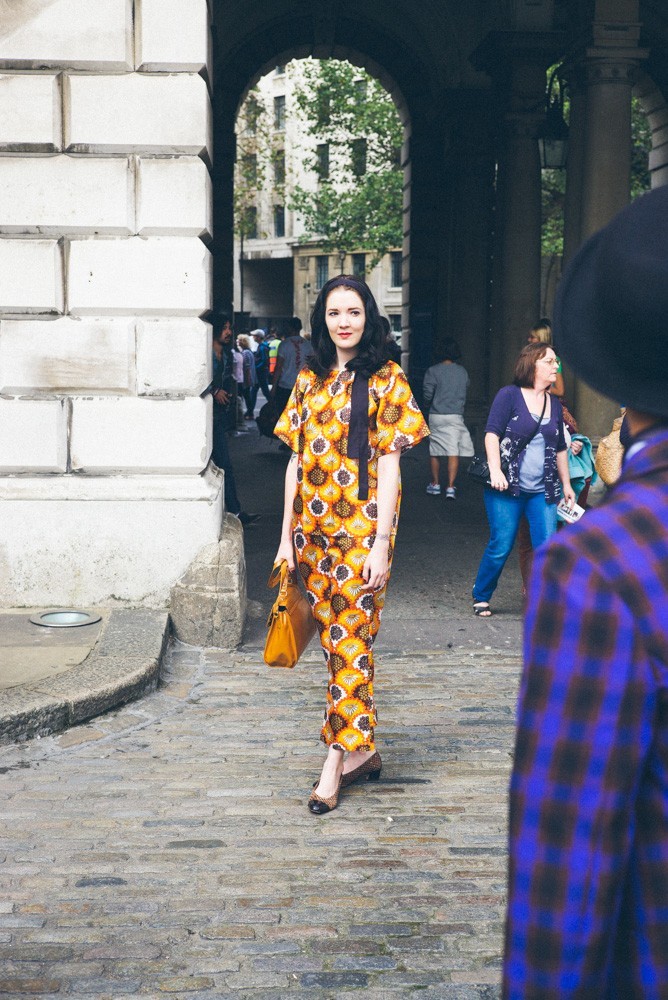 …And then raced off to my lunch meeting. Which I have to tell you, was very exciting indeed!
Once everything's signed off I'll tell you all about it, but I already know you'll be pleased as punch.