These are a dreamy summer treat.
Peaches are everywhere at the moment. In a fit of excitement I buried my head into a huge barrel of them in Portobello market, and some how came away with armfulls of brown paper bags, over flowing with the fuzzy little things!
We've been eating Honey Roast Peaches all season long, so this time I thought I'd whip up something a little different… and just as easy.
They may look fancy, but trust me, anyone can throw these babies together!
Crisp pastry, topped with gooey frangipane and soft, sweet slices of summer peach. Scattered with toasted almonds & served with cool cream.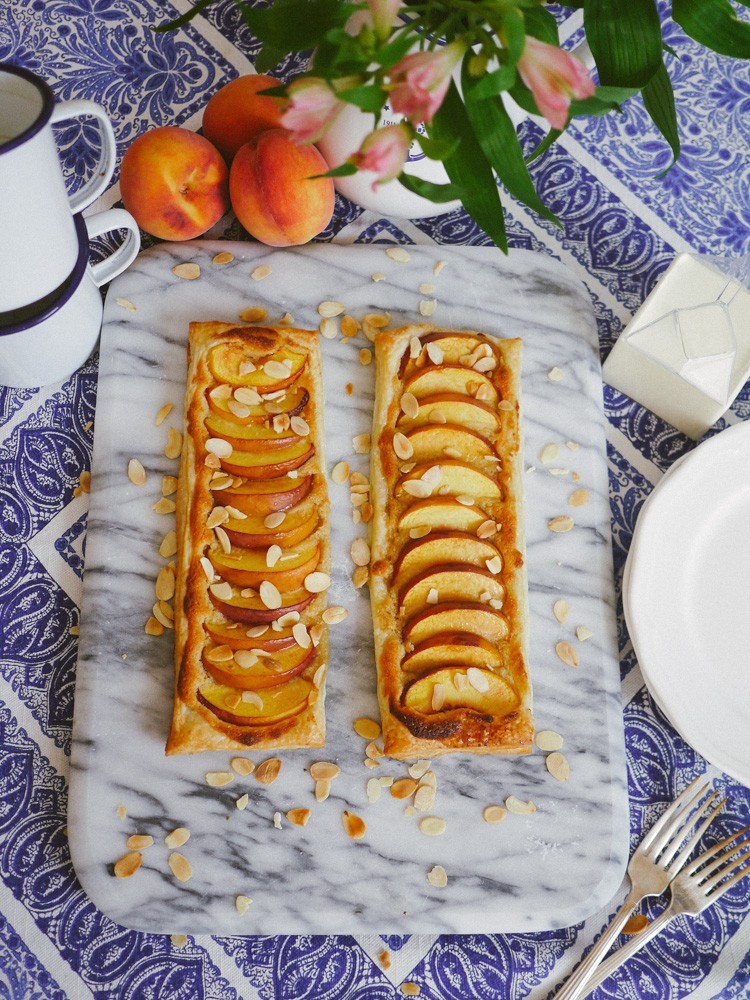 Just peachy!
(Sorry, couldn't resist.)
Right, to make 4 tarts you'll need:
1 roll of chilled all-butter puff pastry (this sort of thing)
4 peaches (the riper the better)
1 free range egg
100g (3.5oz) almond flour
100g (3.5oz) unsalted butter (not margarine)
100g (3.5oz) light brown sugar
1 orange
Handful of flaked almonds
Cream
Pre-heat your oven to 220C/400F. Line a baking tray with grease proof paper & cover very lightly with butter.
Grab your peaches.
Remove the stones (cut the peach in half, slip a knife under the stone, then do the same from the other side, it should just flick outta there now!) and slice the flesh into skinny segments.
You can really use any stone fruit for this, nectarines are cracking too!
In a bowl beat together your egg, almond flour, sugar and butter. Add the zest of your orange and half of the juice. You should be left with a devilishly delicious paste, like this:
Roll out your pastry and cut into four equal parts. (Use a segment of peach to measure it if you like!)
Spread each bit with your almond paste and transfer to your baking sheet.
Leave space at the edges for the crust to rise up nicely.
Lay your sliced peaches onto your bases, letting them overlap a little.
Step back and admire your handiwork!
Maybe even gloat a little… raise your hands up to elbow hight, palms facing upwards. Make your best Al Pacino face and say "you wanna peach o' me?"
Pop them into the oven on the middle shelf. They should take 10-15mins depending on your cooker, so keep an eye on them.
In the mean time, heat up a dry frying pan and gently toast your almond flakes.
When they're golden brown, they're done.
Whip out your tarts when they're puffed up and golden.
Leave them on a wire rack to cool.
When they've chilled out a bit put them onto a serving plate, or a nice chopping board.
Sprinkle with your toasted nuts & prepare to wow!
Serve with hot tea and cold cream.
Now dig in, you've earned it chef!
Interestingly peaches are close relatives of the almond. They're said to reduce stress & anxiety, and be an aphrodisiac!
They're a symbol of luck, longevity & success in China.
So I guess these tarts are the peachiest puddings you could hope for!
Pretty epic in lunch boxes & picnics too. I like mine best the next day anyway, when they're cold enough to pick up and eat with your fingers, like a danish.