On Friday I woke up in Switzerland.
I'd love to tell you that I rose with the sun, stepped barefoot into the glistening, dewey grass, clutching a hot cup of tea. Breathing in the cool mountain air, slowly stretching and starting to come to life. Before sitting down to a sumptuous breakfast overlooking the valley below.
But that's not what happened.
After rather a late night, Phoebe & I failed to hear the rest of the gang get up for breakfast. Failed to notice the banging of doors and suitcases flinging open. In fact we only woke up when the duvet was yanked off the bed and we were given a 5min warning to get dressed, or the cars would go without us!
Within seconds we were bouncing around, pulling on trousers, brushing teeth, finding shoes, bickering, laughing and shrieking as we went.
After exactly 4.8 minutes, we leapt into the revving cars and they pulled away before our feet were off the ground.
We climbed high into the mountains, and suddenly it all seemed worth it.
Just look at these views!
We all tumbled out at the top of the hill and treated ourselves to a little Julie Andrews sing song, while the Swiss unpacked parachutes.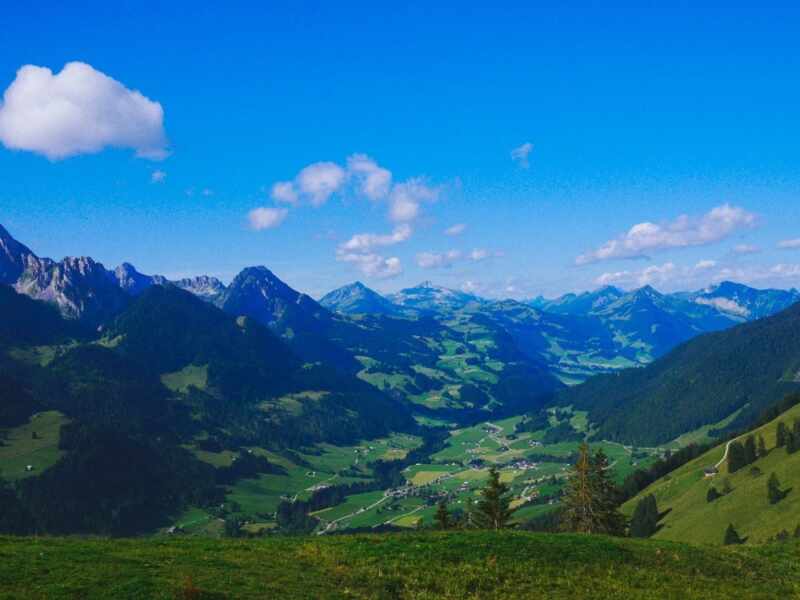 Karl D Gillet (comes in 3 rather fetching colours) // Pure Collection jumper
Slinky Feline leggings // Nikes // Jimmy sunnies
[iframe frameborder="0″ height="120px" scrolling="no" src="http://currentlyobsessed.me/api/v1/get_widget?wid=29&blog=The%2BLondoner&product_ids=7fc499f4f300acc93c561769132e4dce,1880c3e73c135ae9206f0b6eaea95bd4,n_13715018,n_8851754,n_12070075,n_13714734,bd5d4092b47a350cd0885dad35e5eea1,n_8797200,n_12549574,n_11692710&rows=1&cols=5&brand=0&price=0&hover=0″ width="600px"]
Snug as a bug in a rug!
Fabrizio strapped me up!
Complete with world's sexiest helmet.
It's by Helmet Lang, darling.
Before I knew it he'd crept up behind me, buckled me up and told me to RUN!
Grinning like toddlers racing towards ice-cream (and with the same grace) we legged it and leapt off the hillside!
Soaring off into the mountain air.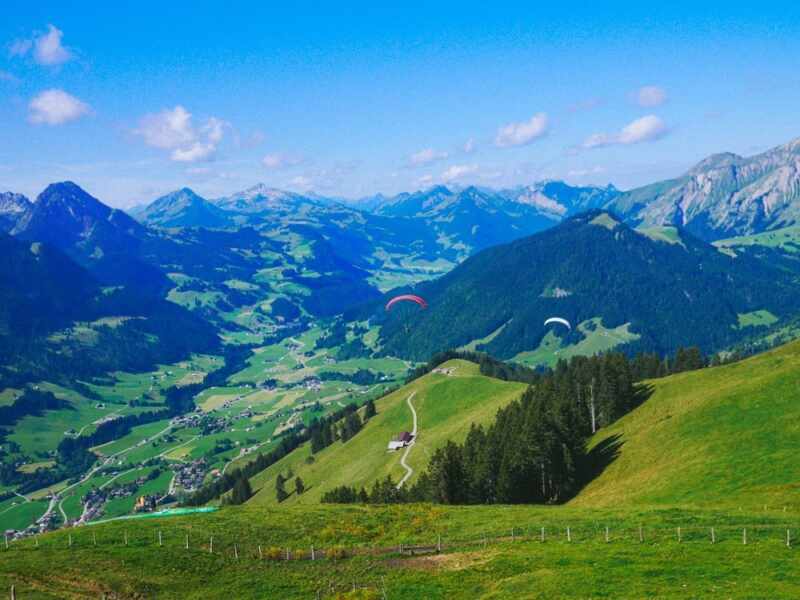 We flew down into the valley, whistling over tree tops, churches and tiny farm houses complete with waving, muddy children and barking dogs.
I didn't take my camera (which of course I instantly regretted), but Fabrizio was well prepared with his selfie stick!
It was the most incredible & beautiful experience.
Quite possibly one of my favourite adventures yet.
Floating through the clear blue sky, just taking in the view and listening to the cow bells tinkling below is something I wont soon forget.
After a few "roller coaster" moves (swishing from side to side as you hurtle towards the ground), we came to a smooth and elegant landing* next to a little church.
*Actually my legs collapsed under me and we ended up in a giggling heap, but let's just pretend otherwise.
Marvelling at the postcard like surroundings, we all caught our breath and lay out in the meadow.
With hearts still in the sky and stomachs still swimming, we gazed at the periwinkle sky and couldn't keep the grins from our faces.
Eventually we packed up and headed back to the house for a quick glass of bubbly, before lunch.
We drove to Lake Arnen for a bite to eat in the little restaurant on its shores.
[iframe frameborder="0″ height="120px" scrolling="no" src="http://currentlyobsessed.me/api/v1/get_widget?wid=29&blog=The%2BLondoner&product_ids=n_13716030,n_13716246,n_13716162,81b6746ea93044770722cf0da19e1a05,e53212d667785659727ad0dbaca55459,4f4f0bfe5fa93588de8c0c419613e1d1,n_13716446&rows=1&cols=5&brand=0&price=0&hover=0″ width="600px"]
Huus am Arnensee is a deliciously quaint, family run restaurant where you'll find tastebud meltingly epic fondue.
They come and re-fill your pot as often as you like, so we took real advantage!
Between four of us I think we managed 6 pots… before conceding defeat and begging them not to bring anymore!
After lunch we went for a much needed stomp around the lake.
At the other end we stripped off and full of Swiss cheese, wallowed like happy hippos in the shallow waters. Watching the sunlight dance across the ripples, I never wanted to leave.
But more on all of that tomorrow!