It was my turn to organise a date.
Now, don't get me wrong I enjoy a fancy pants meal as much as the next girl. White linen table cloths, rows of silverware, and pretty, teeny-tiny morsels of food being served by uppity waiters. It's a very special experience and the food is always lovely.
But… it's not really conducive to a relaxed evening where you can just enjoy each other's company and be yourself, is it?
If I'm on a date I don't want to talk in hushed tones because Lord 'n' Lady whoever are glaring at us over their amuse bouche on the next table.
So, when it was my choice… I booked Bonnie Gull. I'll show you why in just a second, but let's whizz through the fashion stuff first shall we?!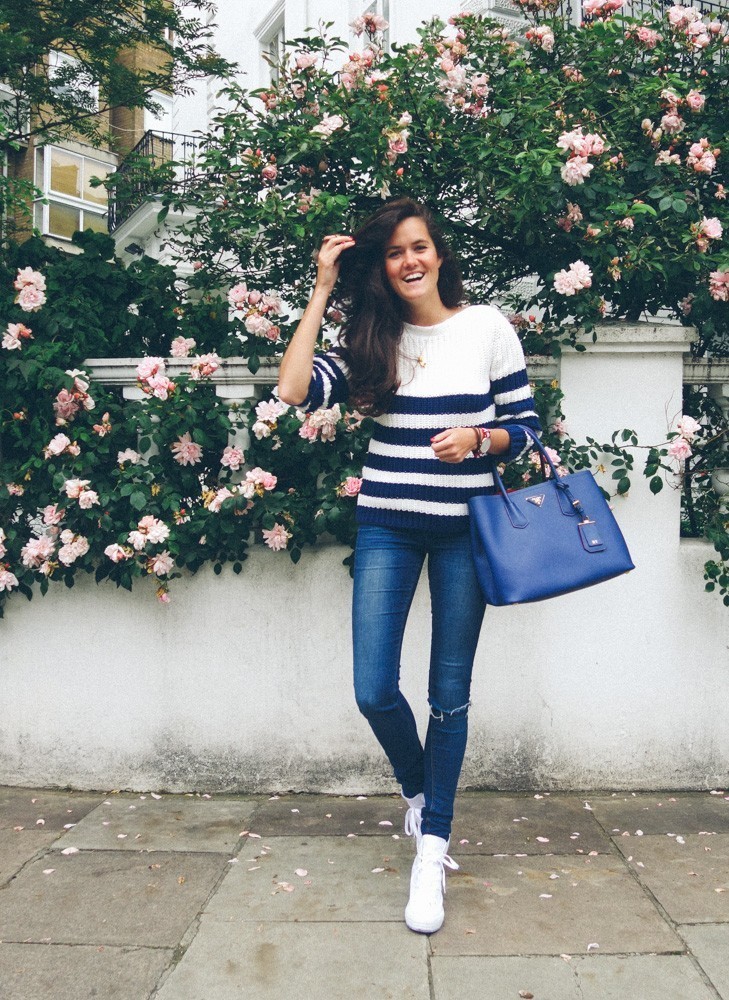 Fisherman knit jumper had to be done, I'm afraid!
Paired with the worlds' comfiest, leg lengthening kicks (this is a date after all, you still gotta impress!)
New blue sac, with it's rich red lining that just makes my heart sing! And a DW watch.
Cosy, casual and full of beans!
Not forgetting my lucky fish necklace, handmade by my sister; Aunt Sponge (I'm Aunt Spiker, she's Aunt Sponge).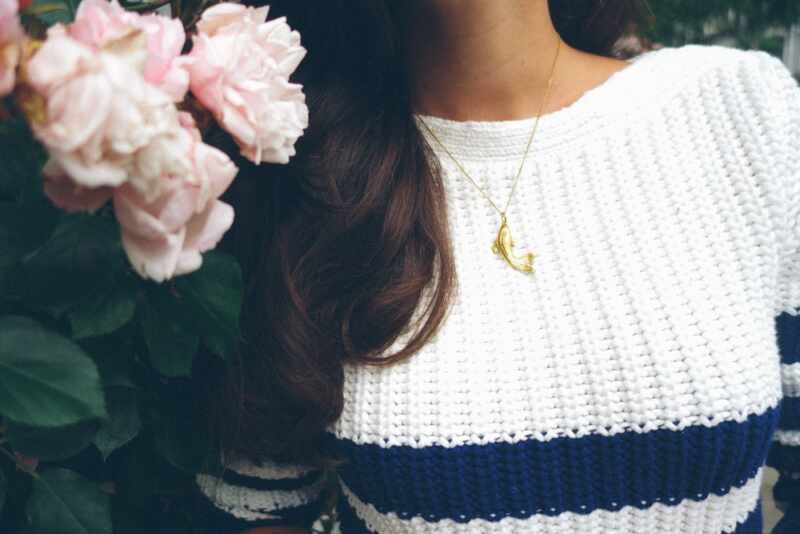 Ok, I think that's enough fashion…
When you get hungry enough to eat the roses, you know it's time for supper!
Let's head to Exmouth Market.
The sun was setting, the lights were twinkling, it was all very romantic!
I've always loved this street.
I used to work at a startup just around the corner and would come to the market every day to pick up lunch.
In the evenings it buzzes with people grabbing a drink after work. Music pours out from the bars and restaurants, giving it a Mediterranean kiss of life.
We sat under Bonnie's striped awnings and got down to our date.
Be sure to pick a postcard from the wall inside for that real sea-side feeling!
We started with a dozen British oysters.
All delicious and delicately different to one & other.
Fun to share on a date because you can try all the different types and say "ohh, try this one!" and of course they say that oysters are an aphrodisiac.
Although I do remember reading a quote in Debrett's Etiquette for Girls (a gift from my mother a very long time ago) that said something along the lines of;
"Oysters are only an aphrodisiac because if you can find a girl who'll eat a raw oyster, she'll do anything!"
Still sure it was good gift, mum?
Not wanting to be shellfish, we shared a pot of Dorset clams 'Bulhão Pato' too.
Named after a famously hungry 19th Century Portuguese poet, the name corresponds to the sauce and cooking method (which I promise to blog a recipe for soon, it's delightfully simple).
These were plump, perfectly cooked clams in a deliciously zingy sauce.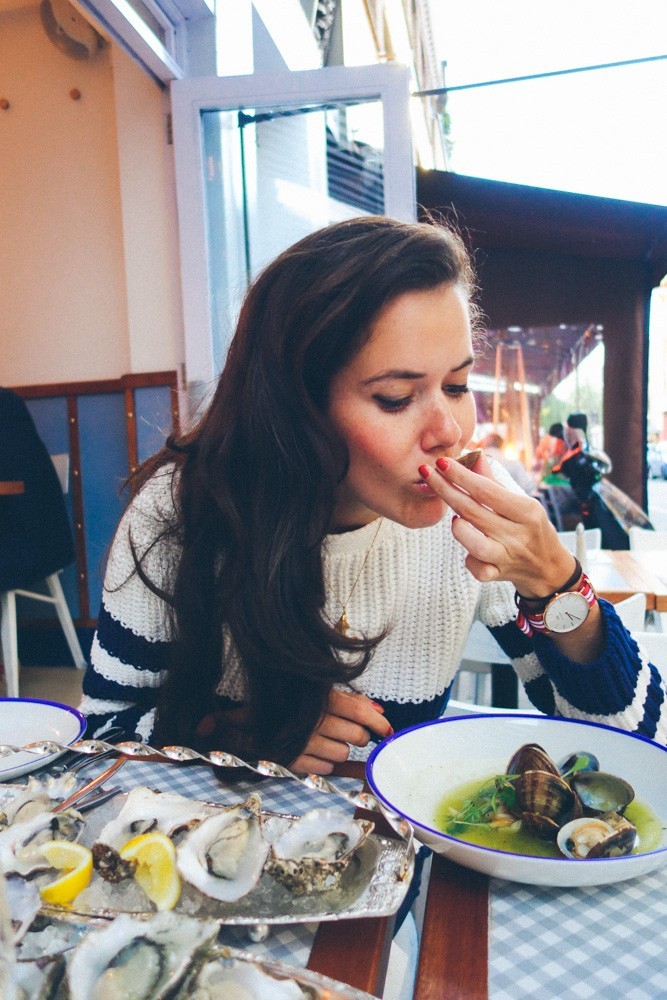 I know it's rude to ignore your date for a call… but when your shellphone rings, you just gotta answer!
That whole "casual over fancy restaurant" thing is becoming clearer now, isn't it?
Just wait for the main! It's the best bit.
I had Smash Your Own Crab with flame grilled brown meat and sourdough toast.
He had Meantime Beer Battered, Cornish cod tails, beef dripping chips, scraps and mushy peas.
With a side of rosemary chips and salad to share.
Now the fun really begins!
Maybe you shouldn't order this on a first date… no-one needs to see this face:
Hidden within the armour lies one hell of a feast.
Generously massive claws hold a real treasure trove of crab meat. You have to nibble, suck and poke most of it from crevices but it's well worth the effort.
I love an interactive supper, you can laugh over it, share, and it gives you more to talk about (not that I need much encouragement in that department!)
But the real star of the show is pudding.
A 99 flake.
Complete with freeze dried raspberries and popping candy, for real nostalgia!
He had Bakewell tart.
Which was good… but NOTHING on my 99!
It's not the air-filled thing you remember buying on the beach.
It's thick and rich, like a frozen custard, or some of my friend's boyfriends.
I would happily go back again and again for that ice-cream.
Bonnie Gull was one of the first pop-ups I ever blogged about. They've changed a lot since then… they're better than ever.
It was one of the best, most fun meals I've had in London and I will absolutely be back.
If you're looking for somewhere to while away a summer evening, you wont do much better than here.
Just look at it!
Find them online and book ahead.
Sorry for all the fishy jokes. I should dolphinatly scale back on the puns.
* This restaurant has now moved from Exmouth Market to Foley Street!