Now, I know you've heard me say "I know a great little taco joint…" a million times.
BUT! Usually it's from the other side of the world.
I am very excited to inform you that I do indeed know of a great new taco place, right here in London town.
Hidden in a tomb under the railway tracks, you'll find Breddos Tacos @ Trip Kitchen.
I blogged about breddos a while ago, back when they were doing sliders in Soho.
Back then the tacos weren't much to shout about, but holy guacamole… all that's changed now!
There's a small but perfectly formed menu.
And new special cocktails every night.
We sipped on a few and nibbled on homemade spicy chorizo.
And a few tubs of holy guacamole, naturally.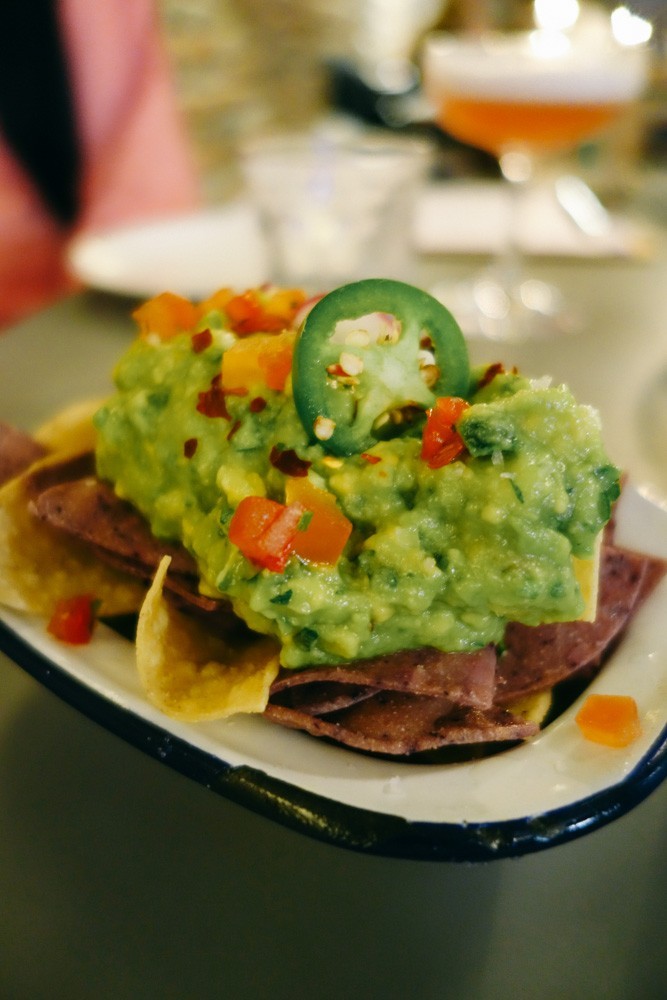 Then all that was left was for Alex & I to discuss the menu and plan our attack with military precision.
B-e-a-uuutiful menu faces!
Watched, hungrily by the boys.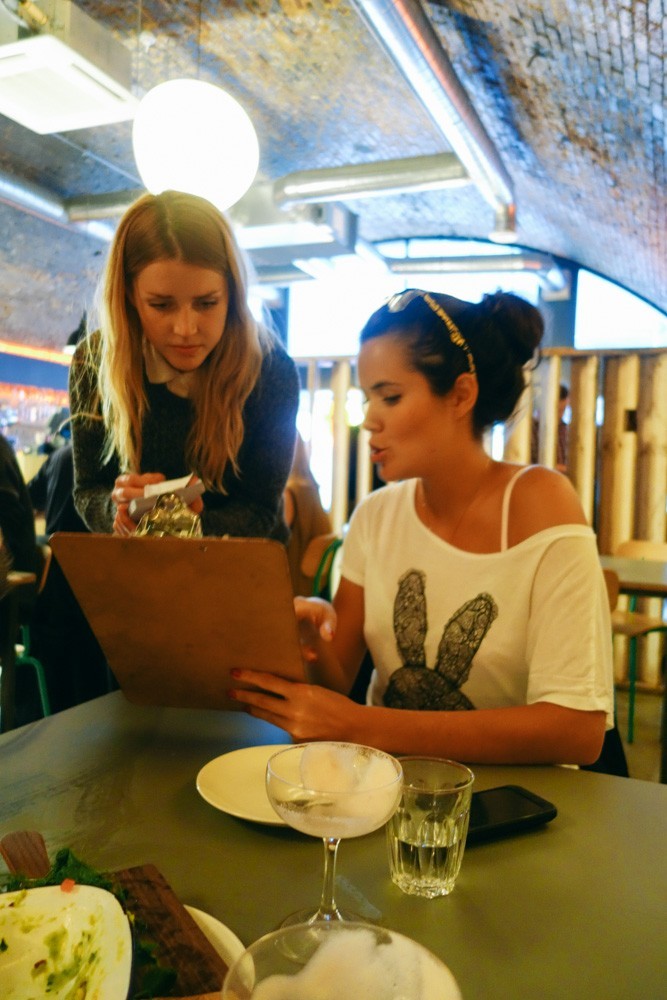 Having ordered a fair selection (pretty much everything on the menu), we got stuck into civilised, grown up dinner conversation.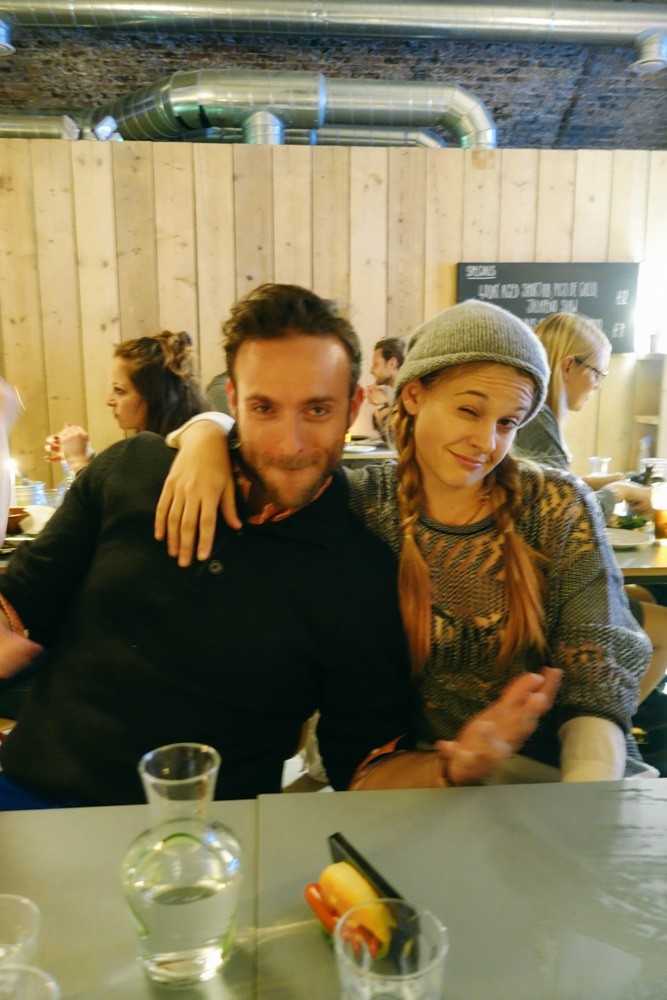 Fuelled by a few of these…
Soon the food started to arrive.
Wave after wave of heavenly plates.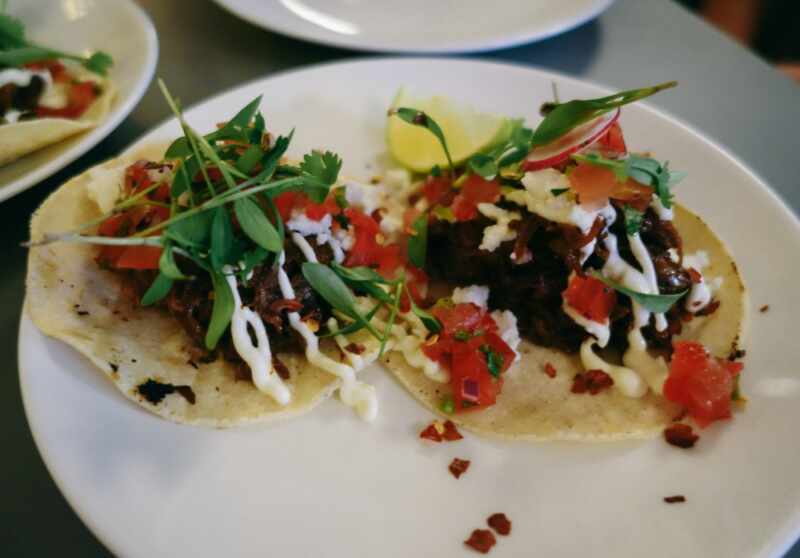 Slow roast chipotle beef rib tacos.
Pickled beetroot & goats cheese tostadas (Alex is vegetarian, but we don't hold that against her… much).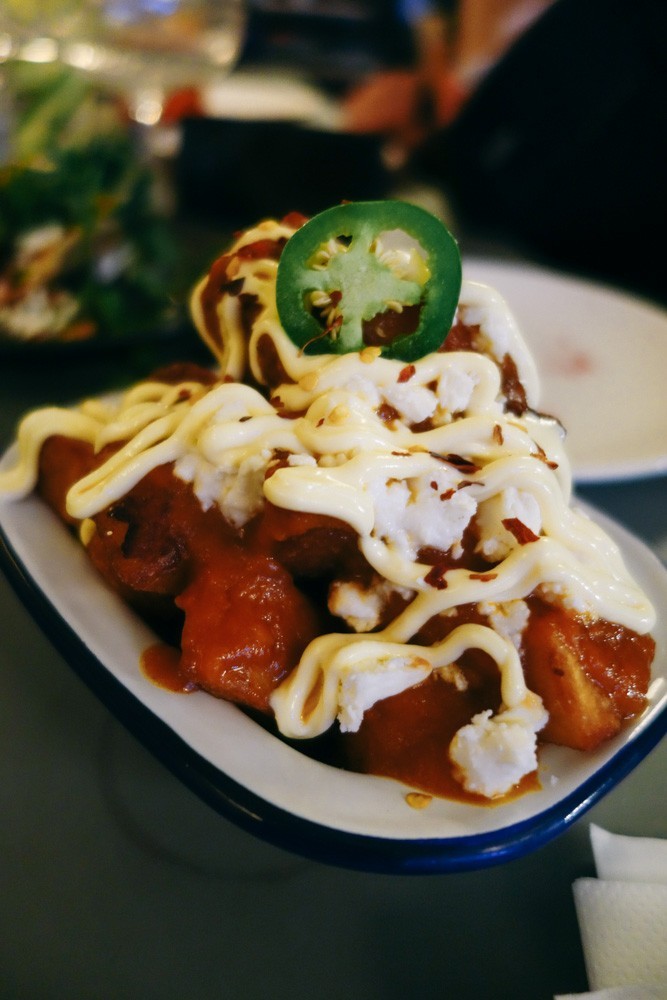 Patatas bravas. Chunks of potato smothered in sauce & queso fresco.
Frighteningly moreish!
Slow roast pork belly with banana ketchup.
Andrew comment: "How far away can you get from ketchup and still call it ketchup?"
Which is a fair point!
The pork belly was delicious, but I could have skipped the banana mush.
Jalapeño & oregano glazed chicken wings were pretty banging, so they more than made up for the banana incident.
While we all dug in, PJ delighted in snooping on everyone's eating faces.
Such a kind fellow!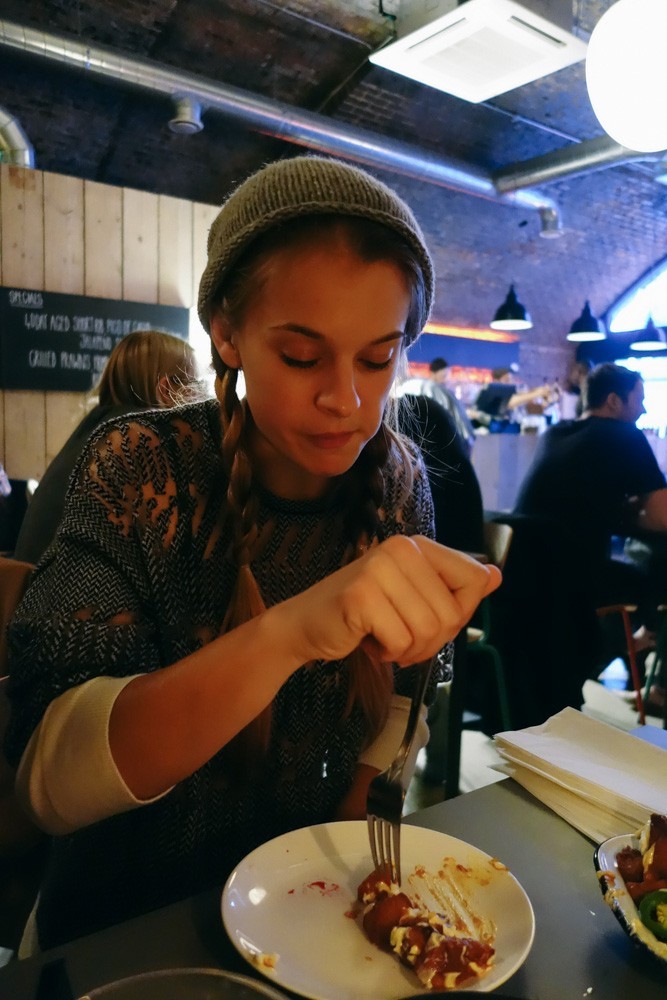 Andrew was more than ready for his close up.
As far as I'm concerned, fish tacos are the best thing to happen to food in… forever.
I've posted not one but TWO fish taco recipes (one, two) and I'm sure I'll have more to come.
Andrew & Alex are Californians, so there were some very high hopes around the table when these little suckers arrived:
We drizzled them in lime.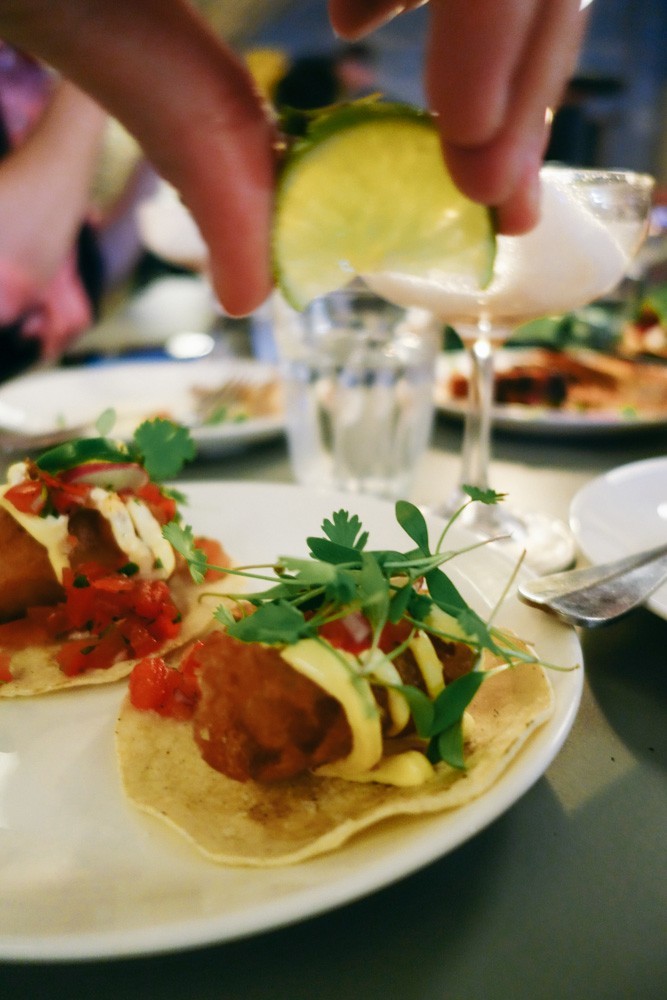 And demolished them.
Delightfully crisp, light, fragrant and rich.
We quickly ordered another round.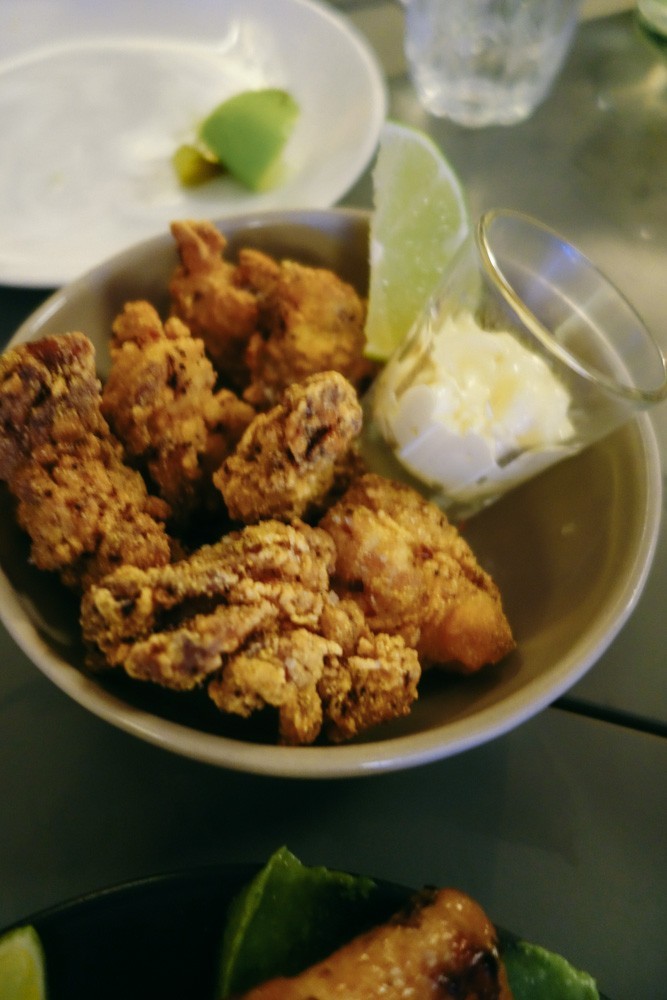 The crispy chicken wings were good 'n' crispy.
We had prawns & chorizo from the specials board.
Plump prawns in a tomatoey, sausagey, spicy sauce with a nice little kiss of coriander.
But the real star of the specials board?
The slow cooked beef rib.
Rich & juicy meat that just falls of the bone & melts in your mouth.
A truly excellent meal.
The atmosphere is loud, buzzy, fun; the place was packed.
Old school jams dominate the sound system making everyone burst into song now and then, you just can't help it!
We skipped pudding and slurped on a few more cocktails.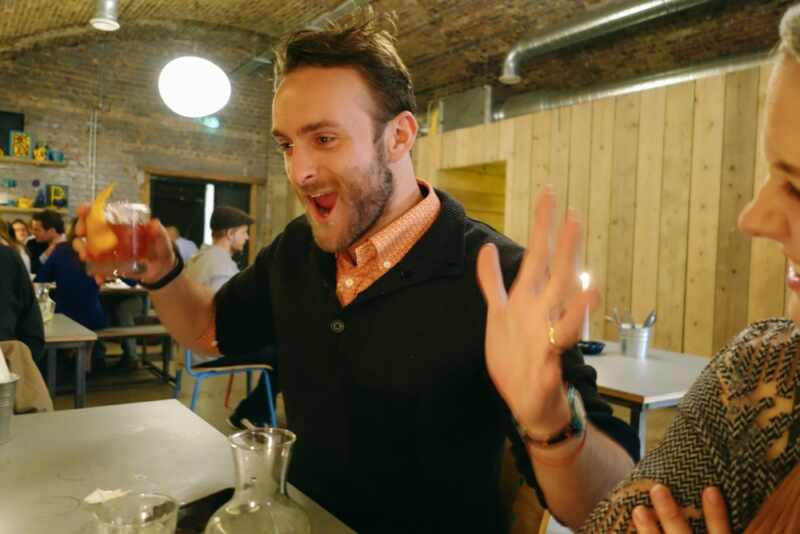 Including a round of chilli backs; a shot of tequila chased with a shot of jalapeño pickle juice.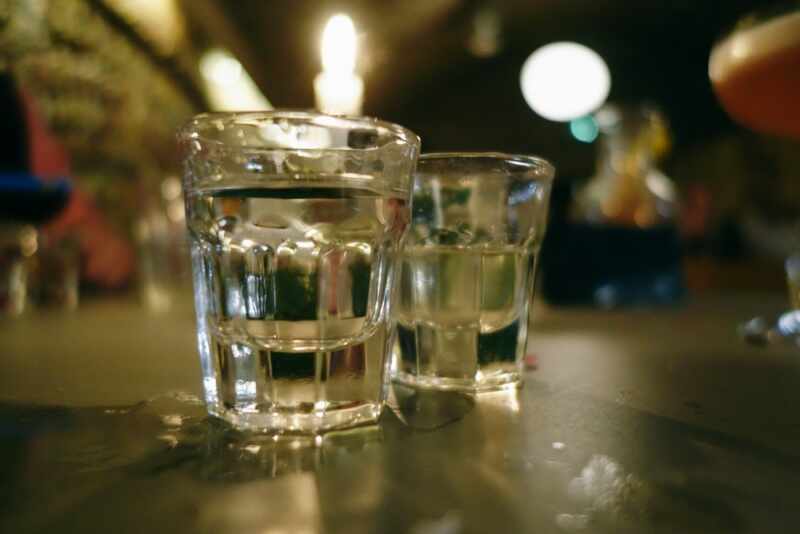 Deliciously sweet, sour & spicy all at once… with a fair bit of OOOMPH thrown in too!
But I think it's fair to say the gents enjoyed the raspberry cocktails best.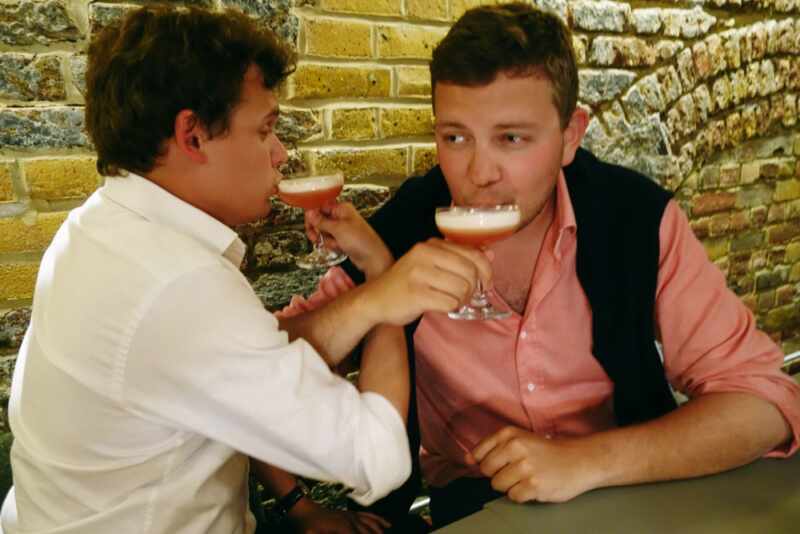 Breddos is well worth a visit if you're a Mexican aficionado.
Find them here & book a table.
Of course you could always just go and prop up the bar. Ask for one of those raspberry jobbies, they're very pleasant .