Last week I got to tick one of the proverbial boxes that five year old Rosie had on her bucket list.
I got to visit a chocolate factory.
The Prestat chocolate (possibly my all time favourite chocolatiers) factory to be precise.
I mentioned my upcoming visit to two of my favourite ladies, mum & Bella who both got wildly excited and asked if they could come too.
We were led around like wide eyed kids in… well, a candy factory. And eventually left full with heads full of facts, bellies full of chocolate & bags full of goodies.
[iframe frameborder="0″ height="120px" scrolling="no" src="http://currentlyobsessed.me/api/v1/get_widget?wid=29&blog=The%2BLondoner&product_ids=n_7869930,n_7869770,n_7869774,n_7870186,587c5ea6388a724d51fcbb459d88d2fc,n_7398274,n_6656802&rows=1&cols=5&brand=1&price=0&hover=1″ width="600px"]
But before that came the hairnets & lab coats!
We signed top secret contracts, scrubbed up and set off into the factory.
In the first room we found florentines waiting to be baked.
We quickly learned that although most of the chocolates are for Prestat, they also concoct all of Fortnum & Mason and Harrods' choccies too, as well as looking after a few smaller brands.
The best thing about the factory is that everywhere you turn, there seem to bowls, rivers & miniature whirlpools of molten chocolate.
It gives off the most wicked of aromas.
I have no idea how the girls rolling truffles stop themselves from just rolling around in it all.
These white truffles were just too much to resist and we snuck one each, delighting in the soft milk chocolate ganache in the centre.
No Rose in that fridge.
I bet it was a really good one, too.
Thankfully there was a heavily inked up chocolate wizard around to distract from my disappointment.
He started by spreading out lines of cooled, white chocolate.
Then poured over milk chocolate & smoothed it over the top.
He used a medieval torture instrument to cut the sheets into buttons.
Which eventually cooled to leave perfect little disks.
That decorate perfect little chocolates.
The whole place seems to be a wonderful playground where chocolate, design & whimsy come together.
Nowhere is this more true than in the room of chocolate cement mixers and chickens.
There's an entire chamber just filled with salted caramel chocolate balls.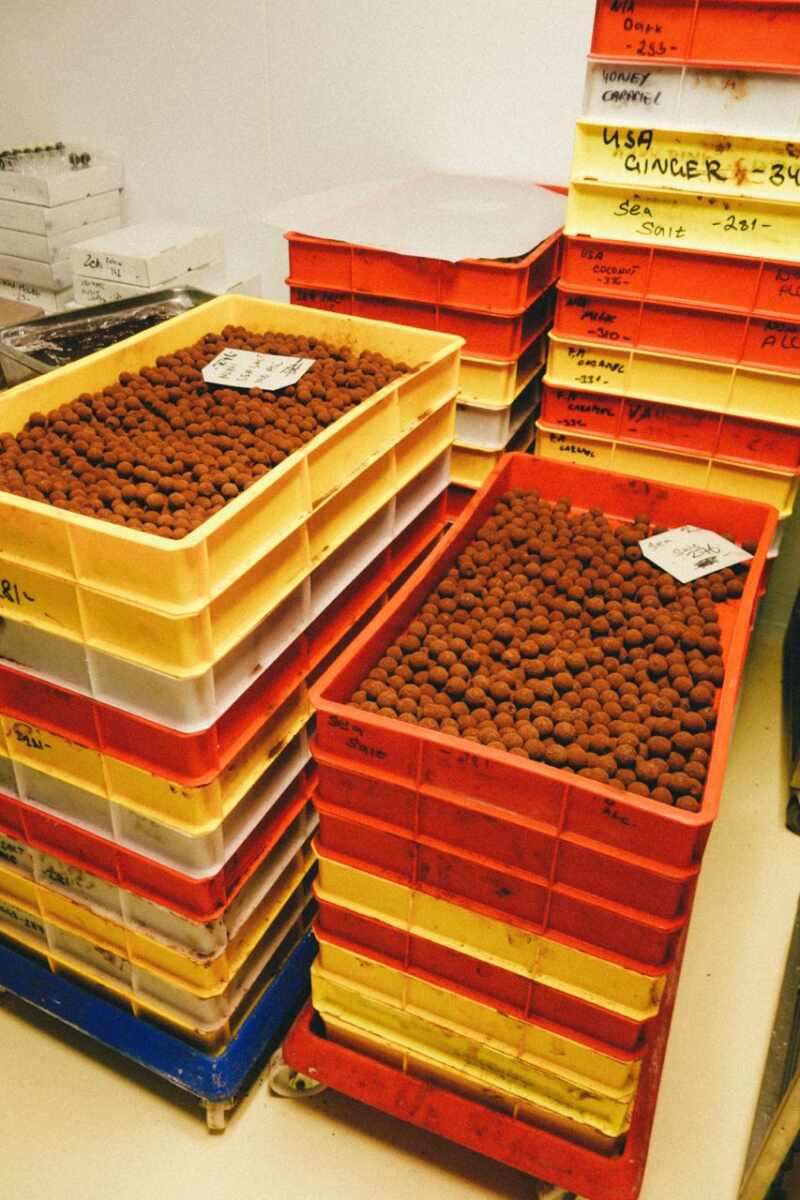 They're dusted with bitter cocoa powder, but when you bite into one the sweet caramel rushes out and coats your tongue as the chocolate melts around it.
In the next room we found tray upon tray of fudge and hazelnut bites waiting to be dressed in more chocolate.
A couple may have gone missing.
There are all sorts of flavour combinations dotted around.
I was a particular fan of the rose & lychee soft chocolates.
But the hot room was pretty brilliant too.
Like a huge, gentle oven, you walk in and there are just puddles of molten chocolate everywhere.
All different flavours & types.
I picked up a few tips for my own truffle rolling skills (something I plan on putting to good use with my Chocolate Salty Balls next time).
Some things are too delicate to be made by hand and they need a beast of machine, with a very gentle touch.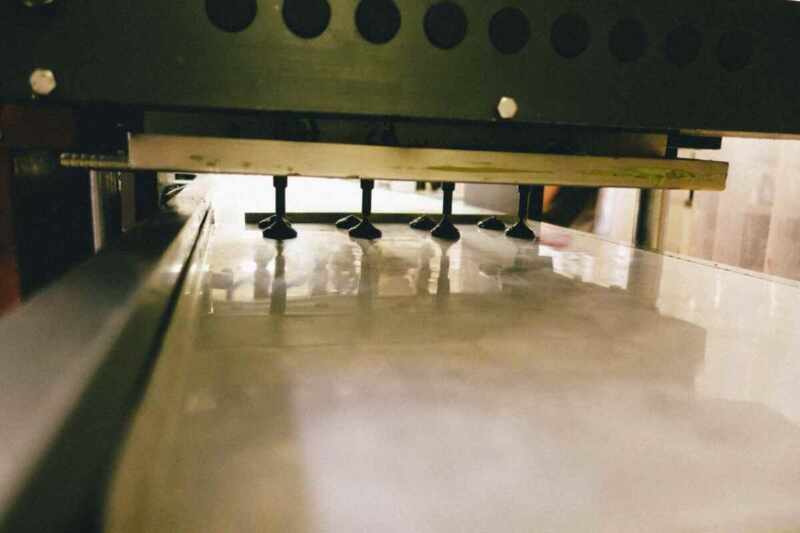 This particular monster makes "Wafer Thins", which are like chocolate buttons for grown ups who go to dinner parties.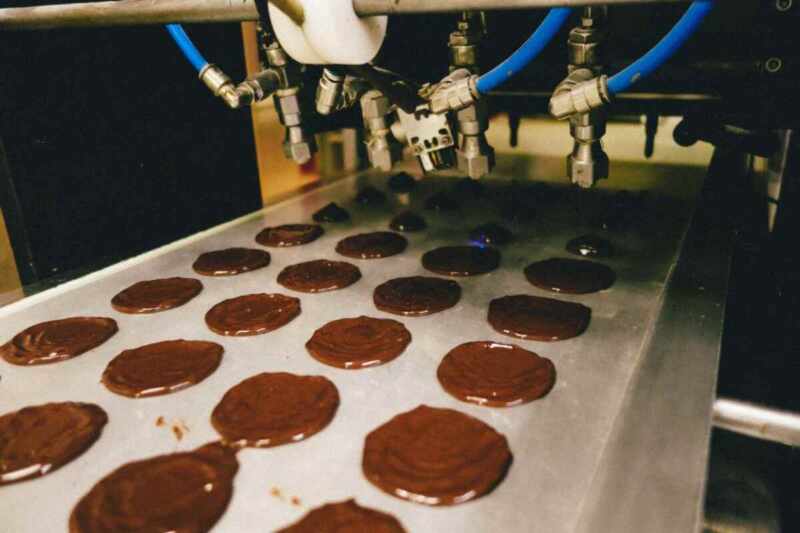 There's another machine that's more of a team player. A girl smashes slabs of honey comb by hand and then passes them onto the machine to be choco-dipped and cooled.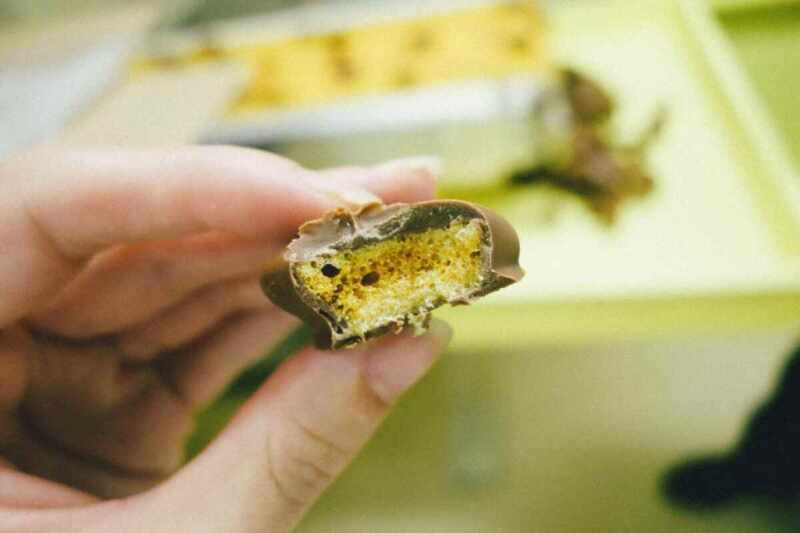 We are big fans of team work.
Of course there are the classics too.
Table after table of bars, waiting to be wrapped.
And a little cluster of women hand foiling and polishing easter eggs.
Of course if you're more of a fruit lover, there's something for you too.
Sort of.
One of my favourites was the raspberry cream they make for Harrods.
A dark chocolate cup encasing a pool of zingy raspberry goo.
Sweet, sharp & rich all at once… now if only I could find the same in a man.
No?
Ok, maybe a chocolate coq is close enough.
Now I've got a real treat for you.
A secret, preview of The Queen's Easter egg, before she even sees it!
Prestat always supply HRH's egg and this year they think they've outdone themselves.
A Russian doll of chocolate eggs, all ready to fit inside each other.
With the smallest one to be stuffed with truffles.
I hear this little chap is making his way to the Royal breakfast table, too.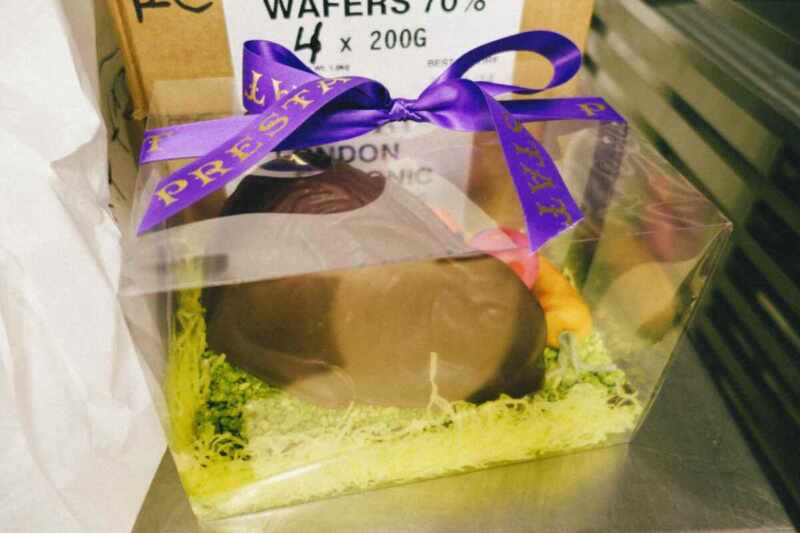 For our very last bit of the tour we were allowed to choose a few edible mementos to "share with our families" (or keep all to ourselves and not tell anyone about).
We took this part very seriously indeed.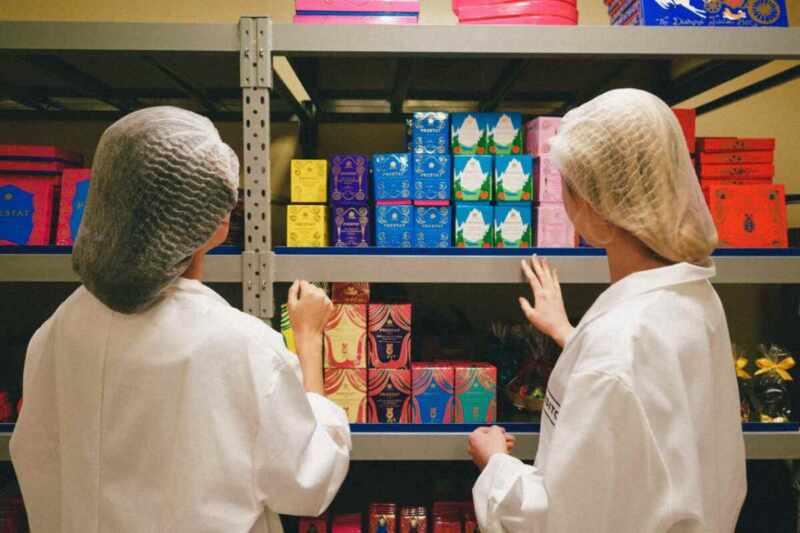 But honestly, I could give up all other chocolate in the world for the new Red Velvet Truffles.
I think they're launching in New York next week, so if you see some, grab 'em!
They're milk chocolate truffles, rolled in sharp raspberry power and stuffed with what tastes like cupcake icing or cake batter.
There's even an Easter Egg version.
Thrilled with our grand day out & our chocolate choices we said our thank yous, goodbyes, and tried to remain terribly nonchalant and cool until we left the office.
Which was never going to happen.
Sadly the factory isn't open to the public but happily you can find all of Prestat's genius online, and in a few of the fancier department stores.
[iframe frameborder="0″ height="120px" scrolling="no" src="http://currentlyobsessed.me/api/v1/get_widget?wid=29&blog=The%2BLondoner&product_ids=1cb8d9119f50bfbe97ff9847c4e2e1f9,0e09e820b921faff029e3d6c86de6528,3e41487f76932d3fd338ecd6067b1ec5,76483fa4ea2e52cbc22767cd5e27b95b,a3349b9e528bd70c6eeb138bf72a74a4,40bdb933b12849713820257b24a2bc12,9cd1d1b37533b7ad18c7b5a93ae7a1a2&rows=1&cols=5&brand=1&price=0&hover=1″ width="600px"]
I'd very much like to tell you that I'm saving my goodies until Easter, but it would be a slight porky, as I've eaten all of them already.
I had a little help because I just couldn't keep my mouth shut about those bloody Red Velvet truffles, and now they're all gone.
I suppose all that's left is to sob into my pillow and sing "Noooobody knows the truffles I've seen…"