So, I went on a date and may possibly have friendzoned myself by doing this…
But I'm getting ahead of myself.
I had promised to let City Boy take me out for lunch. I had also promised to choose a restaurant he would love.
He's American & works in St Pauls, so I was almost jumping up and down with excitement because I knew I had a winner up my sleeve.
I have never met a yank who doesn't love a good lobster roll & there are very few of those in London (rolls, not Americans). One of the few vendors who actually manages to pull them off is Bob's Lobster Truck.
Luckily for us, Bob's hosting a pop-up at The Rising Sun. So we wouldn't even have to freeze our tails off on the pavement.
Am I the best date ever?
Probably.
(Minus the lobster hands and shellfish related dad jokes. But hey, you can't have it all!)
To get to Bob's, you need to sneak into the back door of the Rising Sun & head upstairs.
He beat me to the restaurant & grinned when I walked in. We greeted each other with "you look beautiful" "no yooooou look beautiful!" (second one was me) and cheek kisses.
Chattering away we placed our order with a charming waitress in a button up shirt & black bow-tie.
Starting with Ahi-tuna tacos:
Really delicious, fresh, bold tuna with creamy avocado & shredded cabbage.
Followed by pig cheek tacos:
I liked these, he didn't. We both agreed they could use a little more oomph.
The real winners though were the lobster rolls.
Seriously buttery & rich with a generous amount of mustardy home-made mayo.
Even City Boy couldn't resist a cheeky Instagram.
Now, in my defence… I did spot the foam claws next to our table as soon as I walked in.
I had waited a shell of a long time before clawing them out!
After much discussion about how a lobster would pose… we came up with this: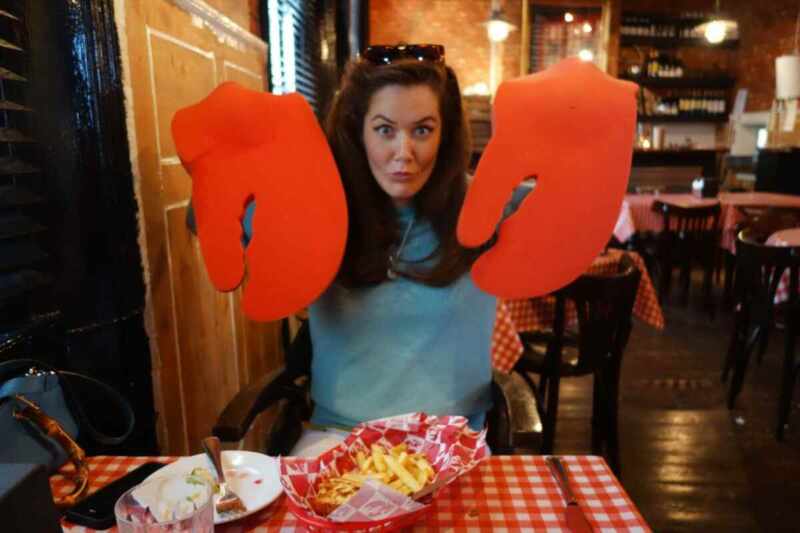 We cracked up and I eventually put them back in the clawset.
Having successfully buttered up my date, we said our thanks and rolled out for a stroll.
Ok no more lobster puns, I promise!
Bob's is well worth a trip. Opening hours here, location here. (They do take-out too.)
We grabbed a coffee and meandered around St Paul's.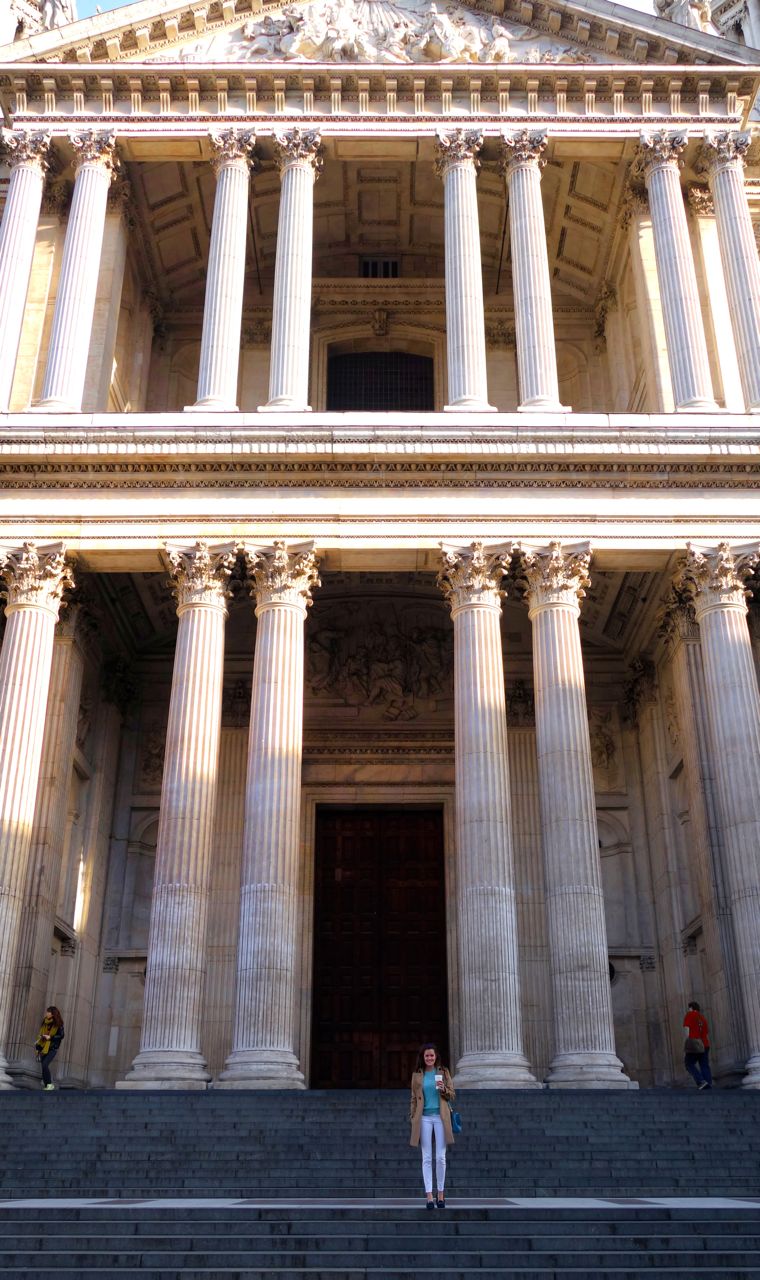 Burberry coat (steal version) // Cashmere jumper // Camisole // White jeans // Sunnies //
Gucci Bamboo bag // Cosy Ugg slip ons
[iframe frameborder="0″ height="120px" scrolling="no" src="http://currentlyobsessed.me/api/v1/get_widget?wid=29&blog=The%2BLondoner&product_ids=b8f07bc4422edb2b69cd63bd2b245931,7fcaf951094d589460d8683638f21f6a,f9068da0672c3458d26e08b6e32dc4fd,n_884970,1a89a47bbc51cd04f77b33493e9be721,n_4689297,n_2812095&rows=1&cols=5&brand=1&price=0&hover=1″ width="600px"]
We finished the dregs of our coffee & he begrudgingly went back to work.
Unable to resist, I went inside the cathedral for a little snoop.
I was so glad I did.
The sheer scale of the place is awe-inspiringly brilliant.
Every inch is beautifully decorated, gilded or carved.
I was feeling particularly spritely after a successful date so thought I'd trot up to the top.
"Trot" was optimistic to say the very least.
I arrived huffing and puffing and clinging to the wall.
The view was well worth it.
London in all her glory!
Not a good sign!
I finished my visit with a little meditation in the Whispering Gallery. High above the cathedral floor, it's the most amazing place to sit and think.
The view's not bad either…
I've decided I should spend more time playing tourist in my city.
I'll be sure to bring you along on my next adventure, so let me know if you have any requests!