The combination of Scandinavian design & hospitality with Japanese food is a beautiful thing.
Valentina introduced me to Sticks 'n' Sushi after a day of playing tourists in Copenhagen.
SnS have finally gotten around to setting up shop in Central London, so Harry & I went for lunch and a much needed catch up.
A *catch* up and the *catch* of the day! .
..because it's fish, geddit?!
The restaurant is just off the main Covent Garden square & is rather beautiful.
The ground floor is minimalistic & flooded with natural light.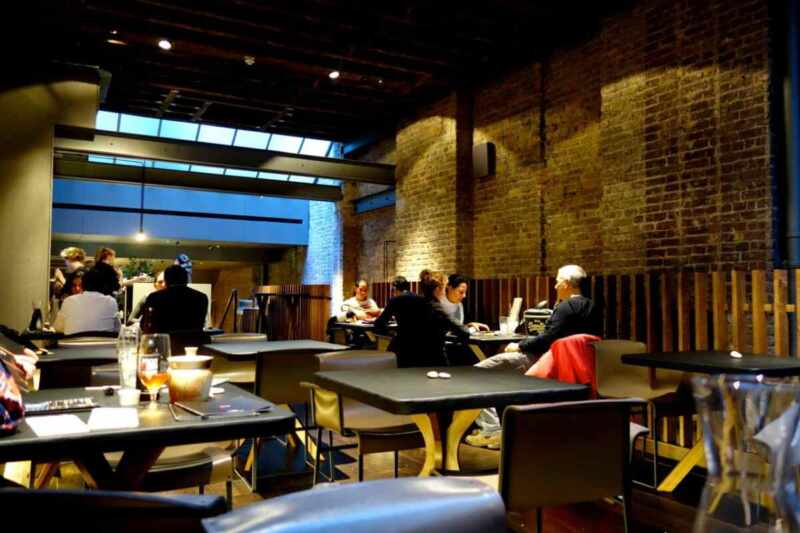 Downstairs there's a grown up sushi bar
and a yakitori bar.
Back upstairs we sat at our leather clad table & tucked into some cocktails.
A passion fruit Shoshito (a bit like a mojito) for him
& a Kamahi for me (soshu, mint, cucumber & elderflower).
Just the refresher I needed to get me back on the horse after a heavy Friday night with Selina!
I was pleased to see Harry still sporting his DW St Andrews birthday pressie!
We ordered & were quickly presented with our starters.
Kicking off with crispy chicken tossed in chilli sauce with spring onion & coriander.
Beautifully cooked chicken in a sticky, sweet & spicy sauce. The greenery keeps it from being too sickly. I could eat a family bucket of this quite happily!
But… then I wouldn't have any room for the Ebi Bites, which would just be a travesty.
Tempura shrimp, chili, coriander, miso aioli & fresh lime.
Indescribably delicious.
We topped up the health factor with a bowl of spicy edemame.
For the main event we really went to town.
Ceviche with yellowtail, shrimp, tomato, red onion, cucumber, coriander, lime marinade & citrus pearls.
Maguro tataki. Seared tuna, dalkon, cress, chives, gimger, red onion, chilli & goma-ponzu dressing.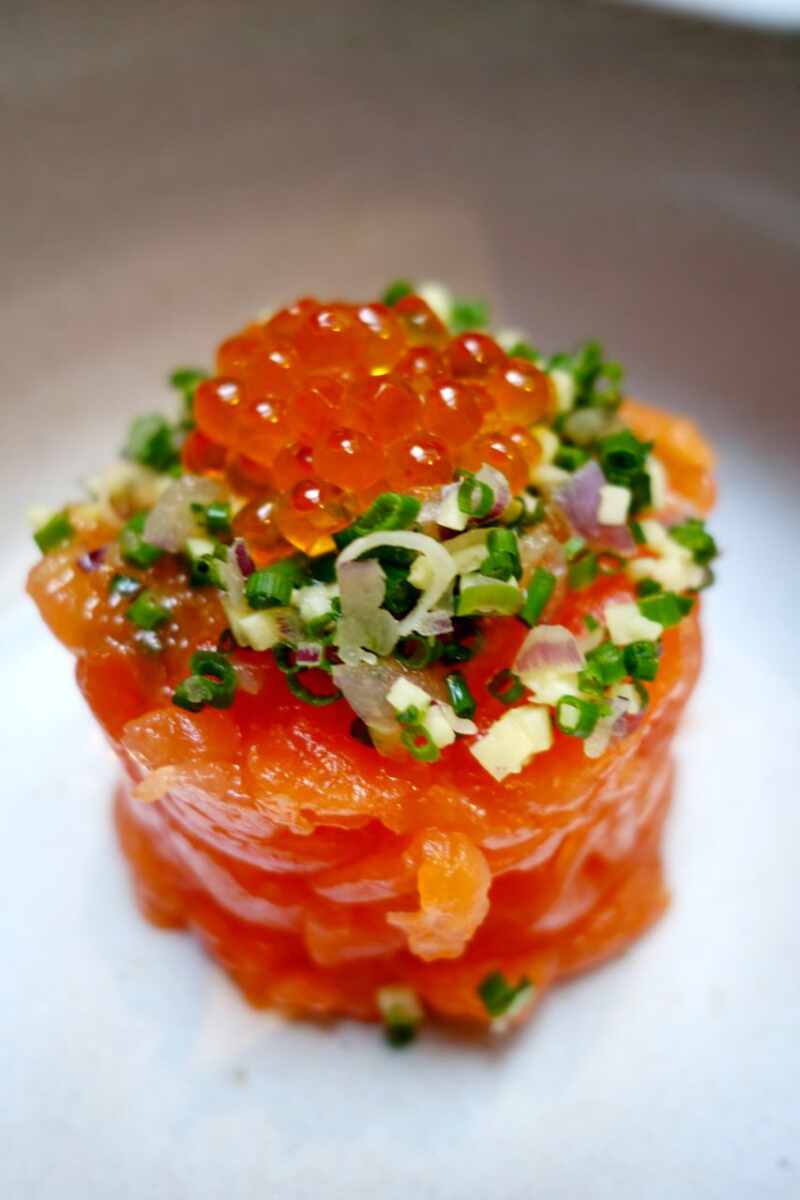 Salmon tartar. Salmon, miso, ginger, red onion, chives& trout roe.
And the rolls, oh the rolls!
Bling Bling roll: crayfish, scallop, avocado, cucumber, wasabi, tobiko, miso aioli, chives, trout roe, unagi sauce & lime. (My favourite.)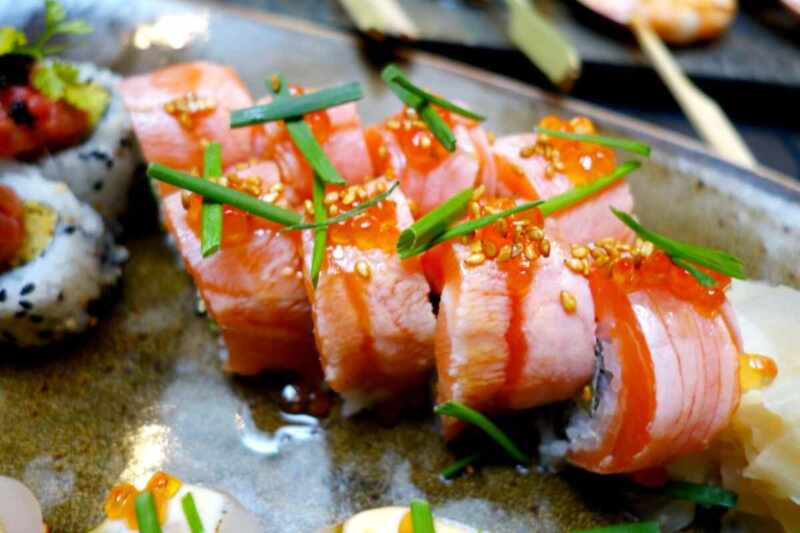 Tatami roll. Avocado, cucumber, salmon, dengaku miso, chives, red onion & fresh ginger.
Yummy roll. Tempura shrimp, avocado, spicy mayo, sesame, tuna, tobiko, leeks, chevril & black tobiko.
You can't forget about the sticks though!
We had teriyaki scallops…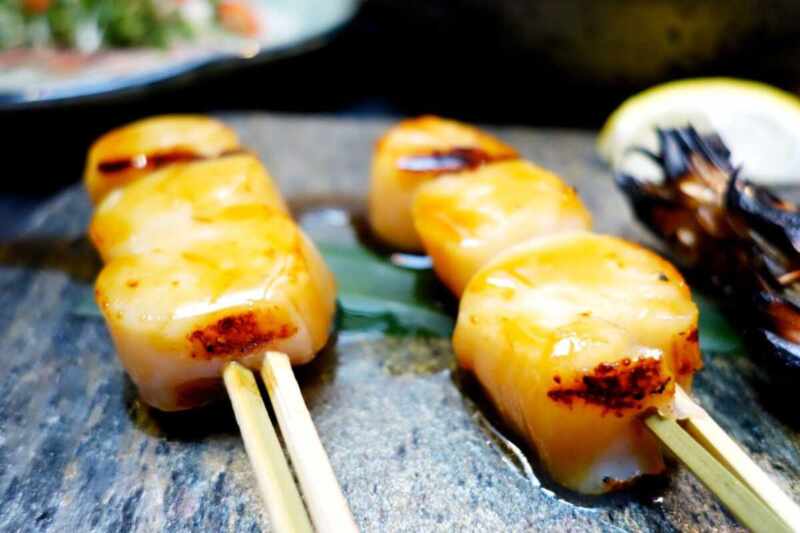 which were plump & delicious.
And jumbo shrimps with miso aioli…
We ate and chatted away for a good two hours before finally triumphing and polishing off the very last morsel.
Of course, there's always room for pudding.
It's a well known scientific fact that humans have two stomachs. One for savoury things that you can fill to the brim… before moving over to your pudding stomach. That one can always fit in a little extra sweetness.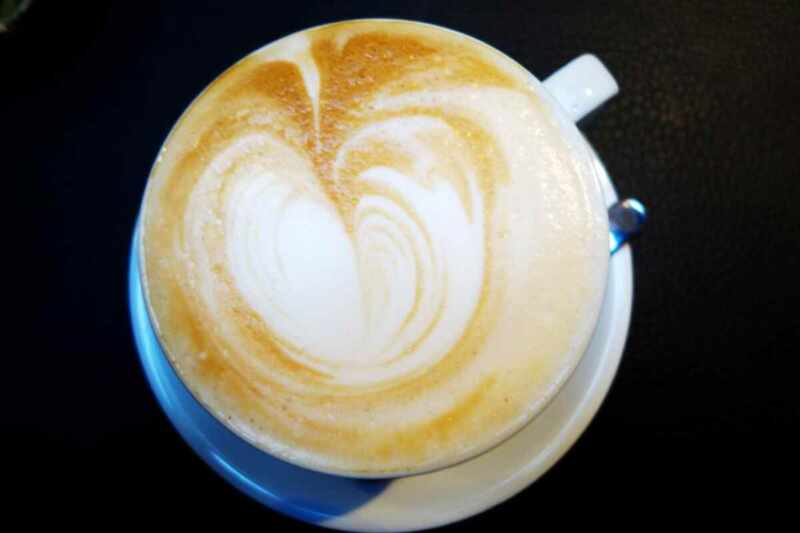 Our little bit of sweetness came in the form of yuzu sorbet, orange, lemon meringue, lemon curd, small lemon pearls & lime.
It's a real looker!
And the tasting pots.
White chocolate with sweet miso & popped rice. Crème brûlée. Chocolate fondant with caramel & hazelnut brittle. Matcha green tea ice cream with dark chocolate.
H took a particular shine to the creme brulee.
But for me the real winner was the fondant… just look at this!
Couldn't you just take a swim in that pool of molten caramel & chocolate?
The whole meal was one of the best I've had in a while, and not just because of the great company.
Sticks 'n' Sushi is fancy, without being snooty. The staff are utterly charming and I highly recommend a trip.
You can book online & check out the menus here.
After lunch we took a stroll through Covent Garden.
Joined an enthralled audience to watch the street performers.
And dipped in & out of the shops.
Burberry coat // ASOS jumper // Mother jeans // Velvet slippers (similar) // Mode Collective bag
[iframe frameborder="0″ height="120px" scrolling="no" src="http://currentlyobsessed.me/api/v1/get_widget?wid=29&blog=The%2BLondoner&product_ids=n_884970,n_4634586,n_4634496,n_4034700,n_1469412&rows=1&cols=5&brand=1&price=0&hover=1″ width="600px"]
That's just how we (maki) roll, yo.