You can be the healthiest, leanest kid in the playground (of life) but now and then you're still going to want to snuggle down with a big bowl of love.
That is exactly what this dish is.
It was -2°C yesterday. If you live almost anywhere other than England then this isn't that cold at all, but for us it's FREEZING! We're soft and not designed for extremes of any kind.
I had to feed four hungry, cold companions and rush outside again. I'd had lots of success with my One Pot Pasta and thought I'd make a wintery, ski-chalet style version of it.
And so, One Pan Fondu Mac n Cheese was born… with added bacon. Everything is better with added bacon, you know that.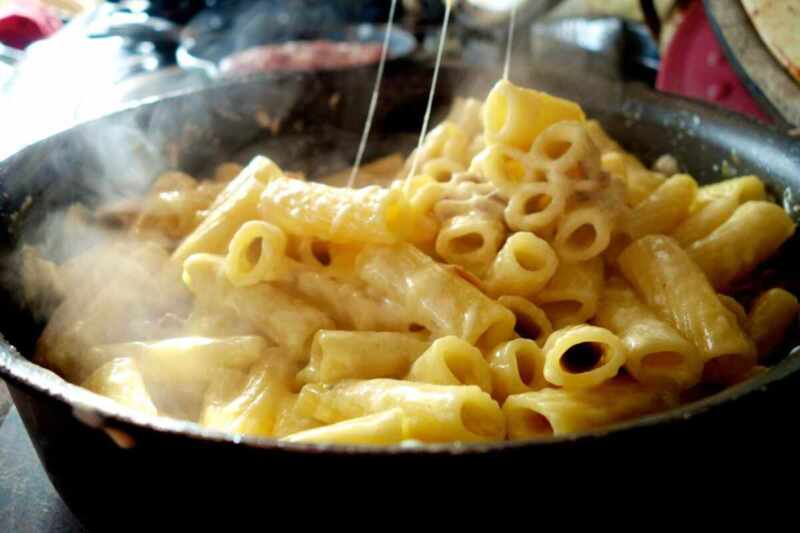 The point of one pan recipes is to minimise hassle and washing up, so I'm going to avoid measuring jugs and scales.
You can use any kind of dry pasta you fancy. I went for Tortiglioni. A 400g pack is perfect for 4.
You'll need cheddar and gruyere cheese, about a fist sized chunk of each. (Make a fist, look at the size of it and you want that much cheese.)
A chunk of parmesan about a 3rd of the size of the others.
A few strips of bacon.
Two big cloves of garlic, thinly sliced.
Two mugs of hot vegetable stock and a mug of milk.
Your pan has to have a lid. I used a deep frying pan, but you could use a large, heavy bottomed saucepan.
Heat it while you chop your bacon into chunks, and toss them into the pan. Add your finely sliced garlic and sizzle away until brown and delicious.
Pour these out into one of the bowls you're going to be serving in (save dirtying another dish).
Add your pasta to the pan with your stock and milk. Stir it around, cover and turn the hob down to a gentle medium heat.
Keep it covered as much as possible, only remove the lid to stir now and again.
Grate all of your cheese while you wait.
After about 10-12 mins fish out a piece of pasta and try it. When it's cooked to your liking, throw you cheese, bacon and garlic in.
Stir it all together lovingly.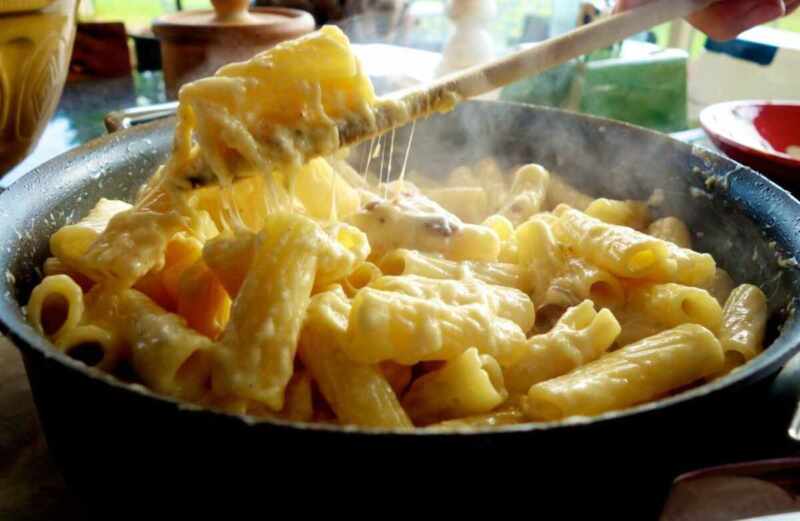 Serve somewhere warm and cosy, preferably with a glass of mulled wine.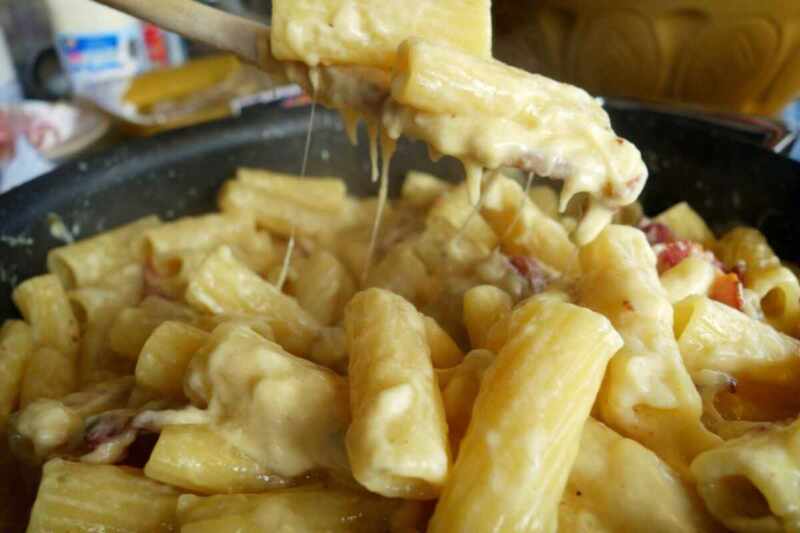 It's called fondu mac n cheese because of the Swiss gruyere. It has a beautifully creamy, earthy flavour that will completely envelope you in a sort of luxurious cocoon.
The Swiss Alps in your very own kitchen.
Serve with a side of crisp green salad if you're feeling virtuous and pop the pan straight into soapy water to avoid any scrubbing later… that wouldn'
Although, if you cooked then someone else should clean. T'is the law.