Last week I popped into Byron to meet up with my burger hero, Fred Smith. He's just joined the rapidly growing burger chain & has taken a no nonsense approach to his first "Special" as an official Byron team member. It's big. It's juicy. It's… blue, kinda.
Well, it's piled high with blue cheese. Roquefort to be specific. Gently nestled between the golden, char grilled patty & a blanket of crunchy red onions. Shredded lettuce stops the bottom going soggy & adds a good, crisp lightness to the rich beast of a burger.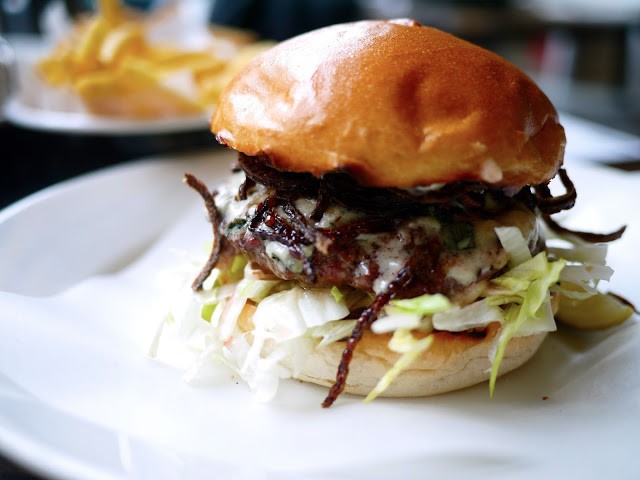 Byron cook their burgers "medium" unless asked otherwise. This is perfect for me because (Vegetarians, put your fingers in your ears & look away now) I invariably like my beef still mooing. Steak – blue, burgers – medium rare, even fish I'd rather have raw. I think overcooking can spoil a great burger, but this is thankfully never a problem here.
We stocked up on sides & sauces.
Skinny fries for me, courgette fries for PW.
We have a trio of dips we always plump for at Byron. Blue cheese (you can never have too much blue cheese, even on a blue cheese burger), BBQ sauce & guacamole.
All washed down with tall, frosty elderflower cordials.
Fred's Roquefort special runs for one month, starting today! Get down to a Byron near you if you fancy getting your chops around one. If you're international, try one of these instead . That should keep you going.