This recipe was passed onto me by my good friend M. Remember him ? He's the devilishly handsome tennis player I dated for a little while. While our love affair may not have lasted, our friendship thankfully has, which is great news for me but even better news for you because you get to be let in on the skinny brownie recipe!
When he first told me about 100 cal brownies I was sceptical to say the least. They were going to be flavourless, dull and dry, right?
Oh I was so wrong.
You know I love a good brownie, but these are good . I mean really, really good. Like sit down & accidentally eat the entire pan good. Their texture is a bit like eating slightly melted fudge & they pack a seriously chocolatey punch in the flavour department.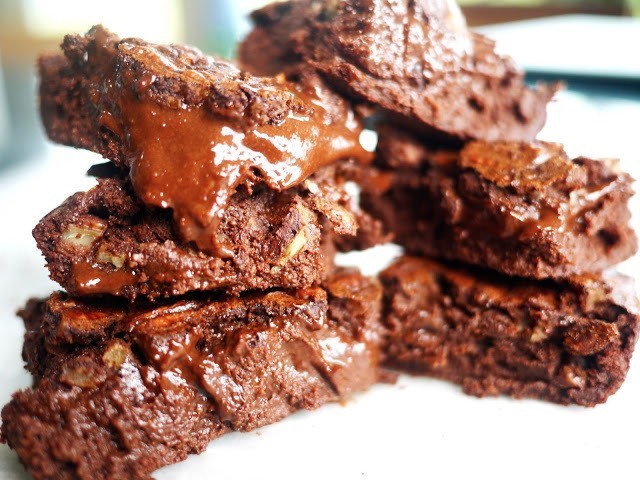 M's recipe comes out at exactly 100 calories per brownie, but I added chopped pecans to mine which raises them to 170… still ridiculously low for a brownie. Nuts are full of good fats that help your skin look fresh & your hair shiny. It's totally up to you if you include them, I like the texture & flavour but if you're a big calorie counter, leave 'em out.
Ok you'll need:
180g (3/4 cup) Low fat yogurt
60ml (1/4 cup) Skimmed milk (or almond/soy)
64g (1/2 cup) Cocoa powder
43g (1/2 cup) Wholegrain rolled oats
64g (1/2 cup) Truvia (or any natural/stevia based sweetener that pours like sugar)
1 free range egg
1 tsp Baking powder Pinch of salt
150g Roughly chopped pecans (or nuts of your choice)
This recipe is even easier than a Betty Crocker box! Pre-heat your oven to 200°C/400°F & grease a small baking tray (about 8in x 8in) Throw everything except the nuts into a blender. Blend until smooth. Pour into tray, scatter with nuts & bung it all into the oven for 20mins. When they're totally cool, slice them up.
The calorie count is based on cutting them into 9 chunky badboys.
I like my brownies ever so slightly undercooked & gooey in the middle, so took mine out a little early. If you wanted nice firm, uniform looking ones then leave them in for the full time. It'll make them much easier to pop in packed lunches too.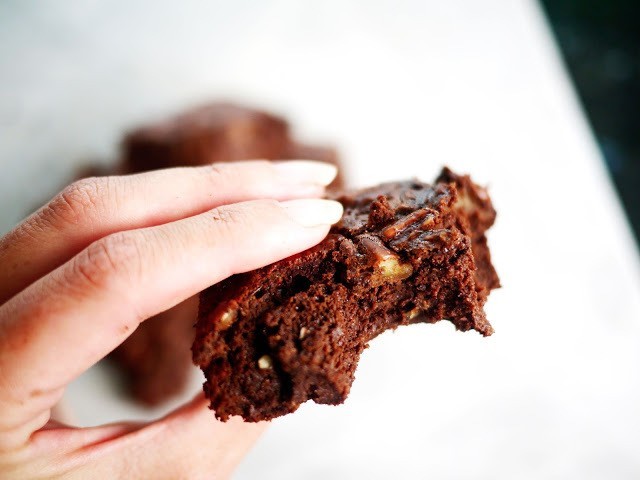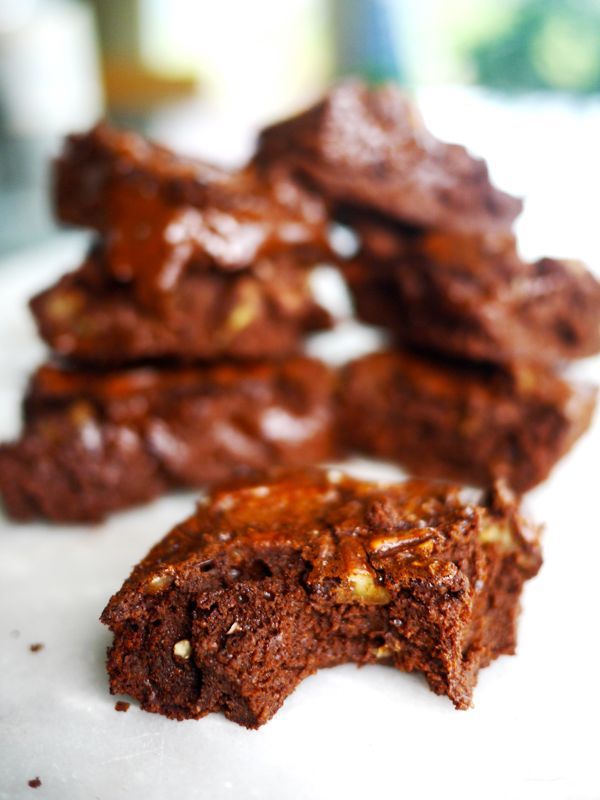 Quick, easy, utterly delicious & totally guilt free.