Last night I went to the cinema. More specifically, I went to Leicester Square to watch the premier of Disney's new blockbuster; Oz The Great & Powerful. As my first ever premiere, it's safe to say I was more than a little excited… and a teensy bit overwhelmed by the paps…
But we'll get to that later.
I started my evening sprawled in the back of an Uber car, painting my nails & fixing my hair.
Let's just say time planning isn't really my fortĂŠ.
Finally, I arrived at the W hotel where the others were applying their finishing touches.
The team at Ana de Costa very kindly sent over a very glitzy pair of diamond & platinum earrings for me to wear.
I usually avoid earrings because they tend to hurt me, but I was assured that platinum is different to all the other metals (it's hypo allergenic). I concede, these were perfect. I hardly even noticed I was wearing them, but they did give me a nice little glittery confidence boost!
Fittingly, there was no red carpet in sight… Just a yellow brick road!
I don't have a link to my dress as it's ancient, but my shoes are here & my bag here.
The blossomed trees mirrored the ones we saw later in the film… I was almost disappointed they didn't flutter away like they do in Oz!
The atmosphere was intense! Press, fans & security shout & clamour for your attention.
I wish I had more time to take photos but I was rushed into 'the pit' of photographers.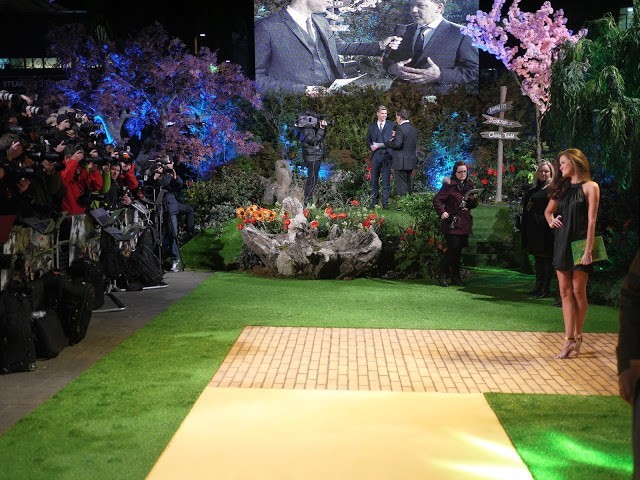 We're not in Kansas anymore, Custard!
Mostly men, they bellow at you trying to get you to look at them and noone else. It's hugely competitive for them & they need the best shot. I tried my best to give them all what they wanted.
Thankfully I've had years of practicing in my bedroom!
Inside the cinema was littered with stars (I was laughed at for taking photos of this, I don't care, I still think it's cool!).
We went in, took our seats & after a quick introduction from the cast & director we were ready to roll.
I enjoyed the movie.
The costumes & makeup were impeccable. Without spoiling anything, I thought aspects of the storyline were very clever & the effects were pretty magical.
It is a Disney film, so I think youngish teens would probably love it! Maybe a bit scary for littles though.
After the film I caught up with Vloggers Tanya, Jim & Sam for a few more interviews.
By the end our teeth were chattering & we were almost blown away!
Time to head back to the warm & snuggle into my coat.
A truly magical evening I wont soon forget!
Thankyou Disney for having me & Mila Kunis, you will forever be my #1 girl crush.