A couple of weeks ago I fell in love.
I was skipping through Twitter when I saw a link for 'a beautifully designed new iPad cover' from Samira Boon.
Now, I don't have an iPad, but a good design Tweet sucks me in every time.
I clicked through to find a single piece of neon vinyl, folded to create a bag. No zips, no velcro, just folds.
The 'Furoshiki Shiki'.
I "oooh'ed".
People looked.
I blushed.
Bracing myself for an outrageous price tag, I scrolled… but… it never came!
8 sizes, 10 colours & prices ranging from 9€ to 50€. Not bad for what I think is an exceptional little piece of modern design.
I plumped for the iPad case as it's the perfect clutch size.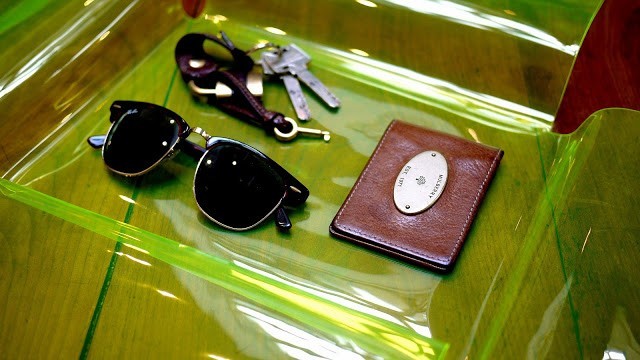 Minimalism is key with a transparent bags. Card holder, sunnies & house keys. Leave the sandwiches, mascara & tissues for the totes, ladies.
Today, I'm feeling very Parisian in all black (peter pan collar knit from
) & my black glitter ankle boots. The second I walked in to Harvey Nicks this morning, women surrounded me asking about the bag & if it was Celine or a new Japanese designer. I have a feeling they're going to be a huge hit this season!
At 37€, I may need to invest in a few more colours! Oh, and if you plan to use yours as an actual iPad case, you can use the screen through the vinyl, without unwrapping it. Pretty nifty. To buy: Anywhere in Europe, click here . US & Canada, click here . .