The Rum Kitchen is a new little place in Notting Hill. Oh boy, is it my kinda restaurant! It's relaxed, fun, young, the menus are a little sticky & the food is simple but mindblowingly good. Started by the same team behind Ping , it's a Caribbean beach shack (minus the beach, sadly) with a cellar boasting over 100 types of rum… hence the name. Seeing as it's only a short walk from my house, Will & I thought we should head down to see what all the fuss was about.
Forget the wine list. We were ready for some rum punch & cocktails.
Lots of them…
Having sipped on half the menu, we decided The Rattlesnake Punch was the clear winner… so we should probably order some food. I went for the saltfish fritters with chilli jam.
Will plumped for salt 'n' chili squid.
The squid was good. Fresh, perfectly cooked, crispy & came with a delicious garlic mayonnaise. But let's be honest, it was nothing compared to my fritters. They were fluffy, rich, punchy & unimaginably comforting to eat. I wanted to be stuck in the rain in a little shack on a beach eating a big bowl of them. Will had terrible food envy, so we ended up sharing both.
For the main event we went for fish gumbo & cornbread, spiced up chicken supreme with yam bubble 'n' squeek, jerk gravy & chilli butter and a side of jerk wings.
The gumbo was well balanced & surprisingly rich. Perfect for dunking the homemade cornbread.
The chicken supreme was exceptional. Beautifully cooked chicken, a spicy, deep sauce & old school buttery bubble n squeak. The shining beacon of the entire meal however… the wings. I know I've been prattling on about chicken wings recently but these aren't deep fried like the others. They're spicy, sticky & the stuff dreams are made of.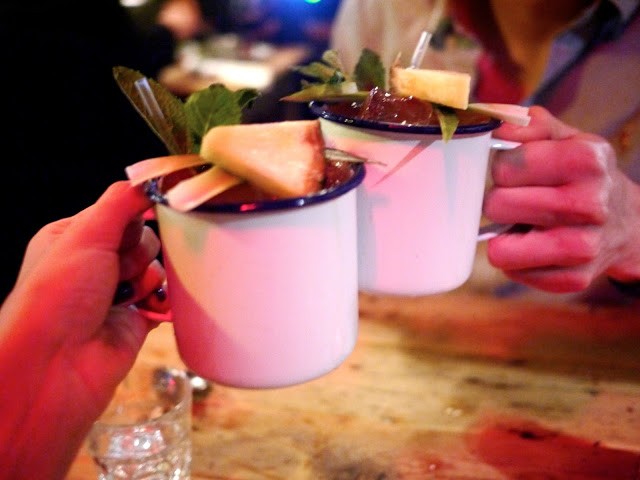 After another round of cocktails it was time for puddin'.
Butterscotch banana pudding and chocolate rum cake with chocolate sauce & icecream.
Ok, don't tell anyone… but having finished off pudding, we ordered another round of wings. They just were that good & pretty much all I've been thinking about since. Visit their (rather snazzy) website here & try them for yourself, bruddah. On weekends they even do brunch. Just the thing to fling at your hangover. Out of towners, if you've got a jerk hankerin', give this a whirl !