This weekend I was invited to Cornwall to go oyster hunting.
I know what you're thinking, do oysters need hunting?
I thought the same.
I had visions of us all in wooly hats, hiding behind sand dunes with binoculars ready to pounce on unwitting oysters at any moment.
The reality wasn't quite like that, but it was delicious enough not to be a disappointment anyway.
We arrived at lunchtime on Saturday.
Before we could sniff out any oysters, we checked in at our hotel.
The lobby at The Scarlet.
Our bedroom opened right onto the cliff, but we had no time to explore. It was straight off to Porthilly Farm to meet Tim, the head mollusk man.
He took us down to the oyster beds to show us how these little babies…
Grow into these tasty big badboys…
Those are called 'Natives' but my favourites are the Spéciales.
While we were standing around watching Tim shuck fresh oysters in the barn, the chef knocked up a wild garlic pesto to accompany them.
It was seriously punchy. I love wild garlic, but I'm a bit of an oyster purist. I like 'em as they come. Phoebe & I powered our way through our fare share…
Just call us Walrus and Carpenter from now on. Even Custard had a go!
Eventually we said our goodbyes to the lovely Tim and made our way back to the hotel with a whole bag of speciales to play with.
We aproned up & got down to shuckin'.
We had oysters 3 ways. With a squeeze of lemon (my favourite), deep fried in tempura batter with pickled samphire & poached in celery soup. Lots of people are a bit funny about oysters but once you get your head around them I promise you'll love them.If you haven't tried them before, get them as fresh as you can & have someone shuck them for you. Add a little squeeze of lemon, or a teaspoon of shallots & vinegar. Slide it from the shell into your mouth & chew (there's this funny myth that you should swallow an oyster right down without chewing… don't! It's such a waste.) If you're already an oyster fan & fancy getting down & dirty with some of the freshest babies you'll every try, there's another trip in October. After lunch Custard took us for a run on the beach.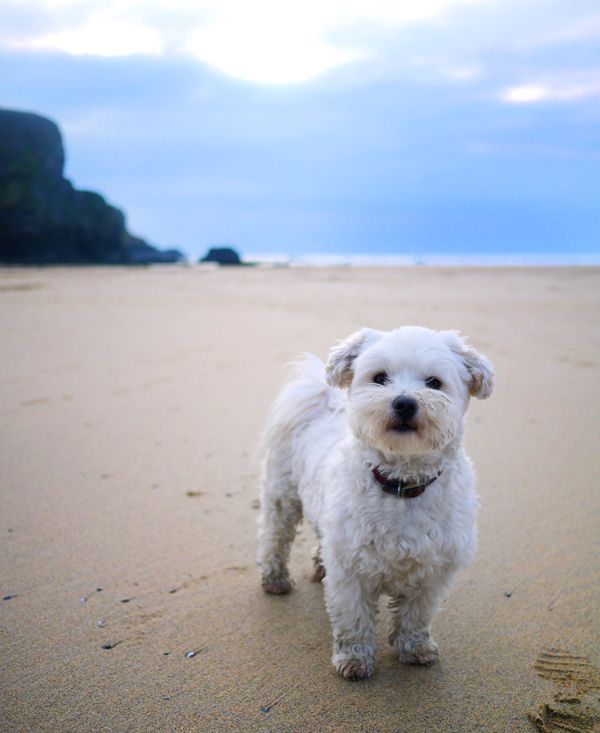 You know when you haven't taken the dog for a walk in a while & they go crazy when you finally do?
Caged Londoners are a bit like that too…
We played until the sun started to set, when we headed back for a swim.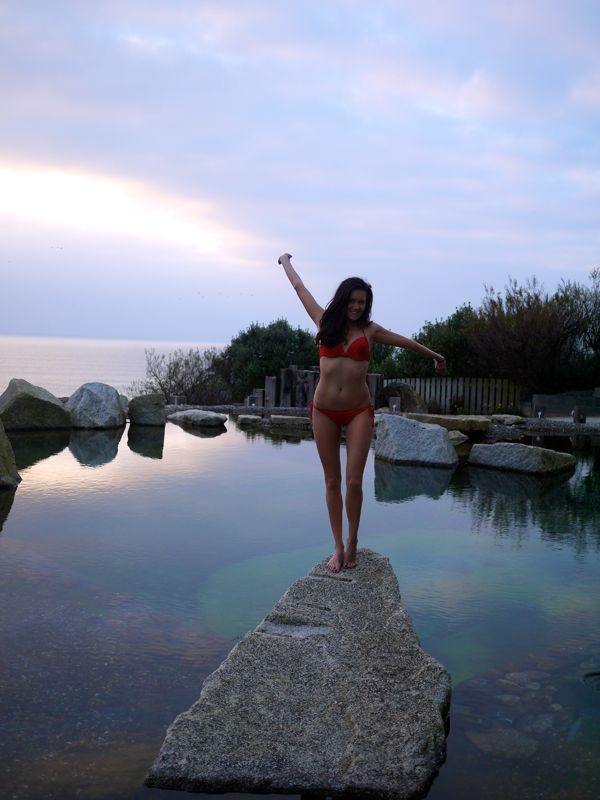 I might have told Phoebe that the pool was heated…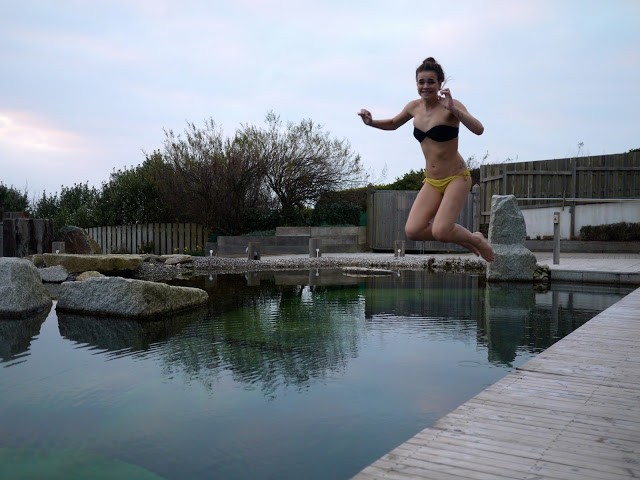 …It isn't.
Woops!
Having chased me down and slopped her cold hair all over me, we conceded that it was probably supper time so headed to the hotel restaurant.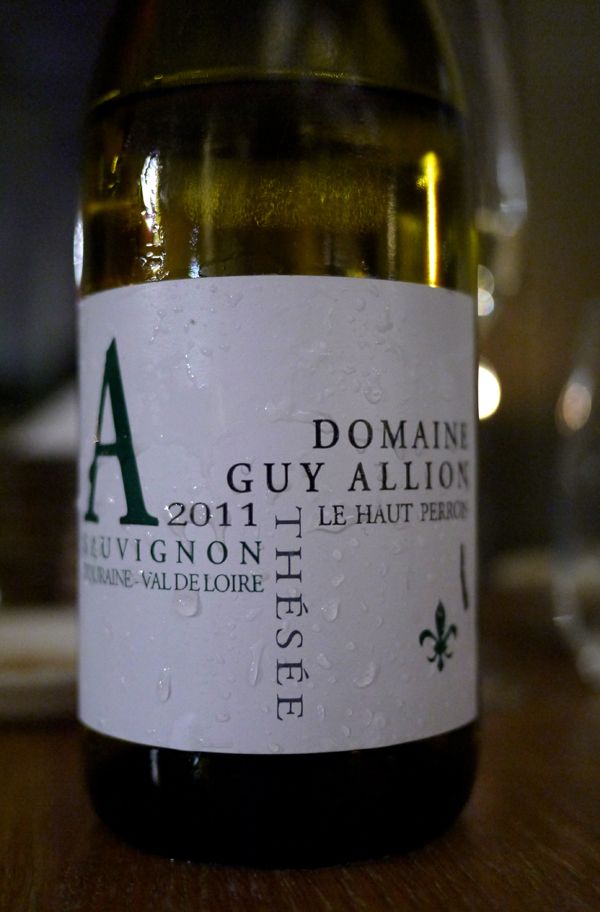 Phoebe started with gurnard & cuttlefish. I went for scallops, black pudding & bacon.
It was well presented but the scallops were fairly rubbery from a little too much cooking & the big hunks of hazelnut on the plate just seemed a bit of an odd addition. Not the best dish I've had in a while, but honestly not terrible.
My main was haddock and Phoebe's was Hake with crab gnocchi and tangerine. I think the chef was feeling adventurous!
The wine was exceptionally good. Domaine Guy Allion, a sauvignon blanc from the Loire Valley.
For pudding we shared a lemon tart with salted caramel ice-cream & a board of local cheeses.
I have to say I was a little taken aback when we checked out at the end of our trip… The waitress had greeted us and said "we'd love to offer you a welcome cocktail, which would you like?" we sort of assumed this was 'all part of the service' and each had a very acidic Kir Royal, which ended up being billed to the room at more than they cost in Mayfair! Just something to be aware of if you plan on dining there. Stick to wine. Finally we headed to bed where our little man was waiting patiently for our return.
There's nothing better than having a real life teddy bear waiting for you to come to bed! More of our adventures tomorrow…