I love Cornwall.
There's something so wonderfully soothing about the air down there.
After just a day we found our skin was clearer, we'd lost our London sniffles & we had a little extra bounce in our step. Even if the sun wasn't going to come out & play, we were.
We woke up early (or should I say Custard woke up early and informed us we should too), so we rolled out of bed in our PJs, grabbed our wellies & climbed down to the beach.
Having run Custard ragged, we climbed back up to bed for breakfast.
Phoebe had perfectly cooked poached eggs & hollandaise.
I had sausage, bacon & egg.
And lots of toast.
Having eaten our fill we headed out to the hottub for tea.
Don't be fooled into thinking (as we were, again) that this is included in your stay. It isn't. You have to book your 30min slot in advance & when you check out it you'll be charged for it. Blissfully unaware, we enjoyed our cliff top tea as Custard played lifeguard.
The view really is exceptional…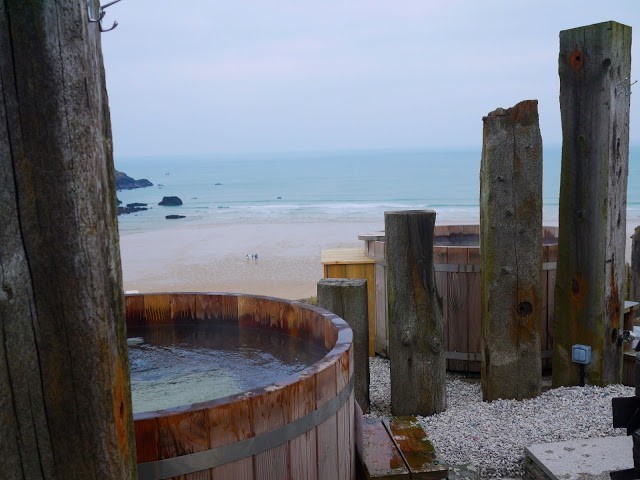 For lunch we decided to get away to Padstow for some of Rick Stein's world famous fish 'n' chips.
My (new favourite) Beatles tshirt is by Stella McCartney for Comic Relief.
Grab them while you can here. Tommy Cooper, watch out. I'm coming for you next.
Custard made friends with the locals.
I chose my favourite harbour side house:
Wouldn't it be the perfect spot to hide away in & write your memoirs when you're grey & old?
We met wiggly little Lilly the baby Boxer who was rather enamoured with Custard.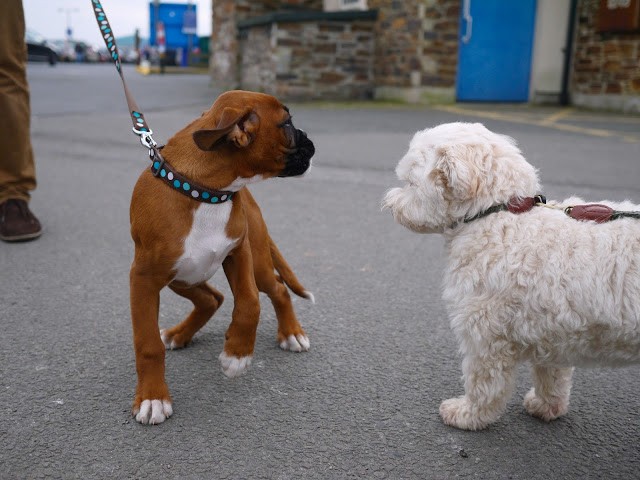 Before finally making our way to Rick's.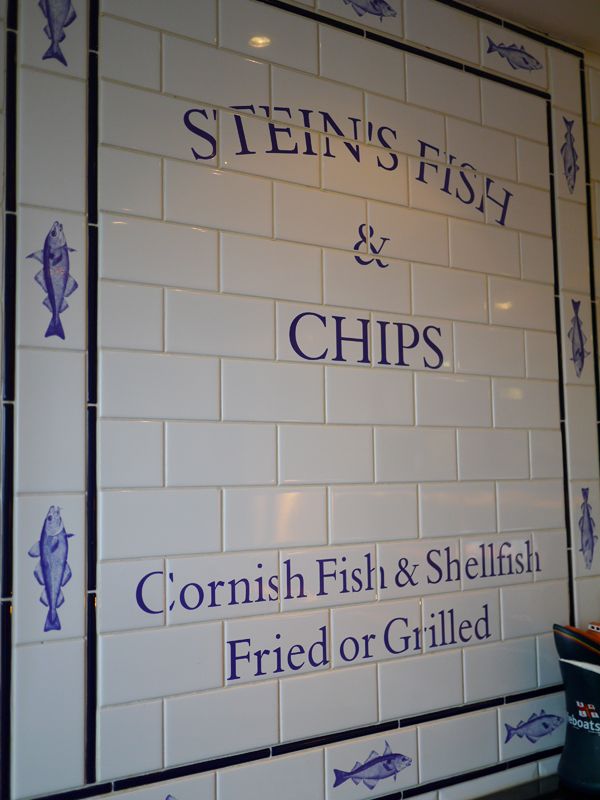 We shared tiger prawns with mind blowingly good garlic mayonaise. Followed by crispy calamari.
Haddock & chips with lashings of salt n vinegar.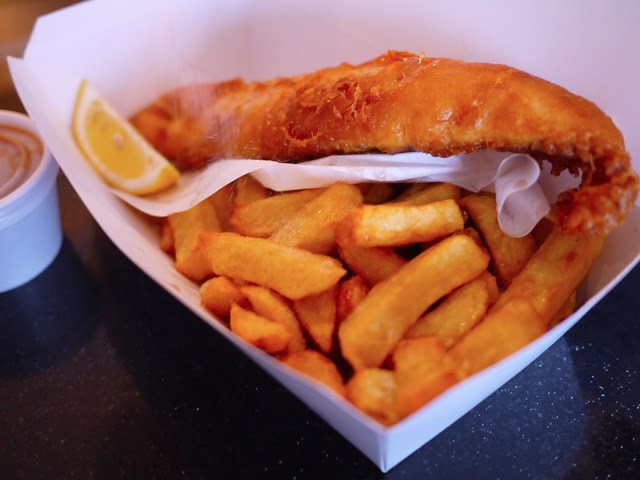 Much to Phoebe's distain, I had my chips with curry sauce… I don't care what she thinks! It's bloody delicious! Plus she sucks prawn heads, which is just wrong.
Like true British tourists we sat in the car, on the front & ate our chips. Nice & steamy!
By the time we'd done the galleries & bought pressies for little relatives back home it was time to head back to the hotel for more food.
We went for room service this time in favour of sitting up in the restaurant. Oh god I wish we hadn't.
I had cod with crab risotto, Phoebe had duck breast & crushed potatoes.
About two hours after supper I started feeling… odd. Half way through the night it was pretty clear that I had fairly acute food poisoning. I have no idea if it was the hotel's food that did it, or something else from the weekend that had been waiting to pounce. I'd shared every meal (bar this last one) with Phoebe and she was fine. Having spent the night in absolute hell, we decided we'd rather not risk breakfast and checked out as soon as we could. I was informed by the wonderfully rude manageress that it wasn't The Scarlet's food that had made me sick while being shepherded away from incoming guests. I didn't expect an apology (I'm sure there are legal ramifications to them accepting blame) but I did think they could have dealt with it better. She told me their usual protocol is to make guests who complain of poisoning go through everything they've eaten in the last 72 hours. As I've shared everything else with Phoebe & don't plan on suing, I declined, paid the whopping bill of extras and made a hasty retreat home. As you know, I never write negative reviews and genuinely hate having to say this. But my mum was about to take my pregnant sister to The Scarlet for a pre-baby treat & all I can say is thank God she didn't. I don't even want to think about the prospect of her falling ill with baby. I love Cornwall, it might be my favourite part of England. But I'm afraid I can't recommend The Scarlet. Posible food poisoning aside, the staff weren't very nice, the rooms were poorly designed, & "dog friendly" really means dogs are just about tolerated, as long as you use the back stairs. At around £300 a night I think there are much nicer places to stay.
On a lighter note, Custard has agreed (due to popular demand) to try his paw at writing once more! So tomorrow, look out for a very wee blog post from the main man himself!