After a wonderful birthday party with friends on Saturday night, Sunday was a family affair. Ok, not strictly family. My mum, dad, baby brother & three friends who are my adopted family; Valentina, Phoebe & Will. It was left to me to book somewhere for birthday tea & there was only one place I wanted to be. The PJ Lounge at Dukes Hotel. It's a little more demure & not as flashy as some of the… more obvious… London tea venues, beautifully decorated & a bit cosier.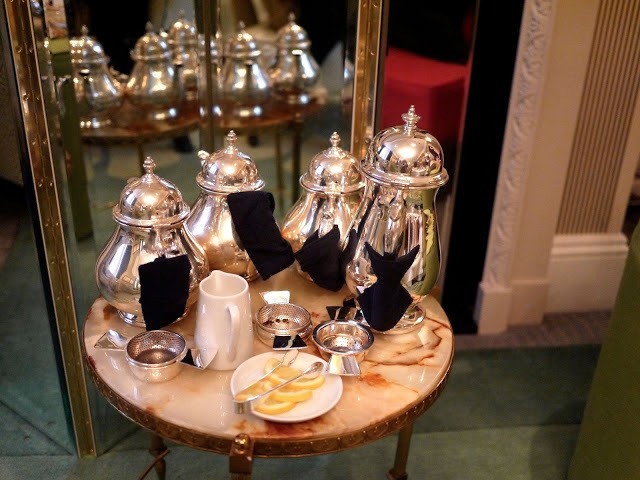 We chatted & caught up over cups of tea.
As you can see, we're a family of expressive eyebrows! You know what goes really well with tea? Champagne. Just kidding. Champagne goes well with everything.
Endless plates of dainty sandwiches arrived. Will commented that it was like Harry Potter; you look away and the plate has refilled!
Having stuffed ourselves with cucumber & smoked salmon, I was allowed to open a few pressies.
Harry spoiled me with a set of enamel cookwear from Fortum & Mason.
Will is the most amazing web designer & his gift was dinner & a re-design of The Londoner! Beyond exciting! I'll pop a little preview up in the next couple of days to see what you think.
My parents really, really spoiled me. They gave me the most beautiful platinum bangles from Wright & Teague in Mayfair.
I've been hearing more & more about platinum recently. It's much stronger than gold so you can wear it every day and still hand it on to grandchildren & it doesn't tarnish or dull like silver. It's also really pretty!
Custard, my little scamp, surprised me with a card.
Apparently he used his actual paw prints, and then left a trail of them through the kitchen!
Phoebe treated me to my favourite La DurĂŠe macaron flavours & Valentina gave me a Marc Jacobs leather cuff.
After pressies it was time for more bubbles & cakes!
By the time we'd finished the sun was long gone & it was time to head home for supper. Try as we might, we couldn't finish all the cakes & pastries. Thankfully I am never too proud to ask for a doggie bag! The wonderfully friendly staff laughed & packed the rest up for us.
Guess I'm having cake for breakfast! If you have a birthday coming up I highly recommend giving Dukes a call. The food was delicious & the staff treated us like royalty. Oh, don't tell anyone, but my white tulip dress is (annoyingly enough) currently on sale here for *mumbles* thirteen pounds . I should have waited for the sale!