I'm not really one for "girls toys" and "boys toys" so I thought I'd do a Christmas Gift Guide for everyone. Tomboys, girly girls, old, young, wise and impatient. Whoever you're buying for I think I've got them covered… There's not long to go until Christmas, so let's get started shall we? You're going to need an advent calendar. This is the Hotel Chocolat "Truffles for Two" calendar.
Open it with someone you love, or y'know… by yourself, HELLO two chocolates for me! Hotel Chocolat advent calendar £25 Now for the gifts. Something for the bookworm…
Yes it's an obvious choice but having asked friends, family and Twitter what they want this year, the overwhelming response was a Kindle. Give the people what they want. Kindle £69 from Amazon How about something to keep it safe?
I love this classic Kindle cover. You can personalise the title and include a message on the inside cover. Personalised Kindle Cover £37 from NOTHS For the littlun…
Baby Superman?! How incredibly adorable.
More importantly though it allows you to take embarrassing photos to bring out at their wedding.
Baby superhero rompers $18 from Think Geek
For the snappy dresser…
Float like a butterfly, sting like a bee.
Paul Smith bee cufflinks £75 from MyWardrobe
For the music lover…
Beautiful inside and out. Hundreds of channels, 120hrs of battery life should you wish to take it with you to the bath or into the garden. You can plug your iPod in and it saves all your favourite stations.
Revival DAB radio £160 from Selfridges
For the tea connoisseur…
Specify your exact shade of tea! Never get a thick soup back when really you wanted a clear consumé of tea.
My Cuppa Tea mug £7 from John Lewis
For the young adventurer…
Choose from an entire zoo of animals and get yourself an adult one to match! Kids Kigu £34
For the old walrus in your life…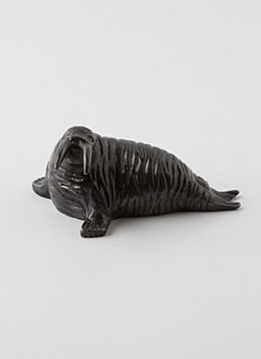 We all have one. And they always enjoy things from bottles. Sir Walrus bottle opener £16 from Anthropologie
For the forgetful…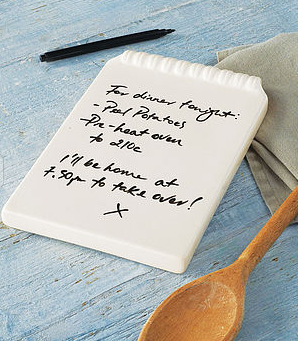 Cooking notes, shopping lists, "pick me up" reminders, love notes, sorry notes… wipe the slate clean. Ceramic note pad £10 from NOTHS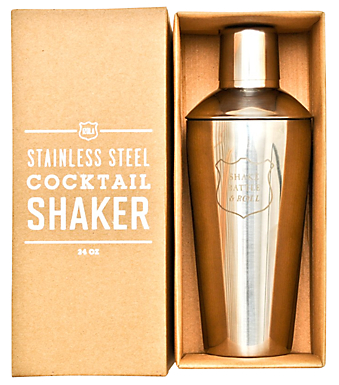 A classic reborn thanks to Bond's return to good ol' martinis.
Shake Rattle & Roll cocktail shaker £45 from John Lewis
For the little gamers…
This looks awesome . You learn spells and enchantments to use throughout the game. Book of Spells from J.K. Rowling on Playstation £49 on Amazon
For the cold little lady…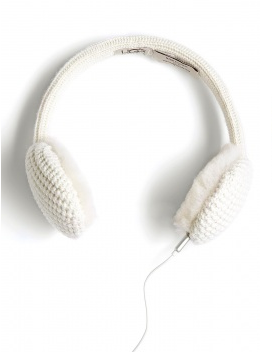 Snug as a bug in a rug, with music to wiggle to.
Ugg ear muffs with speaker technology £75 from MyWardrobe
For the good shot…
Beautifully designed little cups for the shooting obsessed. Be sure to include a bottle of something delicious.
Cartridge shot cups (set of 8) £62 from John Lewis
For the cook…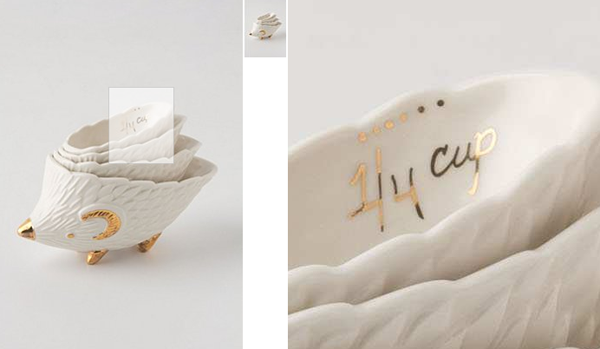 Cute and useful. What a novelty. Hedgehog measuring cups £32 from Anthropologie
For the casual fashionista…
This bag is just delicious. Big enough to carry your life around in, but soft and light too.
If I could crawl inside for a snooze I would.
The squishy leather handbag £244 from ShopBob
For Katniss supporters everywhere…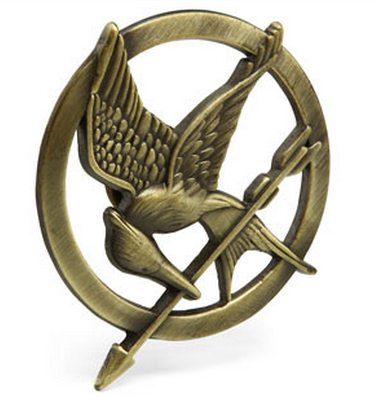 Show your allegiance.
Mocking Jay pin $11 from Think Geek
For the touchy feely type…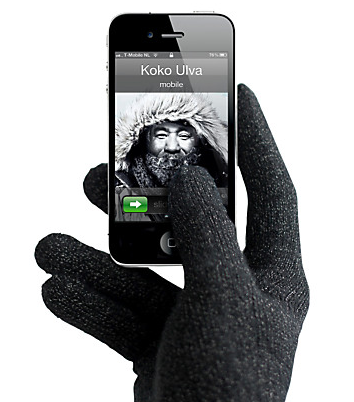 These clever little sidekicks mean you wont be continually trying to juggle your bags and boxes while pulling your gloves off with your teeth when the phone rings.
Use your touchscreen phone with your gloves on.
Touchscreen gloves £24 from John Lewis
For the coffee table collection…
Beautiful girl, beautiful pictures, beautiful book.
A must for any Moss lover or coffee table stacker.
Kate : The Kate Moss Book £55 from ShopBop
For the Christmas lover…
Parisien Christmas heaven in a jar.
diptyque Christmas candle £25 from Selfridges
For the big kid…
*Ahem* these are on my list.
Great fun, great exercise and they look amazing!
Proper roller skates £45 from John Lewis
For the nerdy girl…
Bleep bloop. Bleep. Bleep bleep bloop. Bloop bleep. Bleeeep! $120 from Black Milk
For the movie fan…
I love this rather beautiful piece of kitchen gadgetry. We always had one at home growing up due to my mother's popcorn obsession. Movies will never be the same without a bowl of hot buttery popcorn again!
(Also a really great lowfat snack)
Retro popcorn maker £29 from Selfridges
For the queen of your kitchen…
Pretty and classic. Something for the girly girl.
Polka dot apron £34 from Anthropologie
For the snuggler…
I live in my OnePiece! It's so deliciously heavy & soft & decadent. This truly is the king of onesies.
Christmas OnePiece £149 from John Lewis
For the naughty girl…
Earl Grey mug £14 from NOTHS
For the cognac drinker…
Beautifully balanced, even if you're not.
Cognac glasses £42 from NOTHS
For the ladylike…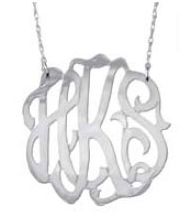 Classic southern style. Just so beautiful. Choose from gold or silver.
Personalised monogrammed necklace $150 from Buggy Designs
For the pup…
Ideal for the dog lover and totally personalised. Have it framed for a really unusual gift with a personal touch.
Pencil portrait of your dog £12 (£10 goes to Battersea Dogs Home)
*This has now sold out, so why not give Shelter Pups a go?
"Adopt" one of their teddies or have your own woofer turned into a plush toy.
Prices from $50 to $125 and 25% of it goes to animal shelters across America. Shelter Pups.
For those of us made for warmer climates…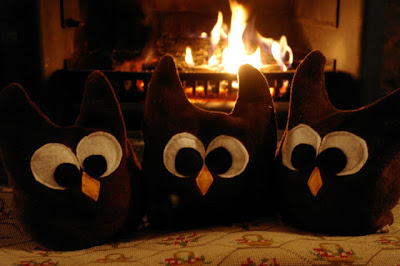 DIY Heat Up Snuggly Owls, made by your own fair hands.
For the accident prone…
Waterproof, shock proof iPad case. Watch a movie in the bath, email from the pool. £68 from Amazon.
For little adventurers…
Hugglepod hang out. $199 from Amazon.
For handing over the goodies!
This is by far my favourite thing on the list! Personalised santa sacks!
Personalised Christmas sack £20 from NTHS
I'm sure I'll find a few more gems to add to the list. If there's someone you need to buy for that you need help with, leave a comment and we can all try and work it out together.