Guess where I am?
I'm snuggled in my brand new flat with a great big mug of tea!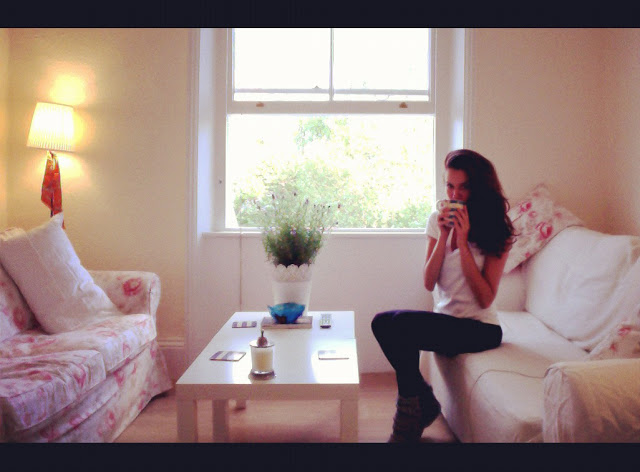 I moved in this weekend and it's slowly starting to come together.
The kitchen is now totally unpacked (the most important room if I'm going to continue to whip up lashings of food porn for you guys!), the bedroom is almost done (I have the most unbelievable marshmallow of a bed!) and I've just ordered a boat load of printed photos from Snapfish to fill my walls with family & friends.
Finding my dream flat has been a bit of a slog to be honest. After moving out of the apartment I rented with my ex, I wasn't sure what I should do, where I should live… so I sort of bounced around London, staying with friends and crashing at hotels. But after 3 months of refusing to commit and convincing myself I'd never feel the same way again, I finally lost my heart and fell in love. …with an apartment. In Notting Hill. He is a beauty though. He has hard wood floors, huge windows, more than enough closest space for all of my shoes (this has never happened before) and he's a stones throw away from my favourite breakfast spots on Westbourne Grove. It's the first place I've ever lived alone (without a boy). I'm feeling incredibly grown up, very Carrie Bradshaw and ready for a new chapter of my life!
My sitting room currently smells like whatever Ralph thinks "Cottage" smells like and I'm entertaining my first dinner guest tonight. I even popped over to Aesop for fancy guest handsoap. Do I know how to party or what?
What did you get up to this weekend? Do you have any tips for Notting Hill's newest lone ranger? I can't believe I'm officially a proper Londoner again! Gaaaaahh!