You guys love a good festival.
More and more of you have been asking me for my festival tips and what you should wear.
I'm somewhat of a festival baby. One of my earliest memories is sitting on my father's shoulders watching Van Morrison at Glastonbury.
I've been almost every year since then.
Rain or shine, I take pride in being the first on site every summer.
Sadly Glasto didn't happen this year so I can't show you photos, I can however share what I would have worn on day one…
This year is
all
about flower crowns.
Festivals are a great excuse to wear them as you can't really get away with popping one on to nip to Safeway and they're great at making you stand out from the crowd.
It's easy to get lost at festivals, but one of these should ensure your friends can pick you out of the sea of unwashed masses.
Mine was homemade, but ASOS Marketplace has some great options:
A sturdy pair of shorts and a t-shirt should leave you free to dance the night away or slump down on the grass and with a big bowl of tacos and a cold beer.
My shorts are the (sadly) sold out Fashion Against Aids ones, my top is from Topshop and my belt is from Mulberry.
However, your wellies are by far the most important thing you'll pack for your festivities.
There is nothing worse than cold, wet feet.
You already know Hunters are my boot of choice but these badass little studded babies are just so rock 'n' roll I couldn't resist!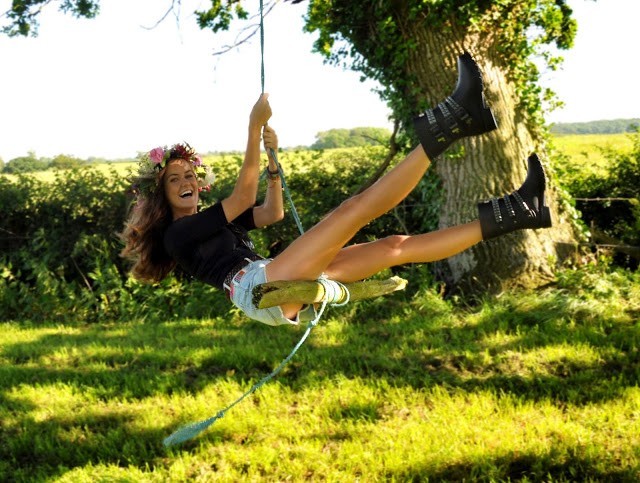 I love mine so much, I thought I'd give a pair away!
A little Friday pick-me-up.
Either Like or Tweet the post and then just leave me a comment with:
Your name,
Where you're from,
What size boot you wear,
What you'd wear them with.
The winner will be chosen by me at the end of next week, so be creative!
(Don't forget to leave a way to get in touch with you if you win)
If you just can't wait and need to get your hands on a pair now, you'll find them here.
Have a great weekend Huntresses!Ps. Boys, you're more than welcome to enter for the lady in your life.
Winner
Thankyou to everyone who entered, some of you guys have some seriously stylish ideas!
After 2 days of deliberations, I finally picked a winner… it was a tough decision, but I think you'll agree that she's a worthy contestant.
Congratulations to Amelia Lockheart who won with this beautifully written little note:
I love your style!
I'm Amelia Lockheart from Lincolnshire.
I'm trying to expand my fashion horizons and these boots just look like the perfect opportunity!
I'd wear them with a little french sundress I picked up in a market near Cannes. It's pale blue and totally covered with daisies. I've been in the sun a lot recently so my skin is getting brown and my freckles are starting to come through.
My sister and I used to make flower crowns just like yours when we were little girls. She passed away recently and your photos had me in tears. Not in a bad way just the way that makes you remember the good times.
I'm not telling you about her so that you pick me I'm sure that you'll pick some gorgeous girl from somewhere exotic like Australia or New York I just like to talk about her and your photos touched me.
There's a boy who works in a shop in my village and I've been trying to pluck up the courage to talk to him so if I won I would wear my sundress and my new hunters and march right up to him and kiss him right on the lips. Brownie promise!
xxx
Please send me a pic when your new boots arrive, Amelia. I'm sure we'd all love to see them with your sundress!