I am always being asked for affordable, fun restaurants in Central London. The problem with Central is that it's full of Costas, Pizza Huts, Burger Kings and Starbucks. You hate eating in chains but you don't want to break the bank at fancy independents. Pho is a great happy medium. It's a family owned restaurant, but there are a few of them dotted across London. I've only been to the one in Soho but it's my go-to spot for a relaxed lunch and my ultimate hangover haven. An unassuming little place on Wardour Street, the interior is dark, cosy and very Vietnamese.
You know me by now, I tend to order a smattering of starters to share and follow up with a main. That way I get to try everything and palm whatever I don't like off onto my friends. (Don't tell them I said that.)
We went for the Pho Xao Thit Ga, the Viatnamese version of Pad Thai. (My favourite)
Goi Cuon Tom, summer rolls with prawns and fresh herbs.
Goi Ngo Sen, a big bowl of chicken salad with tangy lotus stem, green beans and cashew nuts.
Bottom left are Cha Gio, fried pork spring rolls. Followed by a huge bowl of Pho with garlic steak.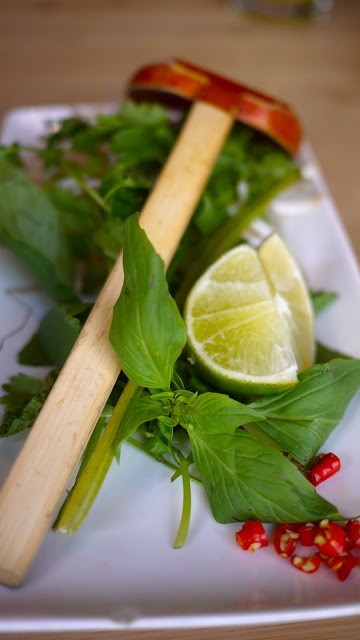 You're given a side plate of herbs, limes, chillies and nuts to add as you see fit. This gives the soup a really fresh, light taste… and makes you feel important. Look at you making your own Vietnamese soup! You're practically a local!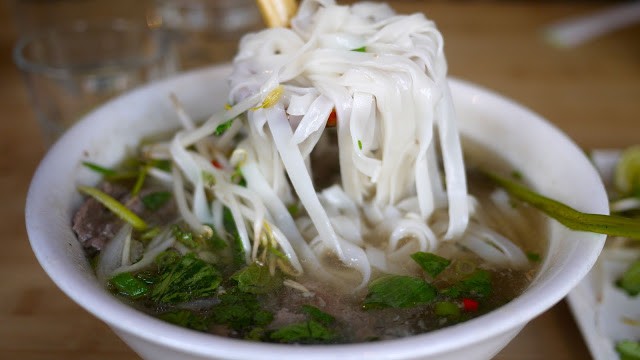 Having eaten enough for a small army, we skipped pudding and fell streight into the coffee section. 'Ca Phe Sua Da' is chilled black coffee that drips into a bed of condensed milk.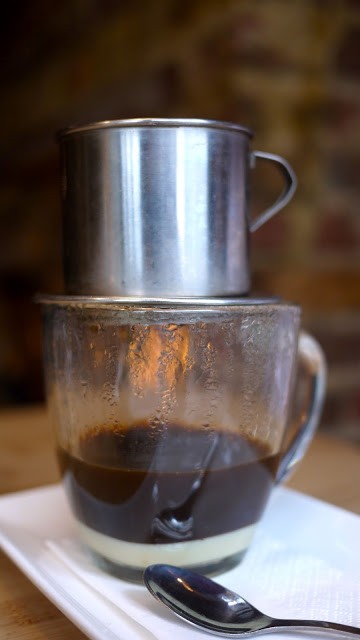 Very, very naughty. If you're feeling adventurous they also serve Weasel Coffee. If you don't know what that is, let me explain. Fuzzy wee Vietnamese weasels love coffee beans. They can't get enough of them. Well someone, god knows who, thought it was a good idea to try and make coffee from their um… how can I put this… poop. While you or I might have muttered our excuses and quietly backed away, others saw the method in his madness and followed suit. Soon the whole world was jumping on board and I hear it's one of the best cups of coffee you'll ever try. Still suffering with the slight tinges of a hangover, I wussed out and went for jasmin tea.
To be fair it is very pretty.
If you're a fan of Asian food, chilled restaurants with chopsticks in wrappers and friendly, knowledgable staff, I highly recommend Pho. They don't take reservations, but there's usually room at the bar. If you're going for a long, relaxed lunch try and get there early or late and bag a table by the windows. Soho is a people watching gold mine. You can find other locations, menus etc here . If you have a peanut allergy give this one a miss. .