I don't have an awful lot to blog about today.Â
I'm in the country helping a friend recuperate as he's just come out of hospital.Â
It's not very glamourous, but we've been sitting by the fire watching back to back episodes of Mad Men and eating Gingerbread Popcorn by the barrel load!Â
Occasionally we slip out of the 50s and back to reality for walks in the woods.Â
This handsome wee chap is Felix.
I'm not sure you've met him before.
He's a labrador we rescued from doggy-death-row in Spain. Poor little guy was totally malnourished, blind in both eyes & apparently has the canine equivalent of downs syndrome.
Now, he's a little over weight, still totally blind & a bit special… but very happy!
He's my little inspiration.
Of course, he still speaks Spanish but he doesn't let that hold him back.
Boots by Hunter, jeans by Diesel, vintage Mulberry jumper & coat is a boy's Barbour.
Custard might not be a big fan of Mad Men, but he is certainly a fan of the Buttercup Meadow that's sprung up outside!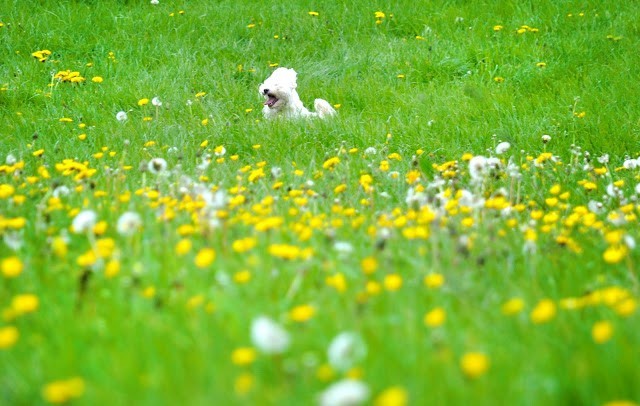 What are your plans this weekend?
Are they filled with box sets & popcorn, or are you waltzing off somewhere fancy pants?
.