There's a great line in You've Got Mail (a movie I recently rediscovered) where Meg Ryan says;
"I like to start my notes to you as if we're already in the middle of a conversation. I pretend that we're the oldest and dearest friends… as opposed to what we actually are, people who don't know each other's names."
This is how I feel about blogging.
You may be scattered around the world, but I talk to you as if you were my closest friend, tucked up on the sofa together with big mugs of tea.
People often ask me if blogging is a chore and question how I find time for it all. The truth is, I look forward to it.
I send these little notes & pictures out into the universe and wait.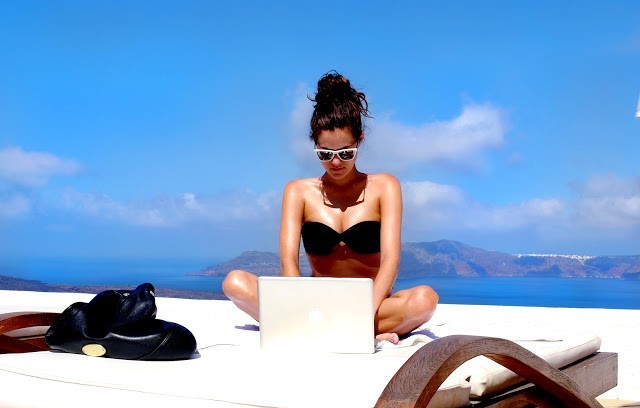 First date nerves flutter around as I press send and think… "Will they like it?".
I tell you about my day, share my recipes with you and in return, you give me advice, opinions & tell me about your lives.
It's all very romantic!
I know that some of you out there read my musings without leaving comments & that's ok… I can be patient & I'm confident that someday you'll pipe up & say hello!
Some of you Tweet at me thanking me for my blog, but really this is my little thank you note to you.
Thankyou
for bearing with me, thank you for commenting & sharing me with your friends.
When I started writing this time last year, I barely even thought my 'real' friends would read it… and now I have so many new friends, my "You've Got Mail" style pen-pals.
You!
Now, I would love to give all of you a little Birthday/Aniversary gift to say thank you… but that would be a little tricky! So I thought I'd let fate decide.
I've chosen one of my favourite pieces from Links of London (see what I did with the London link, ey, ey?) to send to one of my readers.
Its the 'Woven Effervescence Gold and Fuchsia Bracelet' and the perfect accompaniment to any arm party of bracelets, or even to be worn as a statement piece on it's own.
It's £175 and I've been lusting after it for months, but a friendship bracelet is something to be given away… so it seemed like the perfect pressie for you!
I will send it aaannnyywhere in the world, so everyone has the same chance.
To enter, just leave me a comment with your name, where you're from and a way to contact you if you win.
The winner will be pulled from a hat by one of my nieces…
…this time next week.
If you fancy an extra entry, you can Tweet, 'Like', Tumbl, Stumbl, or Pin this post for an extra entry each!
Boys, you're more than welcome to enter too, but I will try and think of a more MANLY giveaway to do soon, I promise.
Good luck!
UPDATE
Congratulations to Molly Spencer from Columbus, Ohio!Â
Little Ruby pulled your name from the bulging pillowcase of entries!Â
Thankyou to everyone who entered & your wonderful words of encouragement. They came at a time when I really needed them, so I'm more grateful than ever for our friendship.Â
I will arrange another giveaway very soon, as I wish I could give you all a little gift.Â
Rose
xxx
.