Valentines day is fast approaching & I bet you haven't sorted a gift yet, have you?
This is the one day of the year when you can be as mooshy as you like…
… but it's also the day you'll feel the most pressure to perform.
You know that she'll go to work or lunch with the girls, ready to sing your praises… or rant & fume about your ineptitude.
Ladies, how do you go about making him feel special, without freaking him out with love hearts & cubby lil' cherubs?
Well, I've had more than a few panicked messages asking for advice on Valentines pressies. So I've popped a little list together for you.
Ladies first-
For her:
All girls love candles, these handmade little heart holders would look lovely on her mantle piece, or just waiting by the bath, ready to be lit & admired. Every time she lights them, she'll think of you & smile. Heart tealight holders £12 from Not On The Highstreet
Pastels are going to huge this season. Particularly mint green. This clutch will earn you serious brownie points & she'll be amazed by your new found fashion know-how. Mint clutch £15 from ASOS
For those of you who stumble a little when it comes to talking about your feelings… this warm little buddy does all the work for you.
Her friends will also be impressed next time they come round for tea.
You're just my cup of tea mug.
£17.50 from Not On The Highstreet.
These personalised crates come in the most gorgeous pastel colours, so you can find one especially to suit your girl.
£29 from Plantabox
If she's a list maker, this little red book will quickly become her handbag must have.
Great for you as it'll make her smile every time she reaches for it.
£35 from Smythson
If she's a domestic goddess, she's sure to love this polka dot milk jug. Red & white just oozes Valentines romance.
*Try and resist writing "To go with your great jugs" in the card!
£30 from Sorbet
We've already talked about this whole pastel trend, but if your lady is more of a carry all than a clutch type, this lemon sherbet bowler bag is a winner.
Sunny, light, pretty & painfully on trend.
I can almost hear her gasps from here.
£40 from ASOS
This gorgeous Spring time iPhone case will turn her boring piece of kit into a beacon of style.
Couple with a few more 'I love you because…' texts & she'll be smitten.
Plus, it comes in a Net-a-Porter box, which she'll love.
£42 from Net-a-Porter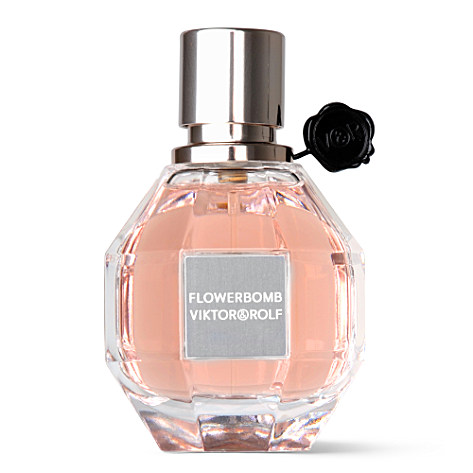 With hints of jasmine, rose, freesia, orchids and patchouli, this little bottle is a bouquet all in one.
If love had a smell, it would probably be this.
£65 at Selfridges
This one's a little naughty.
Little Rooster is an alarm clock your lady wears in her… erm… knickers. She can wriggle & move around as much as she wants through the night & it will stay put, but come morning, she'll be wriggling for another reason!
It vibrates to wake you up with a smile.
£69 from Little Rooster
A classic, timeless, personalised bangle is something she'll appreciate for ever.
Keep it a secret to be shared just by you, or have the inscription on the outside & show the world.
Personalised script bangle £72 from Posh Totty
If all this Valentines stuff makes you a wee bit queazy, this skull ring is the perfect antidote.
Pretty without being soppy, it's just… delicious. Alexander McQueen Skull Ring £75 from Net-a-Porter
A group of photographers in Cornwall have been getting up every morning since 2005, to photograph the sunrise.
Tell them the day you met, the day you fell in love, the day of your first kiss, and they'll show you the sunrise on that day.
A life changing day, remembered forever.
Sunrise on the morning we met £90 from TheDayThat
The problem with silk scarves is that they can often seem dated & old fashioned.
This beauty, printed on the banks of Lake Como in Italy skips that problem all together. The colours will bring out the different shades in her eyes & it's a style that will go with anything.
Madagascan Agate scarf by Richard Weston
£165 at Quintessentially Gifts
This bracelet is a beautiful newbie from Mulberry.
Rose gold with a pretty little tree just below the buckle. Understated, classic & generally gorgeous.
(My personal favourite on the list.. *cough*)
£200 from Mulberry
If you feel like splurging, this Valentines red YSL clutch will have her clutching you for the rest of the evening.
It's just… utterly sexy.
£380 from Selfridges
Of course, you could always go for the classic…
*sigh*
Now ladies, I haven't forgotten that you might need a little help too.
Let's be honest, there's only one thing your man wants this Valentines day… You! However long you've been together, you are pretty much his dream girl. So wrap yourself up in suspenders & lace. He wont believe his luck & you'll be swimming in brownie points for the rest of the year!
Agent Provocateur is my weapon of choice. They have everything you could ever want. Topshop also have some gorgeous options, as do ASOS. If you're worried you wont look your best, go for a corset. There isn't a women alive who doesn't look fantastic in a corset. It pulls in your tummy, pushes up your breasts & gives you the ultimate sex kitten wiggle.
This little number from Gossard will only set you back £59 & is a guaranteed heart stopper.
The important thing to remember is that it's just Valentines day! It's just another day of the year. Don't get yourself too worked up about it. Just think of it as a Tuesday with a cherry on top. If expensive gifts & fancy restaurants aren't your style, you can always go with my old favourite. A den & a picnic!
Will I ever grow up? .