BBQ meat is one of the biggest food trends in London right now.Â
Places like Pitt Cue have people queueing around the block (in the snow!) & street food vendors are serving up mind blowing pork & beef baps all over town.Â
But what if you want some of this succulent Southern goodness at home?Â
Well you'd have to spend hours over a hot stove, adding bits & pieces to a complex recipe & sweating as you got the perfect, meaty texture just perfect… right?Â
Wrong.
This recipe is your new best friend.Â
Three ingredients are all you need for a rootin' tootin' good meal.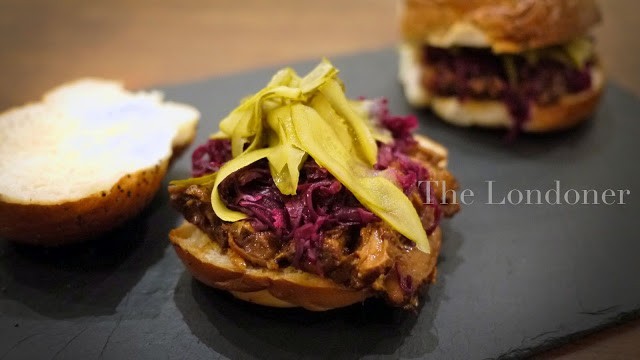 To make the pork you will need:
Pork ribs (2 racks), *You could also use pork shoulder, but I think ribs taste better.
Coca Cola,
1 Jar of BBQ sauce (around 300 – 400grams)
Yep, that's it.
To serve, IÂ recommend:
Bread buns,
1 Jar of pickles,
1 Jar of red cabbage.
I used a slow cooker (crock pot) for this recipe. If you don't have one, I will post an alternative at the end.
Let's get started.
If you throw this all together in the morning, it should be just perfect by supper time.
Cut your ribs into manageable chunks, so that they fit into your pot.
Put them into the bottom with your cooker on 'low'.
Pour in your bbq sauce & enough Coke to almost cover them all.
Put your lid on, and leave it well alone. for at least 6 hours.
Go check on it after about 6 hours. Give it a stir & if you want a bit of a kick, add a few splashes of your favourite hot sauce & cover it all up again.
Leave it bubbling away until you're ready to eat.
When you are, put a sieve over a large bowl.
Pour your meat & juices into it.
Carefully pick out all of the rib bones, they should slide away from the meat pretty perfectly by now.
Pop all of your meat back into the cooker & add a few tablespoons of your left over sauce.
Stir it around & break up some of the bigger chunks of meat.
Cover it up while you get your buns ready.
Slice your buns in half, grate or slice your pickles and crack that jar of cabbage open.
Pile your fillings into your buns.
Serve solo or with your favourite crisps/chips & an ice cold beer.
There you have it!
3 ingredient pulled pork that will knock your socks off.
Now, pulled pork without a slow cooker.
If you don't have a crock pot, I seriously recommend getting one.
The one I have
was only £35 and it's worth its weight in gold!
If not, you can use a heavy pot (with a lid) in the oven. Follow the same recipe & put it in at 100°C or 220°F.
It should come out golden, chewey & gooey.
Just what you need in this weather.