There's something about red velvet that just seems utterly… sexy.
Rosy, fresh cake batter slowly maturing into deep scarlet cookies as they bake.
These red velvet sandwich cookies are the ultimate decadent winter treat.
They can of course be eaten all year round, but with Valentines day fast approaching they would make the perfect gift for that special Mr, Mrs or Miss in your life.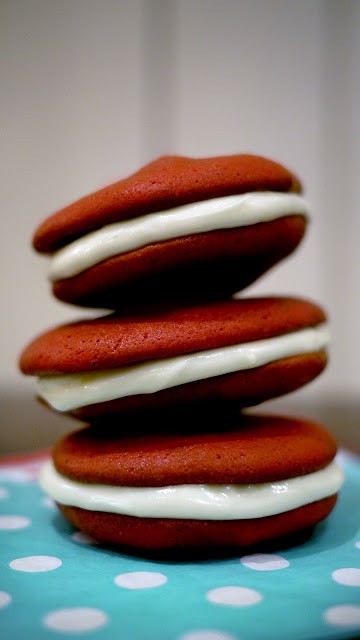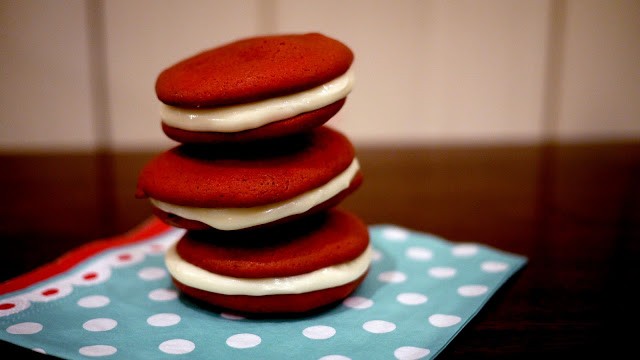 Getting the mixture just right was a long ol' process of trial & error… but I'm really pleased with the recipe now.
Your Sweet Valentines should be like soft cookies, with wonderful squidgy fillings.
They're just the perfect tea-time treat to cheer you up on a cold January afternoon.
Serve them with a big pot of tea, or box them up & give away as sunny little pick-me-ups.
To make about 12 Valentines, you'll need:
300 grams plain flour
1 heaped tablespoon cocoa powder
1 heaped teaspoon baking powder
1/2 teaspoon salt
56grams butter, room temperature
225grams sugar
2 eggs
2 tablespoons buttermilk
2 teaspoons apple cider vinegar (yes, really.)
1 teaspoon vanilla extract
1 big tablespoon red food colouring
  Â
For the frosting:
250 grams cream cheese, softened
100 grams butter, softened
1 teaspoon vanilla extract
400 grams powdered sugar
Ok, preheat your oven to 190°C (375°F).
Line a couple flat baking trays with baking parchment, or a
non-stick silicone sheet
if you have one.
Sift your flour, cocoa powder, baking powder & salt into a bowl & set aside.
In a bigger bowl, cream together the butter & sugar until fluffy. Now, add the eggs one at a time while mixing.
Beat in your buttermilk, vinegar, vanilla essence & red colouring.
Add your dry ingredients & mix until smooth, red & glossy.
Use a tablespoon to drop even blobs of mixture onto the trays, nicely spaced so they don't run into each other.
Bake for 10-12 mins. They should have risen & look like cakey biscuits.
Leave them to cool, or pop them outside if you're impatient like me!
Use this time to make your yummy gooey filling.
In a big bowl, simply beat your ingredients together until light & fluffy.
Put it in the fridge until you're ready to sandwich.
To sandwich your cookies, pick one up, place a loaded teaspoon of frosting onto the bottom side (the flat one) and place another cookie on top.
Ta-daa!
Your Sweet Valentines are ready to rock!
When February 14th finally does come knocking at my door, I might try baking them in little heart shapes & give them away to all my girlfriends.
Maybe even wrap them in little brown boxes with polka dot bows…
Ps. If you like these, I'd put money on you loving my
Star Spangled Brownies
…
.