I'm finally out of the hotel & camping in the new house! It's incredibly exciting… but it also smells like paint and we have to set up little picnics on the floor when we want to eat. So in the spirit of minimalism, I made the simplest, tastiest pasta. Something comforting to fill us up after a long day of painting, moving boxes & heaving sofas. I call it Seaside Pasta & it's one of my all time favourite dishes. (It's very like Spagetti Vongole but some Italians swear that you need onions & other goodies. Obviously you should feel free to call it whatever you want, you're the one cooking it after all!) The only way I can describe the taste is to say that it's like the first day of Spring, by the sea. The sun's shining & the salty sea air is blowing. With each bite you'll swear you can hear seagulls & the crash of waves. The ultimate simple supper, packed with flavour, whipped up in moments.
To make supper for two you'll need: A fist full of spagetti, A good scoop of fresh clams (around 200grams), 8 cherry tomatoes, 2 cloves garlic, 1 dried chili, 1 glass white wine, olive oil, salt, 1 handful fresh parsley.
First, put a pan of water on to boil. Add a big pinch of salt & cover. Pour yourself a large, cold glass of your favourite white wine.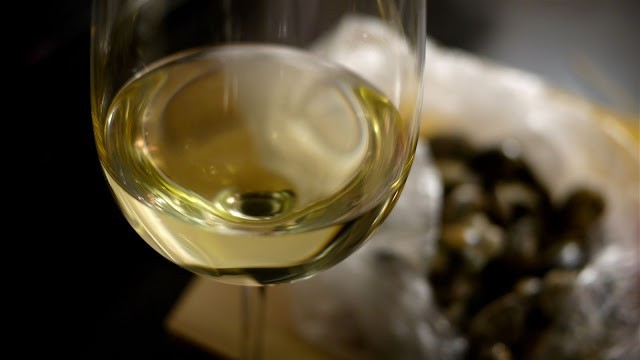 Go ahead & start drinking your wine, you deserve it. While you're waiting for the water to boil, crush or finely chop your peeled garlic cloves & half of your dried chili. This is just to give the pasta a gentle warmth, it's not supposed to be firey. Cut your tomatoes into halves. Once your water's bubbling, pop your pasta in.
Now, put another saucepan onto a high heat. Get it nice and hot & add a big glug of olive oil, don't be shy. Swill it around the pan & add your garlic & chili. Once it starts to brown, add your clams, tomatoes & the rest of your glass of wine. Toss them around & cover the saucepan. Keep an eye on your pasta, you want it to be 'al dente' (firm) so cook it for the lowest time suggested on the pack. Pull out a piece, taste it, if it's done, drain it. Pour your pasta back in the pan, off the heat & cover to keep warm. Your clams should be beautifully steamed by now, and should have all popped open.
Give them a couple more rolls in the sauce & when you think they're ready to rock, poor the whole saucepan over your pasta. Stir so the pasta is all coated in the syrupy, salty, seaside sauce. Rip up your handful of parsley & sprinkle it over the top. (I didn't have any parsley, so don't worry too much if you skip this step.) Transfer into a big serving bowl & you're done!
For a romantic meal for two, serve with two forks & fresh glasses of wine.
For a dinner party or family meal, serve in a large bowl & dish it up at the table, Italian style. It never fails to impress & no-one needs to know you only spent 20mins in the kitchen! If you fancy making a pudding, my easy lemon tarts would go down a storm after this! .