It's said that blue is the colour of business.
It's serious, trust worthy, powerful.
You know The Apprentice? There's an integral member of the production team who's job it is just to make sure there's enough blue in every shot. Those over-saturated blue eyes you see in the boardroom? Yep, down to him.
Why? Because blue is important.
How wonderfully fitting then, that we would have our first taste of something so whimsical, so silly, so wonderfully unimportant, beneath the imposing blue buildings of London's financial hub; The City.
Welcome to the Blu Top ice-cream sandwich van!
They make their own ice-cream, their own cookies, their own toppings and serve them up in a bewildering array of delicious combinations.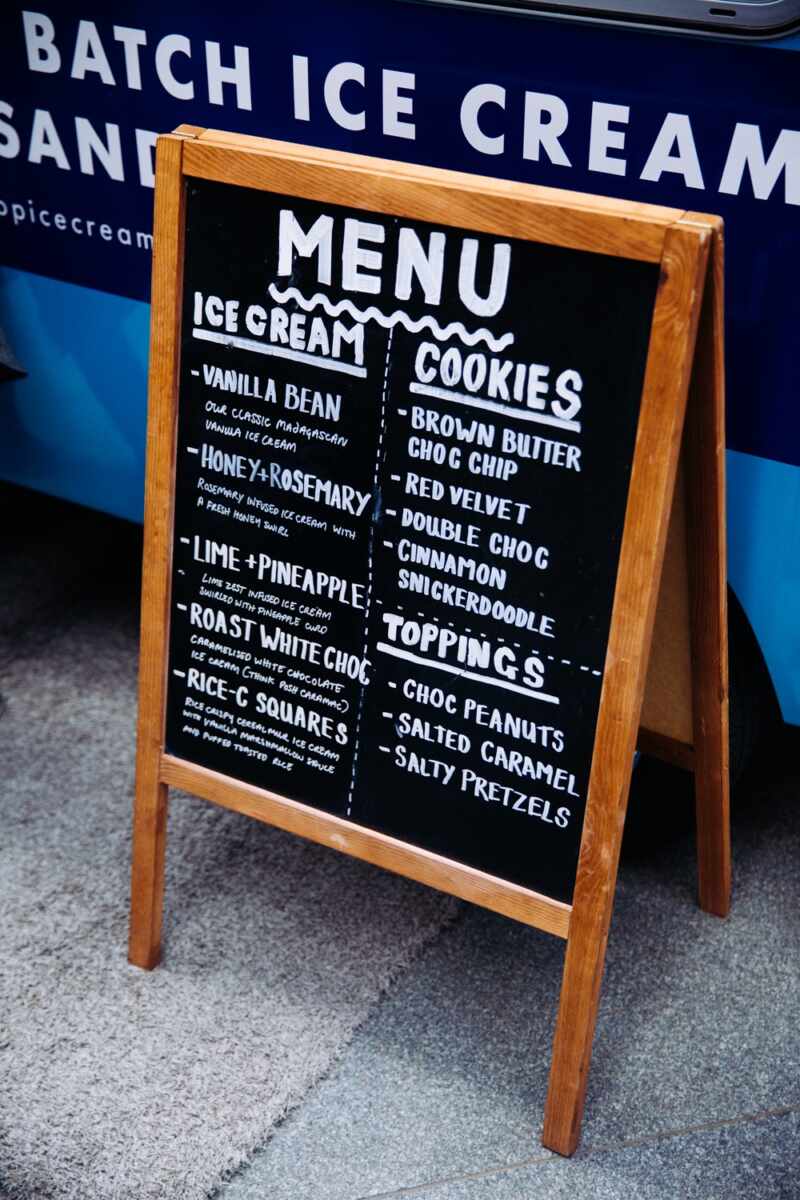 Unable to decide, Tania and I went for four of their favourites.
The boys lined them up, with a curious queue of city chaps peering over our shoulders asking what we were getting.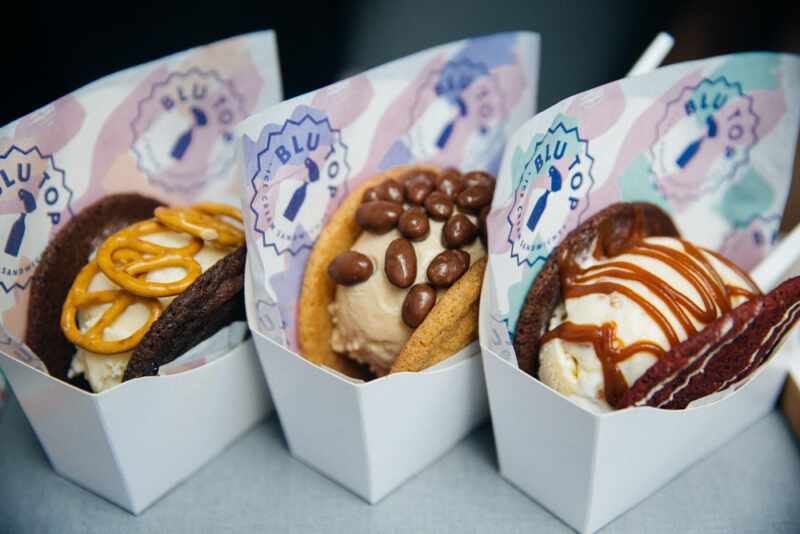 Pretzels were layered, chocolate covered peanuts sprinkled, and lashings of salted caramel poured.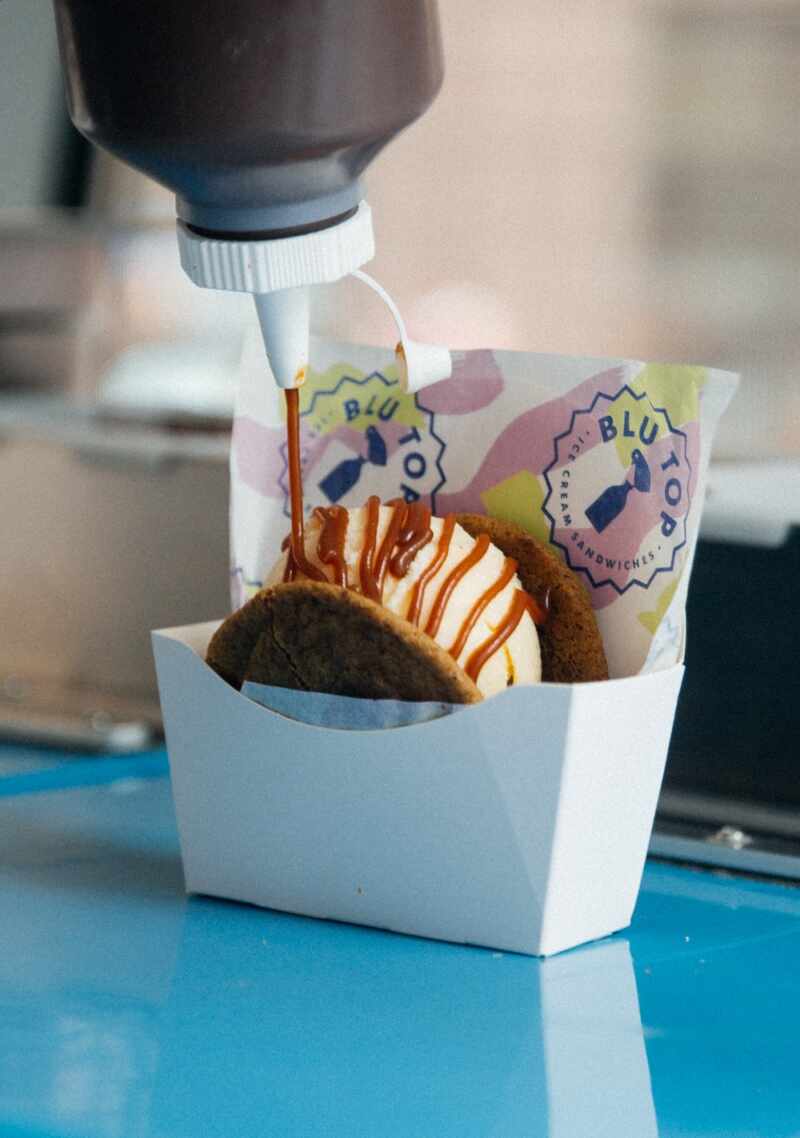 We settled up (worth noting that you can pay on a card – even an Amex(!) for those too lazy to find a cash machine) and walked away with quite the haul!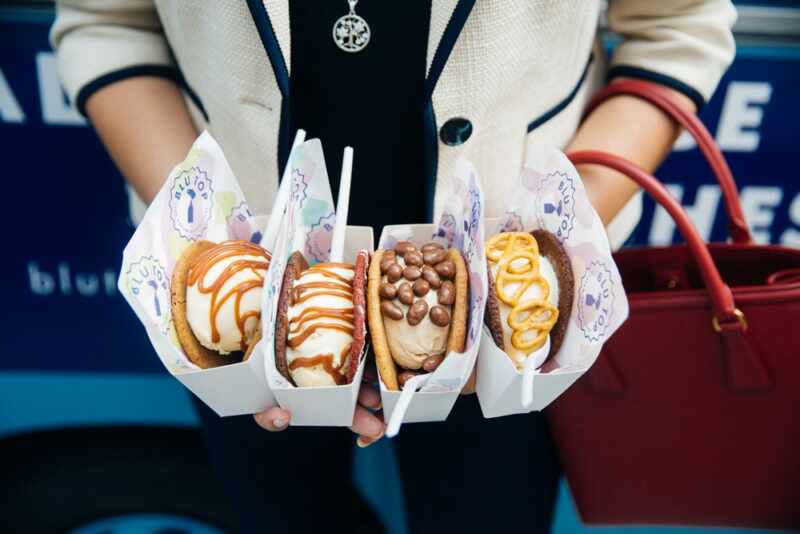 A well balanced lunch.
Very well balanced, I didn't drop a single one.
Sandals (similar)
Ps. If you're in the shopping mood there's 20% off EVERYTHING on ASOS – go here and use YESPLEASE as the code at checkout!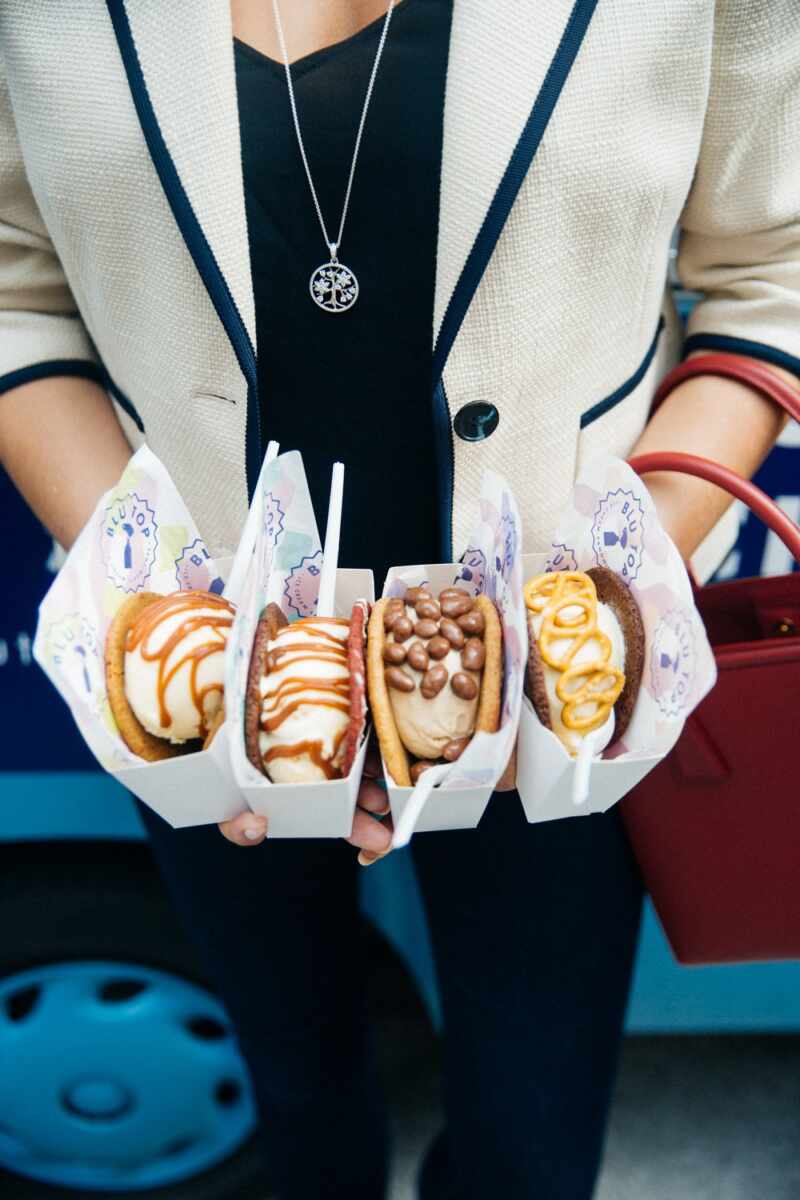 We took our seats in the shadow of London's towering Gherkin.
And tucked into our feast.
Double choco cookies, honey and rosemary ice cream, salted pretzels.
An unbelievable combo. Light, fresh ice cream, sweet with the honey, singing together with the salty pretzels. Also the best cookie flavour, if you ask me.
Cinnamon Snickerdoodle cookies, vanilla bean ice cream, chocolate peanuts.
Tania's fave.
One red velvet cookie, one double chocolate. Caramelized white chocolate ice cream, salted caramel.
I mean come on, of course it was good!
Brown butter choc chip cookies, rice crispy ice cream (made with milk from a bowl of rice crispies + marshmallow sauce + puffed rice) and salted caramel.
The special of the day, if I could have eaten it in one bite, I would have!
We bagged a seat in the most surreal of London landscapes, along with the rest of the world on their lunch hour.
Being an ice cream van, Blu Top does move around a bit.
Thursday + Friday: Kerb : King's Cross 11am – 2pm (head for the street food market outside the West India Quay)
Saturday: Druid St Market 9am-3pm
On this ocassion they strayed and set up at The Gherkin, so perhaps follow along on Instagram for where they'll be next.
Get out there, find them this summer and get sticky!