I don't think I've ever had so many requests for a home tour!
Nor do I think I've ever felt immediately so at home anywhere than in our little hideaway in The Canyon.
House hunting from afar can be a daunting and risky process, you have to trust pictures on the internet and really have no idea what you'll arrive to find. I had heard of onefinestay through friends who'd had wonderful experiences in London, so we took the plunge and booked one of their LA properties.
Let's just say that the experience from start to finish was a world away from any other property service we've used.
Our personal concierge greeted us at the gate and showed us around, how everything worked, gave us a hand with the bags (this circus does not travel light!), had a goodie bag of beauty products, nibbles and drinks waiting for us.
It was like checking into a luxury hotel, but just for us.
But more than that, it felt like coming home.
This isn't any old holiday rental service, it's curated and strictly managed. So we didn't feel as though we were stepping into someone's soulless investment property, it's more like staying with family.
Filled with all the warmth and trinkets that make a house feel like a home.
The kitchen is my favourite part.
All you can see from the windows are the trees dancing in the breeze, it's utterly private and feels exactly like the treehouses from your childhood dreams.
We had a fully equipped chef's kitchen with professional knives, pans, beautiful linens, crockery, all waiting for us.
The bathrooms were stocked with Le Labo beauty products and towering piles of fluffy white towels.
Everything is included in the rental, wifi, bills, concierge and weekly housekeeping.
All of the bedrooms have their own bathrooms and huge windows looking out into the gardens.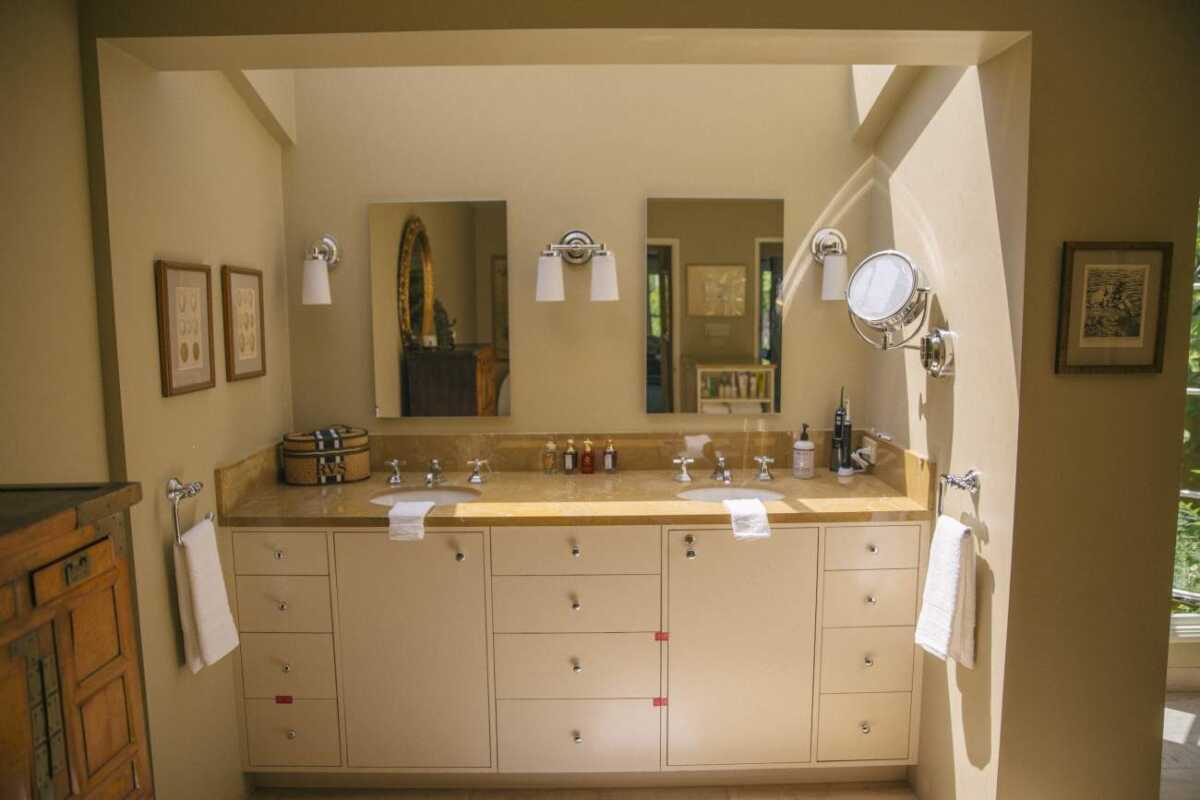 The breeze smells of warm figs, lavender and tomato vines.
There's a little fountain burbling away that fills the bedroom with it's happy sound.
The master bedroom looks out over the roses and the pool beyond.
There are books galore and pretty little hideaways to discover.
But my favourite part?
The part that really made me fall in love?
The treehouse kitchen leading out to the garden.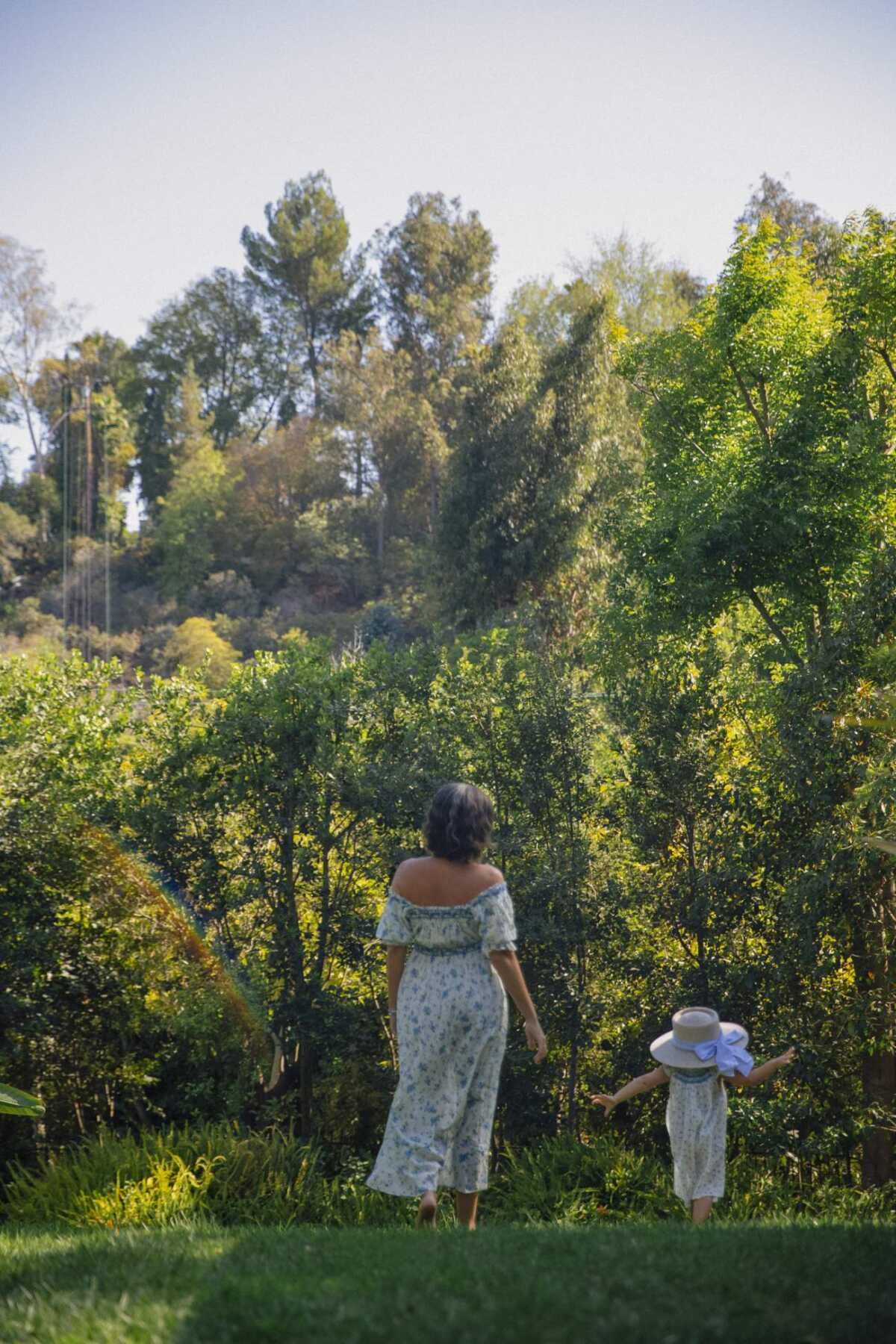 The most beautiful oasis away from the busy streets of LA.
We spent our summer playing butterflies among the trees and mermaids in the pool.
Lily and I learned so much from our cheery weekly gardener, who loved that Lily wanted to help him water every flower!
If you're in between homes, renovating, visiting relatives or looking for a new spot to work from home for a while, take a look at onefinestay's monthly options.
They're at the luxury end of the market, but you get a discount the longer you stay (details here), they're flexible and one of the few places where the houses look better than their pictures. They're also launching in NYC later this year!
Your concierge can book you anyone from a chef to a butler, grocery deliveries and anything else your heart desires.
Want to be near the sea? Check out Bay View, in the Palisades.
Always dreamt of life in the Hollywood Hills? Try Marmont Ave, complete with its own private tennis court and a sunset to die for.
Prefer something sleek and modern? Somera Rd will fit the bill, right off the golf course with some of the most stylish neighbours in the city.
But if you ask me, for real home comforts, you can't beat Westbrook Ave. Our oasis, our home from home and hideaway from the world… just a ten minute drive from the city.
The garden for races, the sitting room for snuggles…
…and the piano for a little tinkle on the ivories before bed.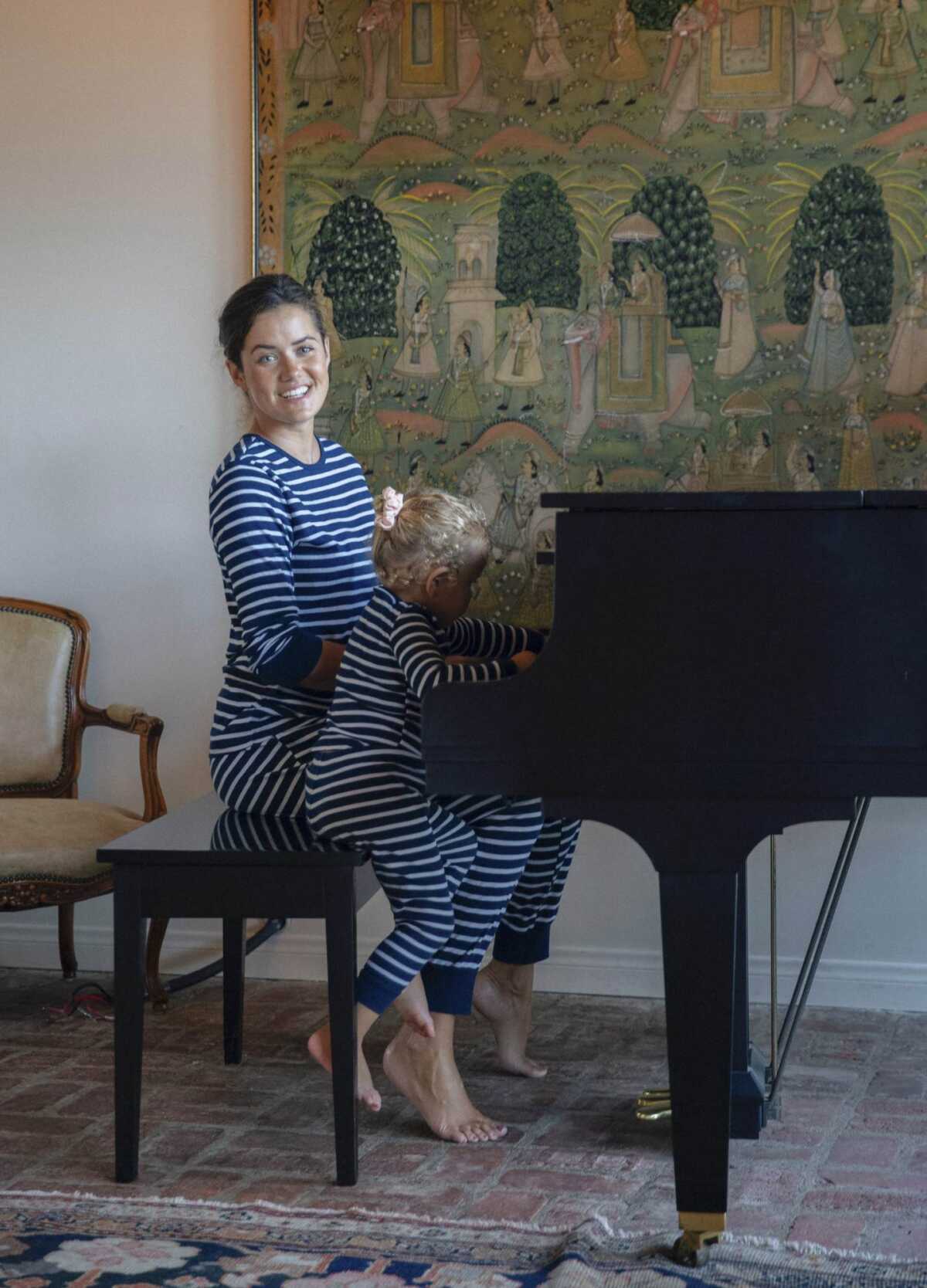 Morning spent cooking and dancing in the tree house.
Are some I hope never to forget.
Ok, so we didn't exactly make use of the private gym… but the summer when by in such a blur, we'll put it down to that!
All in all, a very fine stay indeed.
Ad - Shop this post