As promised (and much requested!) the next edition of this year's gift guides!
Something for the lovers. One for him, one for her.
Happy shopping, love birds.
1. The most brilliant little projector (US version here). I received this for Christmas last year and it's so beloved in my household! Huge, cinema style movies, great for gaming (lifesize Mariokart!) and portable so you can set up movie nights outside come summer.
2. Amber cufflinks. The stone of power. Used for thousands of years to promote positivity in the wearer, it's said to help combat negativity (whether external or just self doubt) and ease stress. Long used as a good-luck talisman for lasting love and a long, happy marriage.
3. Cableknit roll-neck sweater. All men look damn fine in cableknit. It's like a magic sprinkling of sexy dust. Cosy cuddles throughout the holidays, casual enough for the pub, classic enough for dinner with your parents. A year round winner.
4. A very special gin for a very special gent. The Monkey 47 gin recipe has been adopted from a Second World War Royal Air force commander, Montgomery Collins whose enjoyment of gin inspired him to create his own unique recipe. After the war Collins moved to the Black Forest region in Germany and used ingredients from the forest as well as spices from his Indian childhood as a basis for his gin recipe.
5. "Things to do in the loo" loo roll. Give him something to do with all that time in there!
6. An effortlessly chic umbrella from my favourite British brolly maker.
7. Post poo drops. A marriage saviour.
8. The elusive barely-branded wallet, for a more refined gentleman who doesn't want to be a walking ad.
9. Tie and pocket square combo. Especially nice if he's moved jobs recently.
10. The marvellously named "Celestron". When Galileo recounted his discovery of Jupiter's moons in 1610's Starry Messenger, the astronomer also detailed his development of a 20x refracting telescope. This Celestron 'Ambassador' model is significantly more powerful, boasting up to 45x zoom magnification and fully-coated 50mm glass optics. A loving reminder to keep shooting for the stars.
11. A fleece lined wax jacket to keep him warm and dry. Buy slightly oversized so he can wear big jumpers underneath. Especially swoon-worthy when combined with a little holiday stubble on your Boxing Day walk.
12. Lego Big Ben, for big kids.
13. Bose noise cancelling headphones. The loves of my life and travel essential. Great for trips away or just being in his own bubble on his morning commute.
14. The pork pie of his dreams (and mine).
15. Men's heavy lifters set, a collection of facial products designed especially for chaps. Far better than him stealing your expensive face creams!
16. The Gucci loafers. The timeless gift for gents of all ages. A pair of slip on, comfy loafers to take them from smart to casual and everything in between.
17. The instant camera, for the snapper with the short attention span. Instant gratification guaranteed!
18. The little book of cocktails, the gift that immediately gives back to you!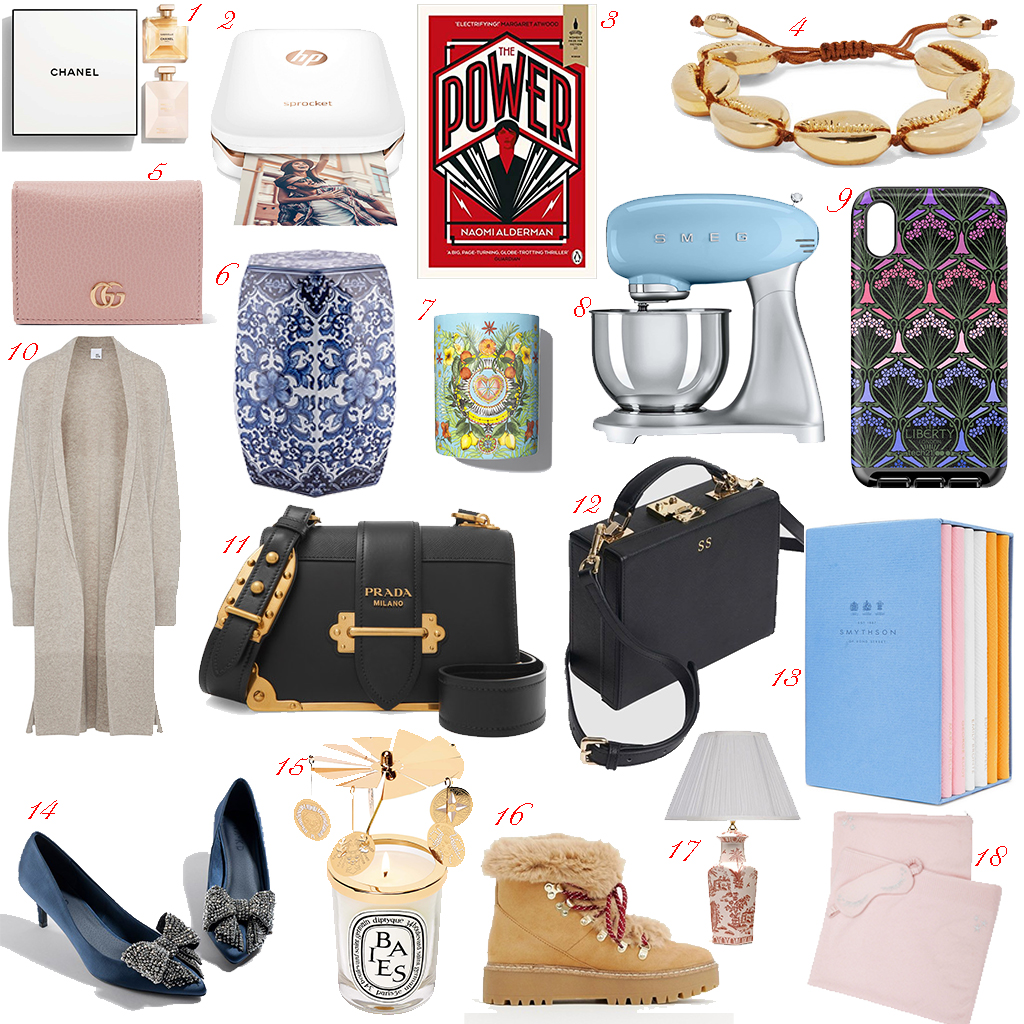 1. Chanel gift set, for those who prefer the finer things in life. The box is pretty, too!
2. The mini printer, portable and connects to your phone to save memories on the go. Perfect for the girl who takes a million pictures but never puts them anywhere, maybe pair with a beautiful scrapbook!
3. The Power. Quite simply a brilliant book and a great novel for the leading lady in your life.
4. Shell bracelet. For the girl who left her heart at the ocean. If she's been particularly good this year, Santa may like to check out the set!
5. A little card holder that'll slip into even the miniest of handbags, or pockets! Incase she has a dress with pockets, you'll know if she has as it will have been mentioned.
6. Blue and white stool to put in the garden, or my personal favourite position – next to the bath to rest her drink on.
7. Giant candle, designed by Matthew Williamson himself. Each ceramic jar has been finished with a print inspired by the scent, the designs hand-painted in Matthew's London studio. The jar's iconic design will mean they form a keepsake and accessory for the home even once the candle has burnt – whether for flowers or treasures.
8. The retro mixer (US shop here) A new, old take on the traditional mixer, from the masters of kitchen aesthetics.
9. Liberty printed phone case, for the chicer phone addicts out there.
10. Snuggly cashmere cardigan. Can be paired with jeans for outings or pyjamas for cosy nights in.
11. The Prada bag of dreams. 12. Significantly more budget friendly (and personalised!) version.
13. 'Pearls of Wisdom' note book set unites six compact 'Panama' notebooks stamped with witty and poignant quotes from history's most prominent British female writers, including Emily Brontë, Edith Sitwell and Mary Shelley. Housed in an elegant branded box, each is crafted from textured-leather in pretty pastel shades with the author's name trailing down the spine in gold. The perfect gift for literature-lovers – or someone in need of a little inspiration.
14. Satin shoes with glittering bows. Incredibly pocket friendly, for champagne lifestyles on lemonade budgets.
15. The carousel that every woman who follows me on Instagram wants… but it keeps selling out! If it happens again, try here.
16. The snuggliest, softest faux fur boots in town!
17. Toile lamp for the classicist.
18. Snuggly cashmere travel set, for the jet set.