Ok I'm going to say it. This is by far the most frivolous recipe I've ever shared with you.
And I love it.
And seeing as you've stuck with me all these years, I'm going to assume you do too.
The prettiest spring biscuits there ever were. Melt in the mouth buttery shortbread, zingy lemon frosting, all topped with the most beautiful edible flowers.
Perfect for Easter, Mother's Day, Royal weddings, and all other spring festivities.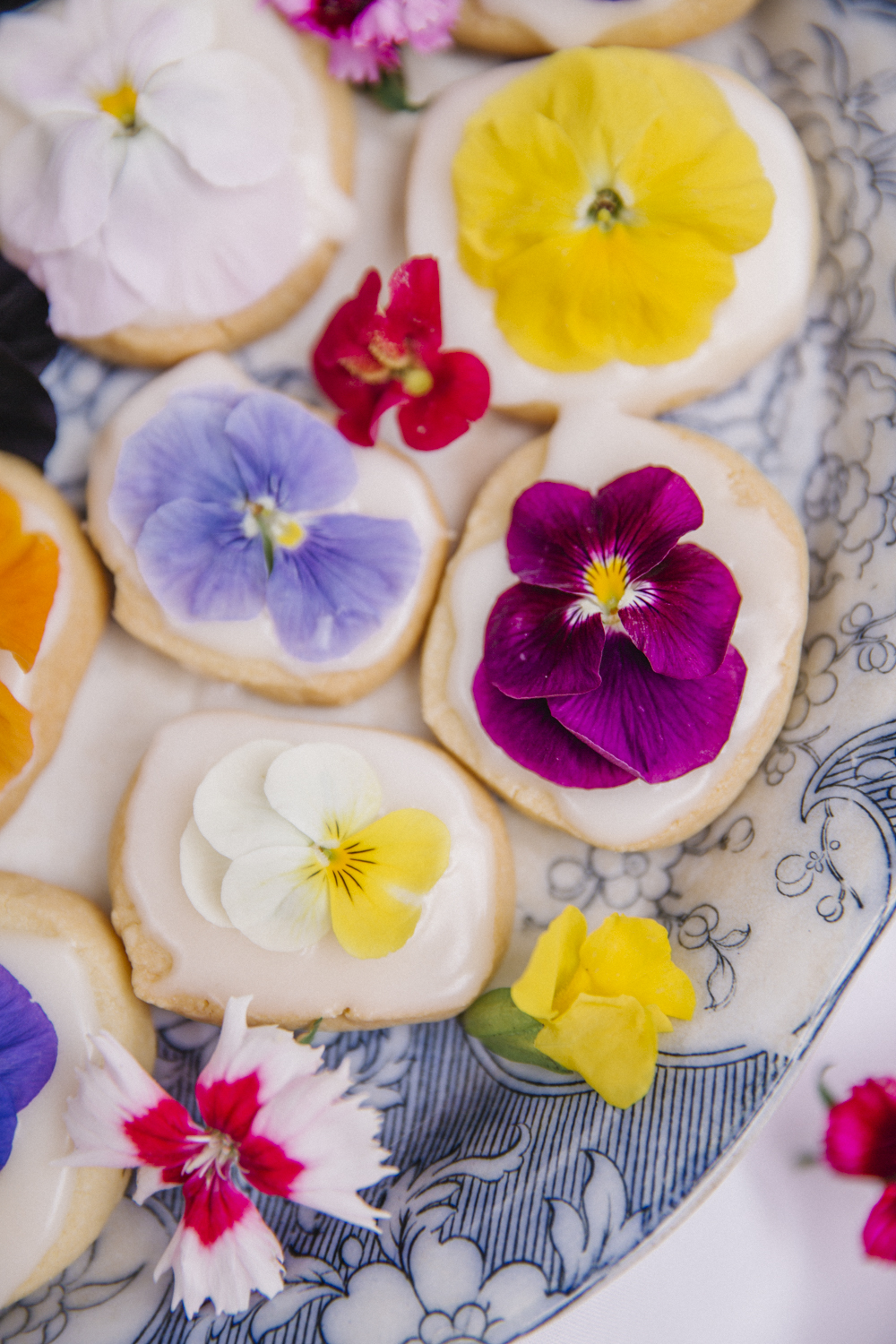 The recipe bares a striking resemblance to my Halloween Cookies, but this time they're topped with these:
Edible flowers.
Grow your own, find them at the farmers market or do what I did – Google an online supplier!
You can use any kind you like, personally I like pansies and violas as they sit beautifully on the biscuits.
To make a batch of 20 you'll need:
Biscuits–
200g salted butter, very soft
100g icing sugar (powdered sugar in usa)
200g plain flour
100g corn flour
1tbsp vanilla essence
Icing–
200g icing sugar
2tbsp lemon juice
About 25 edible flowers (a few spare for mistakes!)
You'll also need scissors
Cream together your butter, sugar and vanilla. Add the flours and combine. (You can use a food processor for all of this.) It should turn into a heavy dough, if it doesn't add a little more soft butter.
Take the dough out and roll into a large sausage. Cover in cling film and chill in the fridge for at least 30mins or until you're ready to bake.
When you're ready, pre-heat an oven to 160C/320F. Line a baking sheet with baking paper or a cookie sheet. Unwrap your dough and use a sharp knife to cut into about 20 discs. Place onto the tray and bake on the middle shelf for 25mins.
Leave them to cool on one side, don't remove from the paper or tray.
While they're cooling down, mix up your icing. Put the sugar into a bowl, slowly add the lemon juice while stirring. You want a smooth consistency that will pour onto biscuits but won't run off the edges, so play around with the quantities until you're happy.
Spoon onto the top of the cookies, flattening with the back of the spoon, but try not to leave any lines.
Take a flower and cut as close as you can to the base, without making the whole thing fall apart.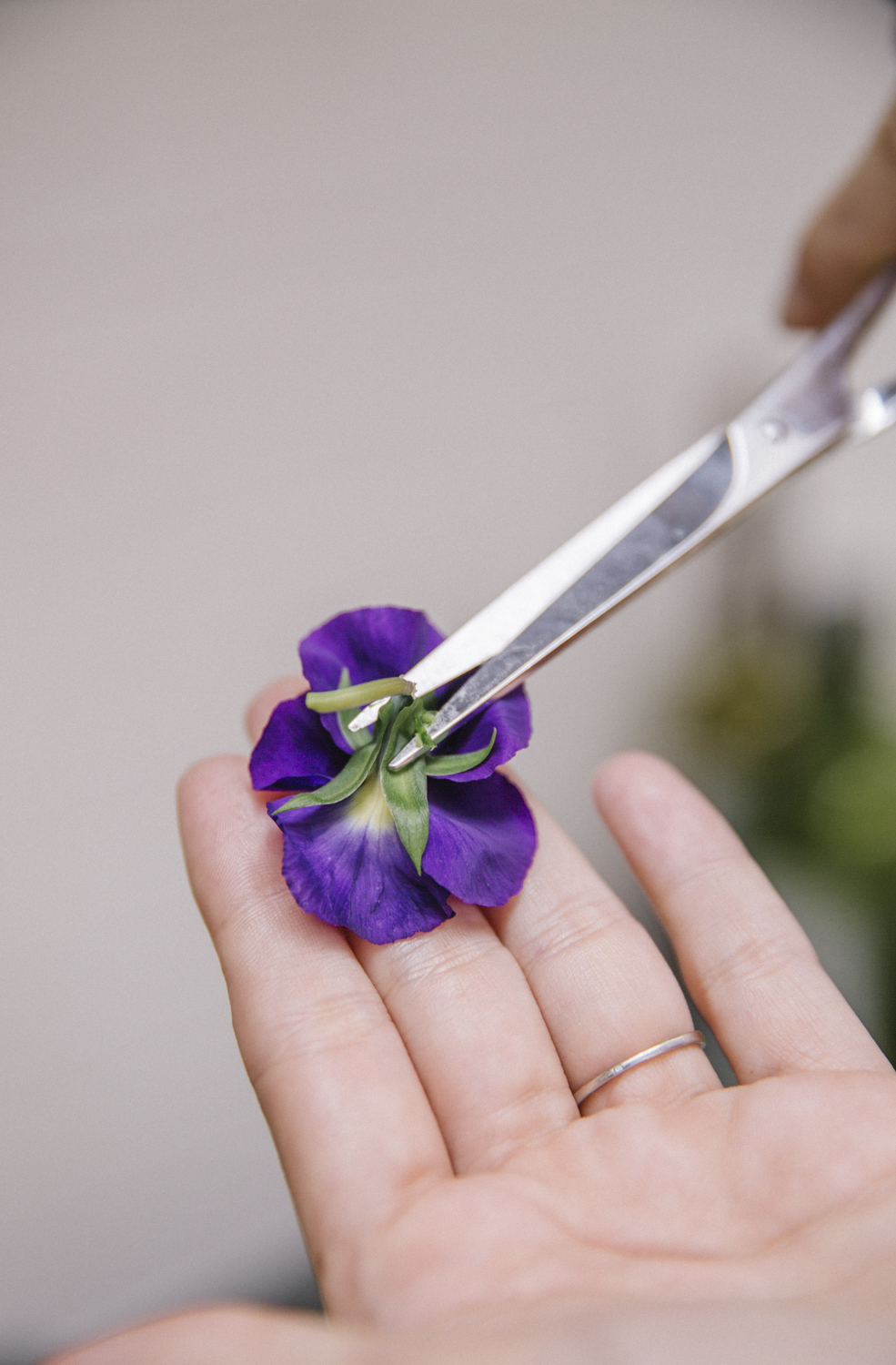 This should ensure it'll sit nicely on the icing.
Place delicately onto the icing while it's still wet.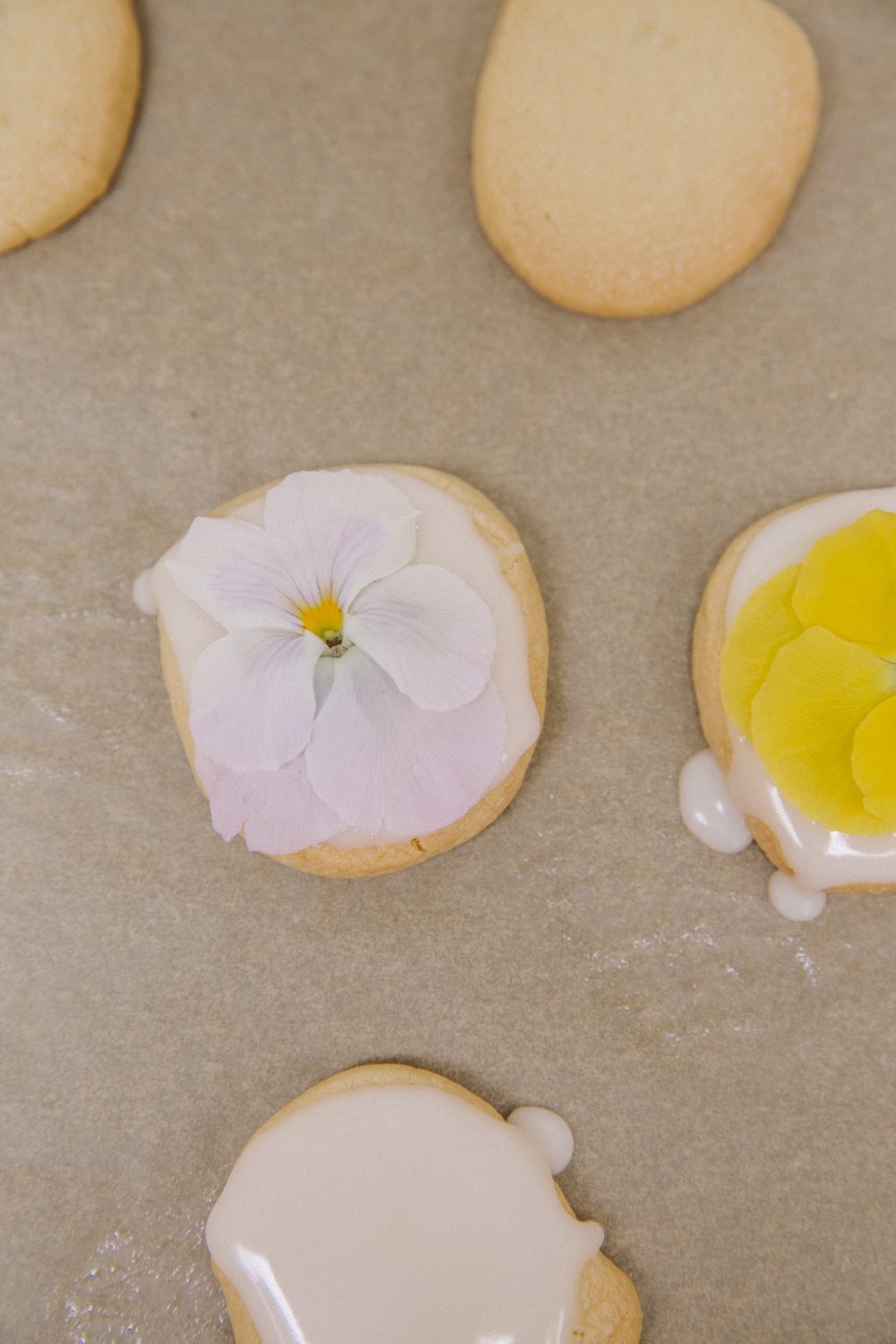 This will stop the flower from wilting too quickly and seal it onto the cookie.
It really is a lovely job!
Be sure to stop and admire your handiwork now and then, though I think Mother Nature can take most of the credit here…
Keep going until you run out of biscuits, place them onto a serving plate, scatter with a few more flowers if you're feeling fancy!
And serve immediately if possible, though they'll stay perky for a little while.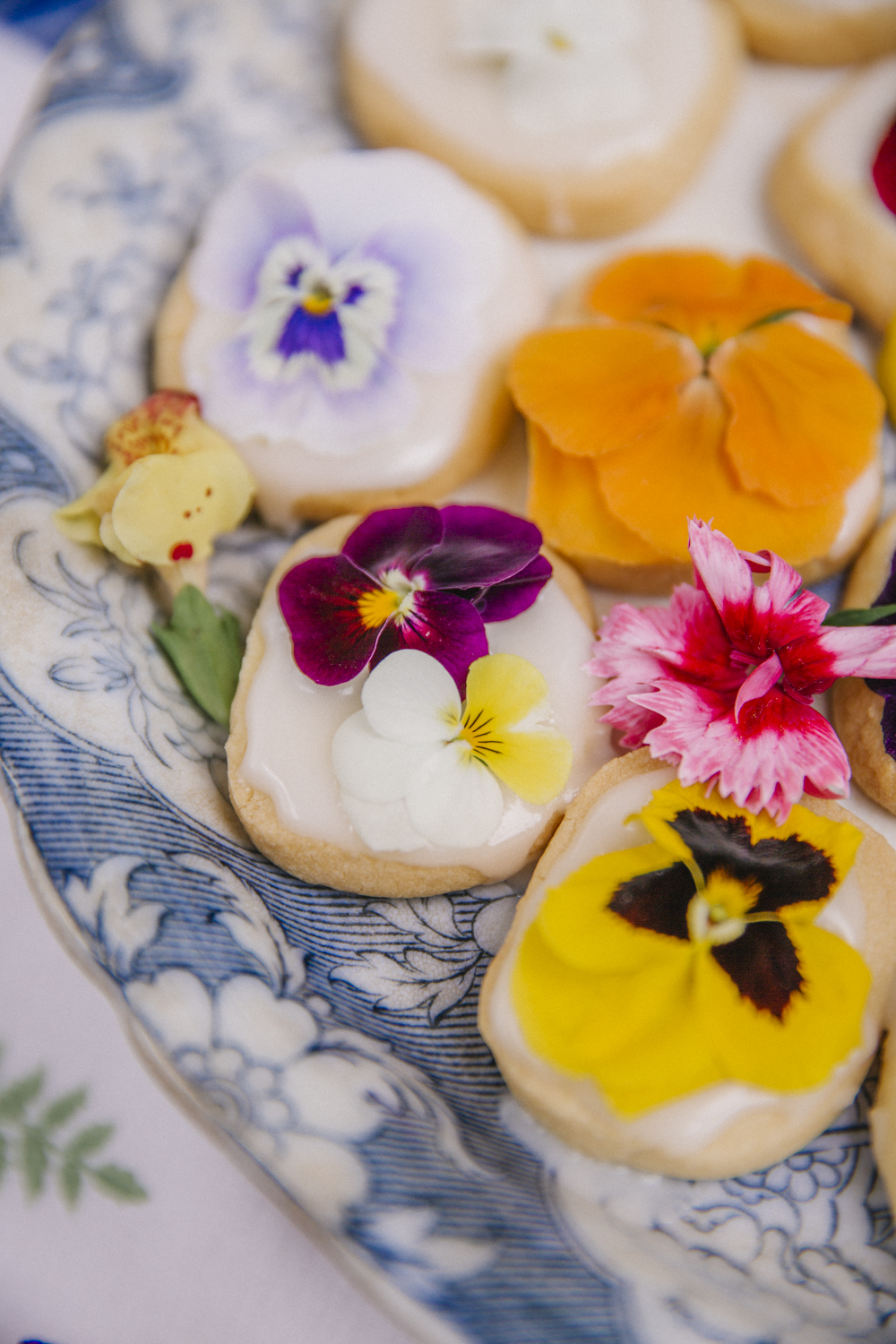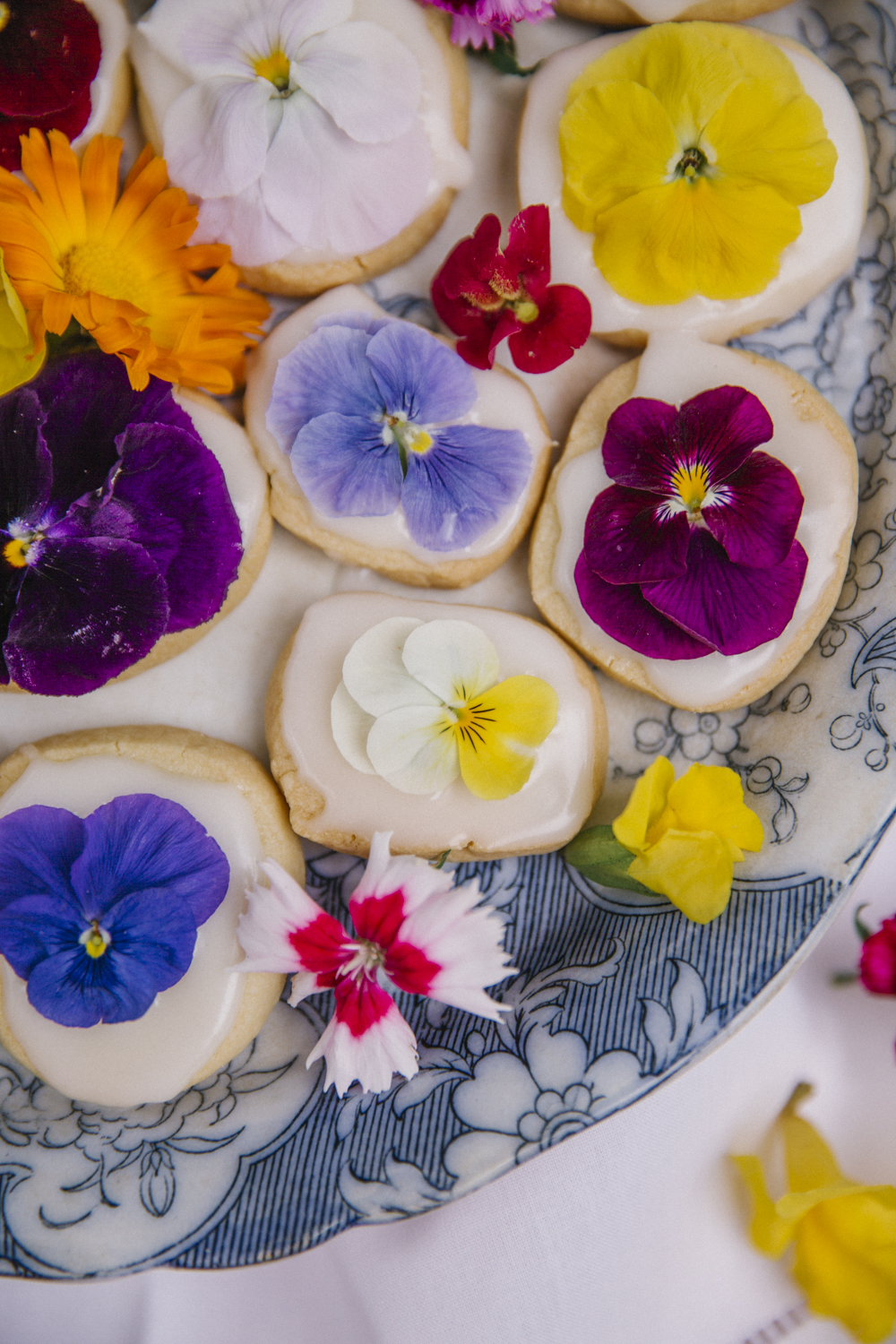 The prettiest spring bouquet.
The flowers don't add any flavour, that really comes from the vanilla mingling with the sweet lemon icing.
You'll have to forgive me for going a little photo mad, they're just too pretty to resist!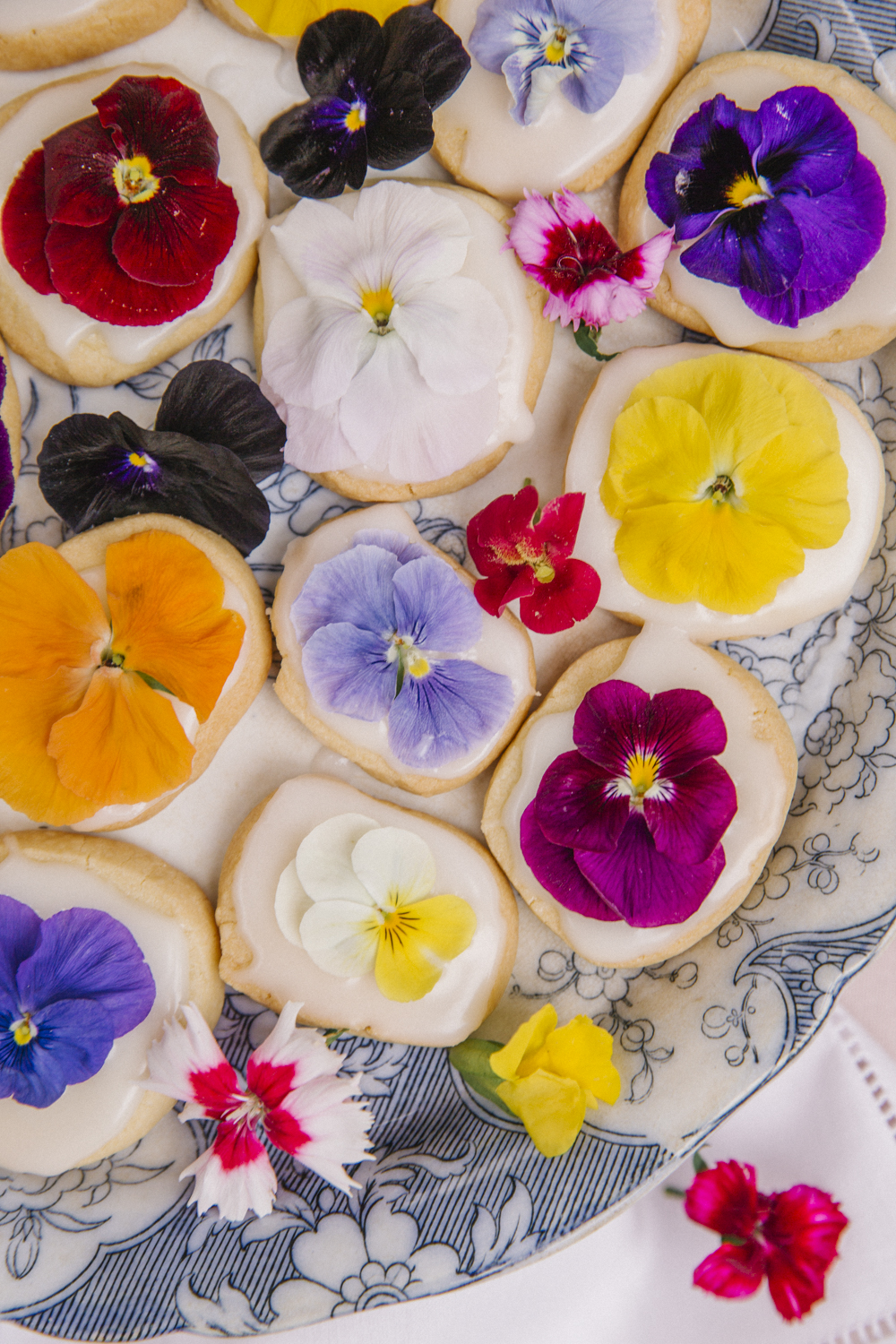 Looks wise they're best served and eaten right away, but if you don't finish them they'll stay good for a couple of days, all sealed up in the fridge.
Just the thing to put a spring in your step!